Griffey: 'Everything lined up' in '95 ALDS dash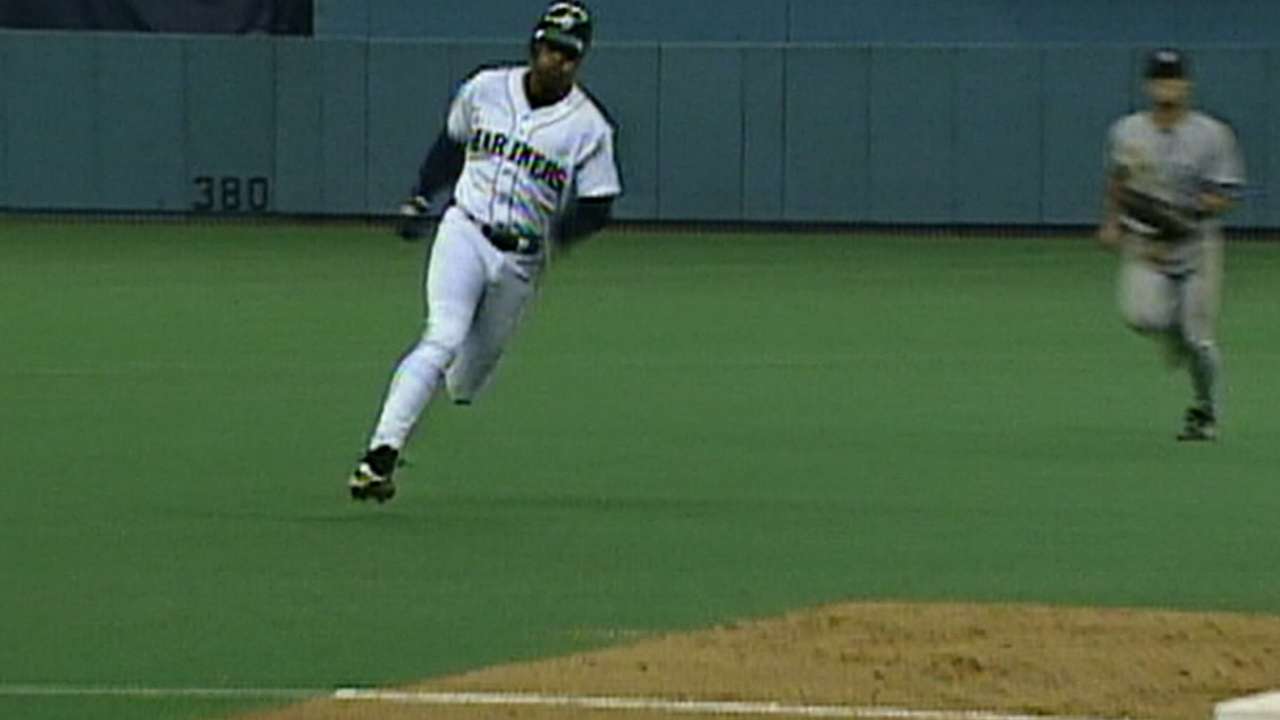 For the man beaming from the bottom of a famously giddy dogpile, the play that made the entire Pacific Northwest jump up bursting with joy was the same play he'd run growing up, the same one he'd run so many times in Spring Training, the same one he worked on during batting practice.
Ken Griffey Jr.'s sprint from first to home on Edgar Martinez's double remains the greatest moment in Mariners history, the thrilling play clinching Game 5 of the 1995 American League Division Series over the Yankees, shattering decibel levels in the Kingdome and beyond.
Nobody saw the play develop better than Griffey, and nobody can recount it better. Griffey shared his view of the historic play with great clarity during his National Baseball Hall of Fame introductory news conference Thursday.
"It's one of those plays where you know you have to get a good jump," Griffey said. "Everything has to be perfect. You have to be ready. These are the things that you go over every day, you practice it every day. During batting practice, you get the jumps. You practice stealing. You practice first to third. You do this in Spring Training every day. You do it every day during the baseball season.
"It just so happened that it lined up perfectly. Edgar hit a ball down the left-field line, I knew I could get from first to third. You want to make it tough on the third-base coach. You don't want to make it easy for him. I think a lot of kids make it easy for him by not busting their butts to second and just cruising to third. I knew if I make it tough for him, he's got to either hold me up or send me. About three-fourths of the way there, I could see him moving his arm. I'm like, 'OK, here we go.'
"After I touched second, I glanced out there, then I hit third. I was like, 'You've got a chance to score.' I didn't really see the catcher moving too much. You know when the catcher is about to catch the ball and drop the hammer on you. He was sliding out. I was like, 'I got the plate now.' I can see all the players behind me going, 'Get down, get down.' When I slid, everybody jumped on me. The only thing I could think of when I was underneath that pile was, 'Get off me!' I was just coming back from a broken wrist."
Ah, but the smile was still very much in operation after a play Griffey sees from his unique perspective as a testament to baseball fundamentals. And Griffey's grinning acceptance of his teammates' weighty celebration is video gold to this day.
"I got my hand out of the way," Griffey said, with his trademark smile on full blast Thursday. "But it's one of those plays that everything lined up. It was one of those things that just happens one or two times in a series. It just happened to be that time."
John Schlegel is a national reporter for MLB.com. You can follow him on Twitter @JohnSchlegelMLB. This story was not subject to the approval of Major League Baseball or its clubs.