Alderson 'encouraged' by cancer treatments
Mets GM has been working from Citi Field almost daily since Winter Meetings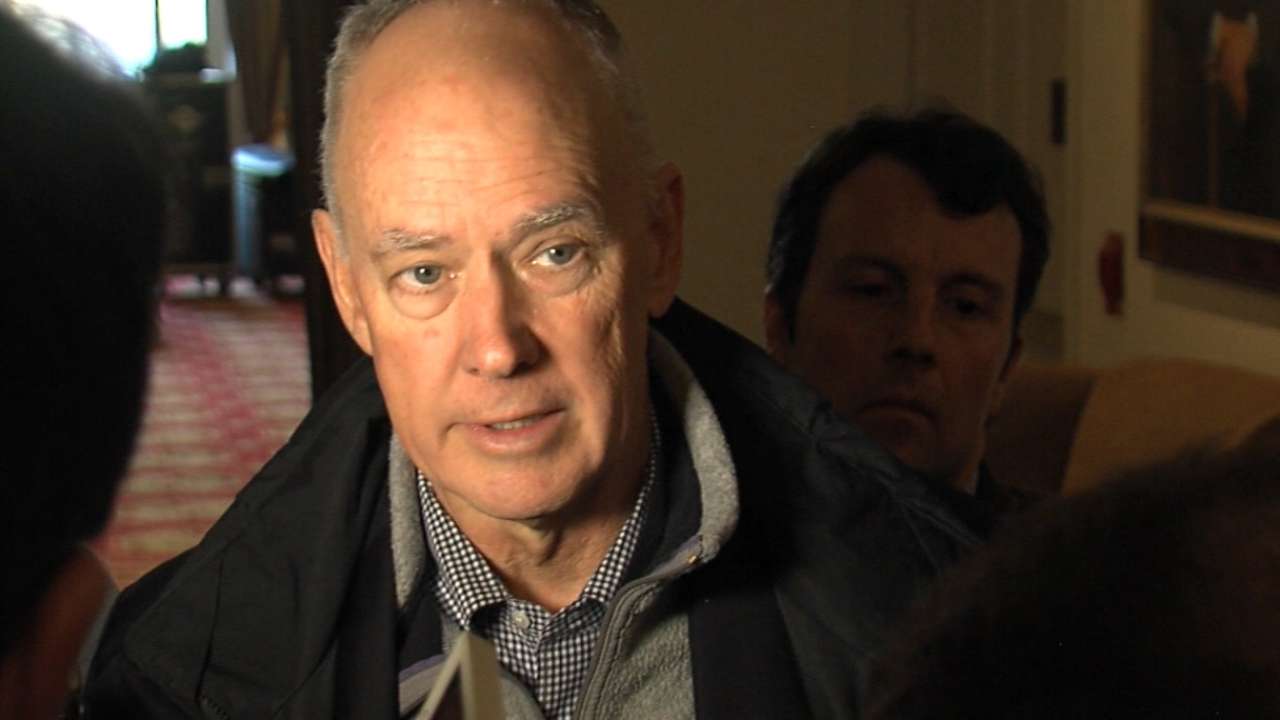 NEW YORK -- In his first public appearance since beginning cancer treatment earlier this offseason, Mets general manager Sandy Alderson stressed that his health has steadily improved over the past few weeks.
"Really since the Winter Meetings, I've been in the office virtually every day and feel good," Alderson said following the Hall of Fame Class of 2016 news conference Thursday in Manhattan. "The treatments are going well. So I'm very much encouraged."
• Piazza to enter Hall of Fame with Mets cap
Alderson added that the only reason he did not attend last month's Winter Meetings in Nashville, Tenn., was because doctors recommended he not travel immediately following his first chemotherapy session. Instead, Alderson was active from New York, checking in with his front office lieutenants daily and even closing the Mets' trade for Neil Walker via telephone.
Since that time, Alderson has operated out of the Mets' Citi Field office almost daily.
"I've been working 100 percent since really just after the Winter Meetings," Alderson said. "I just couldn't travel to Nashville that particular Sunday and Monday, otherwise I would have been there, but since that time I've been in the office and fully participating. I feel good, and things are improving.
"It's nice to be back to a routine and working toward the 2016 season."
Alderson, 68, underwent surgery that confirmed his cancer diagnosis in November. The Mets have classified it as fully treatable.
Since Alderson's diagnosis, assistant general manager John Ricco has assumed a greater role within the club's baseball operations department. The team recently lost one of its vice presidents, Paul DePodesta, to a job with the NFL's Cleveland Browns, but still have high-ranking executives Ricco and J.P. Ricciardi working on baseball matters, as well as a number of more junior staff members.
• DePodesta leaves Mets for NFL's Browns
Alderson said the team does not plan on making an external hire to replace DePodesta, preferring to delegate his responsibilities to multiple incumbent staff members.
Anthony DiComo is a reporter for MLB.com. Follow him on Twitter @AnthonyDiComo and Facebook, and listen to his podcast. This story was not subject to the approval of Major League Baseball or its clubs.