MLB.com Columnist
Anthony Castrovince
Trade market still packed with stars
Bruce, CarGo, Cashner, Melancon among those potentially available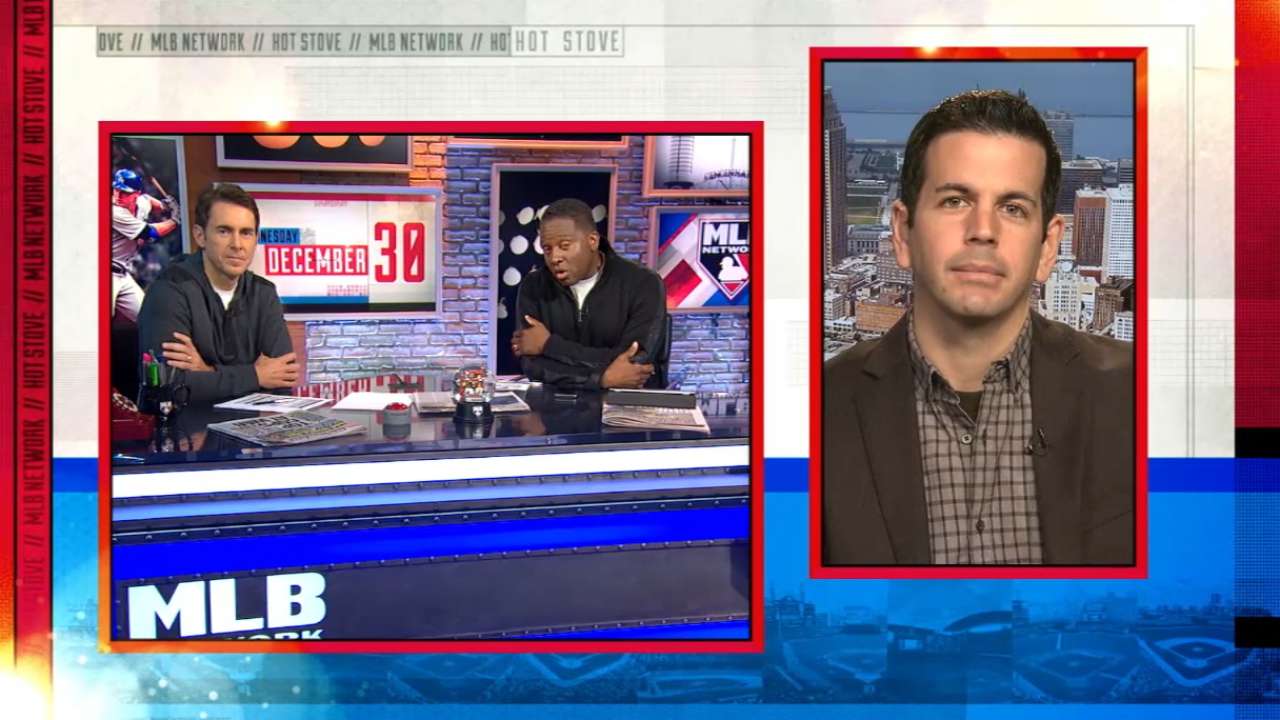 Baseball's trade market has slowed in the wake of the wheeling and dealing earlier this offseason that sent Aroldis Chapman, Craig Kimbrel, Todd Frazier, Shelby Miller, Andrelton Simmons, Ken Giles, Starlin Castro and many others to new homes. And of course, the free-agent market is still replete with position players and even a few starting pitchers attached to Draft-pick compensation, which means there's still quite a bit of whittling to take place on that front.
But that doesn't mean trade discussions have ceased. They never do, really. So let's break down the current state of the trade market, by position.
• Hot Stove Tracker: Free agents and trades
Outfielders
Let's start here, because this is the area with by far the most meat on the bone. Of course, it doubles as the area with the most free-agent meat on the bone, which is why none of the obvious names have moved. To date, Aaron Hicks, Ender Inciarte, Jon Jay, Leonys Martin, Cameron Maybin and Trayce Thompson qualify as the Major League outfielders of the most substance involved in trades.
Will that change? Hard to say until this logjam of free agents clears out. But here's the landscape:
The Reds' Jay Bruce has limited trade protection, and some teams will be leery of taking on his $12.5 million salary after two down years. The $37 million the Rockies owe to Carlos Gonzalez over the next two seasons actually rates as reasonable in today's marketplace, but of course there's an acquisition cost there that goes far beyond the dollars and cents.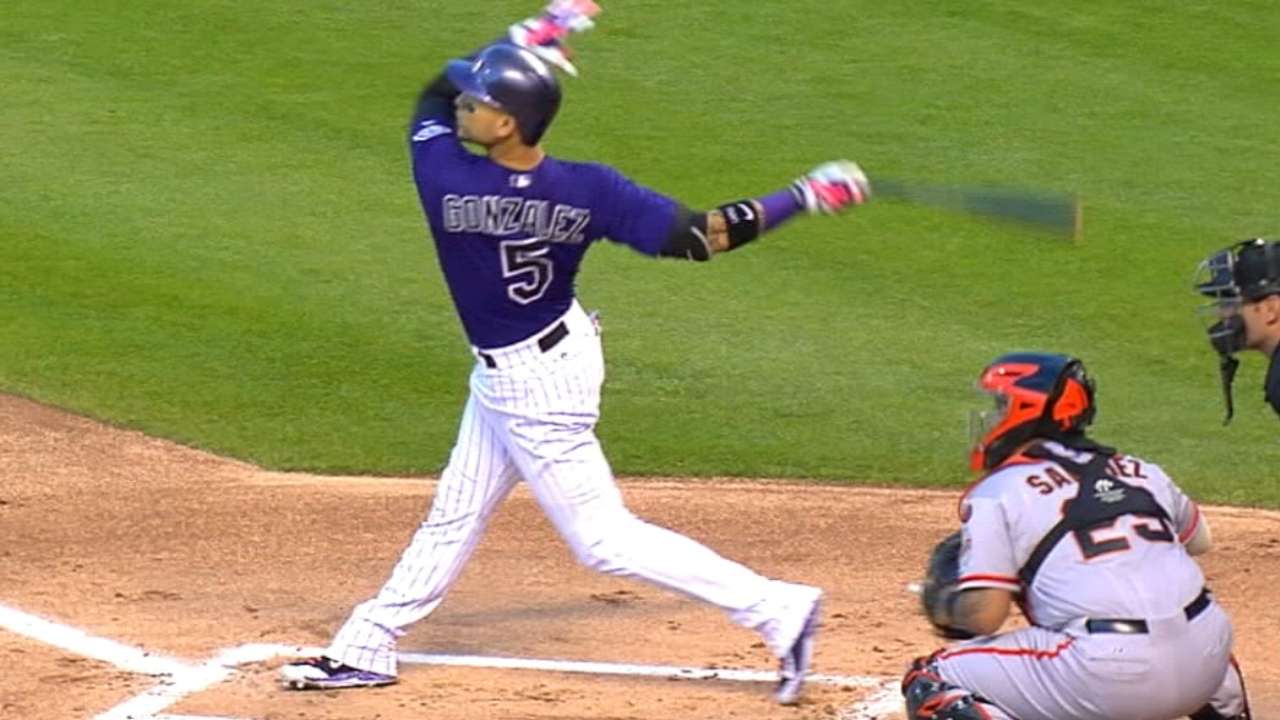 Both Bruce and Gonzalez currently seem more likely to be dealt in July than January or February.
Same goes for Khris Davis, who had an .828 OPS and 27 homers as a 27-year-old in 2015 and could get the rebuilding Brewers a good return in ideal conditions. But again, the free-agent class makes these conditions less than ideal.
Yasiel Puig's value was hard enough to ascertain before he was being investigated under MLB's new domestic violence policy. He's staying put, for now.
Yes, the Yankees are open to moving Brett Gardner. No, teams have not been lining up to give the Yanks what they need -- young, controllable arms -- in exchange for a 32-year-old who had a .592 OPS in the second half.
The Cubs moved the position player they were most comfortable parting with when they dealt Castro to the Yankees. That hasn't stopped clubs from calling about Jorge Soler. Probably ain't happening.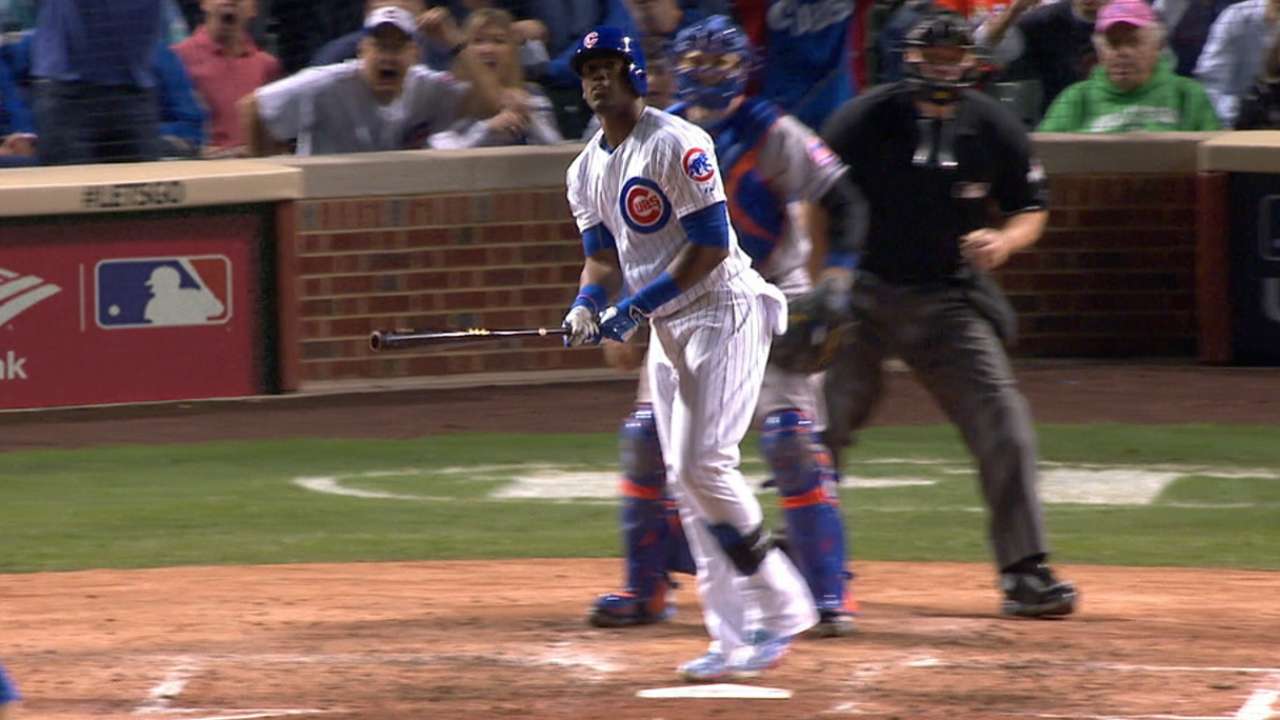 Ultimately, at a time when years of control are the backbone of so many swaps, Marcell Ozuna still stands as the most viable trade chip, but the Marlins rightly have placed a high price on the 25-year-old power-hitting center fielder, even after his frustrating 2015 season. Though relations between player and club have been icy, Miami isn't in a position where it has to move him -- unless the club becomes enamored with one of the free-agent options (Yoenis Cespedes, anyone?).
• Does Ozuna hold key to controllable starter?
And oh, by the way, anybody interested in Michael Bourn or Nick Swisher? The Braves quite literally will pay you (a significant portion of their significant remaining salaries) to take them. They'd obviously prefer to move either of those vets -- or perhaps even Nick Markakis, who has three years remaining on his contract -- instead of young Inciarte, about whom they predictably received a lot of phone calls in the wake of the Miller trade that brought him to Atlanta.
Starting pitching
The exorbitant contracts we saw doled out to top-of-the-market starters might have increased some clubs' desire to trade for -- rather than pay for -- a rotation solution, but it also had the effect of raising the value of cost-controlled arms. And the Miller trade, in which the Braves received an industry-rattling, possibly unrepeatable haul from the D-backs, only elevated the bar.
That's why it would take the equivalent of an entire Double-A team to land Marlins ace Jose Fernandez right now. That's why Carlos Carrasco and Danny Salazar aren't leaving Cleveland. That's why Jose Quintana is staying put on the South Side of Chicago. And forget about the Rays' Chris Archer or the A's Sonny Gray. Those are pipe dreams.
But we do know this: The Padres, who have incentive to beef up their system further after last year's unexpected and unfulfilling shopping spree, have been willing to listen on Tyson Ross, James Shields and Andrew Cashner. Ross is the most attractive option in that group, but also the least likely to move. The most likely remains Cashner, who is a pending free agent.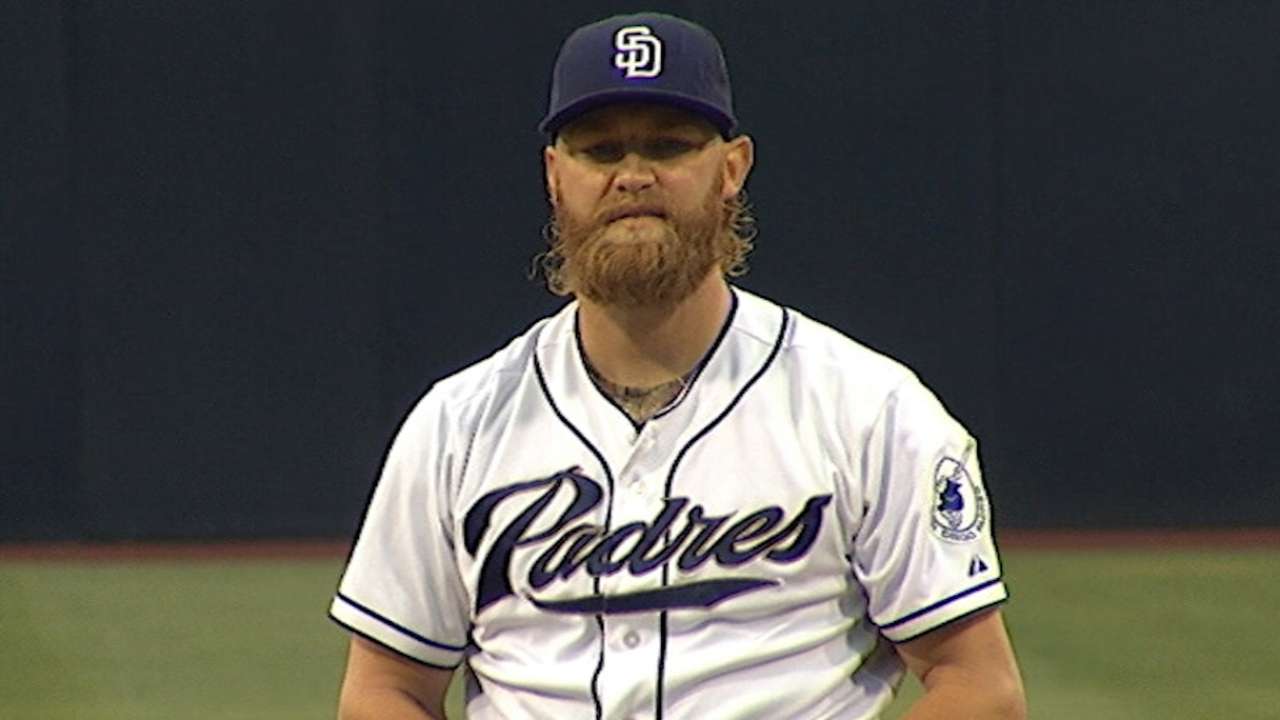 The Rays have rotation depth, and Jake Odorizzi is a valuable trade chip in this environment, especially for a Tampa Bay club that could use controllable bats. The Angels also have depth, and there is some thought that one of Hector Santiago, C.J. Wilson, Tyler Skaggs, Nick Tropeano and Matt Shoemaker is likely to move between now and Opening Day. But the Halos might take all those guys into spring camp and see what develops first.
The Braves clearly have been open to trade discussions, and Julio Teheran has garnered interest. But Atlanta would be selling somewhat low after a down year. The Indians would be more likely to move 25-year-old project Trevor Bauer than Carrasco or Salazar.
One last name to remember here: Ivan Nova. He's a pending free agent and coming off a rough return from Tommy John surgery. The Yankees are hopeful of getting some value back for Nova from a team that views him as a bounceback candidate who has retained his velocity.
Relief pitching
The woefully thin free-agent reliever group led to those blockbuster deals involving Chapman, Kimbrel and Giles. Obviously, when the Yanks landed Chapman, it led to instant speculation that an Andrew Miller trade might be next. But Chapman's potential suspension and the allure of a three-headed monster at the back end conspire to make a Miller trade highly unlikely at this juncture.
• Cashman: Yankees intend to keep Miller
Would the Pirates move Mark Melancon? In the right deal, yes, because he's approaching free agency and could make around $10 million (or more than 10 percent of the Bucs' total payroll) in 2016. But the Pirates also know they can take him into the year and potentially move him midseason, if it comes down to it.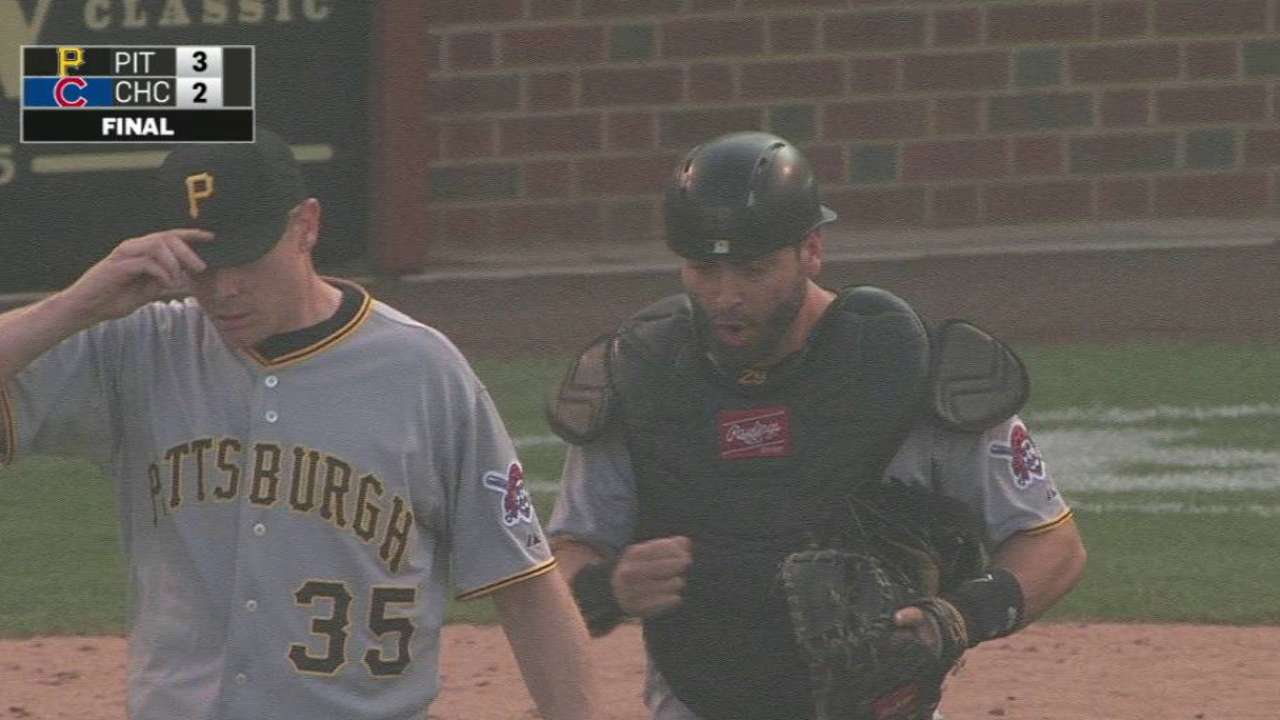 Obviously, the dugout spat in September led some to assume that the Nationals will move Jonathan Papelbon for whatever they can get, but that's not the case. Anyway, a Papelbon trade is complicated by his age (35), his salary ($11 million) and his 17-team no-trade list.
If any closer type stands as a realistic possibility to be dealt in the near term, it's Jake McGee or his teammate, Brad Boxberger. McGee is entering his third arbitration round, while Boxberger is still pre-arbitration, so it wouldn't be a big shock to see the Rays move McGee -- the Dodgers have made sense from the moment their Chapman deal fell through -- and his money.
Infielders
Pretty light here, as a lot of the heavy lifting -- the deals involving Frazier, Simmons, Castro, Brett Lawrie, Jed Lowrie, Erick Aybar, Neil Walker, Jedd Gyorko, Yonder Alonso, Mark Trumbo, Adam Lind, Brad Miller and Logan Morrison -- already has taken place.
The Reds obviously have major motivation to move Brandon Phillips and his salary, but Phillips, who has 10-and-5 rights, nixed a trade to the Nats because of an unrealistic request to get a contract extension as part of the swap. So he's not going anywhere, and neither is teammate Joey Votto and his colossal contract. Zack Cozart will be a trade candidate during the 2016 season if he can establish his health.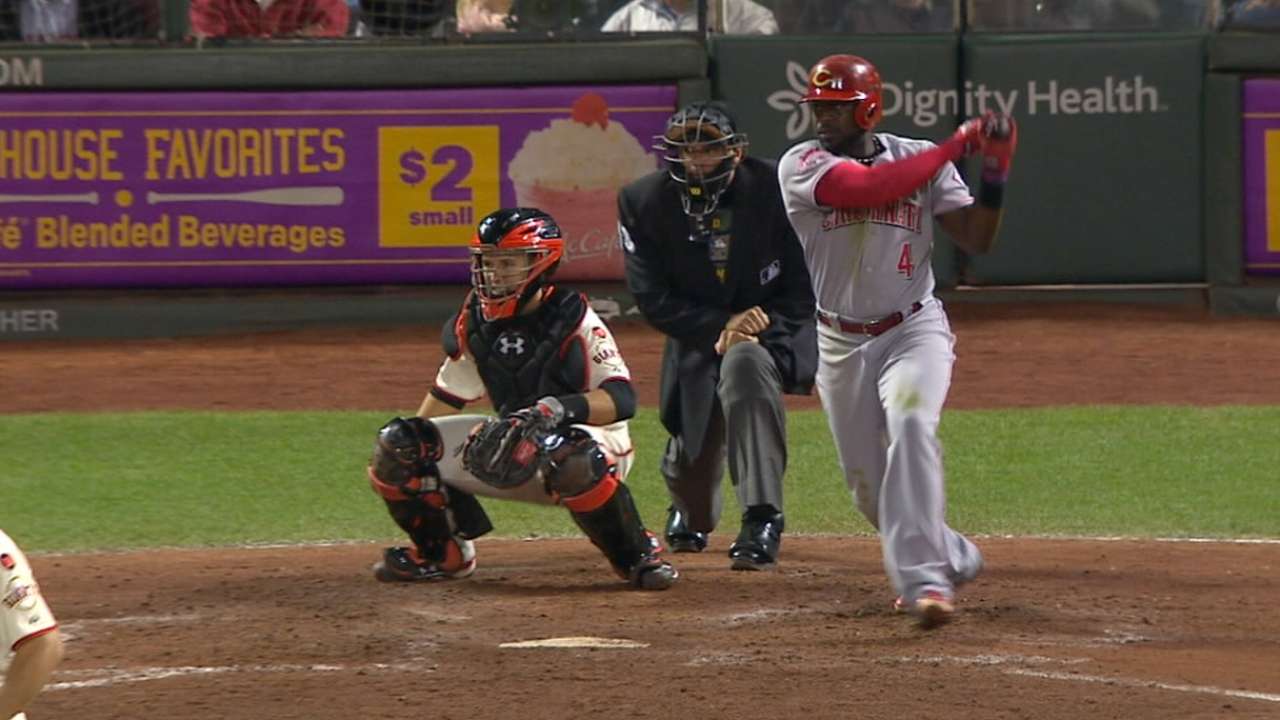 The Brewers, whose top prospect is shortstop Orlando Arcia, have a decent trade chip in Jean Segura, but there just aren't many teams in the market for shortstop help right now. Of course, that hasn't stopped clubs from calling the Rangers about Jurickson Profar, the onetime top prospect who is working his way back from shoulder issues. Profar can handle either middle-infield position, and he had a strong showing in the Arizona Fall League. But Texas isn't at all inclined to move him.
Catchers
Light here, too. No team has stepped forward with the overwhelming offer it would take to pry Jonathan Lucroy from the Brewers, especially after his underwhelming 2015 season. But the Padres are open to the possibility of moving either Derek Norris or the young Austin Hedges.
Anthony Castrovince is a reporter for MLB.com. Read his columns and follow him on Twitter at @Castrovince. This story was not subject to the approval of Major League Baseball or its clubs.