Anderson ready to compete for big league job
Club's top-rated prospect sees opportunity to start at shortstop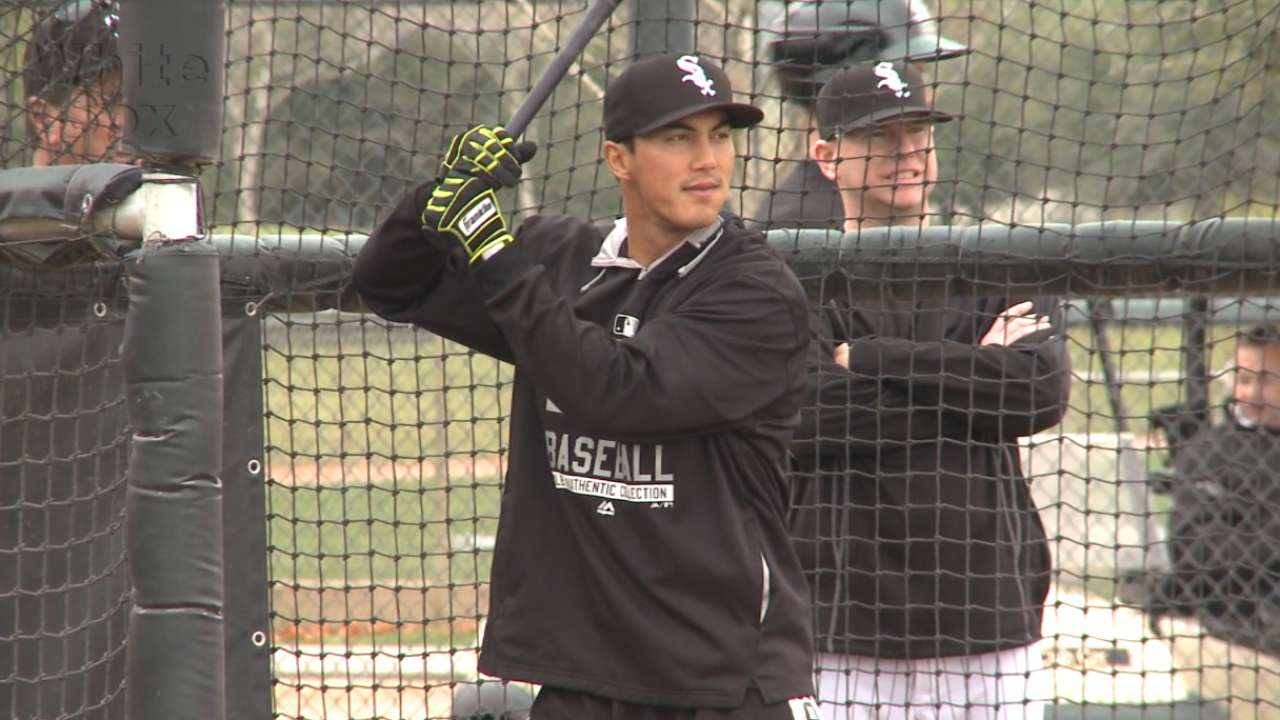 CHICAGO -- Spring Training promises to be a vastly different experience for Tim Anderson.
The 22-year-old, top-rated White Sox prospect is coming off of a stellar season in the prospect-rich Southern League, where the right-handed hitter posted a .312 average with 79 runs scored, 49 stolen bases, 46 RBIs, 21 doubles and 12 triples for Double-A Birmingham. He steadily improved defensively after committing 53 errors over his first 144 Minor League games at shortstop, a position where the athletic Anderson is determined to remain.
Most people familiar with Anderson see his Major League arrival either late in the 2016 season or the start of '17. But with incumbent Alexei Ramirez out of the picture, Anderson might force his way into the picture during February and March in Glendale, Ariz.
It's an idea that Anderson acknowledges but won't guarantee or try to predict.
"That's a goal. You can say that, that's fine. I don't know whether it's going to happen or not, but it's a goal," Anderson told MLB.com during a phone interview from the White Sox hitters mini-camp at a rain-soaked Camelback Ranch. "I'm thinking more of it than I did last year.
"Last year, my first big league camp, it was about being around these guys and seeing how they go about business. This year, come and compete and see what happens."
Tyler Saladino currently sits as the favorite to take over the White Sox shortstop job. The 26-year-old added a burst of energy and the ability to play solid defense across the diamond upon joining the big league team last season and has an extra feeling of excitement in returning to his natural position.
Anderson knows all about Saladino's talent and baseball knowledge, having roomed with him during Spring Training last year. Saladino is a guy that Anderson admits to looking up to and has learned from in the past. Competing against each other in Spring Training certainly won't stop Anderson from seeking out Saladino if questions arise.
Changes are on the horizon for Anderson whether he starts the 2016 campaign with Triple-A Charlotte or the White Sox. Anderson is expecting his first child, a daughter, with his fiancée, Bria. The due date stands as March 12, meaning Anderson will miss a little bit of Cactus League action.
Where he stands at the point of this blessed event, whether a jump from Double-A to the Majors truly is realistic, will be decided over the course of the next few months.
"However it plays out, I'm fine with that," Anderson said. "It would be great, but, then again, I can't control it, so it's just whatever happens, how the chips lay out. I'm just here to compete and show them where I stand. I can't make that call.
"I did things this past season that I couldn't do when I first got drafted. I feel like I learned a lot and grew a lot, as in, I'm learning more baseball as I go."
Scott Merkin is a reporter for MLB.com. Read his blog, Merk's Works, follow him on Twitter @scottmerkin, on Facebook and listen to his podcast. This story was not subject to the approval of Major League Baseball or its clubs.