Seaver thrilled to have Griffey, Piazza in Hall
Pitcher happy Junior was one to break vote record, welcomes second player to wear Mets cap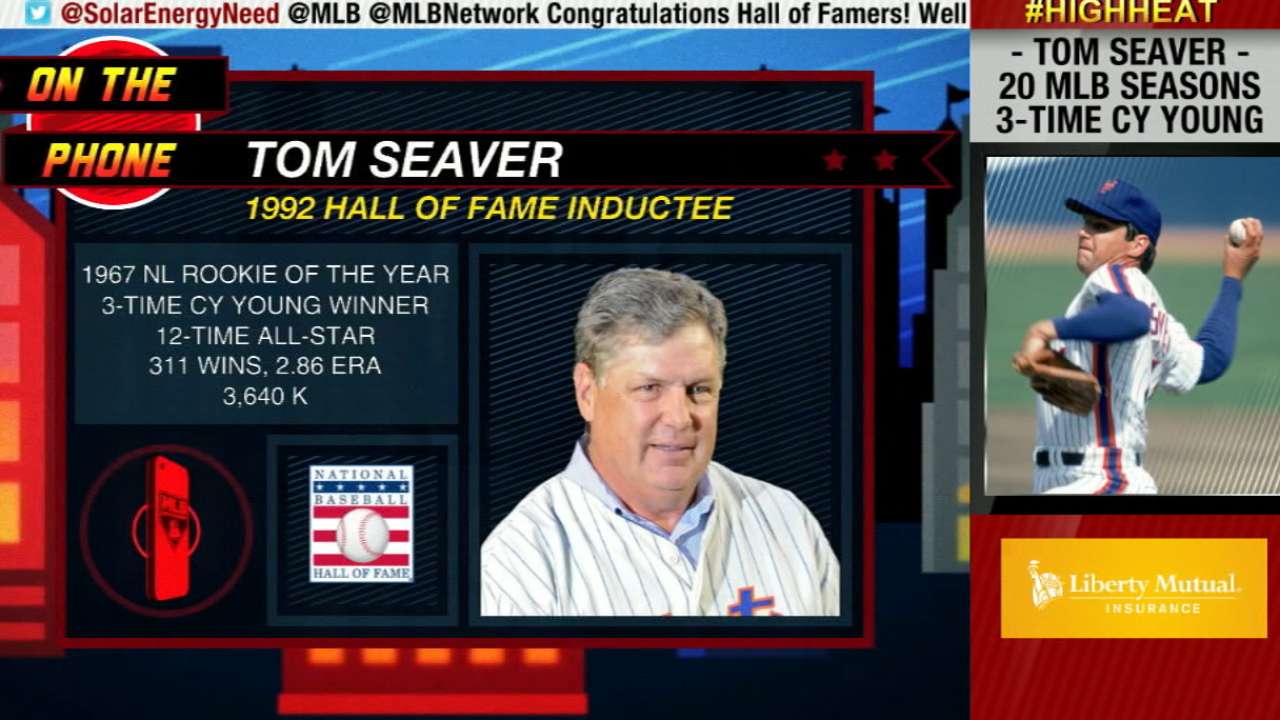 CINCINNATI -- When the Hall of Fame balloting results were revealed on Wednesday with Ken Griffey Jr. and Mike Piazza being in the 2016 class for induction, Tom Seaver lost his place at the top of two heaps at the same time.
Griffey broke Seaver's record for the highest voting percentage. And Seaver is no longer the only player in the Hall of Fame wearing a Mets cap, as he will now be joined by Piazza.
No problem on either issue, according to Seaver.
"They're good guys, too. Just real good professionals," Seaver said Thursday afternoon while a guest on MLB Network's "High Heat."
In his first year of eligibility, Griffey just missed being a unanimous selection to the Hall of Fame by the Baseball Writers Association of America. He was elected on a record 99.32 percent of the ballots with 437 out of 440 votes. It broke Seaver's 1992 record when he received 98.84 percent of the vote.
Holding the record was a point of pride for Seaver.
"Of course it did, yes, absolutely," Seaver said. "I was thrilled. There was going to be a time when somebody broke it and rightfully so in Junior. Junior was one hell of a player. Dedicated, etc. He has a great personality. I look forward to seeing him, absolutely in Cooperstown [in July]. He was a great everyday player, a pro's pro."
Now 71, Seaver was a 311-game winner with a 2.86 lifetime ERA over his 20 Major League seasons with the Mets, Reds, White Sox and Red Sox. He was a 12-time All-Star and three-time National League Cy Young Award winner.
Seaver threw his only no-hitter for Cincinnati on June 16, 1978, against the Cardinals. One of his Reds teammates was Griffey's father, Ken Griffey Sr.
"I adored Griffey Sr.," Seaver said. "He had a great sense of humor and was a bright guy and stuff. He's got a son that had tremendous talent and he didn't waste it."
During a 22-season career from 1989-2010 -- spent primarily with the Mariners and Reds -- Griffey batted .284/.370/.538, and ranks sixth with 630 home runs.
For the Mets, Seaver was the 1967 NL Rookie of the Year and a centerpiece member of the 1969 World Series champions.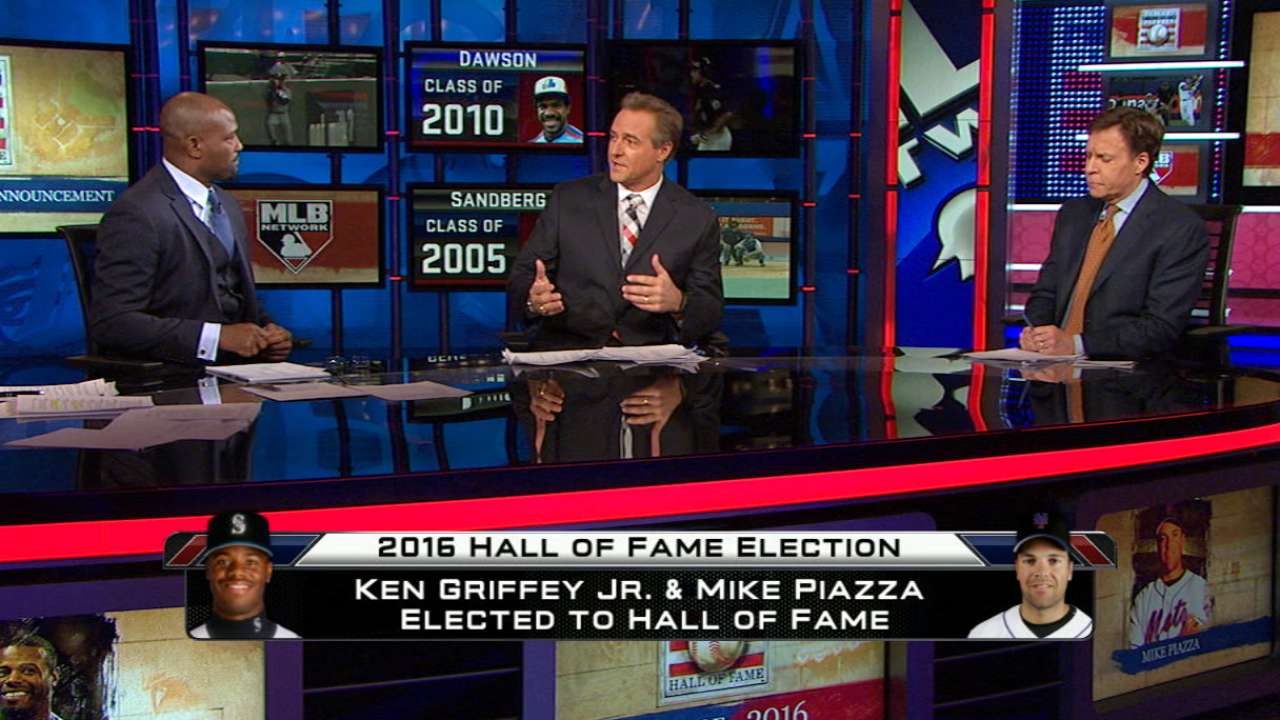 And for over two decades, Seaver had the distinction of being the lone member of the Mets to be enshrined in Cooperstown. He was excited to welcome Piazza to the Hall.
"I think it's terrific, wonderful," Seaver said. "Mike was a hell of a player, a great offensive player and it's nice to have him. It's great."
Piazza, who received 83 percent of the vote in his fourth year on the ballot, slugged a record 396 of his 427 career home runs as a catcher. He batted .308/.377/.545 with 1,335 RBIs from 1992-2007 during a career spent with the Dodgers, Marlins, Mets, Padres and A's.
Like Griffey, Seaver held no grudge that he wasn't a unanimous selection to the Hall of Fame. His name was not checked on only five of 430 ballots.
"Not at all. I went in. They can't kick me out now," Seaver said.
Mark Sheldon is a reporter for MLB.com. Read his blog, Mark My Word, follow him on Twitter @m_sheldon and Facebook and listen to his podcast. This story was not subject to the approval of Major League Baseball or its clubs.