Park bids farewell, looks ahead to first season in U.S.
Slugger holds final news conference in South Korea
Byung Ho Park isn't aiming low when it comes to which Major League pitchers he'd like to face.
"I won't have the chance this year, but I want to face [Clayton] Kershaw," the recently-signed Twins slugger told reporters in his native South Korea during his farewell news conference Wednesday before he heads to the United States.
The Twins and Dodgers aren't scheduled to meet this season. If Park arrives in the Majors with a bang, perhaps he and Kershaw could meet in the All-Star Game in July. Twins fans, of course, would be more than happy to see them meet in the World Series.
• Twins hope Park follows in Kang's footsteps
At this point, however, Park is keeping his goals guarded.
"It's a fact that MLB has the highest level of baseball players, and I do have big dreams," Park said in Korean, his comments translated into English through Jae Woong Han. "My goal is to enjoy and have a satisfying season with the Minnesota Twins."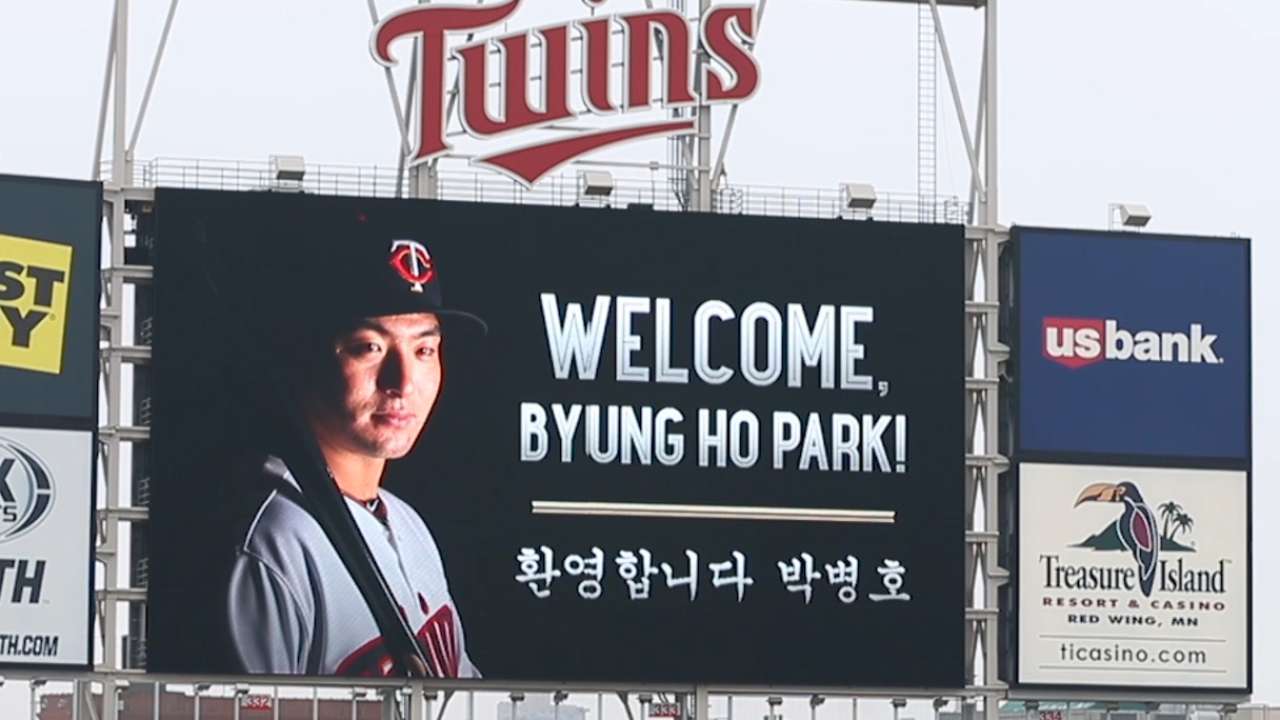 Park, who signed a four-year, $12 million contract with the Twins a month ago, has been working to make the transition a little easier. He said he has been working on his English and can already understand a bit of the language on his own, with the hope of someday being able to speak without a translator. At the plate, he said he has changed his mechanics to be better prepared for hard-throwing pitchers, having leaned back in his stance in the past. He heard from Twins All-Star Joe Mauer, who offered support to help him adjust.
The next step might be the chilly conditions of early spring in the upper Midwest.
"When I went there, people asked me how I feel about Minnesota weather," Park told the Korean media, "and it was similar to Korean weather right at that time. They said it hasn't even started. [Manager] Paul Molitor said the Twins have played well no matter how bad the weather was. I know it will be cold, but I will adjust and will prepare."
It'll be among the many differences Park will notice when he steps out onto Target Field for the first time in April. At least from a hitting standpoint, he said the ballpark dimensions felt familiar.
"No other word can describe it: Beautiful," he said. "Left and center had similar distance with Jamsil Stadium, except that the fence was a straight line rather than curved shape, which made me think that it could be slightly shorter than Jamsil. That was simply my impression. I will get to know it better once I start to hit and practice. I am excited to hit some balls at the field and show the Twins I can do what is expected of me."
The expectations aren't light. Park homered 105 times and drove in 270 runs over the last two years with the Nexen Heroes in the Korean Baseball Organization. He averaged 42 homers a year over his four full seasons as an everyday player.
The homer totals might not translate, but he's hoping to hit enough to keep Korean fans tuned in to games that will be broadcast early in the morning. It also would help for his Korean nickname to carry over.
"Few people from the Twins know about my Korean nickname: Park Bang," he said. "I don't think that nickname is bad at all."
Jason Beck is a reporter for MLB.com. Read Beck's Blog, follow him on Twitter @beckjason and listen to his podcast. This story was not subject to the approval of Major League Baseball or its clubs.