Salmon laments Halos' lack of Hall members
Longtime outfielder discusses former teammates Anderson, Eckstein, Edmonds, Glaus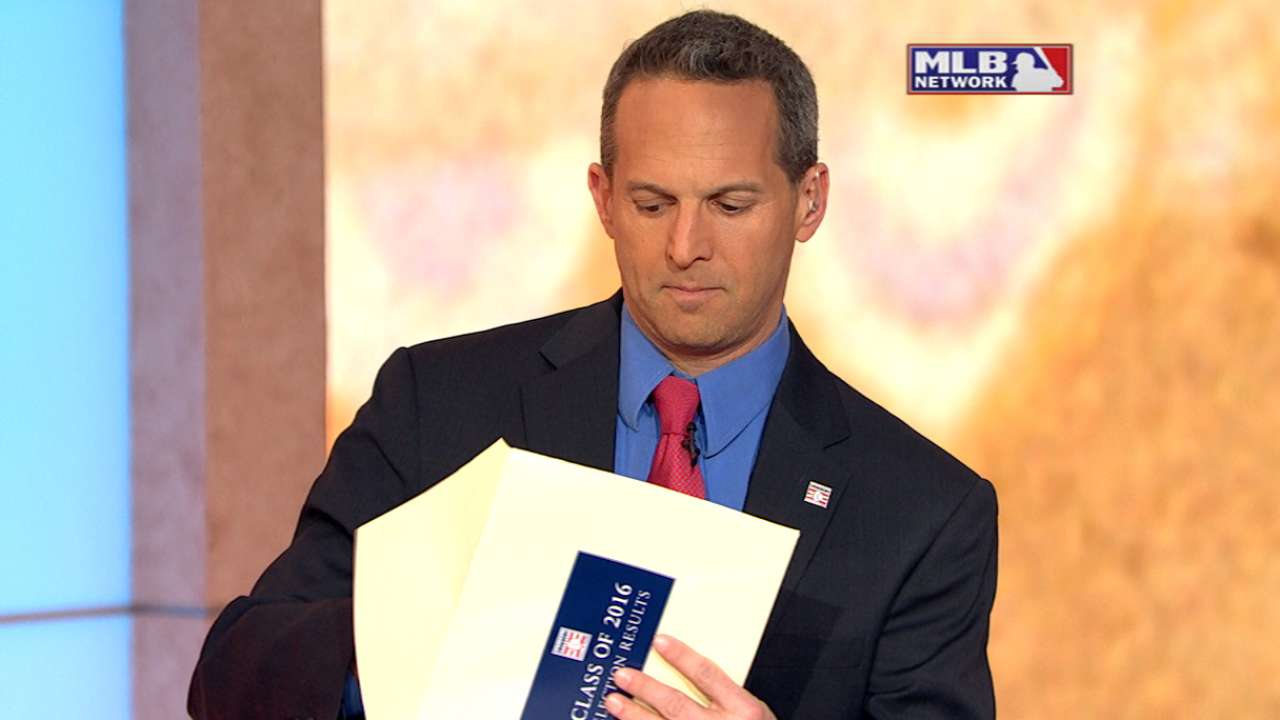 ANAHEIM -- You know that feeling you get in your mid- to late-20s, when it seems like everybody you know is getting married? Tim Salmon is experiencing something similar, except now he's at the age when all of his friends are appearing on Hall of Fame ballots.
"For so many years, when you were a player and they brought up Hall of Fame stuff, it was just that thing way out in the future that you didn't really give much thought to," Salmon, 47, said in a phone conversation. "It's kind of interesting and surreal to see it happening now."
Four of Salmon's most distinguished former Angels teammates debuted on the Hall of Fame ballot this year, but they all received less than 5-percent approval from the Baseball Writers' Association of America and thus dropped off the ballot.
• Four former Angels fall off Hall ballot
Jim Edmonds appeared on 11 of 440 ballots, or 2.5 percent. David Eckstein garnered two votes, Garret Anderson received one, and Troy Glaus was shut out entirely. So now it's official: Another year will pass without an Angels representative in the Hall of Fame.
Ken Griffey Jr., who joined Mike Piazza to make up the 2016 class, is expected to choose a Mariners cap for his Hall of Fame plaque. When he does, the Angels will be one of only five teams -- out of the current 30 -- without a representative in the Hall.
• Griffey, Piazza are Hall's Class of 2016
While the Rockies, Marlins, Rays and Nationals (who do have two players in franchise history in Cooperstown -- Gary Carter and Andre Dawson went in as Montreal Expos) all are less than 25 years old, the Angels are heading into their 56th season in existence. Three of their players have won the American League Most Valuable Player Award, and two others have won the Cy Young Award. The Angels have hosted a 500th career home run twice, and a 300th win and 3,000th hit once apiece. And yet not one of the 312 plaques that will hang in Cooperstown, N.Y., -- counting Griffey and Piazza -- features an Angels cap.
"When you look back over the history of the Angels, and when you think about the way the teams were put together, it doesn't surprise me," Salmon said. "Because you had great players who were on track for that but were traded away, or they moved on, or they were free agents. They left. I think that's why sometimes the Angels don't get included in that conversation, although they've had amazingly great Hall of Fame players that have played for them at various times. I just don't think there was ever enough tenure within the organization."
Ten Hall of Famers played for the Angels, including Nolan Ryan, Rod Carew and Reggie Jackson, each of whom spent at least five years in Anaheim. But Jackson made his mark with the A's and Yankees, Carew with the Twins. And even though Ryan won his most games with the Angels, he went in with the Rangers.
Next year could be interesting, though.
That's when Vladimir Guerrero gets on the ballot, joining Manny Ramirez and Ivan Rodriguez as notable first-timers. Guerrero boasts some interesting credentials, with 449 career home runs, 2,590 hits, a .318/.379/.553 slash line and one of the greatest right-field arms in history.
Guerrero batted .323/.390/.588 with 234 homers and 1,215 hits while spending his first eight years in Montreal, then .319/.381/.546 with 173 homers and 1,034 hits during his next six in Anaheim. He took to Twitter on Wednesday to express how torn he is with the potential decision.
My friends, what do you think about this cap?. I love @Montreal_Expos and @Angels's fans both!!! pic.twitter.com/GQ6oiXHk54

— Vladimir Guerrero (@VladGuerrero27) January 6, 2016
"I don't know enough about [Guerrero's] years in Montreal, but I will say he got the most notoriety of his career in Anaheim, I would think," said Salmon, who received five votes from the BBWAA in 2012. "He won his MVP there [in 2004], he took the team to the playoffs. He didn't accomplish any of that stuff in Montreal. I'd like to think he'd go in as an Angel, but nobody knows the mind of those players and their experiences."
The Hall of Fame leaves it up to the players, though it also whittles their options "to ensure that a player's legacy is properly reflected with a team where significant contributions were realized," a Hall of Fame official wrote in an e-mail. Guerrero, who spent his last two years with the Rangers and Orioles, probably would choose between an Angels cap and an Expos cap, even though the latter franchise moved to Washington and became the Nationals in 2005.
If Guerrero chooses the Expos -- or goes with no logo, a la Greg Maddux and Tony La Russa -- the Angels would probably have to rest their hopes on Mike Trout, who is on an unprecedented track but still is just 24 years old.
Salmon lists several reasons for the Angels' lack of a Hall of Fame representation, including players leaving too early or signing too late in their careers, the difficulty of hitting home runs at home, and the lack of exposure that comes with playing on the West Coast. But he also speaks highly of the talent that has come through the organization.
Many of those stars played alongside Salmon, the power-hitting outfielder who spent his entire 14-year career with the Angels. And four of the most notable just appeared on the Hall of Fame ballot.
Below is a look at their careers, with Salmon's take added on.
Edmonds
Credentials: An eight-time Gold Glove Award winner in center field, Edmonds finished his 17-year career with a .284/.376/.527 slash line, 393 home runs, 1,949 hits, four trips to the All-Star Game, a Silver Slugger Award and a World Series championship with the Cardinals in 2006. Edmonds was solid with the Angels from 1993-99, but his career took off after a March 2000 trade to St. Louis, a deal that brought back second baseman and franchise favorite Adam Kennedy.
Salmon: "Jimmy always had the ability to flip a switch. He had that ability when it was a Sunday night game, a big game, a big pitcher. He somehow could flip that switch, and what would kill you sometimes about it was those midweek games when we still wanted that production, and the switch didn't get turned on sometimes. But I think when he went to St. Louis, he figured out whatever it was and he was able to tap into turning that switch on on a nightly basis."
Anderson
Credentials: Anderson spent 15 of his 17 seasons with the Angels and holds franchise records for games played (2,013), hits (2,368), doubles (489), RBIs (1,292) and runs (1,024), while ranking second to Salmon in homers (272). A three-time All-Star and two-time Silver Slugger Award winner among left fielders, Anderson finished his career with a .293/.324/.461 slash line and batted at least .280 every year with the Angels.
Salmon: "I never saw him overmatched, I never saw a pitcher that seemed to have his number. I know stats might say it differently, but every time Garret stood in the box, you felt like he had the upper hand. … There was nobody that he felt could get him out. That was unique to him."
Glaus
Credentials: Glaus was the World Series MVP in 2002, capping a postseason in which he batted .344 with seven homers and 13 RBIs in 16 games. A converted shortstop, Glaus was one of the most menacing third basemen of his time. He made four All-Star teams, won two Silver Slugger Awards and averaged 30 home runs from 1999 to 2008 (including 47 in 2000 and 41 in '01).
Salmon: "His story to me was that kid that had everything, that was a can't-miss and never struggled, and I remember that first year in the big leagues, he really struggled. We were friends, and we'd talk quite a bit about it. There were some dark days for him. But he figured it out. I think that's a testament to his character and his perseverance."
Eckstein
Credentials: Eckstein starred on the World Series champion Angels of '02 and also joined Edmonds on the title-winning Cardinals in '06, winning MVP for the latter Fall Classic. A hard-nosed, undersized shortstop who became something of a cult hero in St. Louis and Southern California, Eckstein played in nine postseason series in his 10-year career and spent his first four seasons with the Angels, batting .278/.347/.353 from 2001-04.
Salmon: "He knew that to survive he had to give 100 percent every day. And the discipline to do that as a player is so unique. It's almost unfounded. [Darin Erstad] was probably the closest to that, but I know the days Ersty had his down days. Eck, you never sensed that it was a down day. He played every day like it was the last game he was ever going to play. Guys talk about doing that -- he did it."
Alden Gonzalez is a reporter for MLB.com. Follow him on Twitter @Alden_Gonzalez and Facebook , and listen to his podcast. This story was not subject to the approval of Major League Baseball or its clubs.