Pudge, Magglio to have HOF credentials evaluated in '17
Former Tigers helped rejuvenate franchise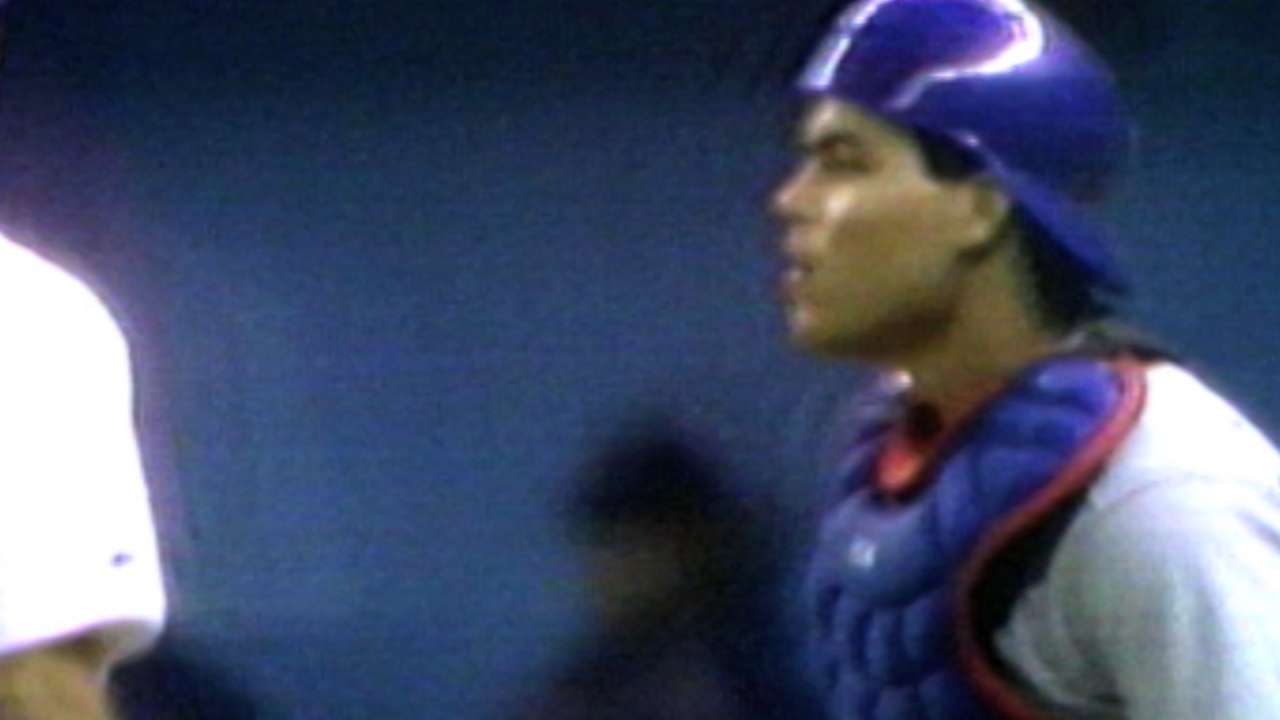 DETROIT -- The last member of the Tigers' 1984 World Series championship squad on the Hall of Fame ballot fell off on Wednesday, leaving Detroit's hopes for getting anyone from its last title-winning club into Cooperstown in the hands of the Veterans Committee.
Now, as the '84 Tigers' Hall of Fame argument closes, the case of the Tigers' renaissance is about to begin.
No sooner does Alan Trammell fall off the Baseball Writers' Association of America ballot than Ivan Rodriguez and Magglio Ordonez go on it. Both played the bulk of their careers in other places and wouldn't go into the Hall of Fame with a Tigers cap, yet both are revered around Detroit.
"I've been thinking about it," Rodriguez told MLB Network Radio on Thursday morning. "I never was a player to think about any of that as far as the numbers and the carryover now. It's going to be four years as a retired player, and with the career that I've got, I've been thinking about it."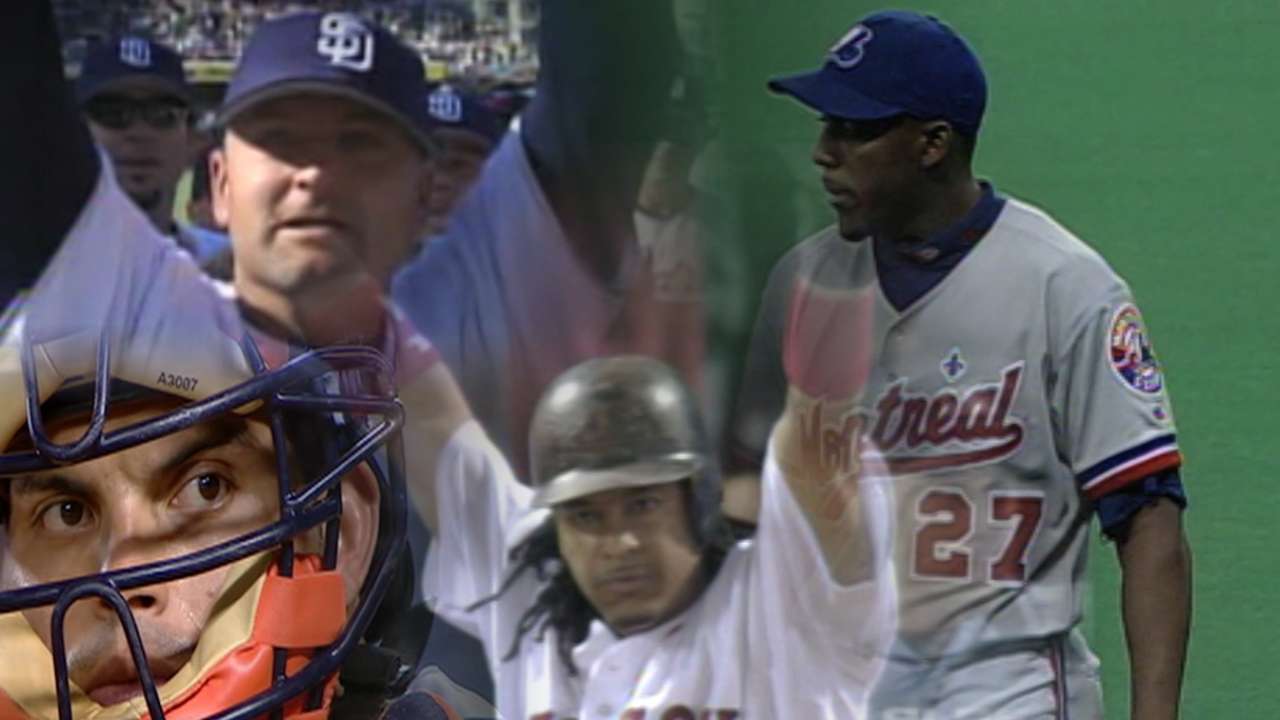 The duo helped lead the Tigers from 119 losses in 2003 to a World Series berth in 2006, but their legacy in Detroit is more than that. Rodriguez wasn't around for the Tigers' run of four consecutive American League Central titles, and Ordonez was gone after the first of them in 2011. Yet without their decisions to come to Detroit as free agents, the run might never have happened. Along with owner Mike Ilitch, who recruited and signed Rodriguez in 2004 and Ordonez in 2005, they changed the perception of Detroit as a baseball hinterland into a place where players wanted to go. Ten years after the Tigers couldn't get a conversation with then-free agent Miguel Tejada's representatives, Torii Hunter came to Detroit looking at what he felt was his best chance to add a World Series title to his career.
• Castrovince: Predicting Cooperstown's 2017 class
To some extent, Rodriguez's case mirrors that of Piazza, two players among the best of their era at a premium position who have had to deal with the debate of the era. His on-field resume includes 14 All-Star selections, 13 Gold Glove Awards, seven Silver Slugger honors, and the Major League record for games caught. He fell 146 hits shy of the 3,000 mark, four points short of a career .300 batting average and .800 OPS. He threw out 45.68 percent of would-be basestealers, the fourth-highest percentage among catchers who played 20 or more seasons.
Rodriguez has the best chance of a former Tiger to gain induction among recently-retired players.
"I'm not a person to talk about myself," Rodriguez told MLB Network Radio. "I can tell you that I feel very pleased with the 21-year career that I played. I played for six very good organizations that I respect very, very much. But I'm not really a person to say I should be in.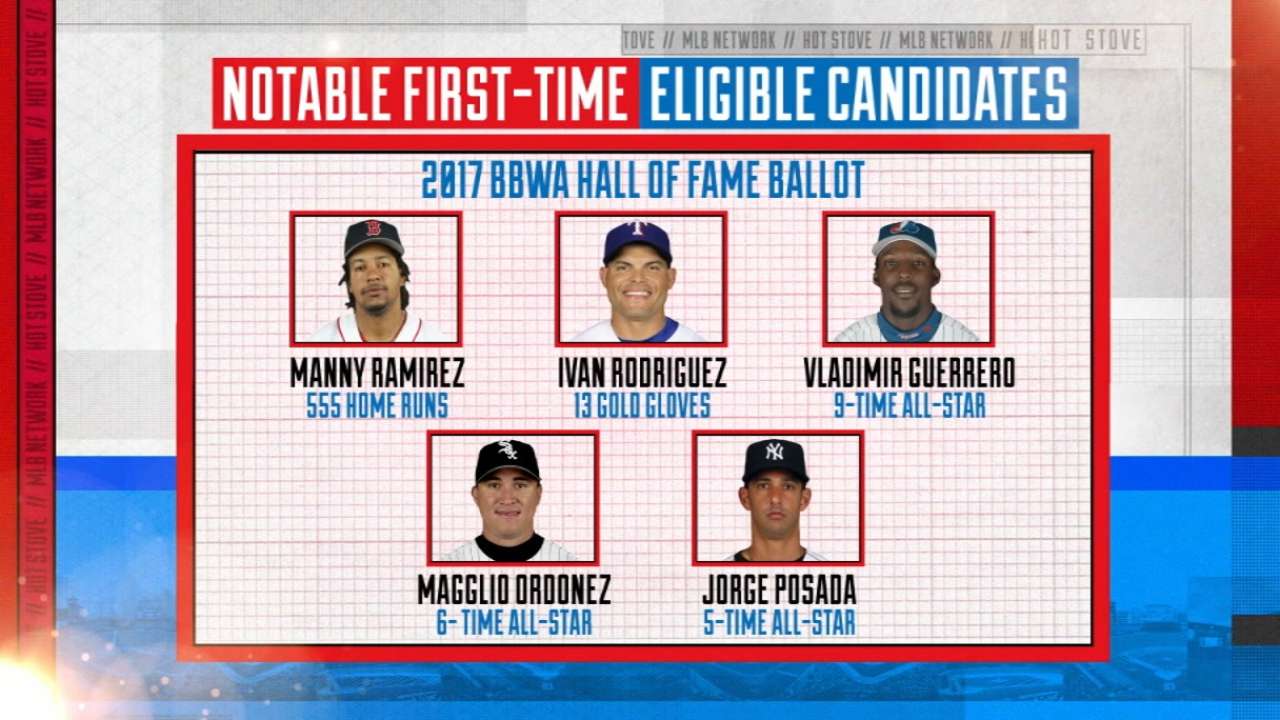 "Basically, to me, the only thing I have to do right now is wait until next year and see what happens. But I would love to be there next year, obviously, with all those Hall of Famers and now Ken Griffey and Mike Piazza, players that I played against for a long time. Seeing them also in that stage in Cooperstown, it would be awesome."
Ordonez is a six-time All-Star and three-time Silver Slugger winner who came back from a 2003 knee injury that some feared could end his career. He won a batting title in 2007 with a .363 batting average to go with 54 doubles, 28 home runs and 139 RBIs to earn AL MVP runner-up status behind Alex Rodriguez. He finished with 2,156 hits and 294 home runs during his 15-year career, the final seven of which he spent in Detroit.
Jason Beck is a reporter for MLB.com. Read Beck's Blog, follow him on Twitter @beckjason and listen to his podcast. This story was not subject to the approval of Major League Baseball or its clubs.