O's add former big leaguer Quinn to staff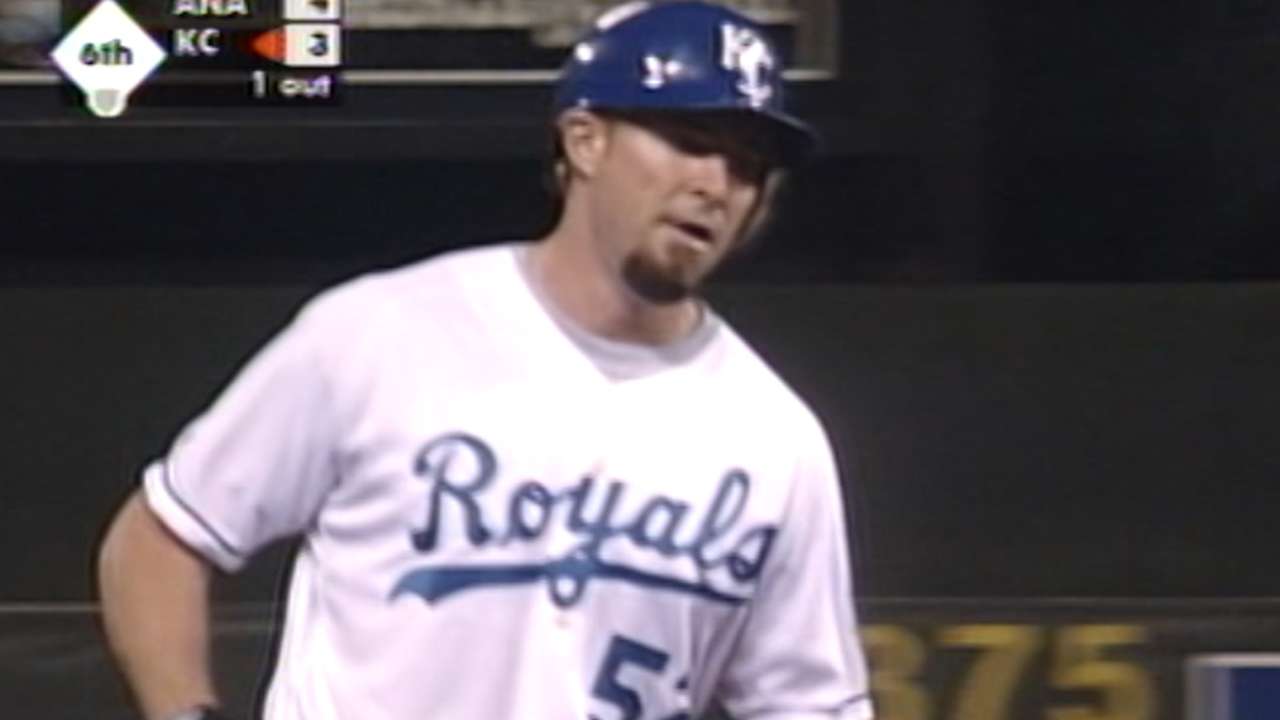 BALTIMORE -- The Orioles announced Thursday that they have named Mark Quinn assistant hitting coach, and the rest of the members of the Major League staff will return in their current role. Quinn takes the role of Einar Diaz, who will serve as a Major League coach and assist in all aspects of O's coaching.
Quinn, who played four Major League seasons with Kansas City, said in a conference call that he wasn't necessarily looking to make the jump back to the big leagues. Quinn is the founder of the Houston Royals, a youth travel ball organization. He is also owner of The Baseball School in Houston, an elite instruction program that provides baseball players of all ages with a foundation of proper fundamentals.
"To be honest, in the beginning, I was a little skeptical," said Quinn, who was approached by vice president of baseball operations Brady Anderson. "I've built a very successful business in Houston and I didn't know what the pro coaching entailed. Obviously, I know the travel of a big league player, but I really want to get around guys that want to be the best in their craft. And I think I can help. That's kind of the message I relayed to Brady."
Quinn rounds out a group that includes bullpen coach Dom Chiti, hitting coach Scott Coolbaugh, third-base coach Bobby Dickerson, first-base coach Wayne Kirby, bench coach John Russell and pitching coach Dave Wallace.
The 41-year-old, who batted .282/.324/.481 with 45 home runs and 167 RBIs in 293 career Major League games, said he's learned a lot since his playing days.
"I've learned how to approach failure a little bit better," Quinn said. "I know a lot more about the swing … hitting is a very offensive position. It's a selective aggressiveness -- the body is going to be moving in a very violent manner, and a good athletic base [and] balance are the keys to success.
"Taking myself out of the batter's box, I gained perspective on how to go about preparation on a day-to-day basis, how to analyze failure and how to pick up on things a lot quicker than when I was actually in the batter's box."
Quinn posted a career .306/.376/.505 line over 11 Minor League seasons, with 101 homers and 469 RBIs in 675 games. He led the Double-A Texas League with a .349 batting average in 1998 as a member of the Wichita Wranglers. Quinn also won the Triple-A Pacific Coast League batting crown in '99 after hitting .360 with the Omaha Golden Spikes, and he was named the PCL Rookie of the Year in '99.
Selected in the 11th round of the 1995 Draft by the Royals, Quinn's final playing year was in the White Sox organization in 2006. He is a product of Rice University and was inducted into the school's Hall of Fame in '07.
Asked for his initial impressions on some of the Orioles, Quinn noted that the team's strikeouts hurt some of its offensive chances in 2015, but he made it clear he's going to spend this spring primarily learning and evaluating.
"I know there's a lot that goes into it. My main goal in the beginning is just to get acclimated into [manager Buck Showalter's] system," Quinn said. "And if they ask for my feedback, I will be prepared and I'll have my answers. There's going to be a lot of quiet evaluation on my part in Spring Training on watching guys, watching their path to the ball, their setup, their balance, making sure that head stays down. I want to see guys hit."
Brittany Ghiroli is a reporter for MLB.com. Read her blog, Britt's Bird Watch, follow her on Facebook and Twitter @britt_ghiroli, and listen to her podcast. This story was not subject to the approval of Major League Baseball or its clubs.