MLB.com Columnist
Hal Bodley
Best of the rest: The non-Hall of Fame All-Star team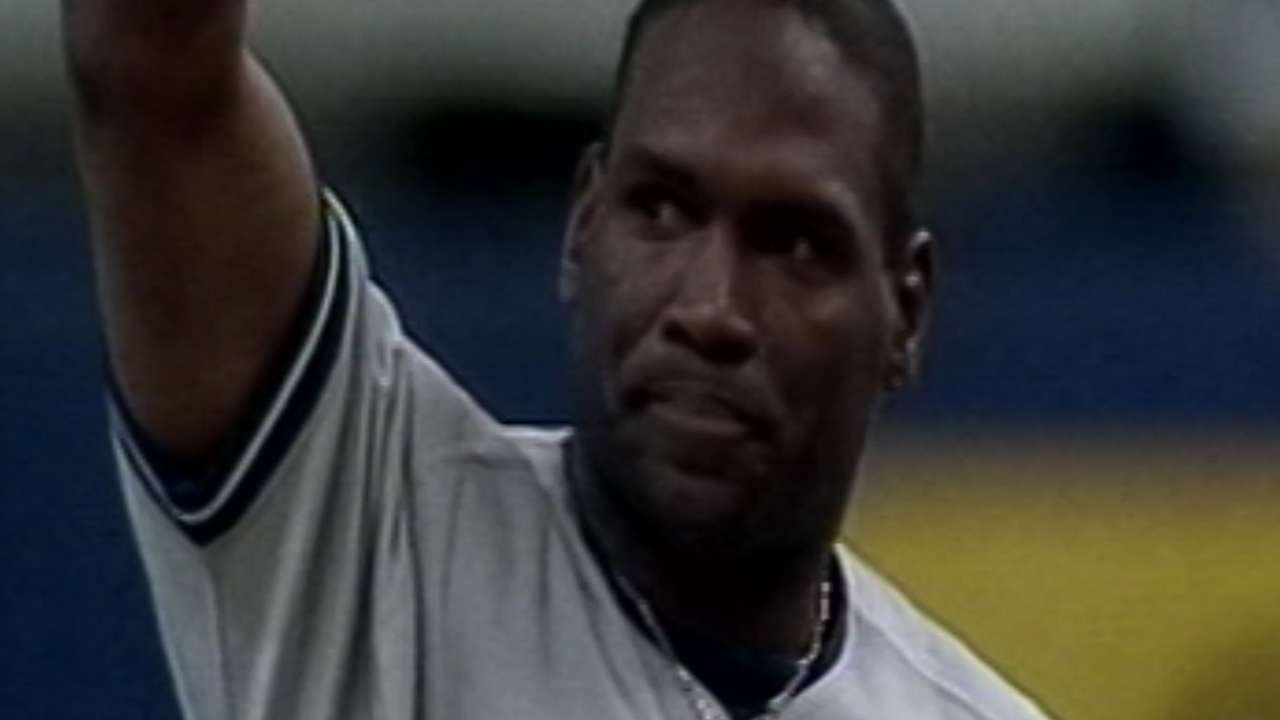 All the buzz is about Ken Griffey Jr. and Mike Piazza gaining election to the Hall of Fame. And how could three Baseball Writers' Association of America voters leave Junior off their ballots? That's another story.
But what about many of baseball's outstanding players who maybe should have a plaque in Cooperstown? Or maybe not.
• Griffey, Piazza voted into Hall of Fame
So I put together my "All non-Hall of Fame All-Star team."
Many of the players remain on the BBWAA ballot, and they may get the necessary 75 percent of the writers' vote in years to come.
Others, who weren't elected during their years on the BBWAA ballot, may be elected by the Hall of Fame's various Veterans Committees.
Some of my choices may never see the light of day in the shrine, but their credentials certainly deserve consideration.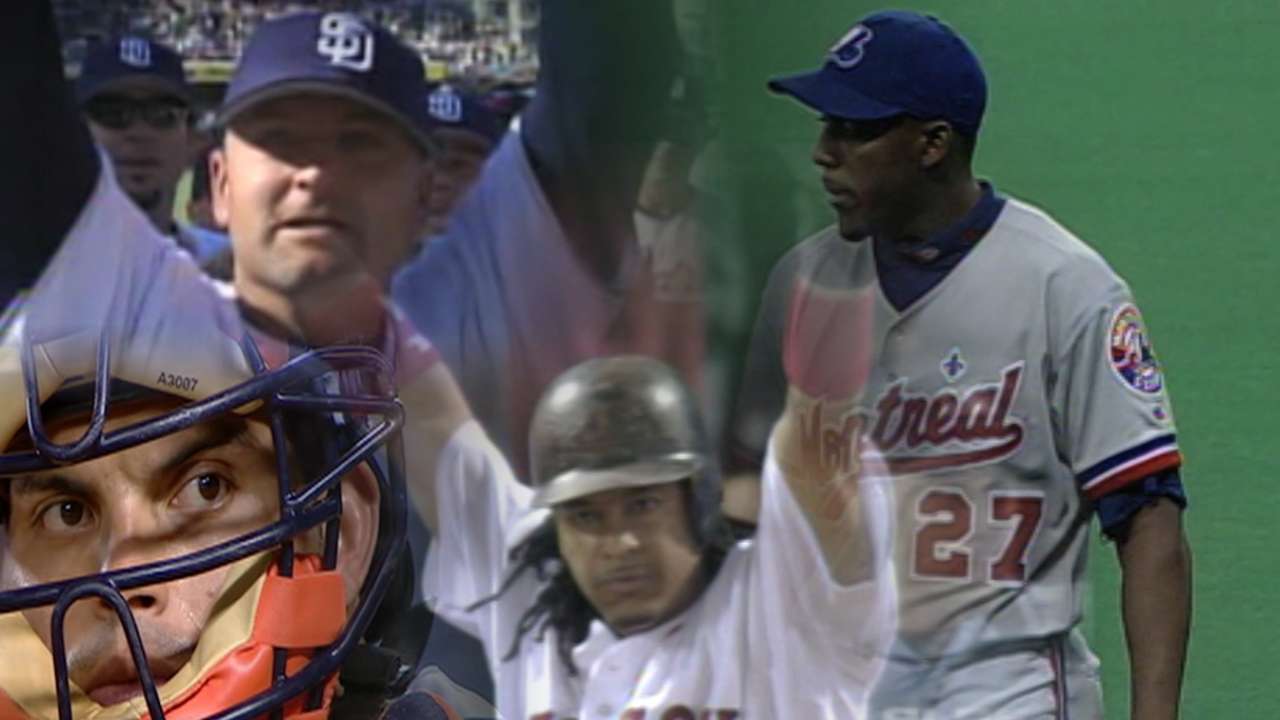 As a footnote, it's been my philosophy never to vote for eligible candidates tied to performance-enhancing drugs. Baseball, and especially its records, is too sacred to be tainted by these players. You will not see their names here, nor will players who will become eligible in future years be included.
Tim Raines, arguably the second-best leadoff hitter of all time (behind Hall of Famer Rickey Henderson) and an outstanding defensive outfielder, received 69.8 percent of this year's vote and has an excellent chance of making it in 2017, his last year on the ballot.
• Raines gaines, but falls short of Hall election
The big knock against Raines, who played 23 years, is that after a brilliant seven-year span with Montreal from 1981-87, his career seemed to wane. He led the National League in stolen bases four times during those seven seasons, during which he stole 504 bases. Raines batted .294 lifetime, but never won a Most Valuable Player Award. Regardless, he ranks fifth in career stolen bases and should be in the Hall.
After Raines, my team:
C: Ted Simmons
During Simmons' 21-year career, he was one of the game's top catchers. He batted .285 and was an eight-time All-Star. He got very little attention during his years on the BBWAA ballot, because he was primarily an offensive force. Simmons was greatly overlooked when it came to the Hall of Fame.
1B: Jeff Bagwell
Bagwell finished third in this year's voting at 71.6 percent. He should have no trouble reaching 75 percent a year from now, which will be his seventh on the ballot. Bagwell hit a franchise-record 449 home runs during his 15-year career with the Astros. He had a .297 career average and stole 202 bases. Bagwell was often compared to Hall of Famer Frank Thomas, who played first base before he became primarily a DH.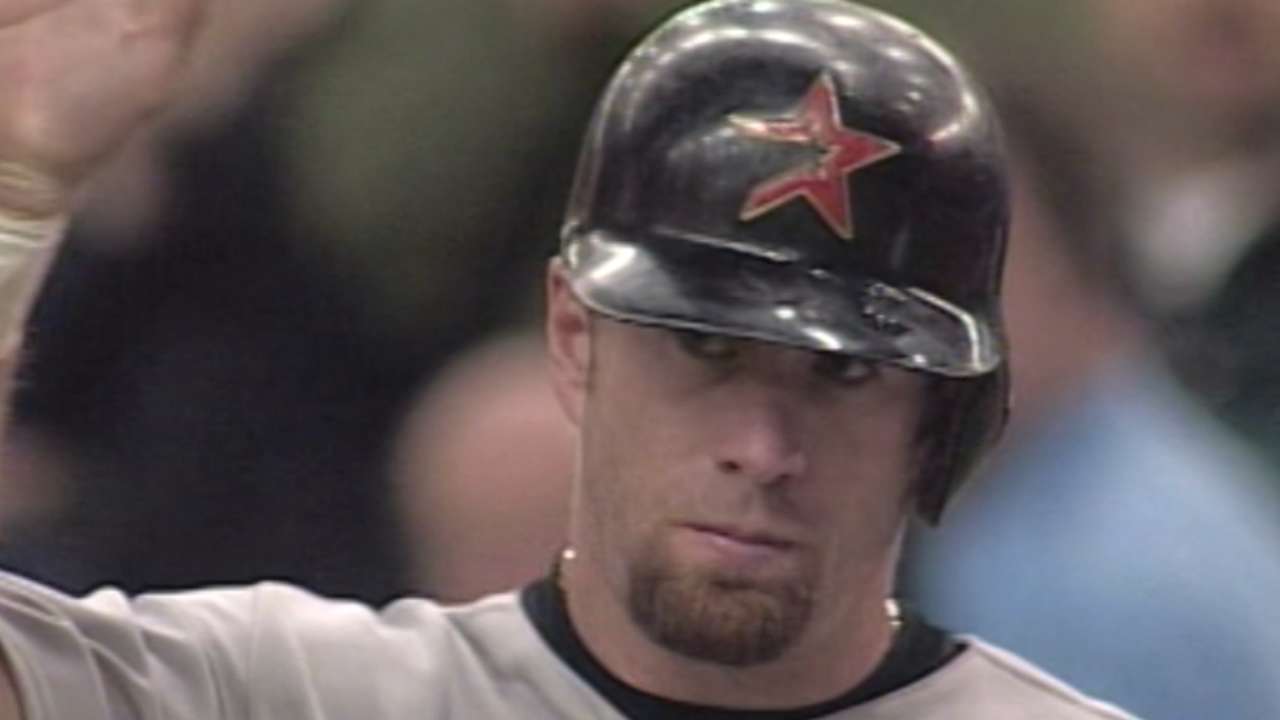 2B: Jeff Kent
Kent has been struggling to get support by BBWAA voters during his first three years on the ballot, but that should improve in the future. A Hall of Famer should dominate at his position, and that's exactly what he did. There were no second basemen like Kent; his 377 homers are the most ever by a player at that position. The highlight of his 17-year career was winning the 2000 NL MVP Award when he batted .334 with 33 homers and 125 RBIs for the Giants. When Barry Bonds was having his great seasons for San Francisco, it was Kent who protected him in the batting order.
• Kent sees minor uptick in voting
3B: Dick Allen
Allen just missed being elected by the Golden Era Committee in 2014. He should make it in 2017. I covered Allen when he broke in with the Phillies in 1964, and I have never seen a young player with as much talent. He was a seven-time All-Star, won the '64 NL Rookie of the Year Award, the '72 American League MVP Award and was considered one of the most feared hitters of his generation. Twice Allen led the AL in homers, ending his career with 351 and 1,119 RBIs, including a .534 slugging percentage and a .378 on-base percentage. He hit at least 20 homers in 10 seasons, including six seasons with at least 30. During Allen's first 10 seasons, he was arguably the best player in the game.
SS: Alan Trammell
Trammell was one of the best at his position and was as consistent as any shortstop during his era, but he fell off the BBWAA ballot after this year's vote, his 15th of eligibility. His numbers are very comparable to shortstop Barry Larkin, who was elected in 2012. Trammell batted .285 with 2,365 hits, and he is a perfect example of who I consider a borderline Hall of Famer, whose best chance is with the Expansion Era Committee.
OF: Tony Oliva
Like Allen, Oliva missed by one vote from the Golden Era Committee in 2014 and will be up again in '17. Three times he was the AL batting champion, he was an All-Star for eight consecutive seasons, he won a Gold Glove Award in 1966 and he won the AL Rookie of the Year Award in '64. Oliva's lifetime batting average was .304.
OF: Roger Maris
I've always been criticized by peers when I plead Maris' case. It's more about him breaking Babe Ruth's single-season home run record of 60 in 1961. A two-time AL MVP Award winner, Maris was a better-than-average outfielder who has never gotten the credit he deserves.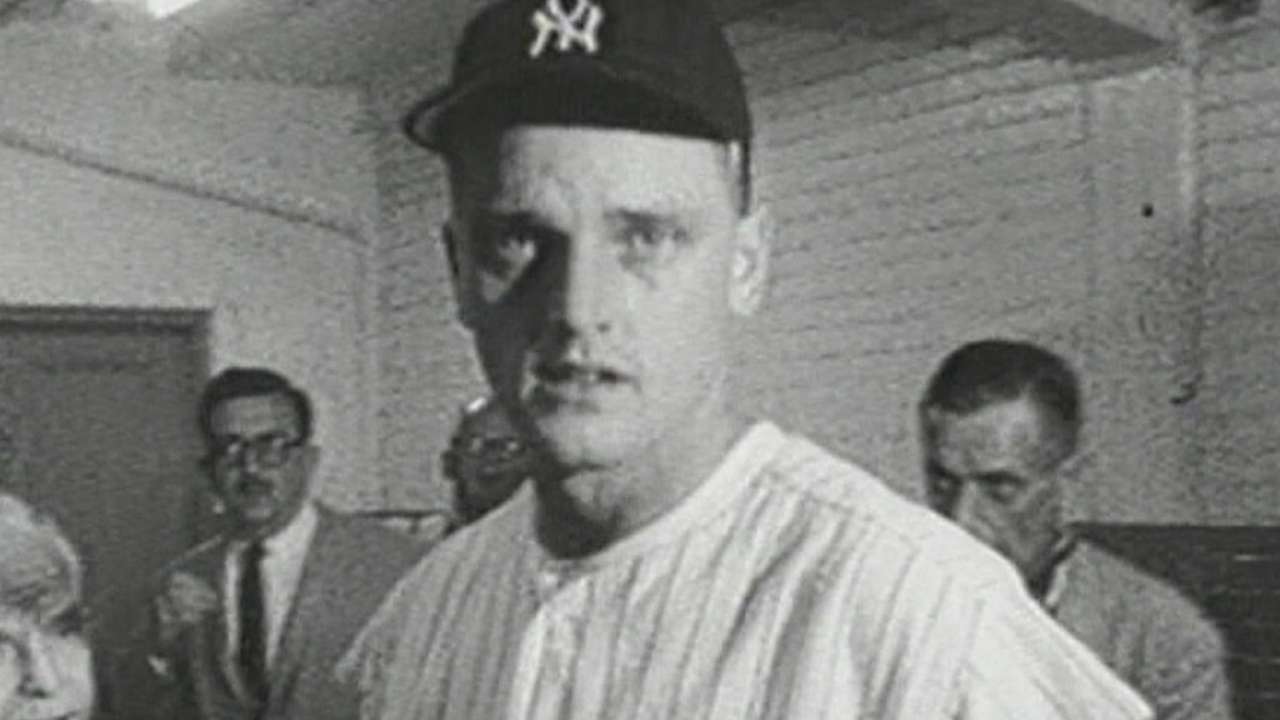 SP: Jack Morris
The best of Morris' 15 years on the BBWAA ballot was 2013, when he received 67.7 percent of the vote, but, despite his credentials, he surprisingly never reached the 75-percent plateau. His 3.90 ERA has been a negative for voters, but he always got my vote because, for more than a decade, he was a premier starter -- three 20-win seasons, Cy Young Award votes in seven seasons and MVP votes in five. My guess here is that the Expansion Era Committee will send Morris to Cooperstown.
DH: Edgar Martinez
Martinez has been on the BBWAA ballot for seven years and is only at 43.4 percent. Paul Molitor and Thomas are the only DHs who've been elected and, although they played other positions, their best seasons were at DH. Martinez has three more years on the BBWAA ballot. Even though he was predominantly a DH, it's difficult to overlook his .312 batting average over 18 seasons, seven All-Star appearances, five Silver Slugger Awards and his two AL batting titles.
• Martinez optimistic after latest voting increase
CP: Trevor Hoffman
After finishing fifth in this year's voting (his first on the ballot) at 67.3 percent, Hoffman should join the only other closers -- Hoyt Wilhelm, Rollie Fingers, Goose Gossage, Bruce Sutter and Dennis Eckersley -- in the Hall as early as next year. Only Mariano Rivera (652) recorded more than Hoffman's 601 saves.
• Hoffman hopeful after strong debut on ballot
For some mentioned here, their long-awaited call from the Hall of Fame will come soon, others later and for some, never.
But just to be considered is an achievement.
Hal's non-Hall of Fame All-Star team
C: Ted Simmons *
1B: Jeff Bagwell
2B: Jeff Kent
3B: Dick Allen *
SS: Alan Trammell *
OF: Tim Raines
OF: Tony Oliva *
OF: Roger Maris *
Pitcher: Jack Morris *
DH: Edgar Martinez
Closer: Trevor Hoffman
* -- No longer on BBWAA ballot; must be considered by HOF Veterans Committees.

Honorable mentions: Fred McGriff, Curt Schilling, Mike Mussina, Larry Walker, Babe Herman, Riggs Stephenson, Billy Wagner, Bobby Grich.
Hal Bodley, dean of American baseball writers, is the senior correspondent for MLB.com. Follow him on Twitter @halbodley. This story was not subject to the approval of Major League Baseball or its clubs.