Griffey, Piazza swung for fences as kids, too
Hall of Fame's newest members offer advice to young ballplayers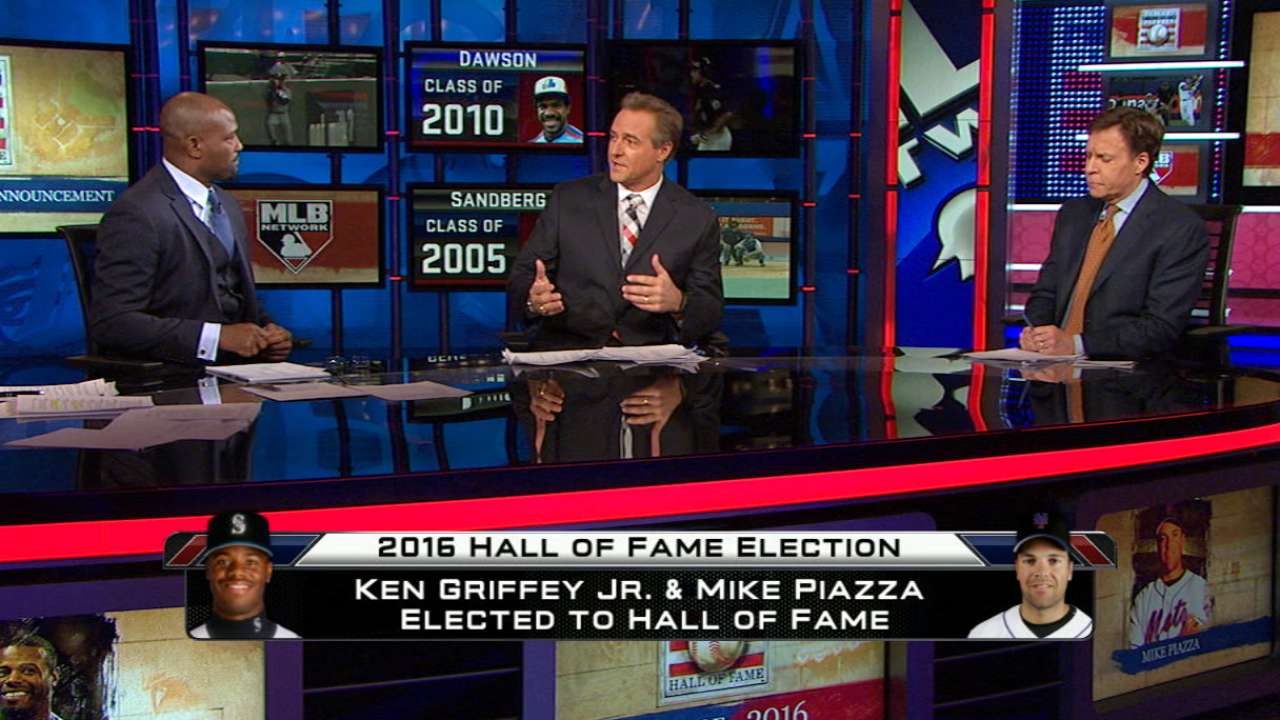 Ken Griffey Jr. and Mike Piazza took vastly different paths to the Major Leagues, via the first and 62nd rounds of the MLB Draft, respectively. But they still managed to arrive at the same destination: the Hall of Fame. When Cooperstown called on Wednesday, it validated the decades of hard work that each player had put into achieving their goal. The Hall's newest members recounted their journeys from backyard games to the big leagues and offered advice for kids following in their footsteps.
Piazza
In his fourth year on the ballot, Piazza earned a spot in the Baseball Hall of Fame. By now, nine years after he left the game, Piazza's story has been told time and again: After being drafted by the Dodgers in the 62nd round as a favor to longtime family friend Tommy Lasorda, then Los Angeles' manager, he quickly rose through the ranks and shattered nearly every expectation that had been set for him.
But long before that 1988 Draft, Piazza was just a kid who grew up playing ball in a Philadelphia suburb, complete with his very own backyard batting cage.
"Little League was awesome," said Piazza, a 12-time All-Star with the Dodgers and Mets who is regarded as the best-hitting catcher of all time. "We took it seriously, but I enjoyed it. We had to get Slurpees after our games.
"I was around 5 or 6 years old when my dad started pitching to me underhand. I only caught a little bit in Little League, but I pitched a lot. I dreamed of Major League Baseball."
Fellow former Little Leaguers Jeff Bagwell, Trevor Hoffman, Tim Raines, Gary Sheffield and Curt Schilling were also on the ballot for the Hall, but they didn't make the cut this time around. Piazza joins 20 other Little Leaguers-turned-Hall of Famers, with Roberto Alomar (Class of 2011) being the most recent.
• Bagwell, Raines, Hoffman look good for 2017
Had he not made it to the big leagues, though, Piazza had aspirations of becoming a different type of star: a rock star.
"I'd probably be in a band, playing drums," he said.
Although he got a lucky break thanks to Lasorda, Piazza put in plenty of work to achieve his ultimate goal. In 2007, he retired as baseball's career leader in home runs hit by a catcher with 427, a record he still owns today. To put Piazza's achievement in perspective, Yankees catcher Brian McCann is the active leader in homers by a backstop, and he trails the new Hall of Famer by 202.
Piazza now has three kids of his own, and he offers some advice for ballplayers getting started in the game: "Learn through lots of practice and patience. Learn by watching, and get those muscles strong. You can read a lot about hitting, too."
After all, he is evidence that it can pay off.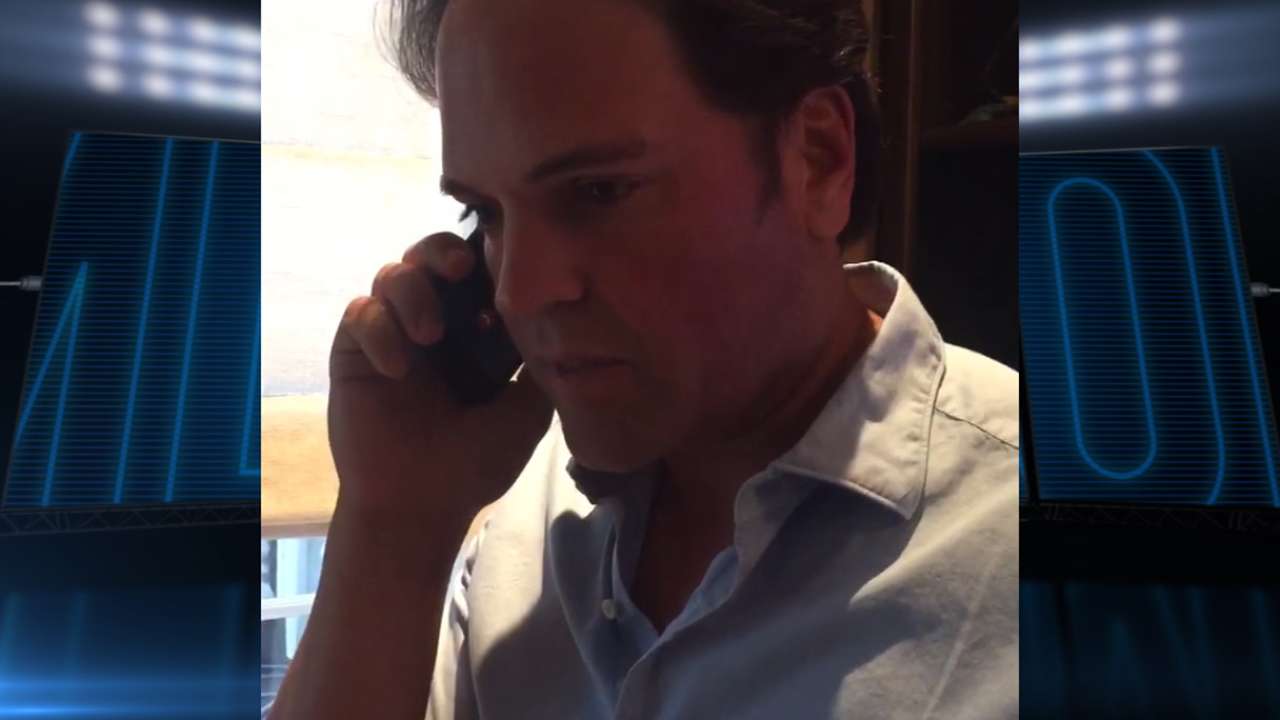 Griffey
Griffey has baseball in his blood. Born in 1969, the same year that his father, Ken Griffey Sr., was drafted by the Cincinnati Reds, Junior was bound for greatness. He was drafted out of high school at 17 years old and made his debut at 19. By the time he was 22, he was named an All-Star for the third time -- the same number of selections his dad received in his entire career
"I really wanted to be like my dad growing up," recalls the younger Griffey. "I remember thinking when I won my first All-Star Game MVP Award that I tied my dad."
Known as "The Kid," he won that award for the American League in 1992, 12 years after Griffey Sr. won for the National League. The father-son duo formed one of baseball's favorite families, and even shared a field. In 1990, Junior's second season in Seattle, Griffey Sr. joined the Mariners and spent the last two years of his career in the same dugout as his son.
Since Griffey Jr. grew up around Major League ballparks, it's no surprise that he picked up a few tips along the way.
"I started playing as soon as I could pick up a glove," Junior said. "All I wanted was to be [a baseball player].
"Playing sports was all I did. In Cincinnati, I played basketball, football and baseball. That took up most of my time."
Throughout his career, Griffey developed a reputation for wearing a trademark backwards cap and an ever-present smile despite the grind of playing for 22 seasons. He credits not his dad but Twins legend Kirby Puckett for his approach.
"He always smiled and had fun," Junior said. "[As a kid], have fun and hang out with your friends."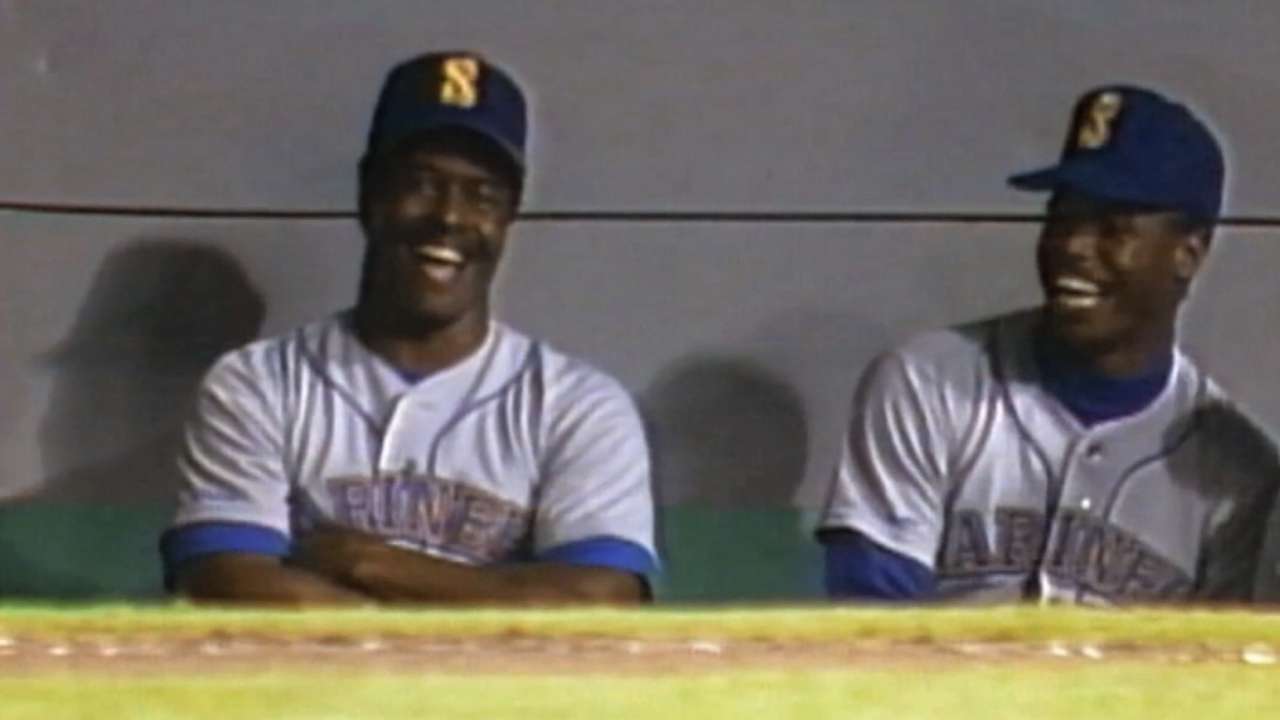 The fun-loving Griffey was so idolized around baseball that he even had several video games created in his honor, including "Ken Griffey Jr. Presents Major League Baseball" and "Ken Griffey Jr.'s Slugfest." The latter game was especially appropriate, as Junior ranks sixth on MLB's all-time home run list. Countless ballplayers, including Mike Trout, have tried to emulate Griffey's stance and swing over the years.
"I remember when I was a kid, I played Wiffle ball," the Angels' slugging center fielder said. "[I'd] copy his stance every once in a while. The one thing I remember about him: He always had that sweet swing. His swing is just the best."
This year's Hall of Fame voters overwhelmingly agreed.
Allison Duffy-Davis is an associate editor for MLB.com. This story was not subject to the approval of Major League Baseball or its clubs.