MLB.com Columnist
Phil Rogers
Using WAR to decide best all-time by position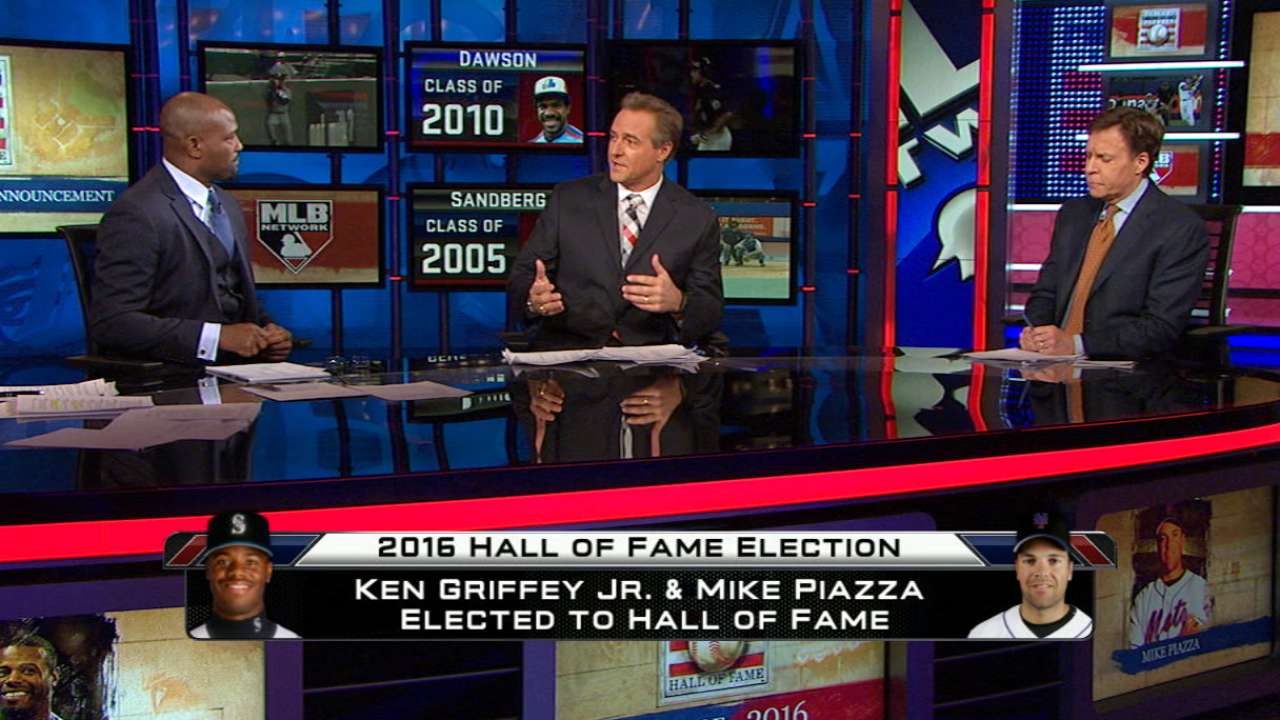 Did you ever get to the ballpark early just so you could watch Ken Griffey Jr. take batting practice?
Dozens of big leaguers followed Griffey's every move every time he stepped into the cage. They might not always have let you know they were looking, but they were. Every time, from when Junior was a 19-year-old based in the Kingdome until he was a 40-year-old saying farewell to Seattle at Safeco Field.
You couldn't take your eyes off the sweetness of Griffey's swing from the left side of the batter's box.
"I've never seen anything like it, and I don't think I ever will,'' said Harold Reynolds, the MLB Network broadcaster who was batting leadoff for the Mariners when Griffey arrived in 1989.
It's fitting that Griffey has become the most universally acknowledged Hall of Famer in history, receiving 99.3 percent of the vote from the Baseball Writers' Association of America in the election results announced on Wednesday night. But there's a big difference, of course, between passing Tom Seaver's totals and being on the very short list of the greatest players ever.
Top 10 vote-getters by percentage
Year
Player
Ballots cast
Votes
%
2016
Ken Griffey Jr.
440
437
99.30
1992
Tom Seaver
430
425
98.84
1999
Nolan Ryan
497
491
98.79
2007
Cal Ripken Jr.
545
537
98.53
1936
Ty Cobb
226
222
98.23
1999
George Brett
497
488
98.19
1982
Hank Aaron
415
406
97.83
2007
Tony Gwynn
545
532
97.60
2015
Randy Johnson
549
534
97.27
2014
Greg Maddux
571
555
97.20
In terms of career WAR (as measured by Baseball-Reference.com), Griffey is 57th all-time with a career Wins Above Replacement total of 83.6. That total stands 30th all-time among the hitters enshrined in Cooperstown.
Griffey was a no-doubt Hall of Famer, as the BBWAA said authoritatively, but measured by WAR, he ranks fifth among the center fielders in baseball's outfield of immortals.
Let's use Griffey's election to spend a moment to build a baseball Mount Rushmore, position by position, using WAR as the measuring stick. In Griffey's honor, let's start at his spot:
CF: Willie Mays, 156.2 WAR
After leaving the Giants to go back to New York to finish his career with the Mets in 1972 and '73, Mays was elected to the Hall in 1979, receiving 94.7 percent of the vote. Twenty-three voters left him off the ballot, which really should have been a punishable offense. The next four center fielders: Ty Cobb (151.0), Tris Speaker (133.7), Mickey Mantle (109.7) and Griffey.
LF: Barry Bonds, 162.4 WAR
That's the second-highest WAR in history, but alleged PED use is said to have influenced Bonds' three best seasons, with the Giants in 2001, '02 and '04. Bonds, in his fourth year on the ballot, received 44.3 percent of the vote this year. The next four left fielders: Ted Williams (123.1), Rickey Henderson (110.8), Carl Yastrzemski (96.1) and Tim Raines (69.1). Raines received 69.8 percent of the vote on Wednesday, missing the 330 needed for election by 23.
RF: Henry Aaron, 142.6 WAR
Retiring as the all-time leader with 755 home runs, Aaron was elected to the Hall in 1982, receiving 97.8 percent of the vote. Shame on the nine voters who left him off their ballots. The next four right fielders: Mel Ott (107.8), Roberto Clemente (94.5), Al Kaline (92.5) and Reggie Jackson (73.8).
RF/LF/P: Babe Ruth, 163.1 (183.7 if you included WAR from 10 seasons pitching)
The Bambino is a one-of-a-kind who generated more WAR than anyone while moving between the outfield corners and first base. He was primarily a right fielder, but unlike everyone else on this list, he didn't spend more than half his career at the position. Ruth received 95.1 percent of the vote in 1936, the Hall's first ballot (when Cobb was the vote leader at 98.2 percent). The guy most like Ruth, although he didn't pitch: Stan Musial (128.1), moving all over the outfield while also playing more than 1,000 games at first base.
1B: Lou Gehrig, 112.4 WAR
A special election was held to induct Gehrig in 1939, the year he retired from the Yankees with an illness that proved to be amyotrophic lateral sclerosis (ALS), which is now commonly known as Lou Gehrig's Disease. The next four at first: Albert Pujols (99.7), Jimmie Foxx (96.4), Jeff Bagwell (79.6) and Rafael Palmeiro (71.6). Bagwell received 71.6 percent of the vote Wednesday, missing by 15 votes.
2B: Rogers Hornsby, 127 WAR
Among the great hitters in history, Hornsby wasn't elected to the Hall until 1942, his fifth time on the ballot. He had still been an active player when he was placed on the 1936 ballot, and when he was elected in '42, it was an anticlimax. Hornsby received only 78.1 percent of the vote, and there was no induction ceremony due to World War II. The next four at second: Eddie Collins (123.9), Joe Morgan (100.3), Nap Lajoie (89.8) and Charlie Gehringer (80.6).
SS: Honus Wagner, 131.0 WAR
The Flying Dutchman matched Ruth's total in that initial ballot in 1936, held 19 years after he retired. The next four at short: Cal Ripken Jr. (95.5), Robin Yount (77.0), Ozzie Smith (76.5) and Luke Appling (74.5).
3B: Mike Schmidt, 106.5 WAR
Schmidt received 96.5 percent of the vote when he was elected in 1995, getting left off 16 ballots. The next four at third: Eddie Mathews (96.4), Wade Boggs (91.1), George Brett (88.4) and Chipper Jones (85.0).
C: Johnny Bench, 75.0 WAR
Bench was elected in 1989, receiving 96.4 percent of the ballot. Sixteen voters left him off their ballots (really). The next four at catcher: Gary Carter (69.9), Ivan Rodriguez (68.4), Carlton Fisk (68.3) and Yogi Berra (59.5). Rodriguez goes onto the ballot for the first time in December.
SP: Walter Johnson, 152.3 WAR
On that historic 1936 ballot, the greatest pitcher ever received 83.6 percent of the vote. Talk about a tough jury. The next four pitchers: Roger Clemens (139.4), Grover Cleveland Alexander (117.0), Lefty Grove (109.9) and Seaver (106.3).
Clemens? Second-best WAR all-time for a pitcher? As painful as it is, sometimes it's nice to just stack up the numbers and see who comes out ahead. It would have been great to give the Rocket and Bonds the Griffey treatment. But that's not going to happen, and it doesn't seem like they'll join Griffey in Cooperstown any time soon.
Phil Rogers is a columnist for MLB.com. This story was not subject to the approval of Major League Baseball or its clubs.