Former teammates praise HOF-bound Griffey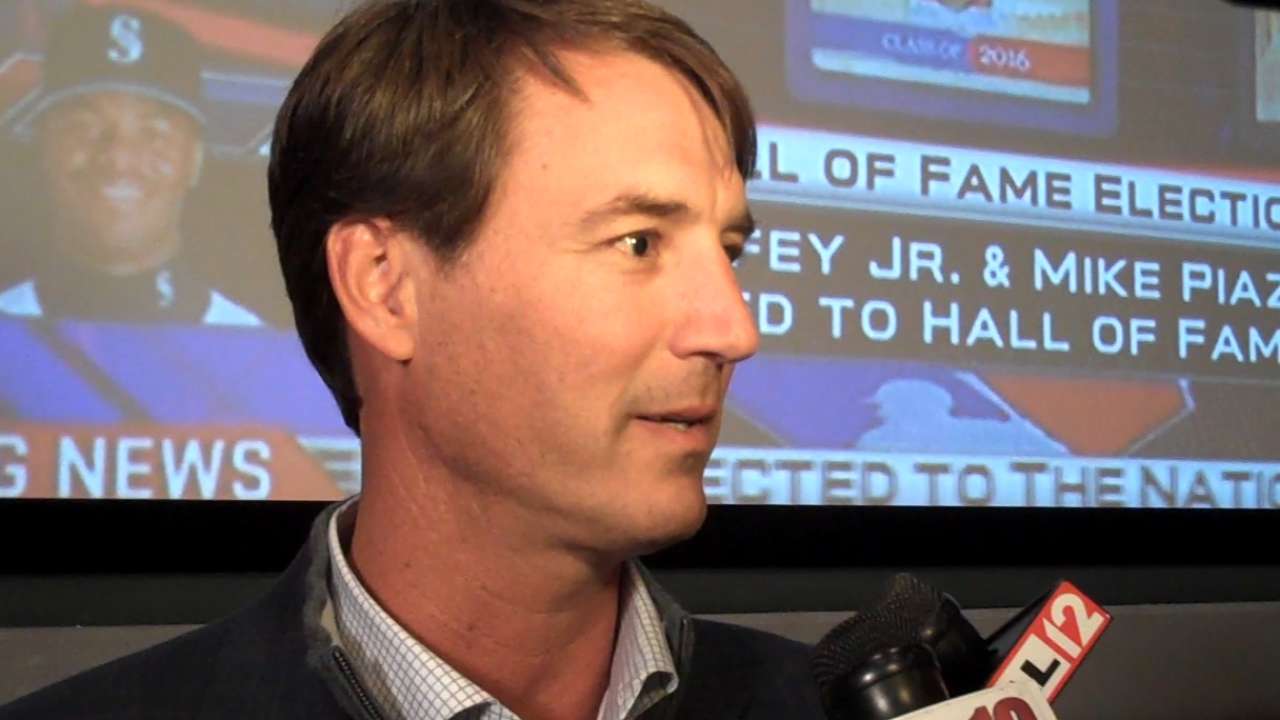 CINCINNATI -- Newly elected Hall of Fame member Ken Griffey Jr. played nine of his 22 Major League seasons in the city where he grew up -- Cincinnati. The people that Griffey played with, and played for, remain grateful for the time spent watching the outfield legend play.
"There are only certain times in your career where you can say you had the privilege of playing with a Hall of Famer," former Reds first baseman Sean Casey said. "As I played next to Junior for six seasons [2000-05], I knew we all were watching one of the greatest to ever play the game. I'm proud to say that while he was a great player, he was an even better friend."
After starring from 1989-99 with the Mariners and amassing what were already Hall of Fame-worthy numbers, Griffey requested a trade to his hometown. He starred at Moeller High School and was the overall No. 1 Draft pick in 1987.
Seattle accommodated Griffey's request and traded him to Cincinnati on Feb. 10, 2000, for Mike Cameron, Brett Tomko and two Minor Leaguers.
"In my 15 years as a Major League Baseball general manager, my favorite moment was the day we traded for Ken Griffey Jr.," said Jim Bowden, the Reds' GM from 1992-2003. "And I was blessed to have the opportunity to walk to the podium to declare, 'Baseball is back in Cincinnati.' To be able to bring a future Hall of Famer, MVP, Gold Glove, Silver Slugger and superstar to the children of the greater Cincinnati area was an epic moment for me. Griffey's signature smile and his backwards hat were as special as his swing and bat speed.
"I used to make my sons watch batting practice with me, always reminding them this was the Babe Ruth, Hank Aaron, Willie Mays of their generation. I told them they would never see another swing as special as his."
• Complete Hall of Fame coverage
Of course, Griffey was already familiar with the Reds' clubhouse and practically grew up there as his father, Ken Griffey Sr., was a member of the Big Red Machine teams of the 1970s -- including the back-to-back World Series winners of '75-76. Griffey Jr. was a fixture along the kids of greats such as Pete Rose and Hall of Famer Tony Perez.
"Baseball raised him," Griffey Sr. said about his son with a laugh. "You have to understand, me playing in Cincinnati, whch is a real good family town. It was a real good place to raise kids.
All [manager] Sparky [Anderson] said to us one time was, 'If you guys win, the kids can come into the clubhouse.' And that's exactly what they did. When we won, and we won a lot in Cincinnati, they were always in the clubhouse and having fun."
As a player for the Reds, Griffey Jr. still tried to have fun in the clubhouse. He would often hold court with teammates and reporters while seated on top of an enormous black equipment trunk stationed next to his locker. Anyone within sight or earshot was not immune to a joke at their expense or a practical joke.
One time when he lost a $1,500 bet to teammate Josh Fogg in 2008, Griffey paid the pitcher with thousands of pennies. There were 60 boxes of pennies, each holding $25, heaped all over Fogg's locker.
"I'll always remember how much fun he had, whether it was on the field or in the clubhouse," said Austin Kearns, a Reds outfielder from 2002-06. "There were plenty of times I would be in tears, in the middle of an inning, from laughing so hard. I remember him saying one time, 'If ya can't laugh on a baseball field, then where can ya?'"
There were plenty of tough times in Cincinnati as well. Because of injuries, including a torn right hamstring, Griffey was not able to duplicate or exceed the high standard of excellence he set with the Mariners. He missed 453 games from 2000-07. The only winning season Griffey experienced in Cincinnati was his first for the team in '00.
"Being a teammate of Junior, three things really stick out in my mind," said reliever David Weathers, who played with Griffey from 2005-08. "First, he was a great teammate, always good to be around. He loved the game and played it like a kid. Two, he was a clean player from day one and had a Hall of Fame career with his natural talent. Third, he was tough. I saw him take bloody bandages off his leg from where he had torn a muscle three years earlier, and all of his teammates were amazed he played and never said a word. He also was unreal with my kid, rolling around wrestling on the floor. My son still remembers that."
Of his 630 career home runs, which is sixth all-time, Griffey slugged 210 while a member of the Reds -- including career milestone homers Nos. 500 and 600. Three of his 10 All-Star berths came while he was with Cincinnati.
"Junior was the single most gifted all-around talent I played with or against over the course of my career," said first baseman Scott Hatteberg, a teammate from 2006-08. "The guy was a comet. That he did what he did with the grace of a ballerina and the enthusiasm of a backyard rugrat makes him even more of an anomaly. It was a true gift getting to play alongside him."
Griffey was elected on a record 99.3 percent of the ballots, just missing being unanimous with 437 out of 440 votes. The record had previously belonged to former Mets and Reds pitching great Tom Seaver, who was elected in 1992 with 98.84 percent of the vote.
"That was surprising," Griffey Sr. said. "That's amazing he got more than 99 percent of the vote. To me, just the day of him getting in the Hall of Fame was gratifying. I'm just looking at this and saying, 'I hope he gets in. I hope he gets in.' He did enough to get in the Hall of Fame, but we had no idea he was going to get more than 99 percent."
Outside Great American Ball Park and the Reds Hall of Fame, where Griffey was already inducted in 2014, the Reds posted a congratulatory message on a video board.
"The Cincinnati Reds organization and our entire city congratulate Ken on his election to the National Baseball Hall of Fame," Reds CEO Bob Castellini said. "Over a wonderful career that began right here at Moeller High School, Junior built his legacy while playing for the Mariners, and continued that remarkable career in Cincinnati and then with the Chicago White Sox. He represented himself, his family and those cities with the class and professionalism consistent with the ideals of Major League Baseball and the Hall of Fame in Cooperstown, and he continues to serve all over the world as one of our game's greatest ambassadors.
"We are very proud that Ken's accomplishments have been validated at the highest level by the Baseball Writers' Association of America. Reds fans are thrilled to see our hometown son earn a permanent place in Cooperstown alongside the other 43 players, managers and executives who spent all or parts of their careers in Cincinnati."
Mark Sheldon is a reporter for MLB.com. Read his blog, Mark My Word, follow him on Twitter @m_sheldon and Facebook and listen to his podcast. This story was not subject to the approval of Major League Baseball or its clubs.