Sheffield's HOF support drops slightly in '16
Lowell, Castillo draw no votes in first year of eligibility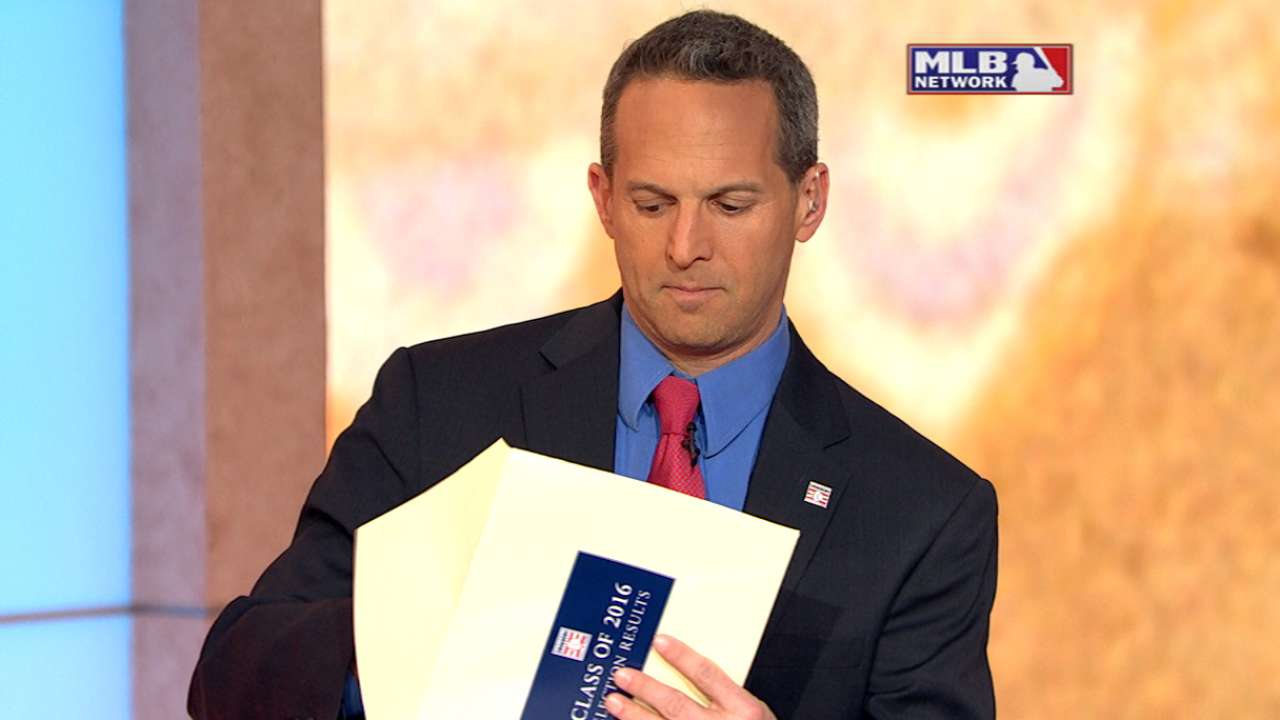 MIAMI -- They're former All-Stars, World Series champions and iconic figures in Marlins history. Mike Lowell, Luis Castillo and Gary Sheffield are among the most popular and revered players ever to perform in South Florida.
For more than a decade, each was among the best at his respective position. But on Wednesday, none generated much support in the Hall of Fame Class of 2016.
• Complete Hall of Fame coverage
The Baseball Writers' Association of America (BBWAA) elected Ken Griffey Jr. and Mike Piazza. Lowell and Castillo each did not collect a single vote in their first year of eligibility for induction. Because they didn't reach the minimum of being on 5 percent of the ballots, their names will be removed from consideration next year.
Sheffield, on the ballot for the second time, received 11.6 percent of the vote, down slightly from his 11.7 percent in 2015.
Although none was expected to make a serious Hall of Fame push, each of their accomplishments shouldn't go unnoticed.
Lowell and Castillo were standouts on the Marlins' 2003 World Series championship team, managed by Jack McKeon.
"They were both winners, there's no question about that," McKeon said. "They were very, very dedicated, unselfish players. Probably the best way to describe them is, they were winners. They always did the things they were required to do. They always did the little things. They were always trying to figure out a way to help the team win."
Castillo is Miami's franchise leader in a number of statistical categories, including games played (1,128), runs (675), hits (1,273), singles (1,081), stolen bases (533) and at-bats (4,347).
Lowell holds the franchise record for doubles (241) and RBIs (578).
In 1996, Sheffield set the Marlins' single-season home run record with 42. His .465 on-base percentage that year also is a club standard.
Lowell, 41, retired in 2010, capping a 13-year career with a .279 batting average, 223 home runs and 952 RBIs.
Born in Puerto Rico and raised in Miami, Lowell was with the Marlins from 1999-2005. He was a four-time All-Star, and a Gold Glove winner in 2004. In 2003, along with being part of a World Series championship team, he was an All-Star and Silver Slugger winner, belting 32 home runs while driving in 105 runs.
In his impressive career, the steady third baseman was a World Series MVP with the Red Sox in 2007. He drove in a personal-high 120 runs that season.
Castillo, 40, was part of both Marlins title teams. The switch-hitting second baseman appeared in 75 games on the 1997 squad, and made a significant impact in 2003, achieving All-Star and Gold Glove status.
The fleet-footed second baseman played in 15 seasons, retiring in 2010 after four years with the Mets.
Signed as an amateur free agent out of the Dominican Republic in 1992, Castillo was with the Marlins from 1996-2005. He was a three-time All-Star and Gold Glove recipient in Miami.
Sheffield, 47, played 22 seasons, retiring in 2009. The power-hitting outfielder was a nine-time All-Star, and in 1993, he became the first Marlin voted by the fans to start in the All-Star Game. He made the squad as a third baseman in a season he was dealt from the Padres to Florida in a blockbuster deal that sent closer Trevor Hoffman to San Diego, where he accumulated Hall of Fame-worthy numbers.
The slugger was with the Marlins from 1993-98, and he was a core piece of the '97 title team.
Sheffield finished his career with 509 home runs.
Joe Frisaro is a reporter for MLB.com. He writes a blog, called The Fish Pond. Follow him on Twitter @JoeFrisaro and listen to his podcast. This story was not subject to the approval of Major League Baseball or its clubs.