4 former Angels fall off Hall of Fame ballot
Edmonds, Anderson, Glaus and Eckstein each under 5 percent in first year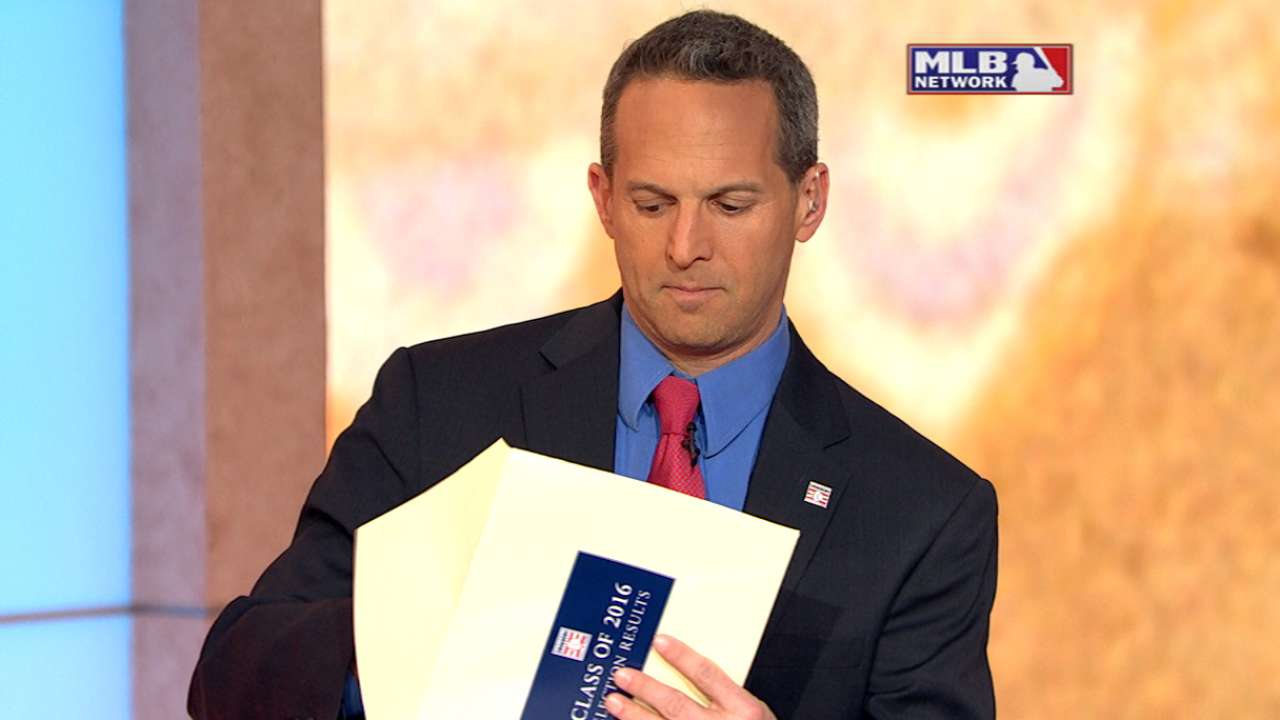 ANAHEIM -- Former Angels standouts Jim Edmonds, Garret Anderson, Troy Glaus and David Eckstein all dropped off the ballot in their first year of Hall of Fame eligibility, a result of appearing on less than five percent of the ballots in voting by members of the Baseball Writers' Association of America.
Results were announced Wednesday, with Ken Griffey Jr. (a record 99.3 percent of votes) and Mike Piazza (83 percent) the only ones making up the 2016 class. Edmonds was named on 11 of the 440 ballots cast, which amounts to only 2.5 percent. Eckstein received two votes, Anderson got one and Glaus was shut out. A player needs 75 percent of the vote to be inducted.
• Griffey sets Hall vote mark; Piazza gets call
The quartet dropped off one year after Darin Erstad and Troy Percival did the same in their first try on the ballot, a fate that also awaited Tim Salmon in 2012. Former All-Star closer Lee Smith, who converted 37 of his 478 career saves with the Angels from 1995-96, got 150 votes (34.1 percent) in his penultimate year on the ballot.
With Griffey expected to enter the Hall sporting a Mariners cap, the Angels will be one of only five teams without a representative in Cooperstown, N.Y., joining the Rockies, Marlins, Rays and Nationals -- franchises that are all at least 32 years younger. Nolan Ryan, Rod Carew and Reggie Jackson each spent at least five years in Anaheim, but all got enshrined representing other teams.
Vladimir Guerrero is one of the big names who will be part of next year's Hall of Fame vote, but he wrote via Twitter on Wednesday that he's torn on whether to sport an Angels or Montreal Expos cap on his potential Hall of Fame plaque.
Guerrero spent more years (eight to six), hit more homers (234 to 173), collected more hits (1,215 to 1,034) and posted a better slash line (.323/.390/.588 to .319/.381/.546) with the Expos. But he won the American League Most Valuable Player Award and played in the postseason with the Angels, feats he didn't accomplish in Montreal.
My friends, what do you think about this cap?. I love @Montreal_Expos and @Angels's fans both!!! pic.twitter.com/GQ6oiXHk54

— Vladimir Guerrero (@VladGuerrero27) January 6, 2016
Anderson, a sweet-swinging left fielder; Glaus, a power-hitting third baseman; and Eckstein, the gritty, under-sized shortstop, were critical parts of the Angels' World Series championship team in 2002.
Edmonds, however, had the best chance of enshrinement.
An eight-time Gold Glove Award winner in center field, Edmonds finished his 17-year career with a .284/.376/.527 slash line, 393 home runs, 1,949 hits, four trips to the All-Star Game, a Silver Slugger Award and a World Series championship, with the Cardinals in 2006. His career WAR score of 60.3 is higher than that of several Hall of Fame center fielders, including Kirby Puckett (50.9).
Anderson spent 15 of his 17 seasons with the Angels and holds franchise records for games played (2,013), hits (2,368), doubles (489), RBIs (1,292) and runs (1,024). Eckstein, named World Series MVP with the Cardinals in '06, played in nine postseason series in his 10-year career and spent his first four seasons with the Angels, batting .278/.347/.353 from 2001-04. Glaus, the World Series MVP in '02, made four All-Star teams, won two Silver Slugger Awards and averaged 30 home runs from 1999 to 2008 (including 47 in 2000 and 41 in '01).
Alden Gonzalez is a reporter for MLB.com. Follow him on Twitter @Alden_Gonzalez and Facebook , and listen to his podcast. This story was not subject to the approval of Major League Baseball or its clubs.