Aside from Bagwell, other Astros improve Hall chances
HOUSTON -- While former slugger Jeff Bagwell appears to be knocking on the door of election into the National Baseball Hall of Fame, a couple of other former Astros made strides toward Cooperstown on Wednesday, when voting for the Class of 2016 was unveiled by the Baseball Writers' Association of America.
Former Astros pitchers Curt Schilling and Roger Clemens, both of whom played a bulk of their careers outside of the Bayou City, received sizable voting bumps in their fourth years on the ballot. Schilling appeared on 52.3 percent of the 440 ballots cast, and Clemens appeared on 45.2 percent.
• Bagwell's near miss bodes well for '17
Ken Griffey Jr. (99.3 percent and Mike Piazza (83 percent) were the only two players to reach the 75 percent needed for induction. Bagwell, in his sixth year on the ballot, had 71.6 percent, falling 15 votes shy of reaching the Hall of Fame in 2016. That sets Bagwell up to likely get inducted next year, as 16 of the 17 players who have cleared 70 percent in one year -- while falling short -- got in the next year. Only Jim Bunning, who received 74.2 percent in 1988, didn't make it on his next try.
Clemens, a seven-time Cy Young Award winner who pitched for the Astros from 2004-06, had his largest voting total since appearing on 37.6 percent of the ballots in his first year of eligibility in 2013. Schilling, who pitched in Houston in 1991, improved on the 39.2 percent of the vote he received last year.
Jeff Kent, who played second base for the Astros from 2003-04, got 16.6 percent of the vote in his third year on the ballot. In his first year on the ballot, former Astros closer Billy Wagner got only 10.5 percent of the vote.
• Complete Hall of Fame coverage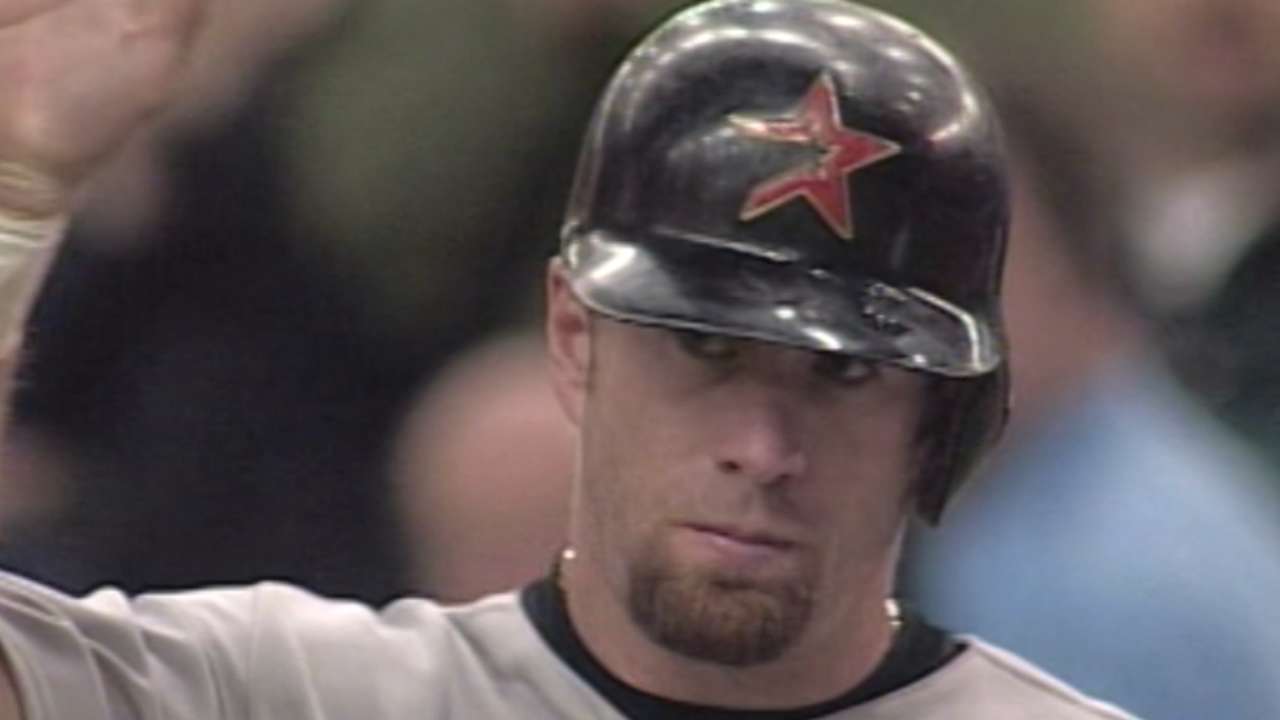 Former Astros catcher Brad Ausmus and pitcher Mike Hampton didn't receive any votes in their first and only appearances on the ballot. Players must get at least 5 percent of the vote to remain on the ballot and can remain on the ballot 10 years without getting inducted.
Last year, Biggio became the first player inducted into the Hall of Fame while wearing an Astros cap on his plaque. After coming 39 votes shy in 2013 and two votes shy in '14, Biggio picked up 82.7 percent of the vote last year and was enshrined in Cooperstown on July 26 along with Randy Johnson, John Smoltz and Pedro Martinez.
Other players who spent time with the Astros who are in the Hall of Fame are pitchers Don Sutton, Nolan Ryan, Robin Roberts and Johnson, second basemen Joe Morgan and Nellie Fox and third baseman Eddie Mathews.
Brian McTaggart is a reporter for MLB.com and writes an MLBlog, Tag's Lines. Follow @brianmctaggart on Twitter and listen to his podcast. This story was not subject to the approval of Major League Baseball or its clubs.