MLB.com Columnist
Richard Justice
Gordon is back where he belongs
All-Star left fielder has been face of franchise during club's revival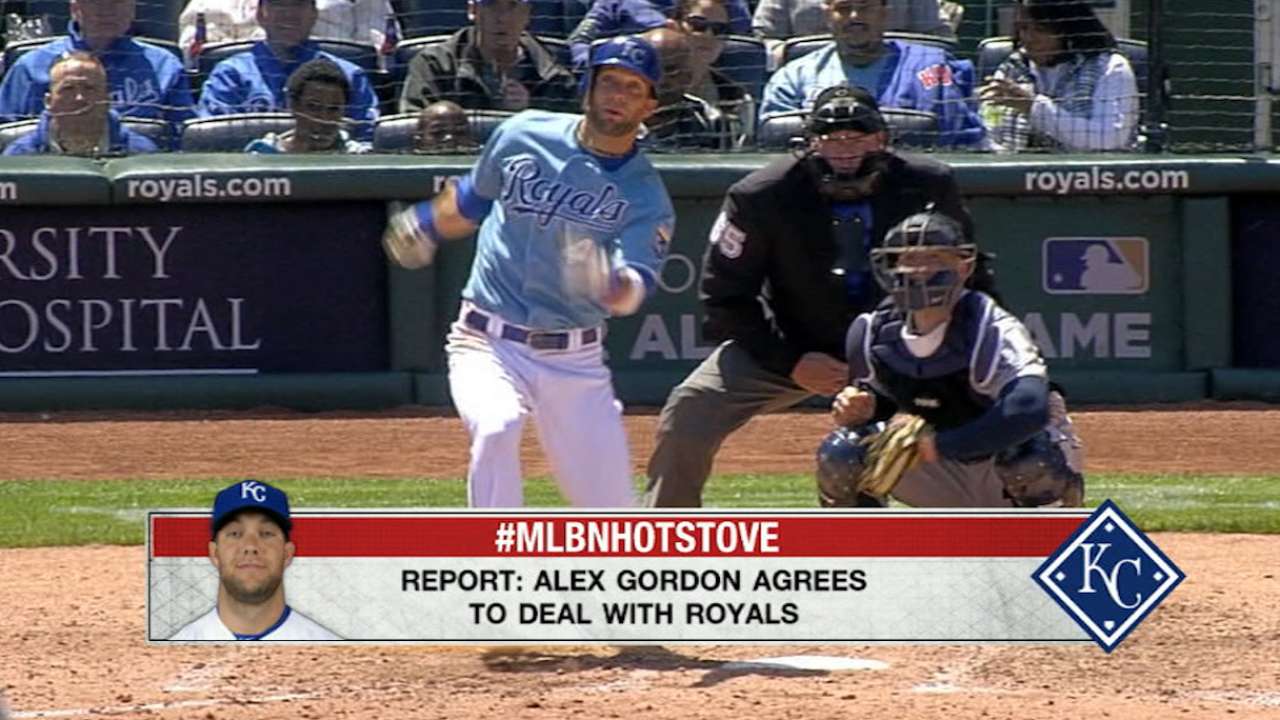 Alex Gordon wouldn't look right in another uniform. In the end, it couldn't be simpler than that. He represents everything the Kansas City Royals have become and everything they can still be.
Gordon wouldn't be as beloved or as respected anyplace else. He just wouldn't. So the news that Gordon has agreed to a new contract with the Royals feels right. He'll be 32 on Opening Day, and after spending all nine of his Major League seasons with one franchise, there's a decent chance he'll never play for another team.
Gordon's debut in 2007 signaled that a new era had arrived for the Royals. He was the hotshot kid from the University of Nebraska who was going to lead the charge back into contention. In a lot of ways, Gordon has done just that.
His road hasn't always been smooth, but in the past five seasons, Gordon has built quite a resume. He's one of the best defensive outfielders of his generation, and that's remarkable considering that he began his career at third base.
To watch Gordon play is to understand that games can be won in left field, where his speed and instincts have delivered a string of breathtaking plays. These Royals have been defined by their defense and their bullpen, and their defense begins with Alex Gordon in left field.
In the past five seasons, Gordon has posted an .809 OPS and has averaged 56 extra-base hits per season. Among all American League players during that span, his name is dotted across the leaderboard -- eighth in times on base and multihit games, 11th in total bases, 15th in OBP, 17th in OPS.
Gordon was on base nine times with hits or walks in last fall's World Series, and when it ended with a wild celebration, his elation reflected that of an entire region. He will always be remembered -- not just as a special player, but as a guy who helped revive the sport in one of the country's great baseball cities.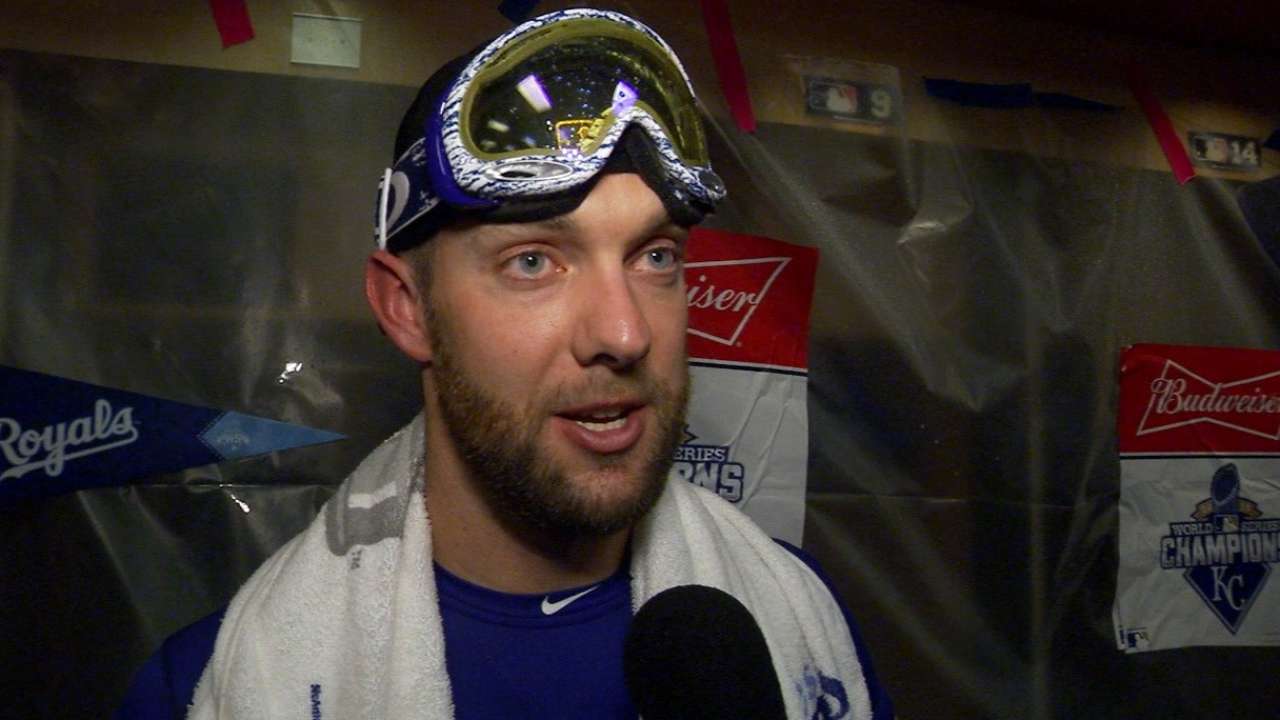 Sure, we've become accustomed to players switching teams. Happens all the time. Part of the landscape. We get it. But some players are different. If you live in that place, you understand their spot in the hearts and minds of fans.
Gordon was the second player chosen in the 2005 Draft, and he joined the Royals after they'd endured a third straight 100-loss season. Maybe, just maybe, the worst was over.
Besides Gordon, Royals owner David Glass had just brought in a new general manager, Dayton Moore, from Atlanta. Moore hired new people and brought in new ideas. It was a new way of doing business, and Moore was going to install some of that Atlanta swagger into a franchise that needed some.
Look, there's no straight line in any of this. There were many more tough days to follow, plenty of days when people wondered if Moore knew what the heck he was doing. That's where Glass can never get too much credit for back-to-back magical seasons and the 2015 World Series trophy.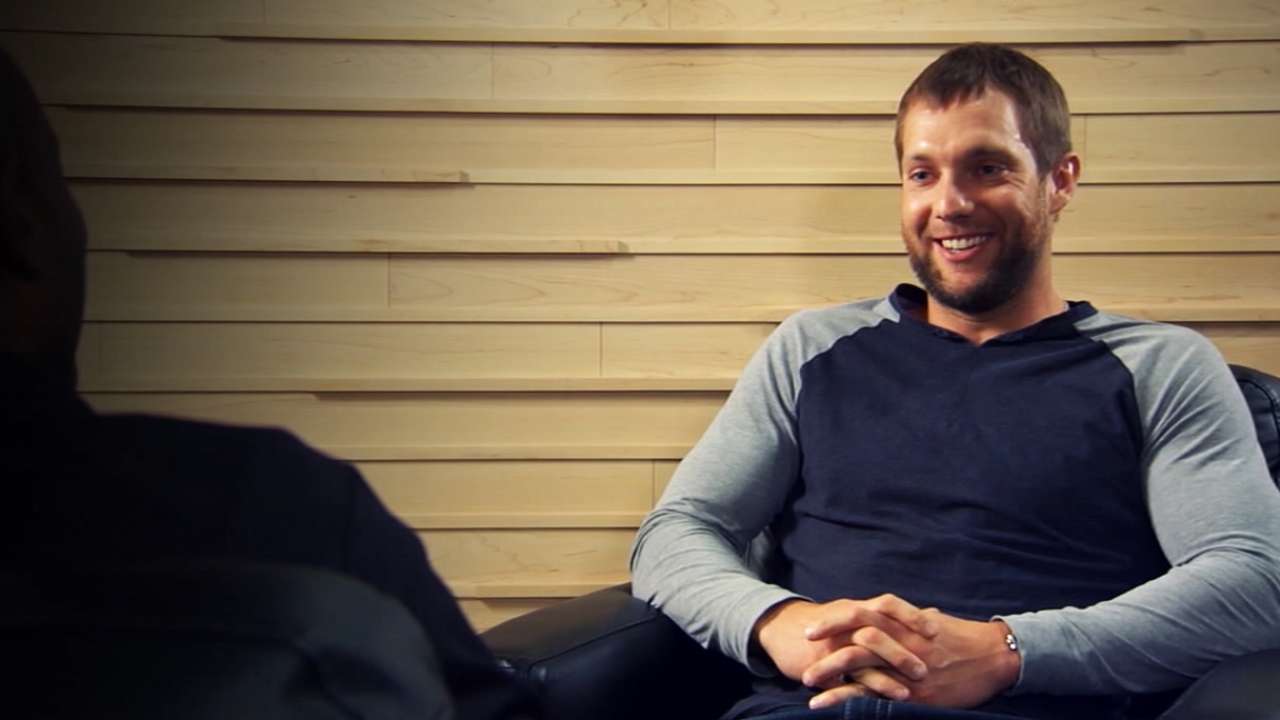 Glass stayed the course when it wasn't the popular thing. Why? He believed in Dayton Moore, and he believed in Moore's blueprint for resurrecting the franchise. Moore's farm system produced Eric Hosmer and Mike Moustakas and Salvador Perez. His trades brought the best reliever in baseball, Wade Davis, and a long list of other contributors. Moore also hired Ned Yost, who has been a perfect fit as manager.
The Royals spend money wisely, not wildly. They remind a lot of baseball people that it's not just about spending money -- their 2015 Opening Day payroll was $114 million, 16th largest in the sport. Money matters, but so do smarts and patience and sticking with a plan.
The Royals were the hottest thing on Kansas City television last fall -- 12.3 local ratings, including 23.1 on the night they clinched the AL Central. Attendance at Kauffman Stadium has increased by almost one million fans -- from 1.75 million in 2013 to 2.71 million last season.
Because the Royals do not have unlimited resources, they sometimes are forced to make difficult decisions. They've had to say goodbye to some special players in recent seasons --James Shields and Ben Zobrist, to name two.
But losing Gordon would have been different. He has never worn another uniform. He's deeply embedded in the community and is about as close to the face of a franchise as any team has.
Gordon's return guarantees nothing for 2016. The AL Central might be as competitive as any division in baseball, and every other team has gotten better this offseason. But the Royals have a good thing going.
Since July 22, 2014, the date they finally and emphatically turned a corner, they're 158-99 (including the postseason) -- that's 17 more victories than any other team. And when a group has been that successful, when it has won back-to-back AL pennants, there's a toughness and a resilience that might drive things awhile longer.
And the best news is that Alex Gordon will continue to be part of it. That just feels right.
Richard Justice is a columnist for MLB.com. Read his blog, Justice4U. This story was not subject to the approval of Major League Baseball or its clubs.