Twins hope Park follows in Kang's footsteps
Slugger joins former Nexen teammate in Majors; Pirates shortstop third in '15 NL ROY voting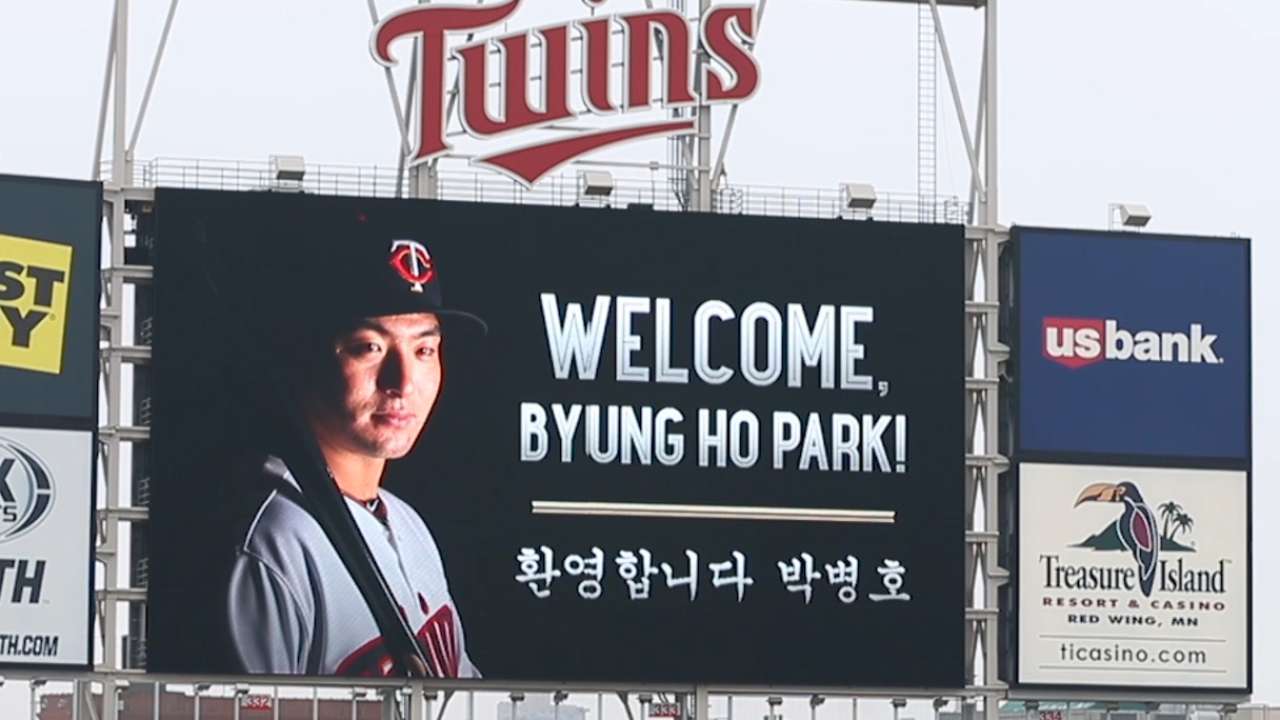 MINNEAPOLIS -- When Twins manager Paul Molitor saw Pirates shortstop Jung Ho Kang in Spring Training, he saw a hitter who was still adjusting to a new league after his time in the Korean Baseball Organization.
But when the Twins played the Pirates in late May and late July, Kang looked like a different player, as he hit .474 with two homers and three RBIs in four games against Minnesota. So Molitor is hoping for a similar transition for Byung Ho Park, who was signed by the Twins this offseason to a four-year deal worth $12 million after they submitted the winning bid to Nexen for $12.85 million.
"When I saw [Kang] last spring, he looked like he was fairly beatable as a hitter, but when we saw him in the summer, he had done what he needed to do to put together productive, competitive at-bats," Molitor said. "So I don't know how those two will relate over time, but I think there has to be some type of comparison there."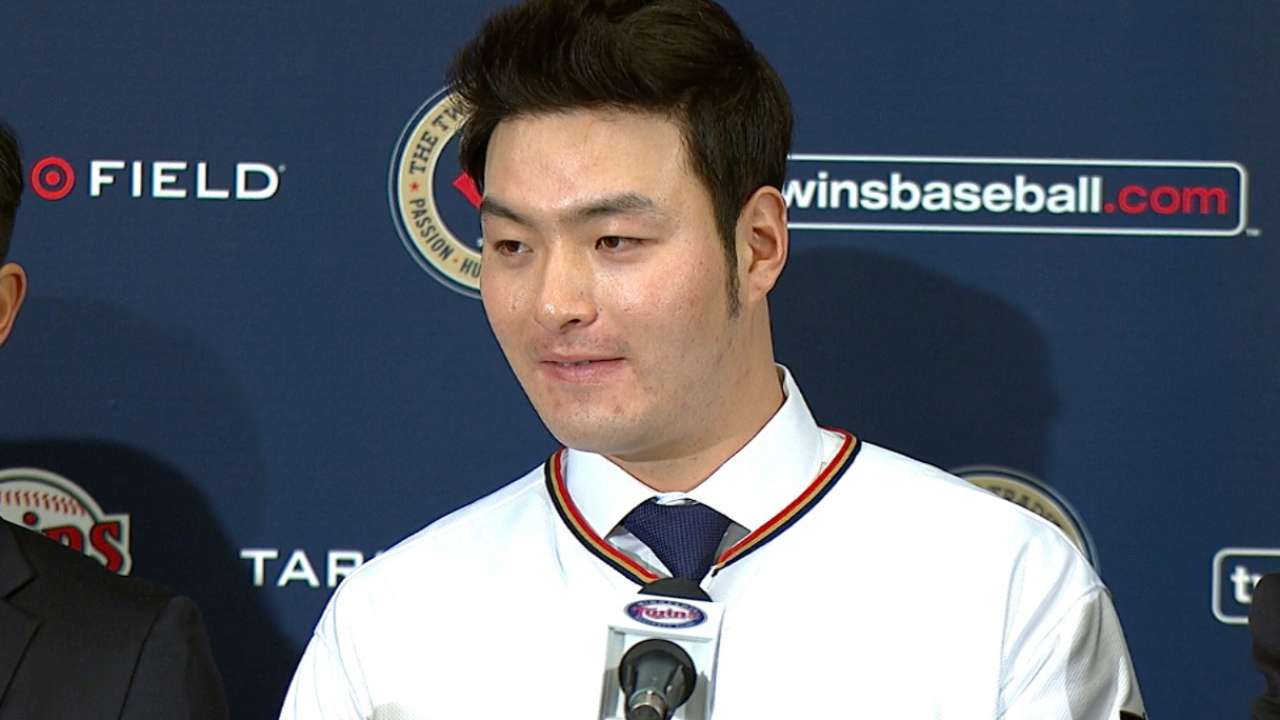 Park and Kang were teammates with Nexen from 2011-14, and both were coming off huge seasons before heading to the Majors. Park hit .343/.436/.714 with 53 homers, 35 doubles and 146 RBIs in 140 games in 2015, while Kang hit .356/.459/.739 with 40 homers, 36 doubles and 117 RBIs in 117 games in '14.
Kang went on to hit .287/.355/.461 with 15 homers, 24 doubles and 58 RBIs in 126 games as a rookie with Pittsburgh last season en route to finishing third in the balloting for National League Rookie of the Year. Kang, though, started slow, posting a .732 OPS in the first half before turning it on the second half with a .913 OPS.
So the Twins are willing to be patient with Park, as they know he'll be adjusting to plenty in the United States, both on and off the field.
"I could be wrong, but I expect there to be a little bit of a transition period," Molitor said. "I think that our scouts understand bat speed, eye-to-hand coordination, pitch recognition abilities, even if velocities and breaking pitches are not Major League quality. But that takes a while to make that adjustment, just like a guy coming up from Double-A or Triple-A."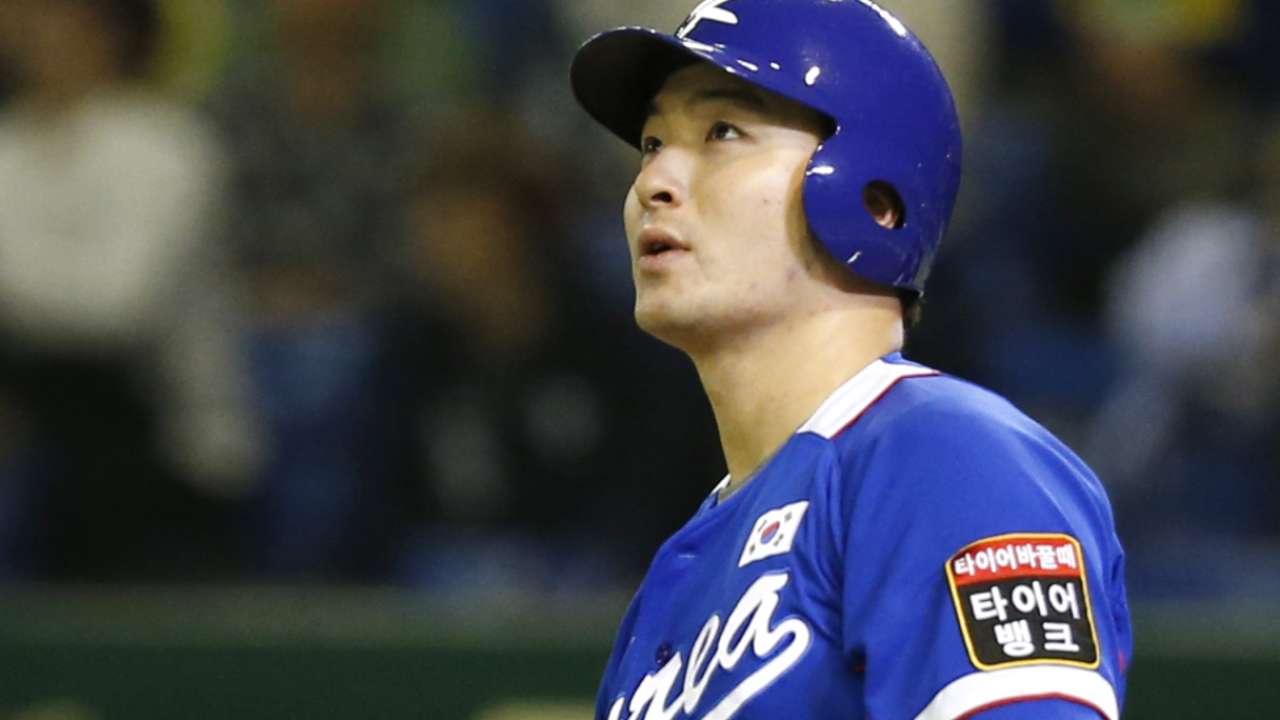 Molitor said his coaching staff will monitor Park throughout Spring Training to see how ready he is for the Majors. He's hopeful Park will be able to be the designated hitter on Opening Day, but admitted it's hard to predict how he'll handle the move to the Majors.
"It will be important to make sure that we stay in his ear this spring about not worrying about any frustration with whatever adjustment period he has to go through," Molitor said. "I think we are going to need to be patient with him. If he's ready to go as an everyday guy come Opening Day, that would be fantastic, and if he needs a little time to kind of pick matchups a little bit more favorable and those type of things until we get him going, that's fine."
Rhett Bollinger is a reporter for MLB.com. Read his blog, Bollinger Beat, follow him on Twitter @RhettBollinger and listen to his podcast. This story was not subject to the approval of Major League Baseball or its clubs.