Fame of the game: Griffey on cusp, others on edge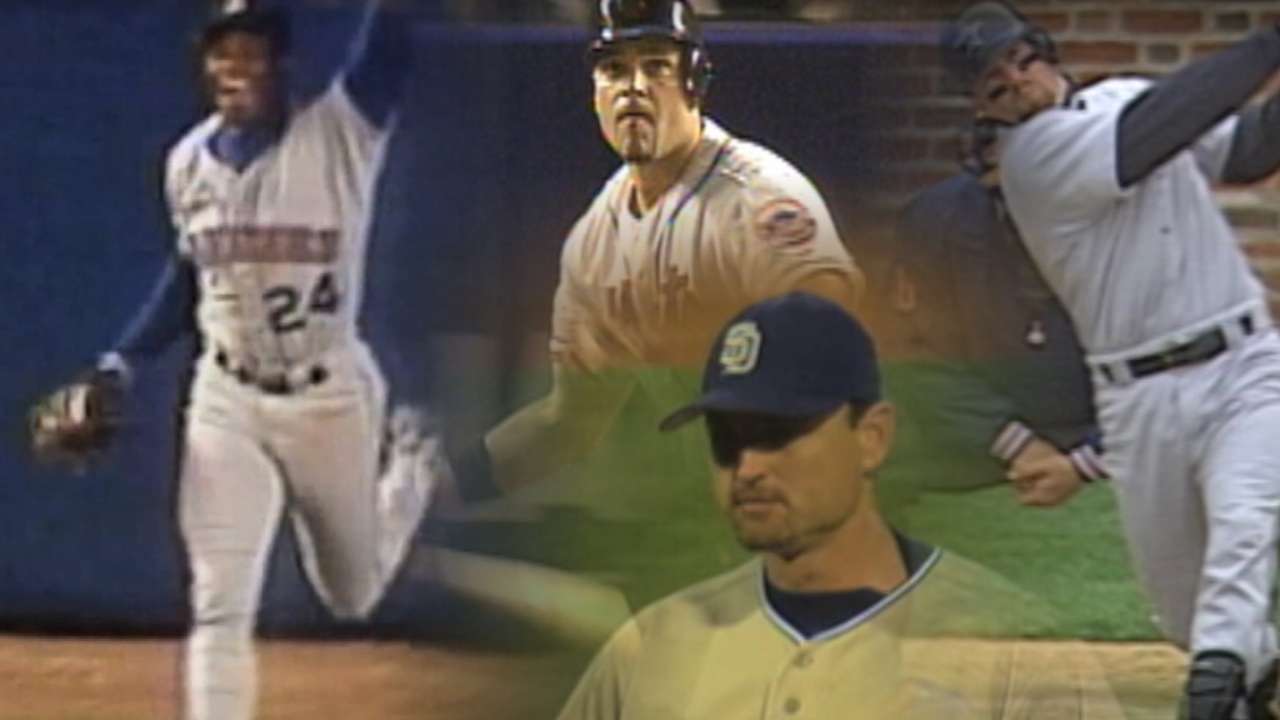 With just hours to go before Hall of Fame voting is unveiled, the results are becoming clearer as more ballots are made public. The Class of 2016 will be revealed live today on MLB Network and MLB.com, with coverage beginning at 3 p.m. ET and the announcement set for 6.
Candidates must be named on 75 percent of ballots submitted by approximately 475 voting members of the Baseball Writers' Association of America. And as of early this morning, five players were trending near that figure, according to a public ballot tracker updated by Hall of Fame enthusiast Ryan Thibodaux. The quintet is led by slugger Ken Griffey Jr., in his first year of eligibility after retiring in 2010.
• Hall, yes? See vote tally today on MLB Network, MLB.com
Griffey appears to be a lock and could haul in one of the highest vote percentages in history. The only question regarding his candidacy is whether he'll be the first player to be elected by a unanimous vote. Tom Seaver is the current record holder for the highest vote percentage at 98.84 percent, while Cal Ripken Jr. (98.53) is tops among position players. Griffey's lauded resume includes 13 All-Star selections, an American League MVP Award and 630 home runs across 22 big league seasons with the Mariners, Reds and White Sox.
Beyond Griffey, the rest of the Hall of Fame picture is far murkier. Mike Piazza was on solid ground in the early morning, well behind Griffey but still very much in the mix. Piazza fell just short last year, coming 28 votes votes shy of election at 69.9 percent. The former backstop played 16 years in the Majors, totaling 12 All-Star campaigns, 10 Silver Slugger Awards and 427 home runs.
Cooperstown is also within reach for both Jeff Bagwell and Tim Raines, though each was below 80 percent in a tally shortly after midnight. Bagwell made it onto 55.7 percent of last year's ballots, while Raines came in at 55 percent and is now in his penultimate year of eligibility. Closer Trevor Hoffman also has an outside chance at election in his first appearance on the ballot. He was trending below the 75 percent threshold this morning, but fewer than 40 percent of ballots had been made public.
On the other end of the spectrum, the early results trickling out weren't promising for a few holdovers and others who could end up below the 5 percent needed to remain on the ballot next year. This Hall of Fame class represents the last opportunity for Mark McGwire and Alan Trammel, and neither is likely to earn enough votes in their final year of eligibility.
Others are in danger of falling off the ballot for not receiving the minimum 5 percent, including Jim Edmonds, Garret Anderson, Brad Ausmus, Luis Castillo, David Eckstein, Troy Glaus, Mark Grudzielanek, Mike Hampton, Jason Kendall, Mike Lowell, Mike Sweeney and Randy Winn. Holdovers Sammy Sosa (6.6 percent in 2015) and Nomar Garciaparra (5.5) just barely survived last year's vote and could narrowly avoid elimination again this year.
Chad Thornburg is a reporter for MLB.com. This story was not subject to the approval of Major League Baseball or its clubs.