Around the Horn: Taking stock of Braves' infield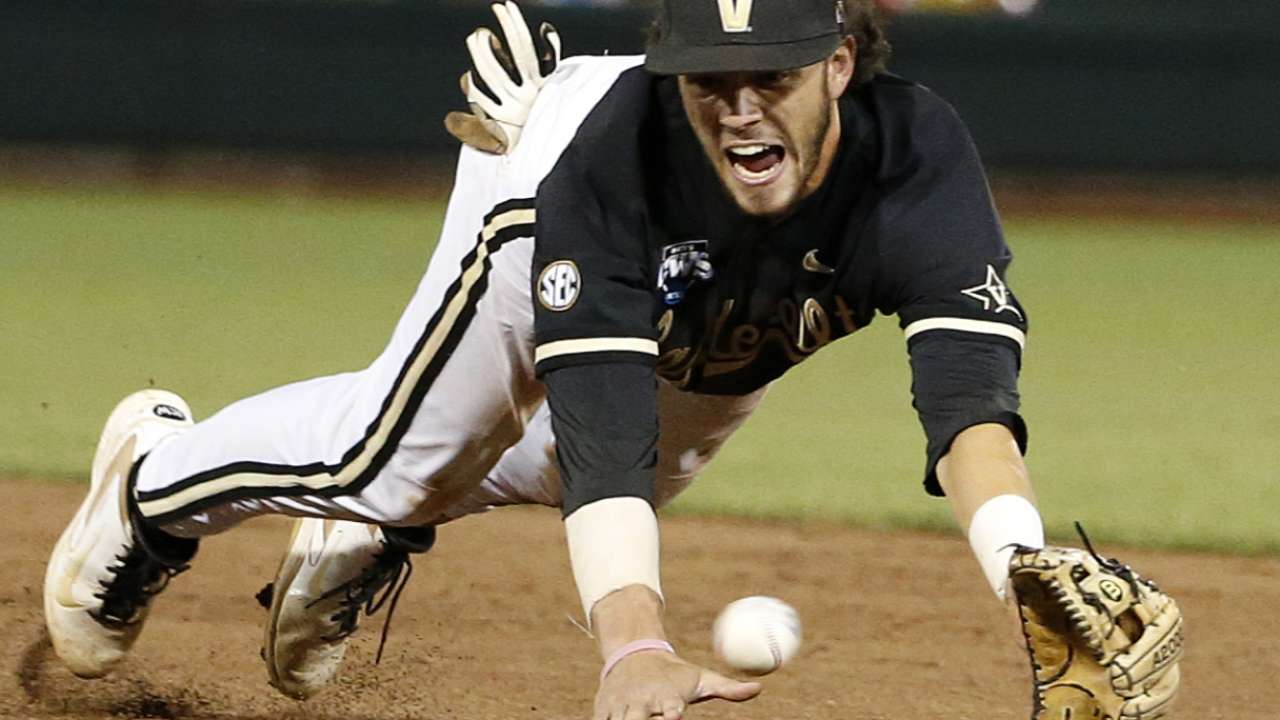 ATLANTA -- Though the current plans could be slightly altered by some signings or trades that could be completed within the next few days or weeks, the Braves have laid the foundation for the makeup of an infield mix that will no longer benefit from Andrelton Simmons' presence.
Within the November trade that sent Simmons to the Angels, the Braves gained veteran shortstop Erick Aybar to serve as an immediate replacement. But more importantly, they seemingly gained their shortstop of the future in December when they acquired top prospect Dansby Swanson in the trade that sent Shelby Miller to the D-backs.
With Swanson and Ozhaino Albies at least a year away from forming a potentially strong double-play duo in Atlanta, the Braves have turned to the likes of Aybar and Gordon Beckham to serve as potential short-term solutions for the upcoming season.
At the same time, the Braves have remained in close contact with Kelly Johnson about the possibility of beginning a second straight season in Atlanta. Johnson could be targeted to share time at third base with Adonis Garcia, who was not viewed as a potential long-term solution at the Major League level until he hit 10 homers in just 191 at-bats last year.
Over the next five weeks, MLB.com will go Around The Horn analyzing the plans the Braves have set for the 2016 season. We start with the infielders:
First base: If the Braves are going to be competitive, they obviously need Freddie Freeman to return to his productive and healthy ways. Freeman had played in a Major League-best 243 consecutive games before a right wrist injury sidelined him in June and then continued to hamper him over the remainder of the season.
The Braves are hoping the extended rest provided by the offseason will serve as the proper remedy and allow Freeman to once again become an everyday cog in their lineup. Still, there is a need to at least have some backup options. If the deal with Johnson is completed, he could serve as a short-term replacement if there comes a time when Freeman absolutely needs to rest. Nick Swisher stands as another backup option, but the Braves are still evaluating ways to trade him, with the understanding they would have to eat a significant portion of his $15 million salary.
Second base: There are some definite offensive concerns as the Braves plan to platoon the right-handed-hitting Beckham and Jace Peterson, a left-handed hitter who made 137 starts at second base last year. Peterson struggled against left-handed pitchers, as he batted .239 with a .649 OPS during what stands as his only full season at the Major League level. Meanwhile, Beckham has batted .221 with a .615 OPS since the start of 2014.
While hitting .209 with a .275 on-base percentage for the White Sox last year, Beckham produced a .229 BABIP, which indicates he incurred some bad luck. The veteran Atlanta native produced a .593 OPS in 138 plate appearances against right-handed pitchers, and a .626 OPS over 99 plate appearances against lefties.
Peterson showed some promise through the early portion of the season, but hit just .221 with a .612 OPS after the All-Star break. He batted .251 with a .682 OPS over 483 plate appearances against right-handed pitchers, and .190 with a .510 OPS over 114 plate appearances against lefties.
Shortstop: After producing an alarming .617 OPS in 2014, Simmons improved that number to .660 this past season. But his improvement was not enough to ease the Braves' concerns about what he might provide from an offensive perspective when he makes $28 million over the final two years of his contract (2019-20). Thus, they now find themselves with Aybar, who produced a .700 OPS in '14 and then saw that number dip down to .639 this past season. The 31-year-old veteran's defense also slipped, leaving him with a 1.0 fWAR, which ranked 15th among all Major League shortstops (Simmons ranked third with a 3.2 mark).
Aybar is entering the final year of his contract. Thus there is a chance he could be traded before the July 31 non-waiver Trade Deadline. In the meantime, he will fill Atlanta's everyday role, with Beckham, Peterson and Emilio Bonifacio standing as potential backups. Daniel Castro would likely be promoted to the Major League level if there is a need for a long-term replacement at the shortstop position.
Third base: Though Garcia's defensive woes stand as a concern, the unexpected power he showed late last season has given the Braves reason to believe he deserves a shot to get some more time at third base. But at the same time, the club has spent this offseason targeting Johnson and other left-handed hitters to share some time at the hot corner with Garcia.
It is never wise to put too much credence in Winter League stats. But Garcia certainly didn't hurt his stock as he hit .370 with three homers and a .948 OPS in Venezuela this winter.
Mark Bowman is a reporter for MLB.com. This story was not subject to the approval of Major League Baseball or its clubs.