Tigers' Moya among those making waves in Winter Leagues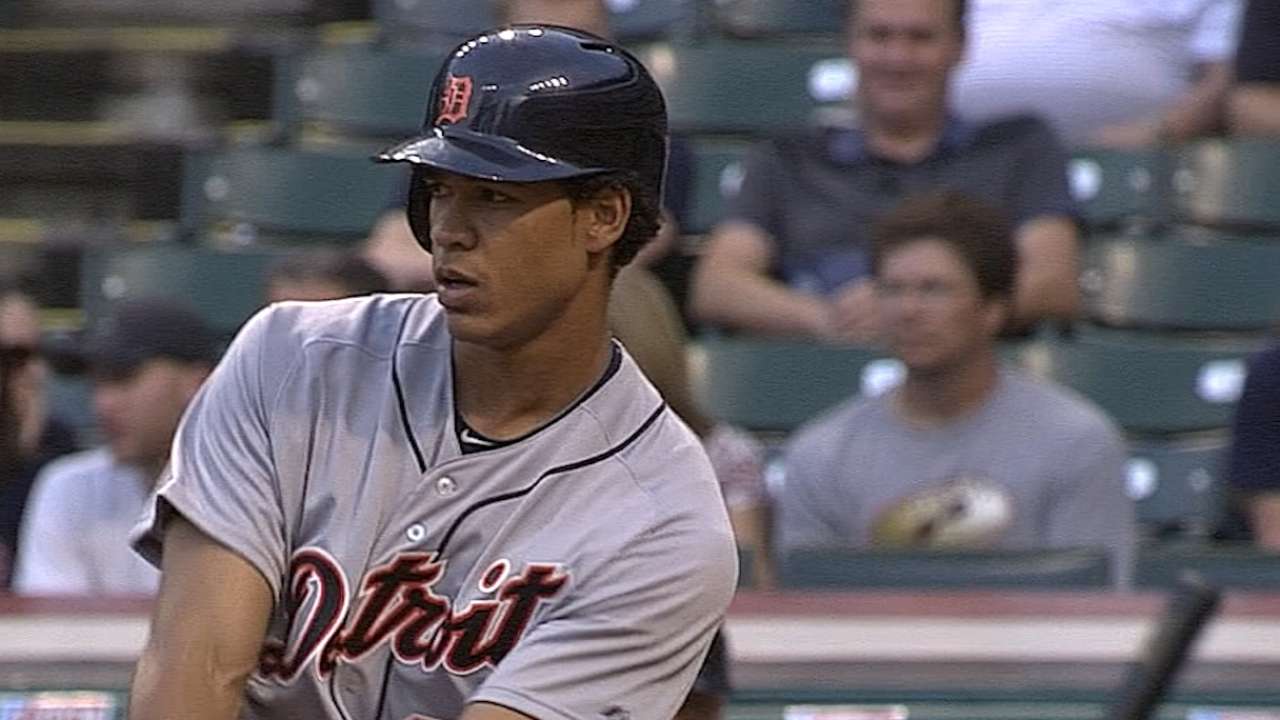 The playoffs are officially underway in four of the five offseason leagues.
In the Dominican Winter League, Tigres del Licey hold a commanding 2.5-game lead in the four-team round robin playoffs. While Licey's current roster features mostly current and former big leaguers such as Leonys Martin, Zoilo Almonte, Wandy Rodriguez and Arismendy Alcantara, the team received significant contributions from numerous prospects during the regular season including third baseman Kyle Kubitza (Angels), middle infielder Marco Hernandez (Red Sox) and outfielders Andrew Aplin (Astros), Rymer Liriano (Padres) an Roman Quinn (Phillies).
After finishing the regular season with an even .500 record (21-21) Criollos de Caguas have won their first two round robin matchups in the Puerto Rican Winter League. A pair of Red Sox outfielders paced Caguas to a 7-4 win over Cangrejeros de Santurce on Monday night, as Henry Ramos went 4-for-4 with two doubles and a walk out of the leadoff spot and Rusney Castillo chipped in with a two-out, two-run triple.
In Venezuela, meanwhile, Navegantes del Magallanes and Tiburones de La Guaira have jumped out to an early 2-0 series lead in their respective best-of-seven series, while Bravos de Margarita and Tigres de Aragua have exchanged wins in their first two games of their series.
We'll continue to track the playoff developments in the various Winter Leagues in the coming weeks ahead of the Caribbean Series, which begins in early February.
Here's a look at some of the other top prospects currently making waves in the offseason Winter Leagues.
Australia
• Justin Williams, OF, Rays -- The No. 22 prospect's pure hitting ability was on display in 2015 as he hit .277 with a career-best seven home runs and 30 doubles in 122 games between Class A Bowling Green and Class A Advanced Charlotte. The 20-year-old outfielder has continued raking this season in the Australian Baseball League, where he's posted a .338/.394/.563 batting line with seven home runs, 11 doubles and 24 RBIs through 39 games for the Brisbane Bandits.
Dominican Republic
• Steven Moya, OF, Tigers -- After hitting 35 home runs and reaching the Major Leagues in 2014, Moya, the Tigers' No. 2 prospect, didn't take a step forward in '15, posting a .703 OPS with 20 home runs in 126 games for Triple-A Toledo and scuffling during his return to the big leagues. The 24-year-old outfielder rebounded to have a nice offseason campaign, hitting .298 with four home runs in 34 games for Toros del Este. In a playoff matchup against Leones del Escogido on Dec. 30, Moya went 3-for-6 with a pair of solo home runs.
Puerto Rico
• Reymond Fuentes, OF, Royals -- Kansas City's No. 20 prospect reached the Major Leagues with the Padres back in 2013 but was dealt to the Royals after the 2014 season. The 24-year-old continued to show an intriguing blend of hitting ability and speed in '15, hitting .308 with 29 steals in 107 games for Triple-A Omaha. Playing for Cangrejeros de Santurce this offseason, Fuentes led all hitters in the Puerto Rican Winter League with a .326 average and finished in a three-way tie for second place with eight steals.
Venezuela
• Wuilmer Becerra, OF, Mets -- Back in 2012, Becerra was viewed as a "throw-in" as part of the R.A. Dickey trade that netted the Mets Noah Syndergaard and Travis d'Arnaud. Now, he ranks as the organization's No. 12 prospect after hitting .290/.342/.423 with nine home runs, 27 doubles and 16 stolen bases in 118 games for Class A Savannah in his full-season debut. The 21-year-old outfielder has continued to impress this offseason in Venezuela, hitting .405/.416/.500 over 21 games for Tigres de Aragua. On top of that, he capped his regular season by collecting hits in each of his last seven games, with a .448 average (13-for-29) in that span.
• Rangel Ravelo, 1B, Athletics -- Ravelo, 23, suffered a wrist injury during Spring Training and subsequently underwent surgery, costing him all but 59 games during the 2015 season. However, the A's No. 17 prospect has looked plenty healthy this offseason in Venezuela, batting .354/.480/.562 with eight home runs, 13 doubles and 38 RBIs in 55 games for Cardenales de Lara. Over his final 10 regular-season contests, Ravelo hit a robust .471/.581/.853 with three homers and four doubles.
• Maikel Caceres, IF -- The 32-year-old Caceres made headlines in May when he defected from Cuba. Prior to that, he played eight seasons in Serie Nacional where he hit .307/.370/.397 across 639 games. In 2014, the 5-foot-9, 170-pound right-handed hitter batted .314/.383/.453 with seven home runs in 80 games. While he's drawn interest as a potential utility infielder from several teams this offseason, Caceres likely would open 2016 in either Double- or Triple-A if he were to sign with a big league club.
Mike Rosenbaum is a reporter for MLB.com. Follow him on Twitter at @GoldenSombrero. This story was not subject to the approval of Major League Baseball or its clubs.