Bagwell unsure what to expect in Hall voting
Slugger would be excited to gain election, but falling short won't change his life
HOUSTON -- He is as honest and as transparent as they come, so Jeff Bagwell isn't going to tell you being elected to the National Baseball Hall of Fame wouldn't be an incredible honor. But he is going to tell you that not getting elected in his sixth year on the ballot wouldn't change his life or define him.
The bottom line is the greatest slugger in Astros history doesn't know what to expect when the results of the voting by members of the Baseball Writers' Association of America are unveiled live on MLB Network and MLB.com today at 5 p.m. CT, with coverage starting at 2 p.m.
• Complete Hall of Fame coverage
"I would imagine that I would be, not nervous, but I like to say I would be anxious to find out either yes or no," Bagwell said. "My emotions would take me either way. If I get in, obviously I would be ecstatic. Who wouldn't want to be in the Hall of Fame? I would, and if I'm not, I understand. This would be my sixth year. I get it."
Bagwell's voting totals have flattened out the past four years after he appeared of 41.7 percent of the ballots during his first year of eligibility in 2011. He had a sharp increase in 2012 (56.0), but hasn't moved much since: 59.6 in 2013, 54.3 in 2014 and 55.7 last year. A player has to appear on 75 percent of the ballots to gain election.
• By the numbers: HOF case for Bagwell
Ryan Thibodaux, an Athletics fan from Oakland, has been compiling ballots of BBWAA voting members that have been made public online. As of Tuesday morning, Bagwell had appeared on 79.8 percent of 163 known ballots. That accounts for roughly a third of the ballots that will be tabulated, and the early poll numbers are no guarantee this will be the year for Bagwell.
Still, it's a solid sign that Bagwell's support is increasing to the point that if he doesn't get elected this year, he will be close. He'll have four remaining years on the ballot, so there's time.
"I don't know how that all works," Bagwell said. "I imagine the ones that are singing are the ones that have already voted [for me] beforehand. I have no clue what's going to happen, which is weird. I'd rather have it be kind of, to me, be yes or no. That would make it a lot easier."
Bagwell was in Cooperstown, N.Y., last July to watch longtime teammate and friend Craig Biggio became the first player inducted into the Hall of Fame representing the Astros. He said he never allowed himself at the time to think too much about getting his day in the sun.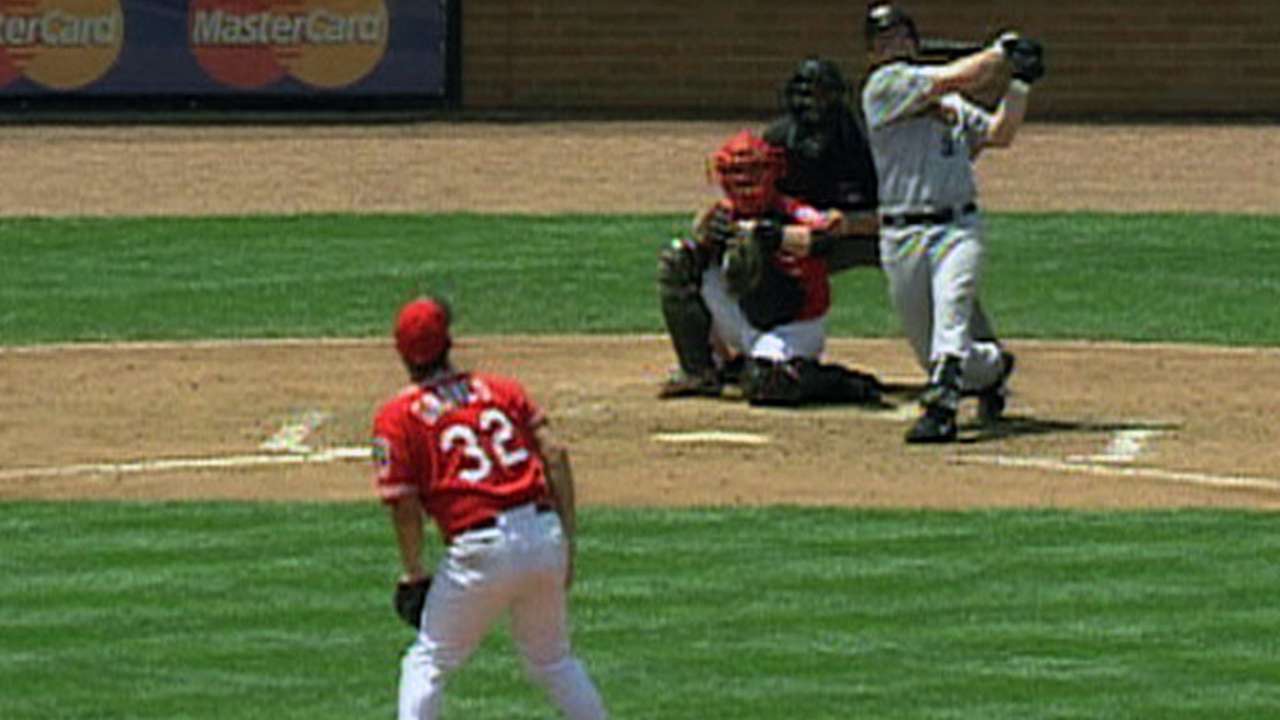 He certainly has the credentials. Bagwell, a career .297 hitter, was one of the most productive sluggers of his time, hitting 449 homers with 1,529 RBIs and a .948 OPS with 2,314 hits in 15 years with the Astros (1991-2005). He played in four All-Star Games, was the 1991 National League Rookie of the Year and 1994 NL Most Valuable Player, as well as being a great baserunner and Gold Glove winner.
"It was great for Craig and neat for me because Craig was there and Randy [Johnson] and Pedro [Martinez] and all the guys I played with," he said. "So it was kind of neat. It was a great experience to see Craig and his family and the joy they had for all that.
"You know, as far as me, it is something that would be great, and obviously the pinnacle of any player personally to achieve is to get in the Hall of Fame, but I really wasn't thinking about myself at the time. It's in the back of my mind and in the back of the minds of my family and the fans in Houston. If my time comes, it will come. I will embrace that moment and I'll be excited. If not, like you've heard me say before, my life still goes on."
Brian McTaggart is a reporter for MLB.com and writes an MLBlog, Tag's Lines. Follow @brianmctaggart on Twitter and listen to his podcast. This story was not subject to the approval of Major League Baseball or its clubs.