Young Marlins arms to benefit from Jackson
With arrival of veteran righty, club to have flexibility with pitchers like Conley, Nicolino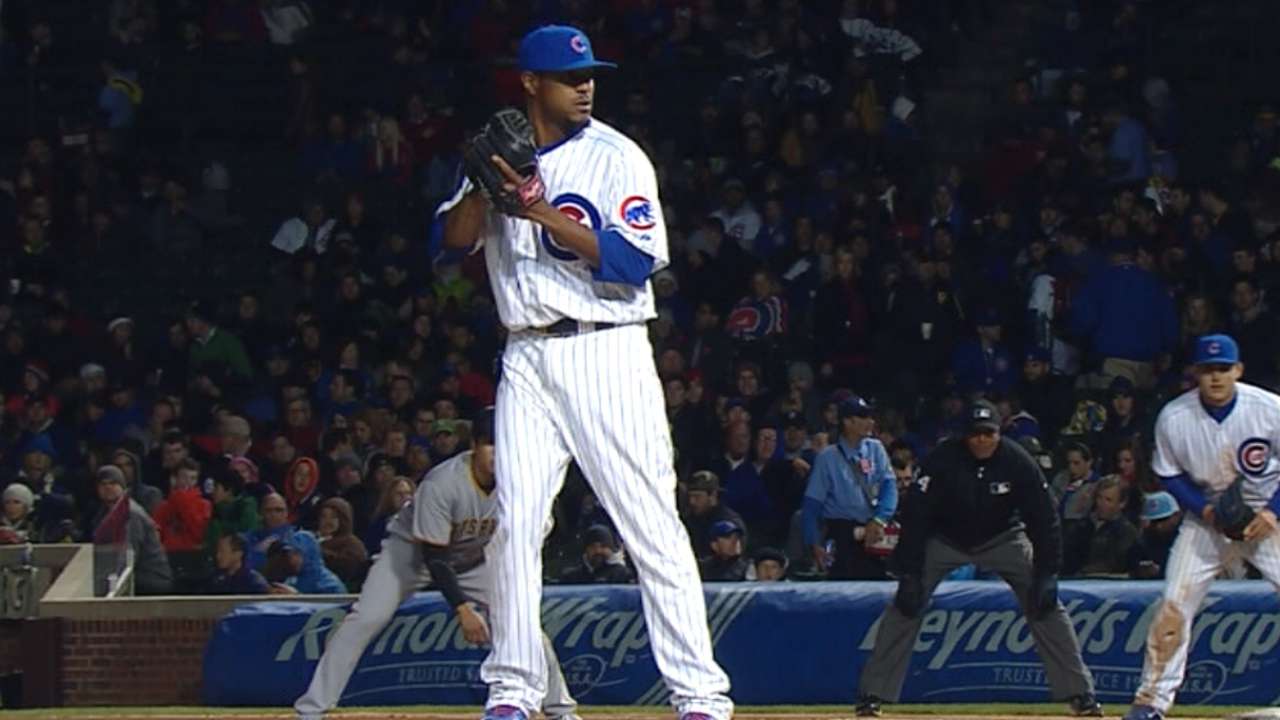 MIAMI -- On the surface, agreeing to terms with veteran right-hander Edwin Jackson doesn't appear to be a major move for the Marlins. But inside the clubhouse, the addition is significant because it will impact the development of some of Miami's young starters, like Adam Conley and Justin Nicolino.
Now, if the two young lefties appear to need more time at Triple-A New Orleans, the Marlins have a veteran option like Jackson to open the year in the rotation. Jackson, who reached agreement Monday on a one-year deal that has not yet been announced by the team, is considered a low-risk signing because he is costing Miami the minimum MLB salary. The Cubs are paying the remaining $13 million the 32-year-old is owed for the final year of his $52 million deal.
Jackson was released by the Cubs on July 27, and he finished up the 2015 season pitching out of Atlanta's bullpen.
The Marlins are hopeful Jackson can win a rotation spot. And Miami is not done shopping. The club is expected to add another veteran starter or two before Spring Training. If that happens, chances are both Conley and Nicolino will start off at New Orleans -- unless, of course, they show they are truly big league ready.
Before Jackson entered the picture, the Marlins were prepared to go with a rotation of Jose Fernandez, Tom Koehler, Jarred Cosart and two of Nicolino, Conley and David Phelps. Phelps, like Jackson, provides an option to either start or pitch long relief.
"All of those guys showed they are productive Major League pitchers," Marlins president of baseball operations Michael Hill said in late December.
Giving Nicolino and Conley more Triple-A innings could be beneficial for several reasons. Neither would have to be rushed, and when they are truly ready to stay in the big leagues, they wouldn't have to go back to the Minors.
Too often in the past, Miami has rushed young starters to the Majors. Brad Hand, a lefty on the roster, is a prime example. A second-round pick in 2008, Hand is 25 and has been out of options the past two seasons largely because he made his MLB debut in 2011, at age 21, when he wasn't ready.
Hand was promoted quickly primarily because the Marlins didn't have enough depth.
Nicolino showed promise after being promoted last season. The 24-year-old lefty went 5-4 with a 4.01 ERA in 74 innings. But he isn't overpowering, striking out just 23 while walking 20. Conley, 25, impressed in his 67 big league innings, striking out 59 while going 4-1 with a 3.76 ERA.
If both opened 2016 at New Orleans, they could spend more time working with Jim Benedict, Miami's new vice president of pitching development.
Nicolino might need those Minor League innings to refine his breaking pitches, and Conley could continue polishing up his delivery, which was sped up a bit in the final weeks of 2015.
Joe Frisaro is a reporter for MLB.com. He writes a blog, called The Fish Pond. Follow him on Twitter @JoeFrisaro and listen to his podcast. This story was not subject to the approval of Major League Baseball or its clubs.