Tigers continue wait-and-see approach to Hot Stove market
Tax implications a consideration as club analyzes potential deals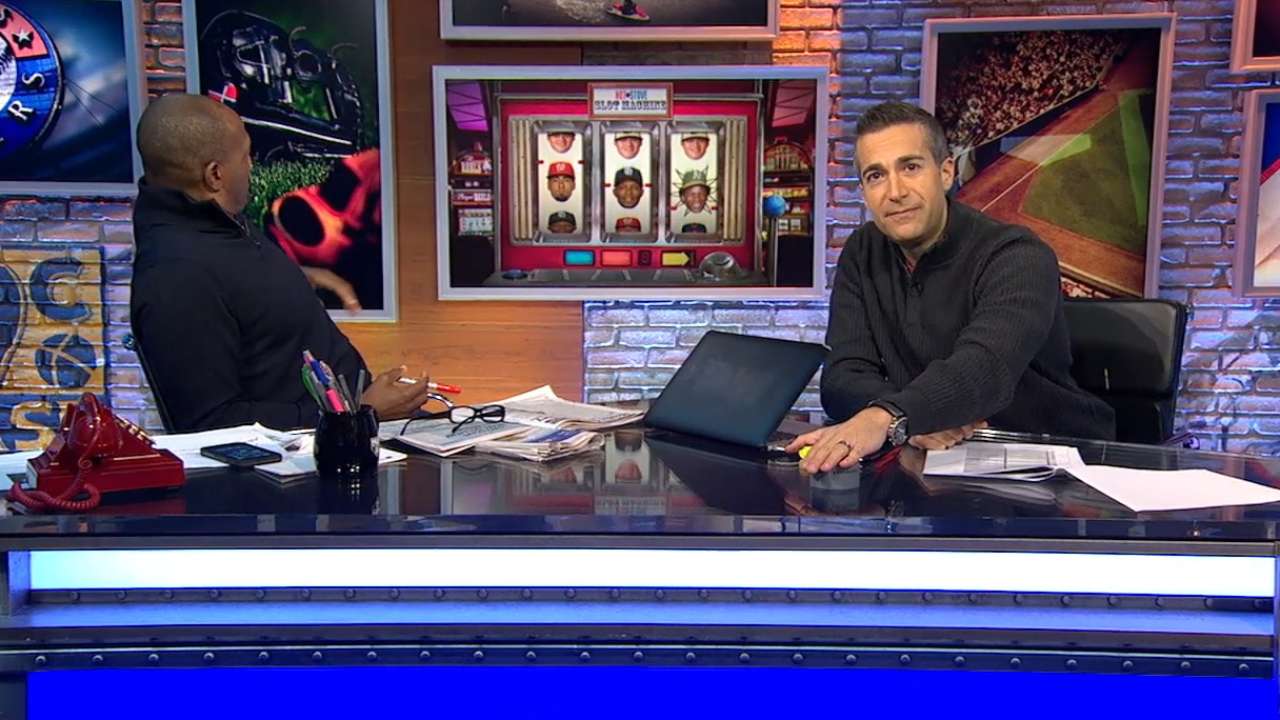 DETROIT -- The holidays are over, the calendar has turned and Spring Training now falls under the description of next month rather than next year. This is when time takes on urgency for baseball's offseason market. It's also when the Tigers have done some of their biggest deals, from Carlos Guillen to Ivan Rodriguez, Magglio Ordonez to Johnny Damon, Jose Valverde to Prince Fielder.
With a glut of free-agent outfielders, plus a lingering market of free-agent pitchers and an ample all-around trade market, baseball's Hot Stove season could have one of its busiest closing stretches ever. But while many anticipate the Tigers jumping in, there's no sign of a shift in stance from management or ownership since the holidays. They haven't declared themselves done for the offseason, but at this point, they appear willing to wait for the market to come to them. They remain open to adding an outfielder or relief pitcher, but at their price on a short-term deal.
That movement hasn't happened yet. It might not happen until close to Spring Training, or maybe during it. As the Tigers stand, however, they have some incentive to wait.
Detroit currently has around $152 million committed to 12 players on its roster, according to estimates from baseball-reference.com, plus a $6 million payment due to Texas from the Prince Fielder trade, plus Joe Nathan's $1 million buyout. Factor in projected arbitration salaries, and the Tigers cross the $170 million estimate. If the team filled out the roster with pre-arbitration players, along with player benefits for luxury-tax calculations, the Tigers would near the $189 million threshold with no other major dealings. Of the dozen guaranteed contracts, just four smaller deals are up next winter, and a handful of players become arbitration-eligible, so Detroit's payroll situation looks similar for 2017.
The Tigers last paid luxury tax in 2008. Any major deal for an outfielder this offseason would likely make them pay it this year. The difference between a short- and long-term deal could be the difference in whether the Tigers face a similar situation down the road.
General manager Al Avila referenced payroll when asked on Detroit Sports 105.1 FM before the holidays what signing Yoenis Cespedes or Alex Gordon to a long-term deal would mean in terms of finances.
"I think it would be pretty ugly," Avila told radio hosts Matt Dery and Drew Sharp.
Cespedes and Gordon rank among the top remaining free-agent outfielders, along with Justin Upton, Gerardo Parra, Dexter Fowler and Denard Span. Chris Davis started in right field for 29 games in Baltimore last season, and made 19 starts at third base in 2014, giving him some short-term positional flexibility for a team before he ages.
All would be an obvious upgrade over Detroit's projected left-field mix of Anthony Gose, Tyler Collins and/or Cameron Maybin, but for tax purposes, the Tigers would essentially be spending $1.175 for a dollar next year, and a potentially higher rate after that.
It's an unprecedented free-agent field in one position for this late in the offseason, raising the question of whether there are enough teams willing to deal. If not, teams such as the Tigers could try to hunt for a shorter-term contract, a tactic the Orioles used a couple of years ago to sign Nelson Cruz and the Braves used to sign pitcher Ervin Santana. Both found long-term deals in a thinner market the following winter.
Beyond those names lies a similarly cluttered middle market of outfielders, including Marlon Byrd, Austin Jackson, Kelly Johnson, David Murphy, Steve Pearce, Alex Rios, Shane Victorino, Drew Stubbs, Johnny Gomes, Matt Joyce, Chris Denorfia, David Lough, Travis Snider and Jeff Francoeur.
A short-term deal could be more likely in the relief market than the outfield market. At this point, it might be the Tigers' best route to another move.
Jason Beck is a reporter for MLB.com. Read Beck's Blog, follow him on Twitter @beckjason and listen to his podcast. This story was not subject to the approval of Major League Baseball or its clubs.