Inbox: Gomes back at full strength for Indians?
Beat reporter Jordan Bastian answers fans' questions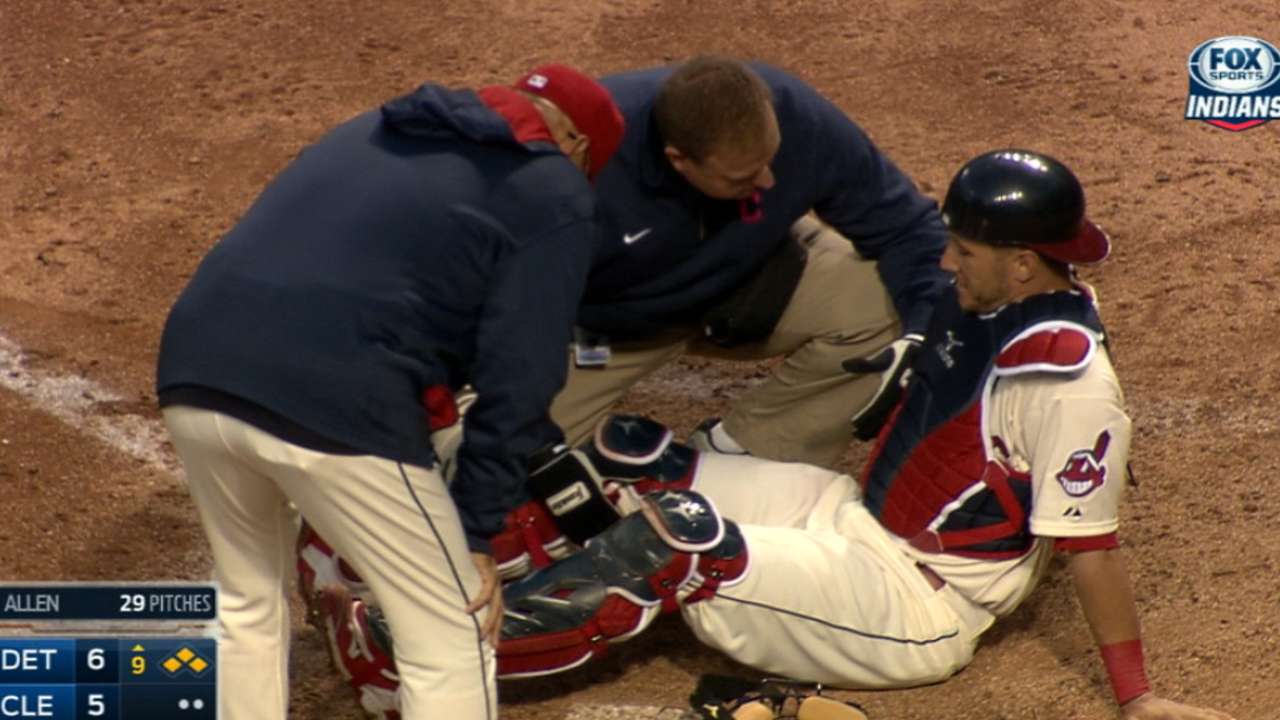 @MLBastian How confident is team that Gomes will return to 2014 form? #IndiansInbox

- Jon Kaslander (@ten4) January 4, 2016
Having catcher Yan Gomes fully healthy and back to his '14 form would be a tremendous development for the Indians this season. Two years ago, Gomes burst onto the scene with a breakout showing that netted him a Silver Slugger Award. Last year, an injured right knee in April cost him six weeks and hindered his production all summer.
The injury happened on April 11, when outfielder Rajai Davis slid into Gomes' foot, subsequently injuring the knee, during a play at the plate. Davis has already apologized to Gomes for the inadvertent incident, but the outfielder will get another chance to do so in person this spring when they are teammates.
• Submit a question to the Indians Inbox
A knee injury, especially for a catcher, can take a toll. In his first 25 games back, Gomes hit only .215 with a .576 OPS, though the catcher never publicly used the knee as an excuse. Even so, Gomes hardly looked like the player who hit .278 with 21 homers and a .785 OPS in '14. There were signs of life in his bat as the season progressed, though.
Gomes had a promising September, during which he hit .264 with a .757 OPS. In the games he played in September/October, Gomes had an exit velocity of at least 100 mph on 20.3-percent of balls put in play. That was his highest percentage for a month last year. From April-June, only 11 percent of the balls put in play by Gomes at an exit velocity of 100 mph or greater. That percentage rose to 15.3 percent from July on.
That could be an indication that Gomes was feeling stronger the further removed he was from the injury. Now, with a full offseason behind him, plus a Spring Training to come, Cleveland can hold out hope that he can be the kind of offensive force he was in '14.
@MLBastian Do you foresee the Indians signing an additional FA OF bat? Seems like opportunity arises as we get closer to Spring Training.

- Clayton J. Herold (@_cjherold) January 4, 2016
I would think the Indians are done adding Major League options to the outfield via free agency. It's important to remember that Michael Brantley will be returning around May, or later, following his recovery from shoulder surgery. Cleveland signed Davis to a one-year deal, and also has Lonnie Chisenhall, Abraham Almonte, Collin Cowgill and Joey Butler, among others, in the fold. If Cleveland continues to add, I'd expect it to be through more Minor League depth moves. The only way I see the Major League outfield changing is if the Indians have a trade up their sleeves.
@MLBastian Jordan, do you know how much the Indians bid on Byung-Ho Park back in November? Can't find the figure anywhere.. was it released?

- Adam Hintz (@palagoon) January 4, 2016
While the Indians' specific bid has not been revealed, MLB.com's Anthony Castrovince reported during the Winter Meetings that Cleveland was one of four teams to bid at least $11 million for the rights to negotiate with the Korean slugger. The Twins won the bidding at $12.85 million and then signed Park to a four-year contract worth $12 million.
@MLBastian When will the Indians announce the Napoli signing? #IndiansInbox

- Bryan (@NachoHelmet) January 4, 2016
With the holidays officially behind us, I'd expect the Indians to announce the signing of free-agent first baseman Mike Napoli at some point this week. There were no issues with the physical, which was completed on Dec. 19. It appears that the timing, combined with Cleveland weighing a subsequent transaction to vacate a spot on the 40-man roster, delayed the announcement of the one-year, $7 million pact with Napoli.
@MLBastian will Josh Tomlin or Trevor Bauer solidify the back end of the rotation? #IndiansInbox

- Nick Westhora (@n_westy07) January 4, 2016
Barring injury in Spring Training, you can bet on Corey Kluber, Carlos Carrasco, Danny Salazar and Bauer occupying the front four spots in the rotation. Based on comments by Indians leadership this winter, it also sounds as though Tomlin will be on the pitching staff in some capacity. That could mean the fifth spot, or in the bullpen. Right now, Tomlin and young righty Cody Anderson look like the top two candidates for the fifth spot in the rotation. If Anderson doesn't win that job, I'd expect him to open with Triple-A Columbus to remain in a starting role.
@MLBastian Hey, Jordan! Will anyone be inducted into the @Indians Hall of Fame in 2016? #IndiansInbox

- Tony Isch (@TonyIsch) January 4, 2016
Yes, the Indians are planning on having at least one person inducted into the team's Hall of Fame during the upcoming season. As of this writing, though, the specifics of the announcement are still to be determined.
Jordan Bastian is a reporter for MLB.com. Read his blog, Major League Bastian, follow him on Twitter @MLBastian and listen to his podcast. This story was not subject to the approval of Major League Baseball or its clubs.