MLB.com Columnist
Mike Bauman
HOF candidate Hoffman a hit with friendly demeanor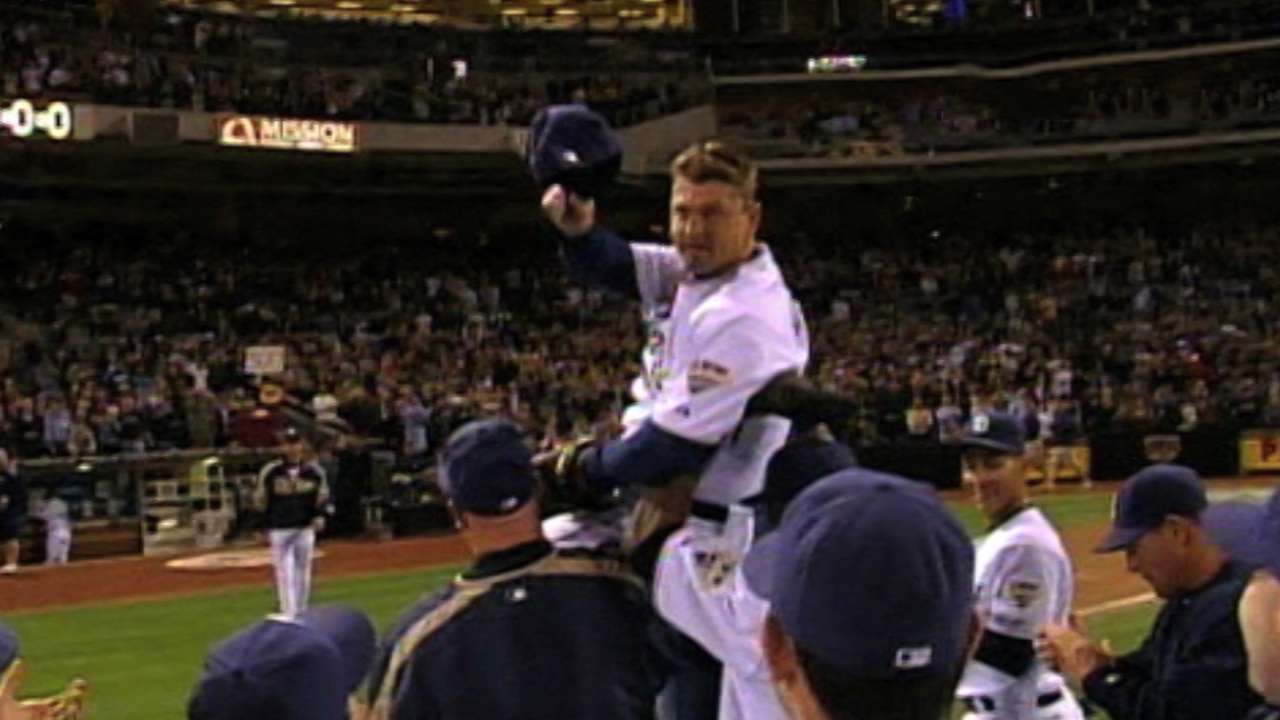 I voted for Trevor Hoffman for the Hall of Fame because he had a prolonged run of excellence.
In an era dominated by offense, Hoffman persistently confounded hitters and registered 601 saves, a total exceeded only by Mariano Rivera. Season after season, Hoffman was superb. He lacked Rivera's perennial postseason exposure, but that wasn't his fault.
So Hoffman had my vote. But it is always good to be able to report that a terrific performer is also a top-shelf individual. As we await the results of the Hall of Fame balloting to be announced on Wednesday night at 6 p.m. ET in a simulcast on MLB Network and MLB.com, it is pleasing to contemplate that combination.
On June 6, 2007, I was privileged to be in San Diego for Hoffman's 500th save. He became the first Major League pitcher to reach that mark. Hoffman was typically modest about it, preferring to speak of the Padres seeking a championship rather than reaching an individual milestone.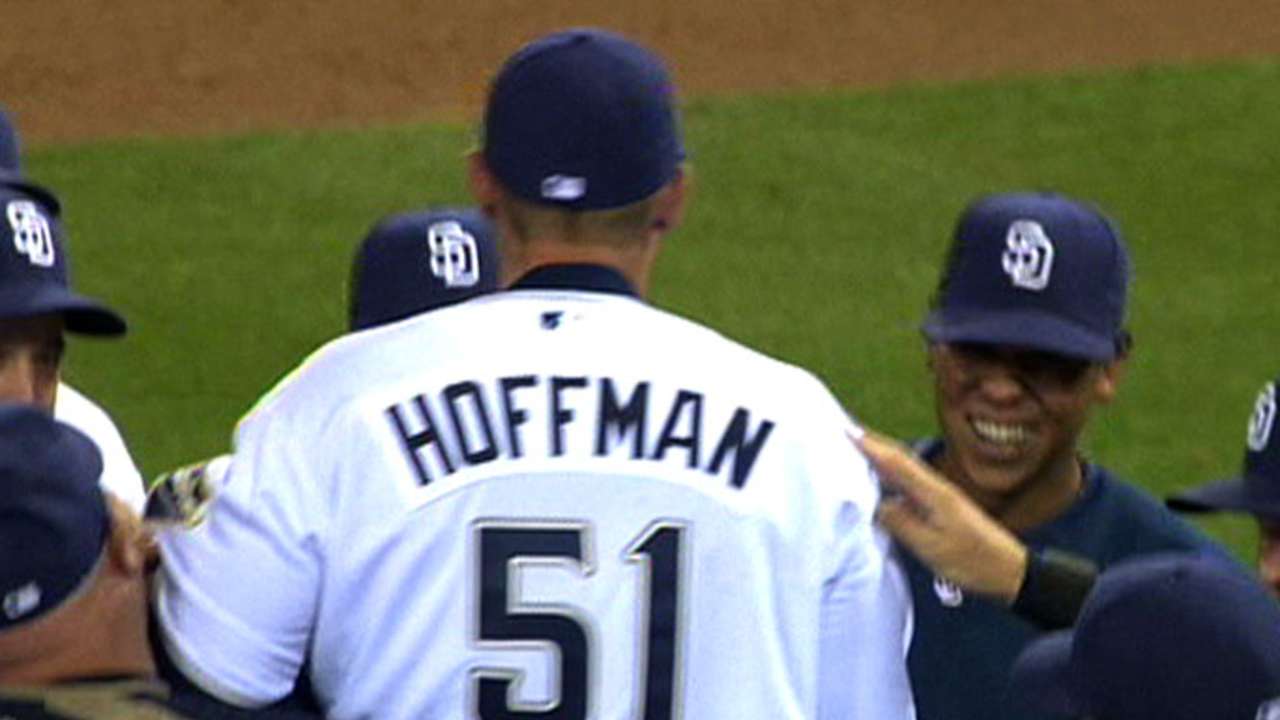 But leaving Petco Park two hours after the game ended, I noticed a substantial gathering of people in the parking lot. The center of attention was Trevor Hoffman, signing autographs, patiently, pleasantly and, by the hour involved, pretty much endlessly.
There was a selfless act. On a night when Hoffman reached a singular level in his profession, he chose to give of his own time to make this occasion even more special for many Padres fans as well.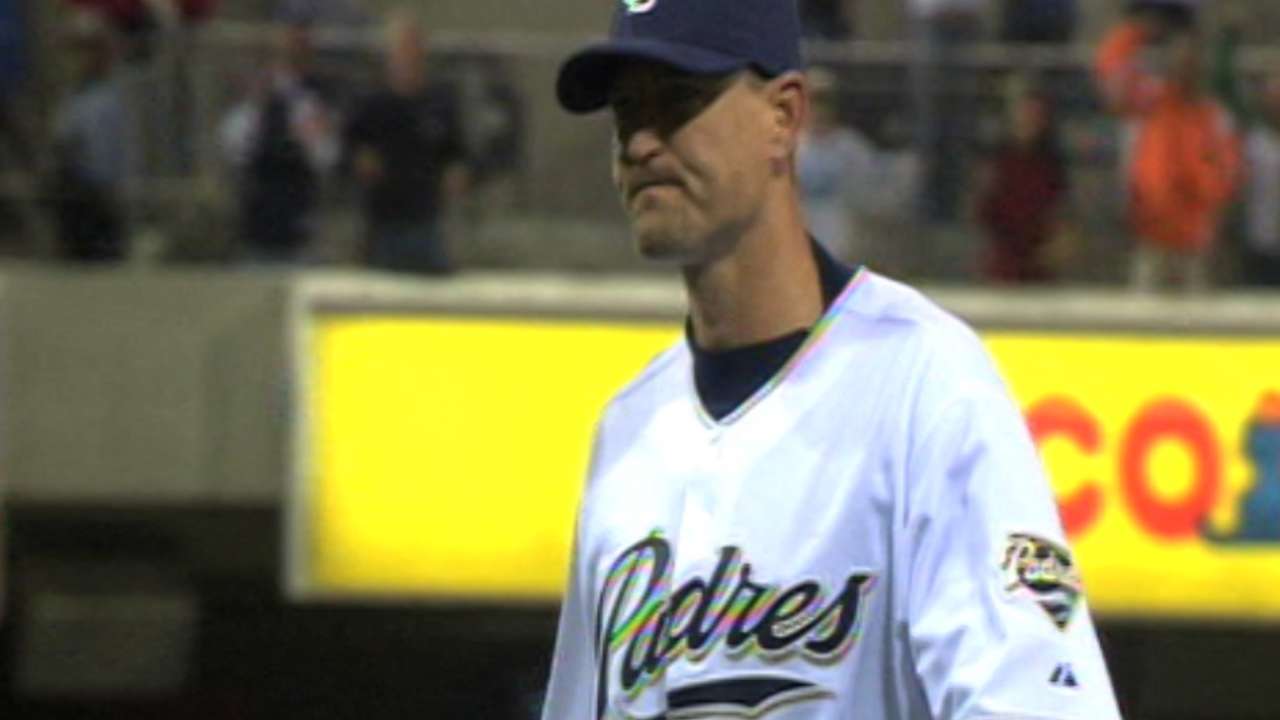 But the home fans weren't the only ones who received consideration and kindness from Hoffman. Fast forward 15 months to early September 2008 and a game in Milwaukee's Miller Park. I didn't witness this personally, but I get the account of it from a reliable source, my youngest son, Andrew.
He and four of his teammates on a high school baseball team went to the ballpark to see CC Sabathia pitch against the Padres. The Brewers were nearing their first postseason appearance in 26 seasons. The lads wanted in on that experience, and they were hoping for a baseball, an autograph. They were all regular visitors at Miller Park.
They arrived when the gates opened and bought bleacher seats. They made their way down to the railing along the third-base line while the Padres were taking batting practice.
"We were yelling at the players asking for a ball, saying 'Trevor, Trevor give us a ball,'" my son said. "After pestering him for a while, he decided to come over and visit. And then we asked him if we could get a picture as well. He said, 'Yeah, for sure.' He hopped up on the railing for a group shot. He signed everybody's ball and everybody's glove, and at one point, he signed somebody's phone.
"We asked him some questions and he just talked to us about playing baseball. It was the friendliest encounter I'd ever had as a fan with a professional baseball player."
This left an impression that was both positive and indelible.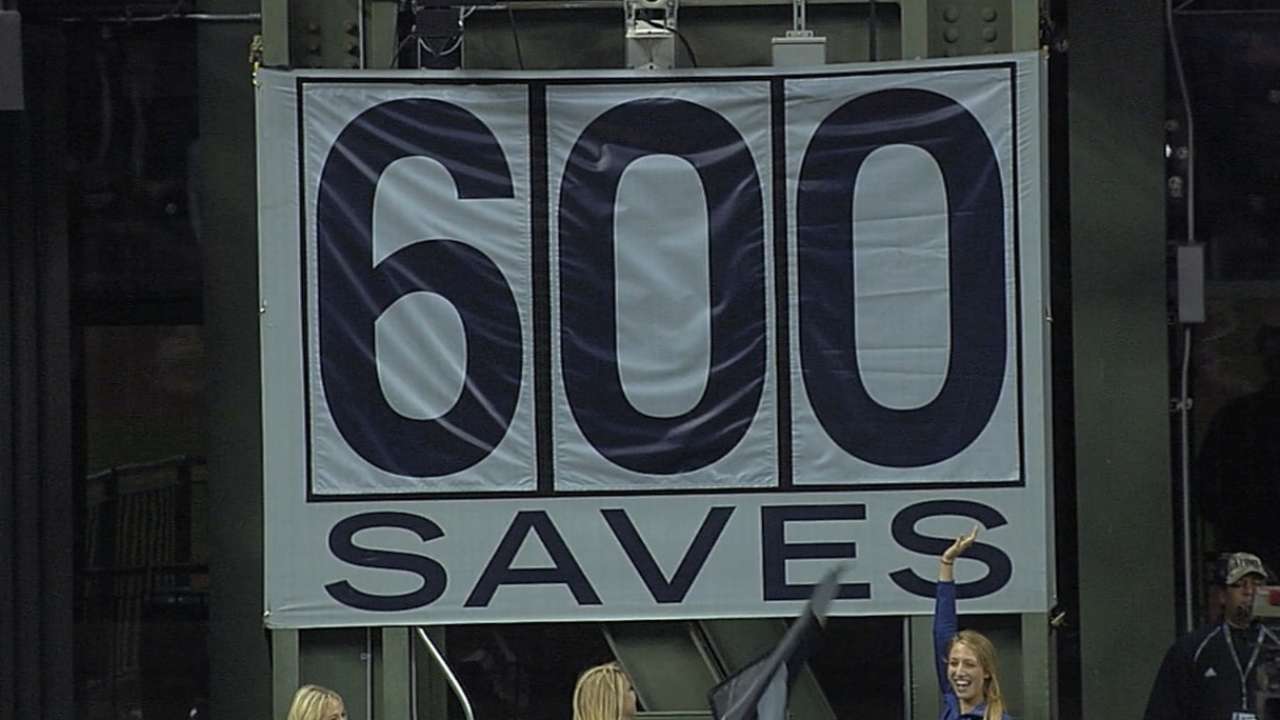 "I was struck by just how friendly of a guy he was," my son said. "He was down to earth. He took the time. He could have just hung out with the team, or do whatever else he wanted to do, but instead he took the time to interact with fans.
"It wasn't like we did anything special to get his attention. We were just a group of kids who wanted to get a baseball or an autograph. And it wasn't an isolated incident. He knew that he had the opportunity to be a professional baseball player in part because of kids like us who go to the games and idolize guys like him. He took the time to give back to us."
You can find Trevor Hoffman anecdotes like these from coast to coast. Hoffman has a strong candidacy for the National Baseball Hall of Fame. But no matter what happens in that election, he can be seen as a Hall of Fame human being.
Mike Bauman is a national columnist for MLB.com. This story was not subject to the approval of Major League Baseball or its clubs.