MLB.com Columnist
Tracy Ringolsby
A look at past lefty-heavy rotations
Dodgers have five southpaw starting pitchers as part of 2016 staff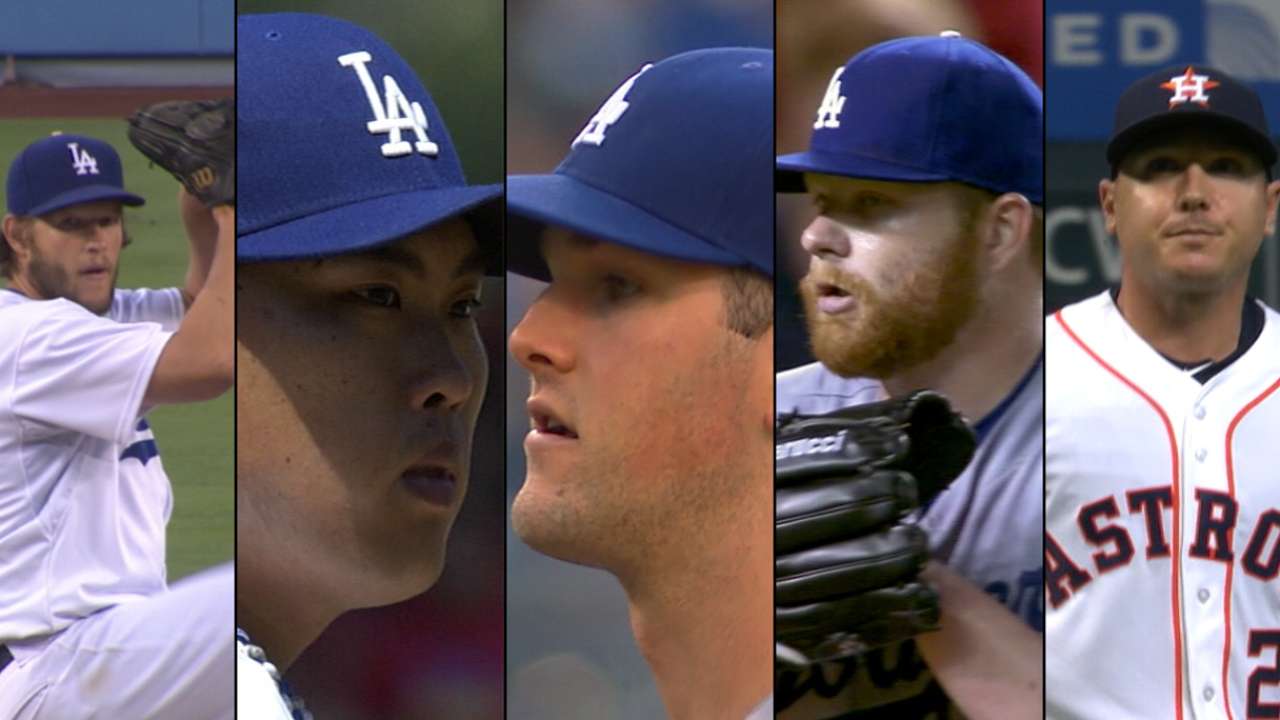 Even with Japanese right-handed starting pitcher Kenta Maeda reportedly agreeing to an eight-year deal, the Dodgers have a rotation that is leaning to the left.
The Dodgers could open the season with four left-handed starters. And they could be in line to set a record for most games started in a season by a left-handed pitcher.
The 1983 Yankees hold the all-time record, having called on a lefty 127 times, according to STATS, Inc.
The Dodgers currently have five left-handers considered among the top six candidates for their season-opening rotation. Clayton Kershaw stands at the front of a line that also includes Hyun-Jin Ryu, Alex Wood, Brett Anderson and Scott Kazmir, who recently signed a three-year deal.
Ryu is coming back from left shoulder surgery that sidelined him last season. Anderson stayed healthy enough to work 180 1/3 innings in 2015, the first time he pitched enough to qualify for an ERA title since his rookie season of '09 -- he had pitched 123 big league innings combined the three previous seasons. And Wood, a midseason acquisition from the Braves last season, is 26-26 in his three big league seasons.
A key point with the Dodgers' left-handed starting candidates is they have been capable against right-handed hitters. In the last three years, Kershaw has allowed right-handed batters a .197 average, second lowest for a left-handed pitcher. Kazmir ranks 12th among lefties, allowing a .241 average; Ryu is 16th with a .247 average; Wood is 34th at .265; and Anderson is 38th at .273.
No big difference
An abundance of starts by left-handers has resulted in mixed results.
Five of the top 10 teams in terms of starts by lefties since 1901 have had a winning record, including the 1965 National League champion Dodgers, who rank seventh on the all-time list. They used a lefty starter 112 times, led by Sandy Koufax (41 starts), Claude Osteen (40) and Johnny Podres (22). Nick Willhite started six games, Jim Brewer two and Mike Kekich one.
The 1980 Yankees won the American League East with a 103-59 record, using a left-handed starter 110 times, including 36 starts by Tommy John and 29 by Ron Guidry. The '74 Orioles won the AL East with left-handers starting 116 games, including 39 by Ross Grimsley, 38 by Mike Cuellar and 37 by Dave McNally. Don Hood started the two other games.
The 1983 Yankees were 91-71 and finished third in the AL East with the record 127 games started by lefties, and the '82 Royals finished 90-72 while using a left-handed starter 113 times.
At the other extreme were the 2004 Royals, who went 58-104 while using a left-handed starter 108 times, 10th on the all-time list. Right-hander Zack Greinke was 8-11 with a 3.97 ERA on that staff, the only pitcher to work 140 innings and have an ERA below 5.00.
The White Sox hold four of the top 10 spots, posting a losing record each time: 1975 (75-86), second on the list with 124 starts by a left-hander; The 1979 (73-87) and 2015 (76-86) White Sox both used a left-handed starter 116 times, tied with the 1974 Orioles for the third most; and the 1980 White Sox used a left-handed starter 111 times, the eighth most, en route to a 70-90 season.
Left on
There have been 302 teams since 1901 who have used five or more left-handers to start at least one game, according to Baseball America, including the 2012 Rockies, 1989 Giants, '78 White Sox, '56 A's and '46 Phillies, who share the record of using eight.
The Red Sox, Tigers, A's, Mariners and Rangers each used six left-handed starters in 2015, the most for the season.
The White Sox (2013, '15) and Washington Senators (1954) share the record for having four left-handers make at least 20 starts, according to the Elias Sports Bureau. The 1951 Red Sox are the only team to have five left-handed pitchers make at least 16 starts.
Happy anniversary
On Jan. 2, 1977, Commissioner Bowie Kuhn suspended Atlanta owner Ted Turner for one year for tampering with free agent Gary Matthews. The Braves were allowed to keep Matthews.
On Jan. 3, 1973, a group headed by George Steinbrenner purchased the New York Yankees from CBS for $10 million.
On Jan. 4, 1957, the Dodgers purchased a 44-passenger twin-engine plane for $775,000, becoming the first team to own its own plane to fly its players during the season.
Tracy Ringolsby is a columnist for MLB.com. This story was not subject to the approval of Major League Baseball or its clubs.