Inbox: Will the Mariners add a lefty reliever?
Beat reporter Greg Johns answers fans' questions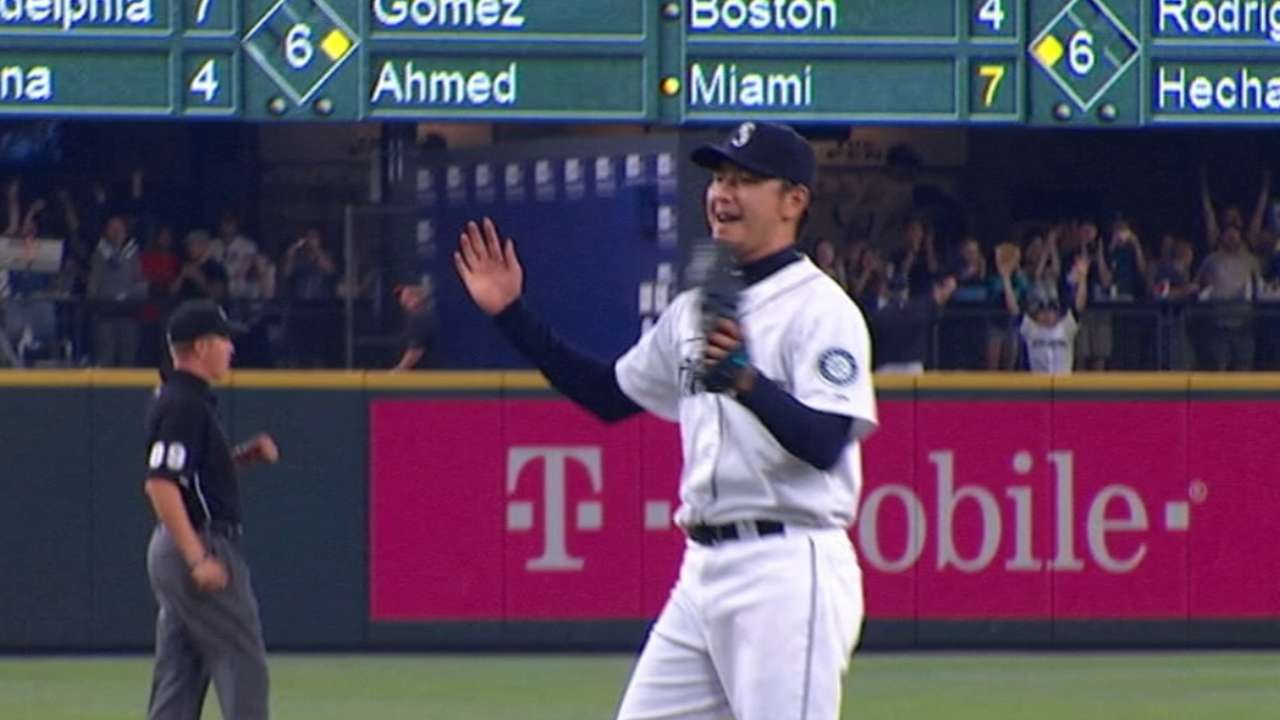 Do you see the Mariners adding a second lefty reliever after Charlie Furbush?
-- Ben, Santiago, Dominican Republic
One of the benefits of re-signing Hisashi Iwakuma was that it gives Seattle more rotation depth, and it also means left-hander Vidal Nuno can be viewed primarily as a relief candidate rather than as a potential starter. So if Furbush comes back at full strength after his shoulder issues last season, those two are the clear southpaw favorites in the 'pen. I wouldn't be surprised if the club adds another lefty to the mix, but likely another non-roster invitee like Brad Mills, who was signed to a Minor League deal last month. David Rollins, last year's Rule 5 Draft pick, is the only other lefty reliever on the current 40-man roster.
• Submit a question to the Mariners Inbox
Do you believe general manager Jerry Dipoto had the authority to trade the core of the Mariners' roster if something came up (Nelson Cruz, Robinson Cano, Kyle Seager, Taijuan Walker, Felix Hernandez) or did he have to promise ownership not to trade the core as a prerequisite to getting his job?
-- Tim G., Yakima, Wash.
I don't know if any promises were made, but Dipoto shared his clear vision of building around those core players when he took the job and he's done exactly that in his first three months. Any GM in baseball would have discussions with his ownership before trading players of that magnitude and salary structure, that's just the nature of the business.
It looks as if Franklin Gutierrez and Seth Smith will platoon in left field and Adam Lind and Jesus Montero will do the same at first base. Is that pretty set in stone right now? And if so, what do you think of platoons?
-- Tanner N., Billings, Mont.
Actually Gutierrez and Smith will likely split time in right field, with Nori Aoki in left. That's an obvious platoon situation because Smith historically hits far better against right-handers and Gutierrez isn't able to play every day because of his health issues. Similar situation at first base, where Lind also rakes against righties, but has been limited against lefties throughout his 10-year career. That opens the door for Montero -- or another right-handed hitter -- to get some playing time. Montero needs to show he's ready defensively this spring. He'll get competition from non-roster invitee Ed Lucas and anybody else that gets added by then. Platoons make perfect sense if you've got the right players to make them work.
Over the years the Mariners' organization has not seemed to develop many hitters. Why do you think that is and other than promoting Edgar Martinez, what changes are they going to make to improve this?
-- Mick K., Puyallup, Wash.
That's a question the Mariners are looking hard at themselves and one Dipoto hopes to address with the hiring of Andy McKay as director of player development. New manager Scott Servais also has a strong background in player development with the Rangers and Angels. One thing you'll hear a lot about is installing an organizational wide system where players are taught the "Mariners way" of doing things from the first day they sign or are drafted so they know exactly what to expect and work on as they advance up the Minor League levels and eventually to the Major League roster.
Now with Iwakuma back, the rotation looks crowded. Does Nathan Karns have a good chance to crack the rotation, or would they look to trade him now?
-- Jim K., Medford, Ore.
If everyone stays healthy, Karns would appear in a stiff competition for the fifth starting spot with James Paxton. But that's the key. Rarely do all five starting pitchers stay healthy for a full season, let alone a full Spring Training. Karns does have a Minor League option, so he could open in Tacoma if he's not needed immediately. But there's no rush to trade every player who doesn't have a guaranteed roster spot sewn up in January. Good organizations have depth. That's OK!
What will Chris Taylor's role be in 2016?
-- Matt M., Aurora, Colo.
Taylor will come to camp competing for the utility infield spot with Luis Sardinas. Ketel Marte performed well enough at the end of last season to convince the Mariners he's the starter at shortstop and his speed and switch-hitting ability are welcome additions to the lineup. Taylor and Sardinas -- who was acquired from the Brewers -- both have Minor League options and one figures to win the backup role at second, short and third while the other heads to Tacoma to play every day at shortstop.
Greg Johns is a reporter for MLB.com. Follow him on Twitter @GregJohnsMLB, read his Mariners Musings blog, and listen to his podcast. This story was not subject to the approval of Major League Baseball or its clubs.