History suggests Maeda will be a good value
Pitchers from Nippon Professional Baseball have been bargains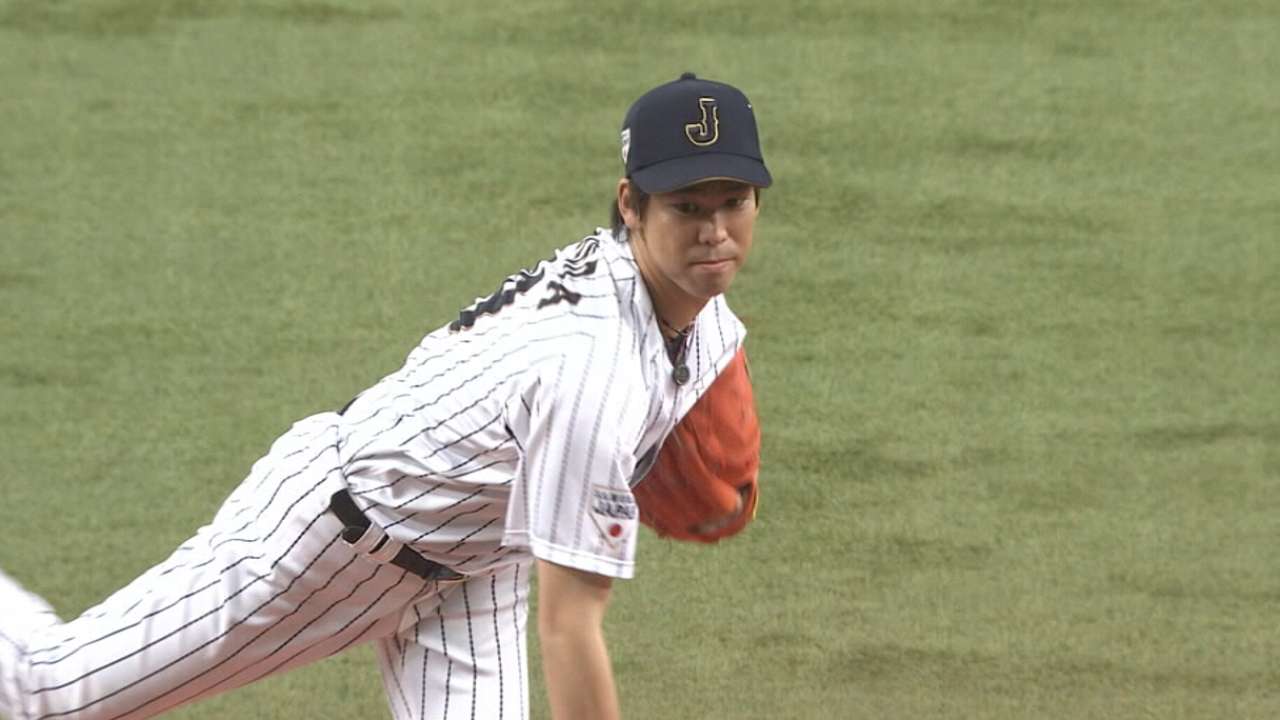 Nine offseasons ago, the Red Sox and Yankees combined to invest nearly 50 million in Daisuke Matsuzaka and Kei Igawa -- a pair of pitchers from Japan's Nippon Professional Baseball.
Matsuzaka was at times very good, but he never evolved into the ace Boston expected he would become. Igawa, meanwhile, made just 16 career appearances and never quite figured things out in the big leagues. Almost a decade later, it's evident both clubs overpaid.
Since then, things have changed a lot. The majority of pitchers signed from NPB these days turn out to be fantastic team-friendly additions. This, of course, is particularly relevant because the Dodgers have reportedly agreed to an eight-year deal with 27-year-old Kenta Maeda.
Switching leagues is obviously no small task. Maeda will have to learn to handle a new set of hitters, and Major League Baseball is clearly a bit of a step up. He has spent eight seasons in Japan, where he posted a 2.39 ERA and 1.048 WHIP. It's unlikely he'll match those marks in his eight seasons with Los Angeles.
But if recent history is any indication, the Dodgers may have gotten themselves decent value in Maeda. (The exact dollar amount has not yet been reported. We know Los Angeles must pay its posting fee -- but a significantly lower one than in years past, as MLB has set the limit at 0 million.)
No matter what the Dodgers end up committing to Maeda, it's worth noting that some of the most team-friendly deals in Major League Baseball have been offered to pitchers from the Japanese league. Let's take a look NPB pitchers who were offered significant MLB contracts in recent years:
Hiroki Kuroda
Kuroda signed with the Dodgers for three years and 5 million in the 2007-08 offseason and helped lead L.A. to consecutive NLCS trips. Kuroda evolved into one of the steadiest pitchers in baseball during his seven big league seasons, and all five free-agent contracts he signed -- with both the Dodgers and Yankees -- proved to be worthwhile investments.
Koji Uehara
Uehara signed a one-year deal with Baltimore worth million before the 2009 season, and he struggled a bit early on. But he developed into one of the game's elite relievers, and the Red Sox might not have won the 2013 World Series without him. He's posted a sub-3.00 ERA in each of his last six seasons, while earning an average annual salary of million -- in other words, an absolute steal.
Hisashi Iwakuma
In four big league seasons with Seattle, Iwakuma has made 1.5 million -- and he's been worth 13.9 wins above replacement, according to Baseball-Reference.com. Essentially, the Mariners paid .5 million per win with Iwakuma -- an incredible deal on the open market, where free agents are generally valued between million and million per win.
Wei-Yin Chen
The Taiwanese-born Chen spent five seasons in the Japanese league before signing a four-year deal with Baltimore worth less than 6 million. Again -- an absolute steal. Chen, who figures to cash in as a free agent this offseason, was worth 10 WAR in Baltimore.
Yu Darvish
Darvish's six-year contract is for less than 0 million, but the Rangers paid a 1.7 million fee -- putting their total investment around 11 million. Still, even that seems like a solid deal, assuming Darvish recovers well from Tommy John surgery. He is a perennial Cy Young Award candidate, and given the dollars committed to fellow aces David Price and Zack Greinke this offseason, Darvish's contract seems inexpensive.
Masahiro Tanaka
Tanaka's deal -- worth 55 million over seven years -- is the only one that could be considered a bit high, considering the solid, but not-quite-ace-caliber return he's given the Yankees. Still, New York has paid 4 million to Tanaka thus far, in exchange for 6.3 WAR. That's slightly less than million per win, meaning Tanaka's contract -- so far at least -- has been almost precisely the correct value.
AJ Cassavell is a reporter for MLB.com. Follow him on Twitter @ajcassavell. This story was not subject to the approval of Major League Baseball or its clubs.