15 for '15: Yogi, Ernie left lasting legacies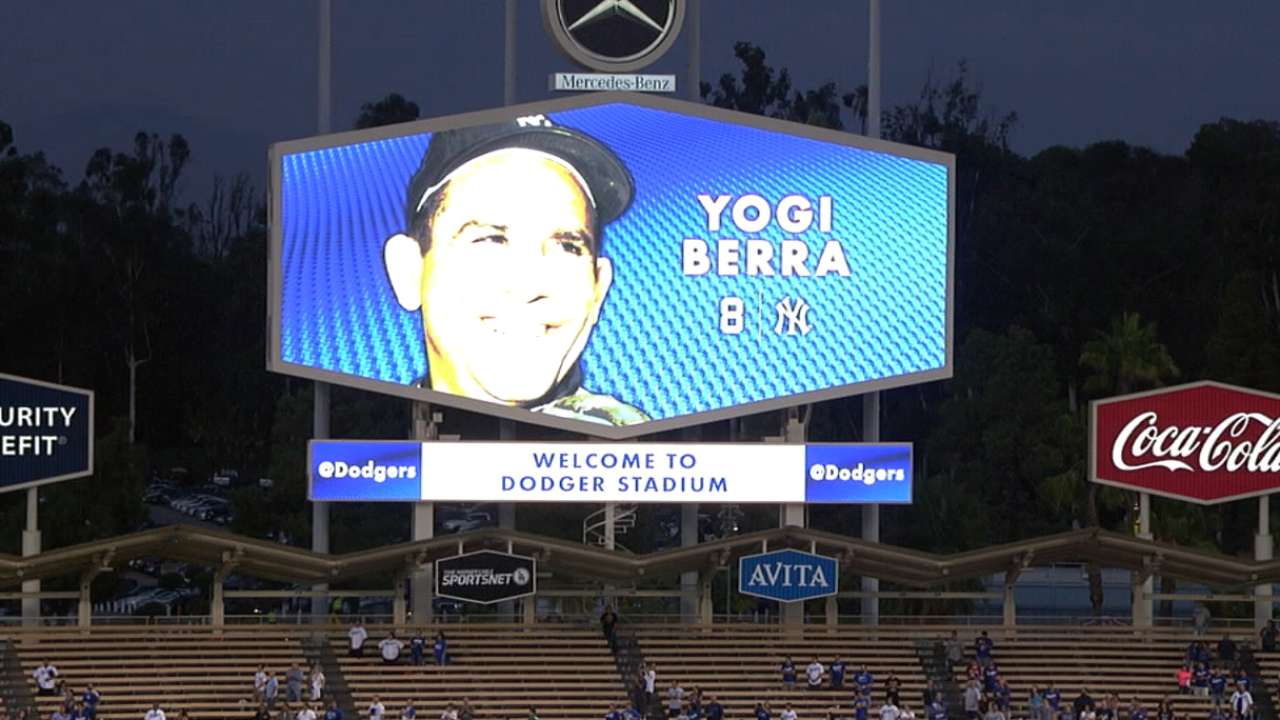 In what has become a year-end tradition, MLB.com takes a look back at the top storylines of the year -- the Top 15 for 2015.
The measure of a Hall of Famer obviously begins with a player's career, but a precious few take the term to new heights after hanging up the spikes. Ernie Banks and Yogi Berra certainly did, transcending their historic accomplishments on the field by serving as two of the greatest ambassadors of the game who ever lived, bringing joy to baseball fans for decades beyond their playing careers.
In 2015, baseball lost two of its brightest beacons when Banks and Berra passed away, leaving fans saddened, but with so many memories of so many smiles.
"Let's play two!"
"It ain't over till it's over."
It wasn't just the words and deeds, but a shared love of the sport that made them both household names and beloved characters who will always be missed. Banks passed away at age 83 in January and Berra died at 90 in September, and the heavenly Hall of Fame had two more stars in the lineup.
These men were truly two gems of baseball's golden age -- Berra with a World Series resume to beat them all, Banks with perhaps the best resume of all time without a single World Series appearance. Berra emerged from D-Day a war hero before his much-decorated baseball career, while Banks went from the Negro Leagues to the Majors and was one of the faces of change in baseball and America. Berra personified the lovable winner whose popularity extended well beyond the Yankees dynasty, and Banks was the eternal optimist, the one who always believed next year was really this year.
Banks died suddenly of a heart attack on Jan. 23 in his beloved adopted hometown of Chicago. The Dallas native had become part of the fabric of the sports-crazed city not only through his amazing playing career, which included 512 home runs and back-to-back National League Most Valuable Player Awards in 1958-59, but for years to come as a consistent figure at Wrigley Field and anywhere else the Cubs could be found. He truly was Mr. Cub, and his loss was felt strongest among those who enjoyed his effervescent personality up close.
"He loved the game, he loved Chicago and he loved the Cubs," said fellow Hall of Famer Ferguson Jenkins, who roomed with Banks at the end of the icon's career.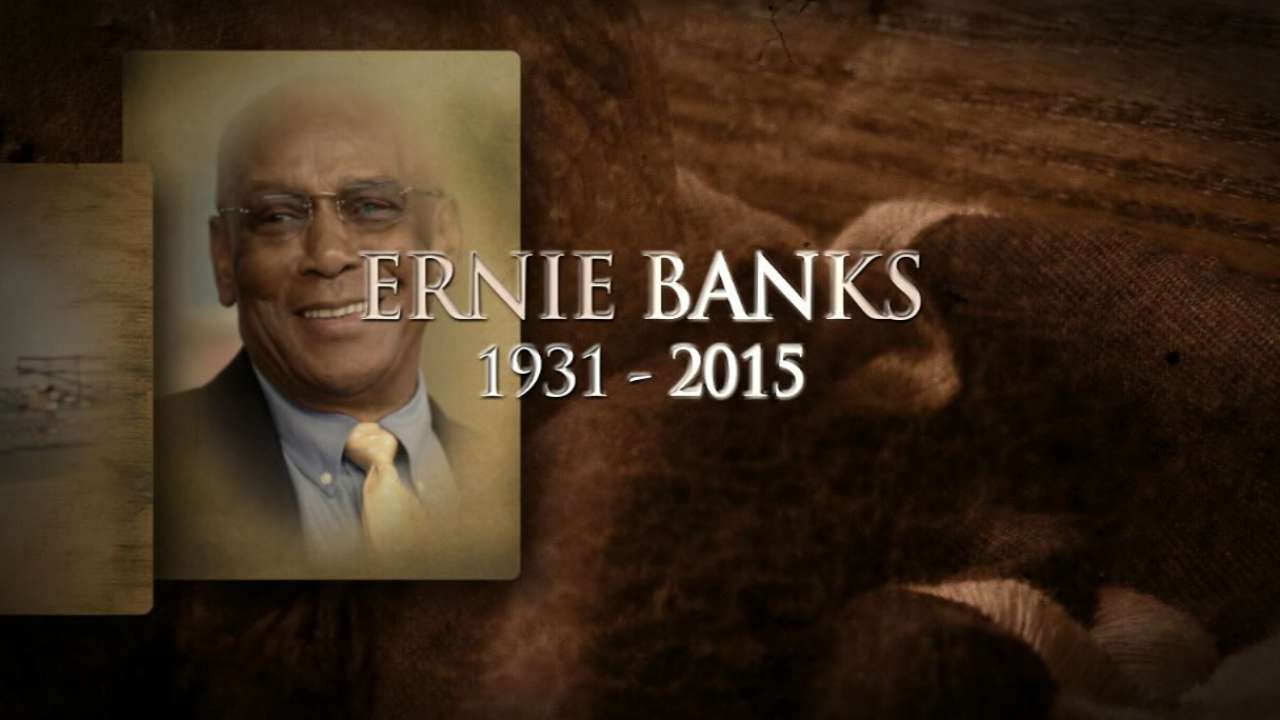 Berra passed on Sept. 22 of natural causes and left a legacy unlike any other, from his birth in St. Louis as the son of Italian immigrants to his devotion to the Yogi Berra Museum in his last years. He played alongside Yankees luminaries like Joe DiMaggio and Mickey Mantle, caught the only perfect game in World Series history and amassed a career ledger that included three American League MVP Awards, 18 All-Star appearances, 14 AL pennants and 10 World Series rings. In short, it was a dream career. Berra continued to be one of the game's most well-known personalities through the rest of his life, managing the Mets and Yankees and generally entertaining generations with a long list of quips and malaprops, all with an ear-to-ear grin recognizable everywhere.
"To those who didn't know Yogi personally, he was one of the greatest baseball players and Yankees of all time," modern Yankees icon Derek Jeter wrote in a post on his website, The Players' Tribune. "To those lucky ones who did, he was an even better person. To me, he was a dear friend and mentor. He will always be remembered for his success on the field, but I believe his finest quality was how he treated everyone with sincerity and kindness."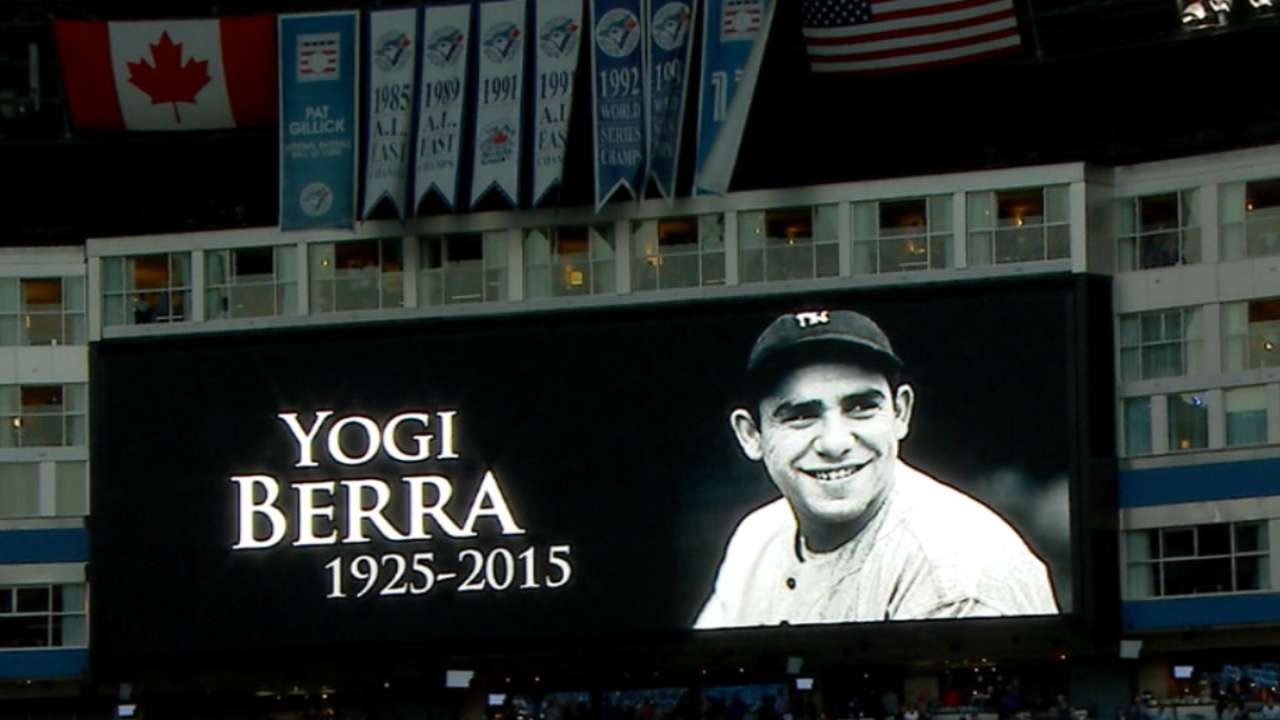 Other baseball personalities who passed away in 2015 include: pitcher Joaquin Andujar, age 62; outfielder and analyst Darryl Hamilton, 50; pitcher Tommy Hanson, 29; pitcher Stu Miller, 87; outfielder and Chicago White Sox icon Minnie Minoso, 89; pitcher Billy Pierce, 88; third baseman and executive Al Rosen, 91; and announcers Milo Hamilton, 88, and Lon Simmons, 91.
No. 14, at shortstop for the Cubs, Ernie Banks. No. 8, behind the plate for the Yankees, Yogi Berra.
Rest in peace, all. Baseball is forever grateful for you.
John Schlegel is a national reporter for MLB.com. You can follow him on Twitter @JohnSchlegelMLB. This story was not subject to the approval of Major League Baseball or its clubs.