Southpaw California: LA sets historic rotation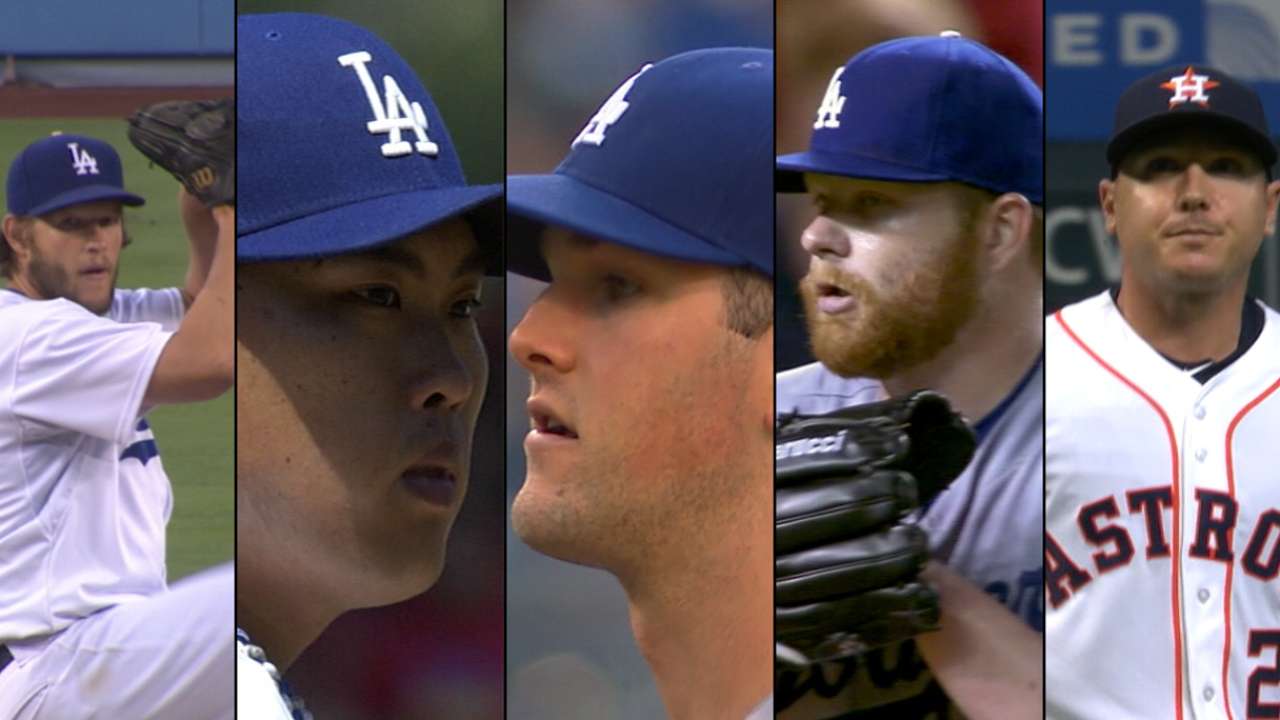 We know what you're thinking and, no: Major League Baseball has never had an all-lefty five-man rotation.
The Dodgers took a portside step toward that precedent with Wednesday's signing of free agent Scott Kazmir. His southpaw joins those of Clayton Kershaw, Alex Wood, Brett Anderson and Hyun-Jin Ryu in what figures to be manager Dave Roberts' rotation. Unless GM Farhan Zaidi follows through on tentative plans to add another starter (posted Japanese righty Kenta Maeda is a person of interest), or until Brandon McCarthy makes his return from April 30 Tommy John surgery.
For the time being, however, the Dodgers are in line for more left-handed complements than any team in history.
Hey @ClaytonKersh22 the entire rotation is going to use your glove as a sign of solidarity.

— Brett Anderson (@BrettAnderson35) December 30, 2015
We've only had brief glimpses of all-lefty five-man rotations. Most recently, the 2008 A's, covering for injuries to righties Justin Duchscherer and Sean Gallagher, started southpaws Dana Eveland, Dan Meyer, Greg Smith, Gio Gonzalez and Dallas Braden in 19 consecutive games from Aug. 20 to Sept. 9.
Only one team has ever had five different starters make at least 16 starts each, but they hardly formed the regular rotation for the 1951 Red Sox, who juggled seven different starting pitchers. Southpaws Leo Kiely, Mickey McDermott, Mel Parnell, Chuck Stobbs and Bill Wright totaled 106 starts and won 46 of them.
The records for most starts and wins by left-handers were both set by the 1983 Yankees. Led by Ron Guidry and Dave Righetti, in his pre-closer days, that team totaled 127 starts and 61 wins by southpaws.
While an all-lefty rotation would be a first, lefty-heavy rotations have been relatively common, especially of late. Of three historical staffs that have included four lefties with 20-plus starts each, two were the 2013 and 2015 White Sox.
In '13, Chris Sale, Jose Quintana, Hector Santiago and John Danks made 108 starts but won only 28 of them. This season, Carlos Rodon joined Sale, Quintana and Danks for 116 starts and 28 wins.
The other historical staff with a quartet of southpaw workhorses: The 1954 Washington Senators (Mickey McDermott, Johnny Schmitz, Chuck Stobbs and Dean Stone won 39 of 96 starts).
The White Sox indeed play on Chicago's South(paw) Side. They have three other entries on the list of MLB's 10 lefty-heaviest staffs, none of them arranging for any more success than in 2015 (final record of 76-86) or in 2013 (63-99):
• 1975: 124 starts and 43 wins by lefties for 75-86 team
• 1979: 116 starts and 52 wins by lefties for 73-87 team
• 1980: 111 starts and 30 wins by lefties for 70-90 team.
But leaning to the left does not have to invite doom. The 1974 Orioles copped the American League East while depending on southpaws for 116 starts and 56 of their 91 wins.
However, only one team has ever gone all the way to a World Series title with lefties accounting for 100-plus starts. The great news for Los Angeles fans: They were the 1965 Dodgers, led by Sandy Koufax, whose birthday on Wednesday was celebrated by the Dodgers signing another lefty whose six-letter name starts with a "K."
Karma, anyone?
Tom Singer is a reporter for MLB.com and writes an MLBlog Change for a Nickel. He can also be found on Twitter @Tom_Singer. This story was not subject to the approval of Major League Baseball or its clubs.