MLB.com Columnist
Mike Petriello
Cespedes a free-agent enigma after scorching finish
Will teams pay for the 2012-14 version, or the end-of-'15 edition?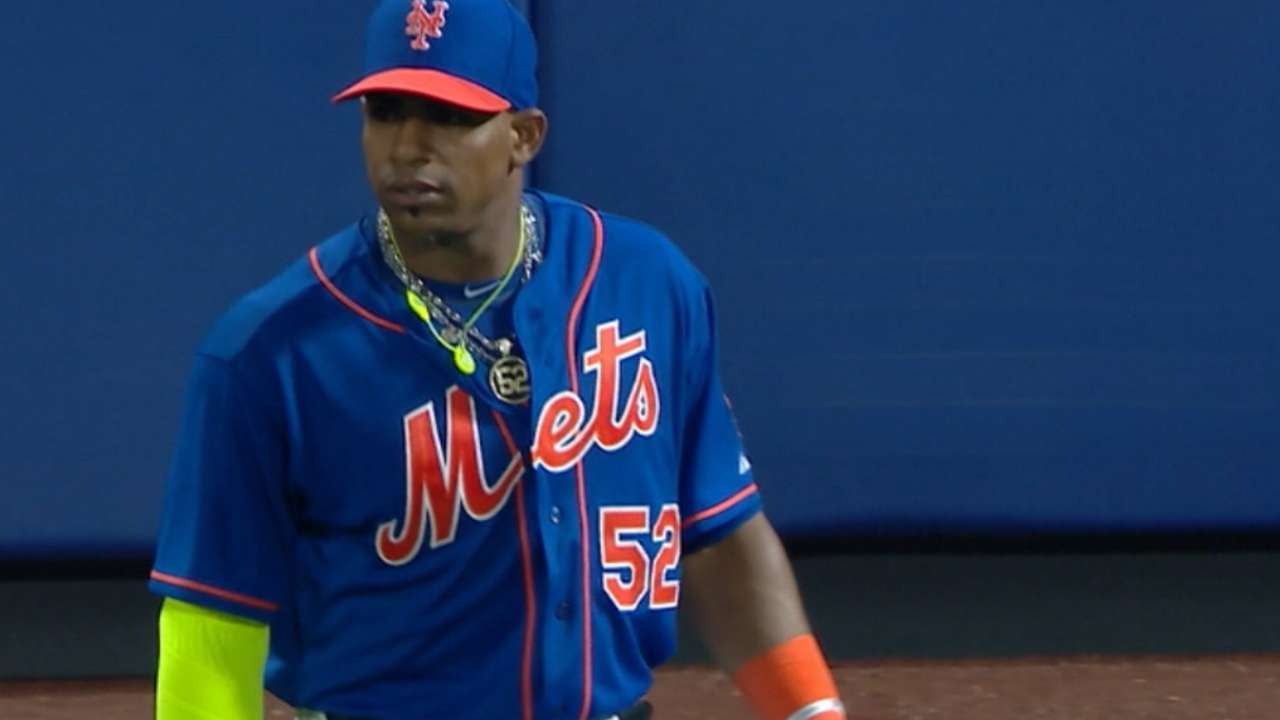 How much will Yoenis Cespedes end up making in free agency? Well, that depends entirely on what kind of player you think he is. If you see him as the scorchingly hot hitter he was with the Mets, then he'll get all the years for all the dollars. After all, Cespedes' .287/.337/.604 line with New York comes out to a very strong 157 Weighted Runs Created Plus, or better than American League MVP Josh Donaldson's 154. (League average for wRC+ is 100.)
Of course, there's the hitter Cespedes was for 249 plate appearances with the Mets, and there's also the hitter he was for nearly 2,200 plate appearances with the A's, Red Sox, and Tigers before that. In that much, much larger sample size, he hit .269/.317/.473 for a 117 wRC+ -- still 17 percent above average, which is good, but not by nearly as much. That's partially pulled back by a down 2013, but even if we just look at his 423 PA as a Tiger in 2015, his 123 wRC+ is a near match for his 121 career mark.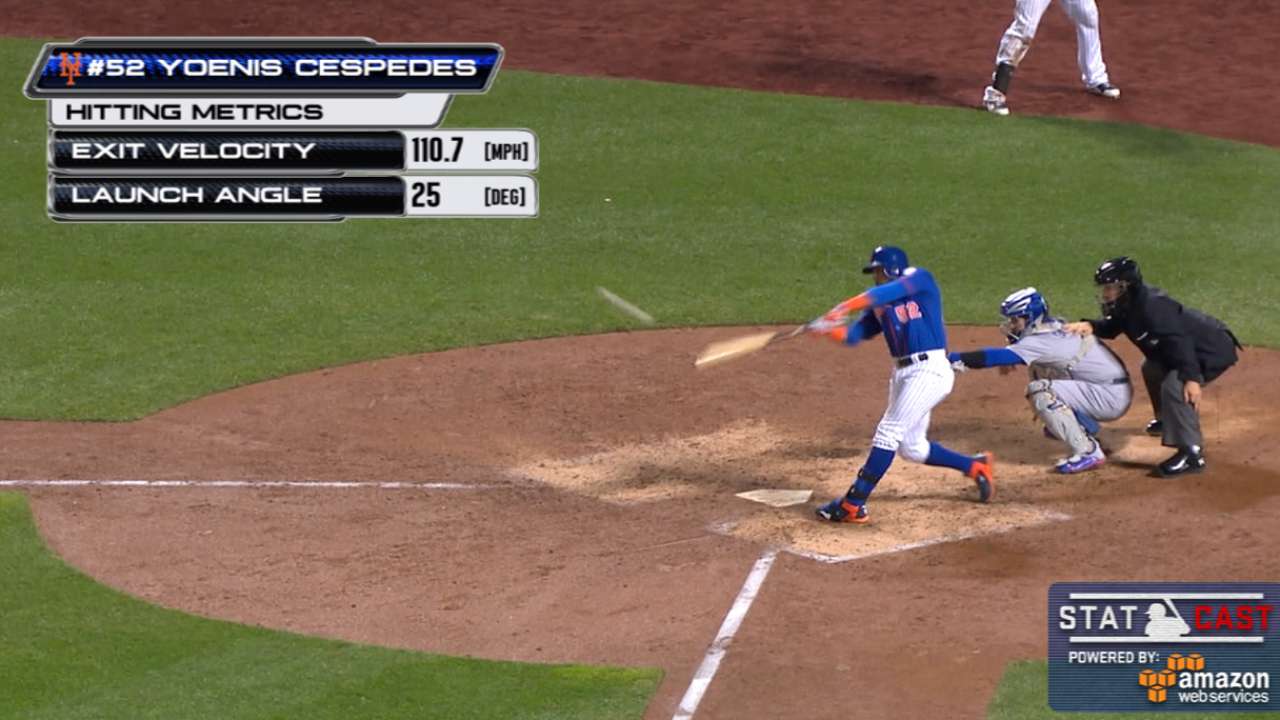 That's the player he is, and that's the player he really ought to get paid as. Still, he did have that one magical month. So what changed for him as a Met? Did he…
Hit the ball harder? No. His Statcast™ exit velocity with the Mets of 92.6 MPH was actually lower than his 93.8 MPH while with the Tigers.
Get luckier with batted balls? No. His Batting Average on Balls in Play of .306 with New York was down considerably from his .331 with Detroit.
Show better plate discipline? Not really. Cespedes' contact rate of just over 78 percent was identical with both teams. His percentage of swings outside the zone, just over 37 percent, was identical for both Detroit and New York as well, and while he walked slightly more with New York (5.6 percent, up from 4.4), he struck out more, too (21.7 percent, up from 20.4).
So what did change? Well, he added some Launch Angle, which is to say, he hit the ball at a higher angle, 12.4 degrees as opposed to 10.3 degrees, leading to more distance (an average of 244.3 feet with the Mets, after 215.5 feet with Detroit) and more homers. That was especially pronounced in September, when he got up to an angle of 17.1 degrees -- for context, 10 degrees is the rough dividing point between "grounders" and "line drives."
We've seen Cespedes have this kind of month before, anyway. Back in June of 2012, he put up a month with a wRC+ of 177, basically identical to the 176 he had for the Mets in September. As you'd expect, he followed that up with years of peaks and valleys.
Now, you might reasonably note that Cespedes' hot streak was actually more of a mid-August to mid-September timeframe, and that's true. From Aug. 12 to Sept. 12, Cespedes had 140 plate appearances, 16 homers -- six coming in seven days during a trip through hitter-friendly Colorado and Philadelphia -- and a whopping 221 wRC+.
But while that was well-timed, for a new team in a big city during a playoff push, even that wasn't unique this year. For example, Jackie Bradley Jr. had a stretch from August through early September where he had a 218 wRC+ in 123 PA. Jason Kipnis had a 220 wRC+ in an early-season run of 170 plate appearances. There's more than a dozen other similar examples that just didn't get as much notice because, for example, no one really cared what Gerardo Parra (215 wRC+, 120 PA) was doing in July.
The point is, hot streaks happen, and they shouldn't substantially change your understanding of who a player is or what he's likely to provide. Cespedes is who he is, which is a 30-year-old player who is an above-average hitter and a very good defensive left fielder with a great arm. But he's also a stretch in center field with a four-year streak of declining walk rates -- which points to on-base concerns as he ages -- and a weakness against high fastballs.
So, what is a player like that worth? It goes back to what you think he is. From 2012-14, Cespedes hit almost exactly like the identically-aged Mark Trumbo (albeit with much stronger defense), and Trumbo was traded by Seattle in large part so it could avoid his estimated $9 million arbitration award. At the time of the trade to New York, I projected somewhere around $90 million for Cespedes, and while the late heroics and lack of Draft pick compensation helps push that easily over $100 million, the projections north of $150 million are worrisome for any interested suitor.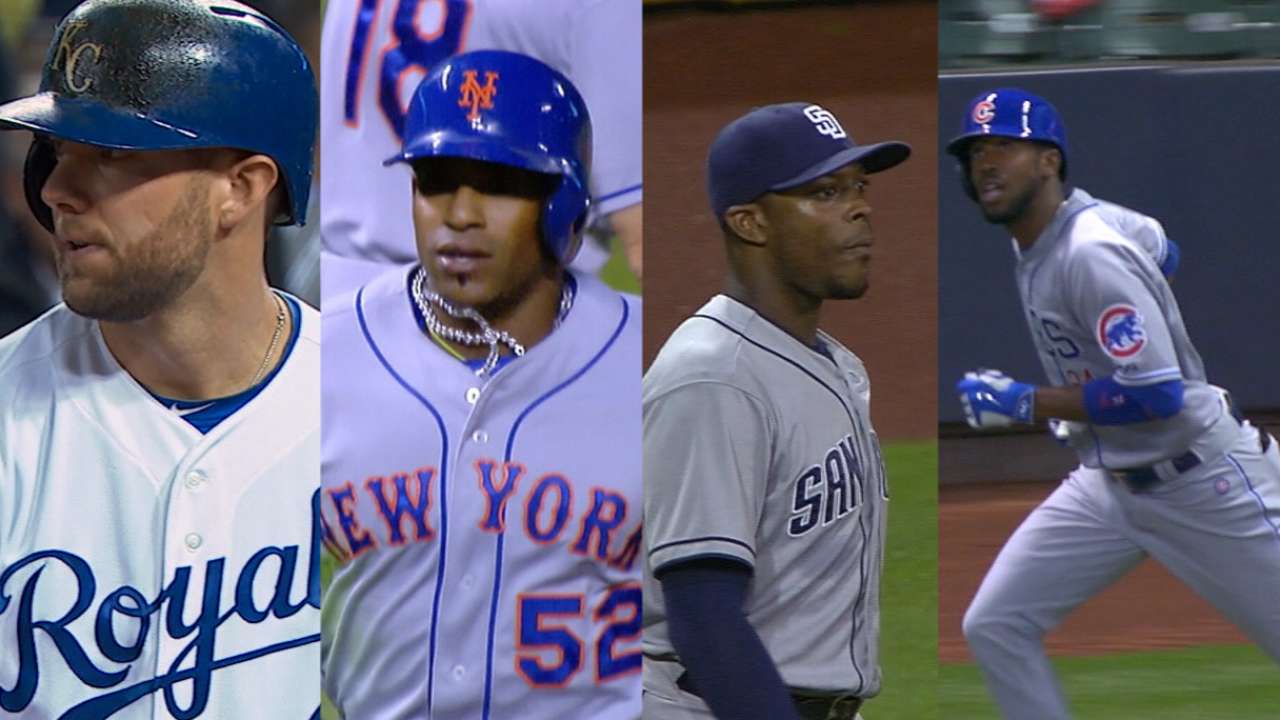 Also not helping Cespedes is the simple fact that we're in the midst of what's a very tough market for outfielders, given that there's no shortage of them still available -- Alex Gordon, Justin Upton, Dexter Fowler and Denard Span, plus Carlos Gonzalez and others via trade. For outfield-needy teams without unlimited funds like the Angels, White Sox, or Giants, is it worth all that risk when more inexpensive options are available?
But that hot month, you protest. If we've learned anything this winter, it's that a solid Mets player who hits like Babe Ruth for a few well-timed weeks may not see a ton of extra money because of it. Postseason legend Daniel Murphy found that out when he settled for three years and $37.5 million from Washington. Cespedes is an above-average player, capable of moments of brilliance. He just shouldn't be paid like he'll always be the player who led the Mets through a thrilling second half of 2015.
Mike Petriello is an analyst for MLB.com. This story was not subject to the approval of Major League Baseball or its clubs.