By the numbers: HOF case for Kent
One of best offensive second basemen in game could see candidacy pick up steam this time around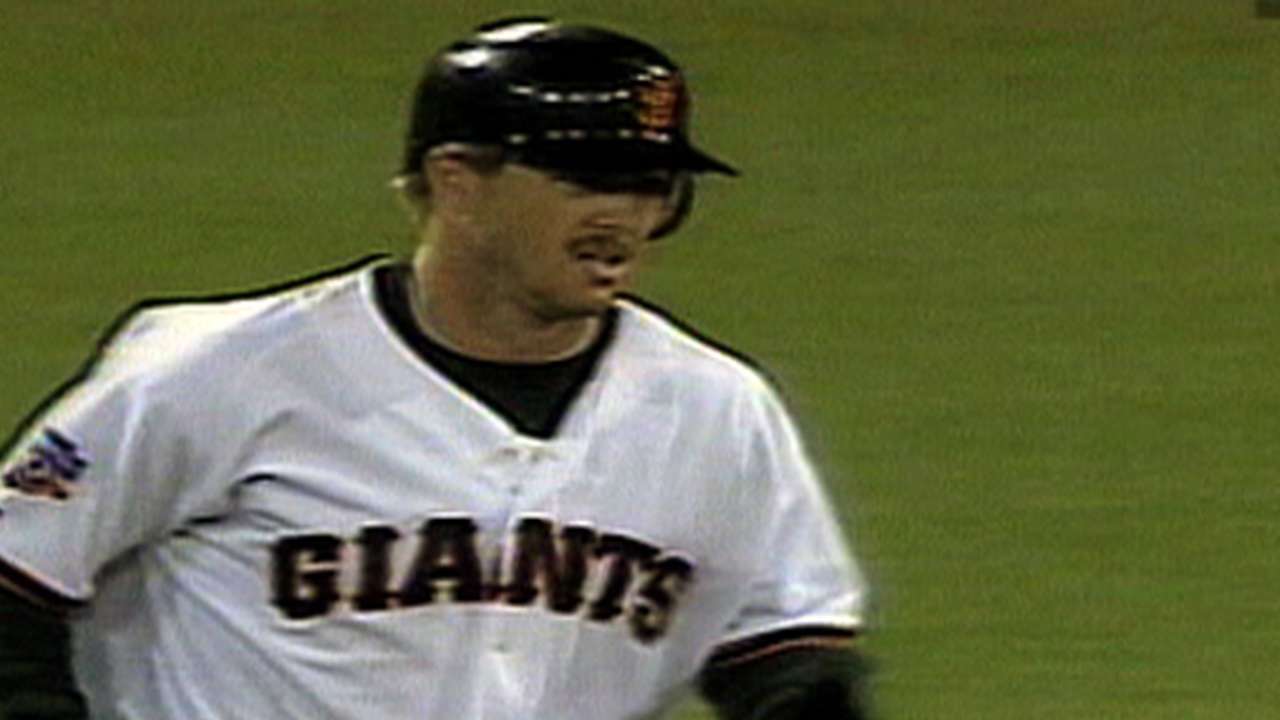 Even though seven players have been inducted into the National Baseball Hall of Fame over the past two years, many strong candidates remain on the ballot. With Baseball Writers' Association of America voters able to pick a maximum of 10 players apiece, and 75 percent of the vote required for enshrinement, several worthy candidates must travel a difficult road.
Results of this year's BBWAA vote will be revealed on MLB Network on Jan. 6, with a news conference involving any electees to be held the following day.
Jeff Kent, in his third year on the ballot, is not among those with a realistic chance to get in this time around. After receiving 15.2 and 14.0 percent of the vote in his first two turns, the bigger question is if his candidacy will pick up or lose any steam.
A five-time All-Star and four-time Silver Slugger Award recipient, Kent captured the 2000 National League Most Valuable Player Award for the Giants, one of six teams he played for over 17 seasons (1992-2008). Over that time, he established himself as one of the very best offensive second basemen of all time, which is the crux of his case. Here is a look at the numbers-based argument for his induction.
• Although Kent played second base well enough to stick there for most of his career, he certainly wasn't a Gold Glover. Nor was he much of a contributor on the bases. But what he did do was swing the bat, especially for power, better than almost any other second baseman in history. Kent is the position's all-time home run leader, but that's not all. Here is where his career numbers rank among players who spent at least half of their careers at second, keeping in mind that Kent played nearly 90 percent of his games at the keystone. (For rate stats, a minimum of 6,000 plate appearances was used.)
Home runs: first (377)
Slugging: second (.500)
RBIs: second (1,518)
Doubles: third (560)
Extra-base hits: third (984)
OPS: third (.855)
Total bases: fifth (4,246)
OPS+: ninth (123)
Hits: 10th (2,461)
If you limit the field to the expansion era (since 1961), Kent looks even better, ranking first in slugging, OPS and RBIs, second in doubles, extra-base hits and total bases, and fourth in OPS+ and hits, plus fifth in batting average.
• Kent's body of work also looks impressive when broken down into individual seasons. He reached double digits in home runs in each of his 17 years in the big leagues, hitting at least 30 three times and at least 20 on 12 occasions, including nine straight seasons from 1997-2005. No other second baseman has more than seven total seasons of 20-plus homers.
Hall of Famer Roberto Alomar is the only other player to put together 16 campaigns of at least 20 doubles. Kent is one of eight second basemen with 10 30-double seasons and one of nine with four 40-double seasons. No second baseman can match Kent's eight years with 100-plus RBIs, and only Hall of Famer Rogers Hornsby can beat his nine seasons with at least a .500 slugging percentage.
• A 20th-round pick out of Cal by the Blue Jays in 1989, Kent didn't debut until he was 24 years old, and his career didn't truly take off until the Indians dealt him to the Giants in November 1996. But once he got to San Francisco, Kent made up for lost time.
From 1997-2005, a span of nine seasons, his 41.9 Baseball-Reference wins above replacement (WAR) were 10 more than the next closest second baseman, Hall of Famer Craig Biggio. Kent cleared the 7.0-WAR mark twice, including during his 2000 NL MVP campaign, when he slashed .334/.424/.596 with 33 homers and 125 RBIs. Kent's 132 OPS+ over that nine-year period dwarfed that of his closest challenger and another Hall member, Alomar.
• As a bonus, Kent was a force in the postseason as well, batting .276/.340/.500 with nine home runs and 23 RBIs in 49 games. He nearly helped the Giants win the 2002 World Series, posting a .911 OPS with three homers and seven RBIs against the Angels. Kent also went deep three times and drove in seven, with a 1.047 OPS, for the Astros in the 2004 NL Championship Series against the Cardinals.
• In terms of career value, Kent is not among the absolute best second basemen of all time, but he certainly would not be out of place in the Hall. Of the 20 players at his position who are currently enshrined, Kent (55.2) has more WAR than eight and comes in just behind Joe Gordon (57.1). Looking at other positions, Lou Brock, Orlando Cepeda, Tony Perez, Kirby Puckett and Jim Rice are just some of the well known Hall of Famers with lower career WAR totals.
Andrew Simon is a reporter for MLB.com. Follow him on Twitter @AndrewSimonMLB. This story was not subject to the approval of Major League Baseball or its clubs.