15 for '15: Toddfather a smash at Derby
Hometown third baseman captures title at raucous GABP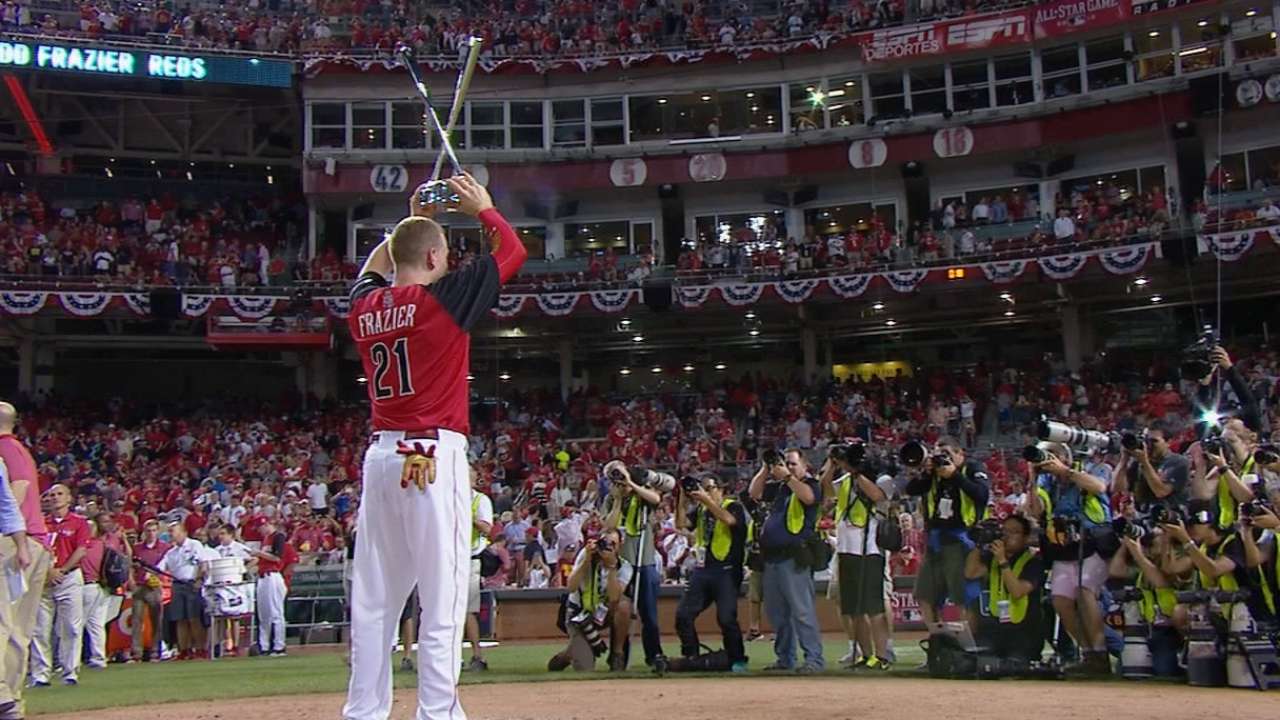 In what has become a year-end tradition, MLB.com takes a look back at the top storylines of the year -- the Top 15 for 2015.
CINCINNATI -- For one night in mid-summer, it could be argued that third baseman Todd Frazier owned Cincinnati. In winning the Gillette Home Run Derby in electric fashion on home turf at Great American Ball Park July 13, Frazier provided the city with a signature moment and something to go wild over, during a Reds season that was headed to disappointment.
A new timed format with eight players in seeded brackets in a single-elimination style was introduced to the Derby in 2015. It provided a much-needed boost to the event, and its added pressure helped Frazier thrive.
"Dramatic," Frazier said of the format that night. "I had like a minute left to hit two or three. I thought that would have been perfect. It took basically to the last seconds. All you have to do is get through, it's bracket style. That's the best part of it."
Frazier, the No. 2 seed in the tournament with 25 first-half homers, had his older brother, Charlie, pitching to him like he did in 2014. Frazier defeated Rangers first baseman Prince Fielder in the first round, then beat Blue Jays third baseman Josh Donaldson in Round 2.
Both showdowns required late rallies by Frazier to advance, with the sold-out, Reds partisan ballpark rallying louder for him as each ball cleared the fence.
"Honest to God, I didn't even know who I was going up against the second round, but after 30-40 seconds into it, I could start to hear people boo me," Donaldson said. "Then mid-swing, I was like, 'Oh, I'm going up against Frazier.'"
Frazier appreciated having more than 40,000 people in his corner.
"Just hearing the crowd roar, call my name, adrenaline," Frazier said. "And those last minutes of each round really picked me up and made me drive the ball out of the park a lot more. It was a lot of fun."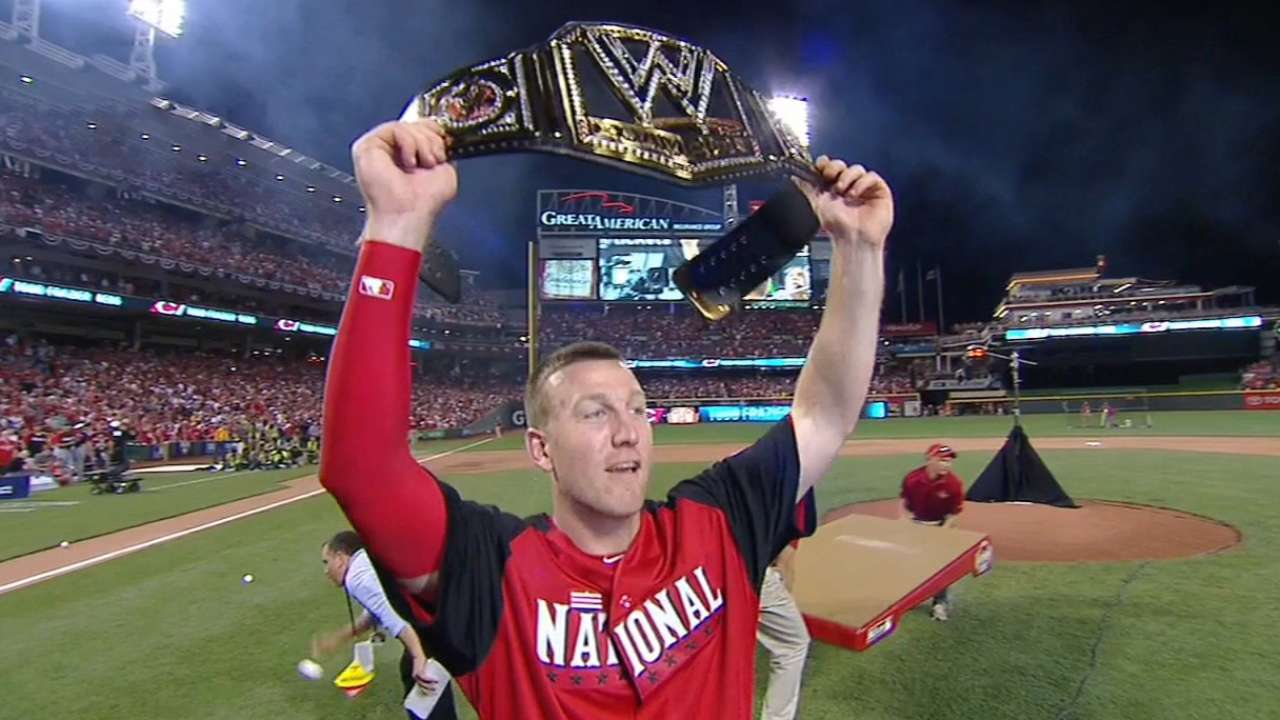 The final round pitted Frazier against Dodgers rookie outfielder Joc Pederson, who went first and slugged 14 homers. With 40 seconds remaining, Frazier was two homers behind. As the crowd chanted "Let's Go Frazier!" he drew even with Pederson in the closing seconds. In his 30 seconds of earned bonus time, the crowd on its feet, Frazier slugged the winning homer on his first swing, pulling the ball into the left-field seats. Immediately, everybody knew that it would clear the fence. The stadium became deafening, and the crowd roared with delight as if the Reds had won the pennant.
"Bye-bye," ESPN broadcaster and former Reds third baseman Aaron Boone said on the call. "This is going to be one of those Home Run Derbies we look back upon -- with new rules and new life injected upon it and Todd Frazier, the hometown hero, pulling it off."
Frazier, who has never shied away from big moments going back to his days as a Little League World Series winner as a 12-year-old in 1998, gave the city and the event its perfect ending -- a hometown player winning the Derby with a walk-off. And in a sport that is usually timeless, he also provided what felt like not one, but three buzzer-beaters in each round.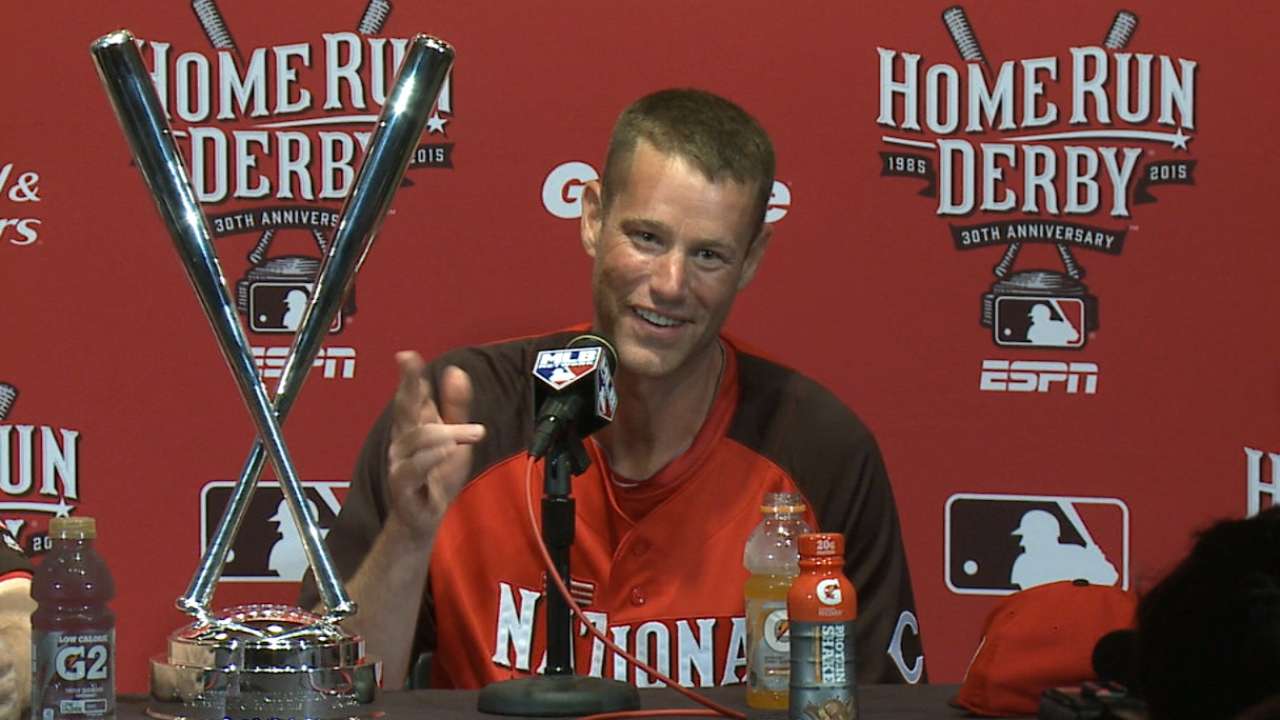 Only one other player from an All-Star host team had previously won a Derby -- the Cubs' Ryne Sandberg in 1990. Frazier was the third Reds player to win, following Dave Parker in '85 and Eric Davis in '89.
"Bringing this hardware home is something I've always wanted to do, and it's just an unbelievable feeling," Frazier said.
Reds fans likely wished the moment could be frozen in time. Frazier struggled some in the second half and would hit 35 homers overall as the Reds limped to a last-place finish. The club's rebuilding process also prompted the Reds to deal Frazier to the White Sox in a three-team trade for three Dodgers prospects on Dec. 16, which perhaps will make watching his highlights of his win a little bittersweet.
But no matter what comes next, for Frazier and the Reds, Cincinnati always will have the 2015 Home Run Derby.
Mark Sheldon is a reporter for MLB.com. Read his blog, Mark My Word, follow him on Twitter @m_sheldon and Facebook and listen to his podcast. This story was not subject to the approval of Major League Baseball or its clubs.