White Sox looking to add to outfield mix
Club has strong interest in top free agents Gordon, Cespedes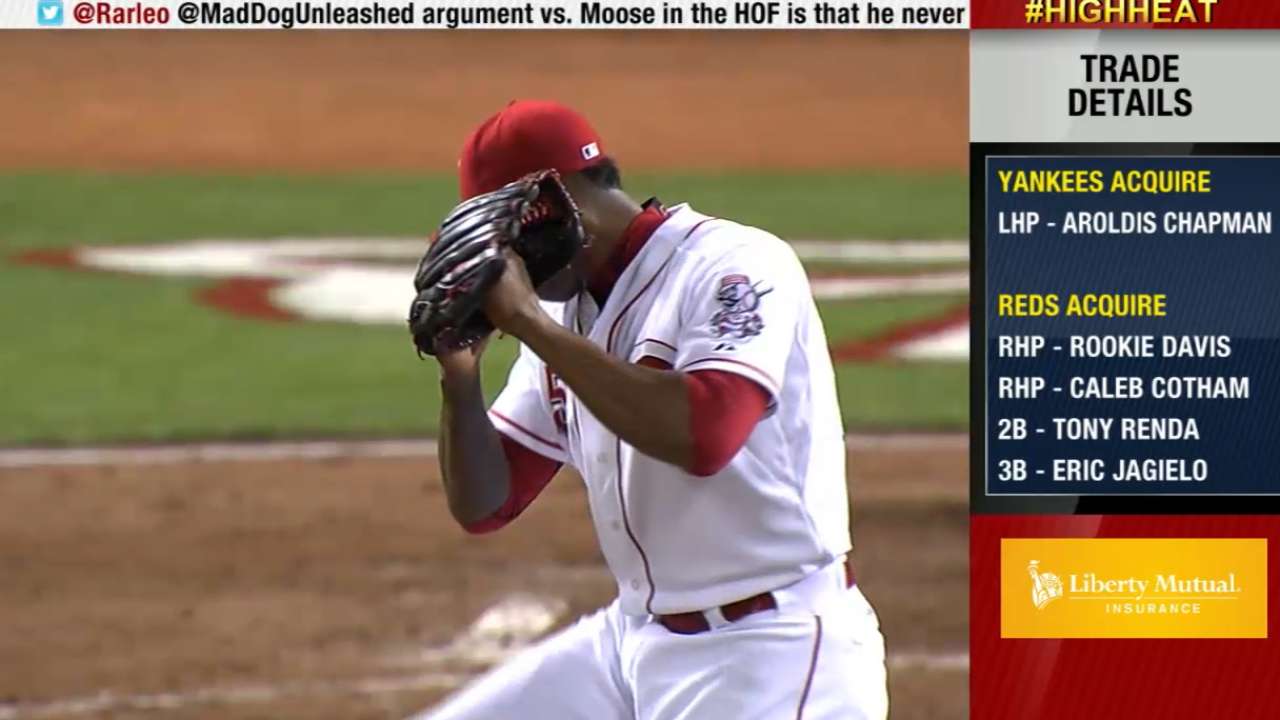 CHICAGO -- The White Sox have three outfielders in place right now, with Melky Cabrera, Adam Eaton and Avisail Garcia. But it also appears that general manager Rick Hahn is working fervently to add another name into the mix, a name that looks to be either Alex Gordon or Yoenis Cespedes from a group of high-end free agents.
When Hahn said he wasn't satisfied even after acquiring Todd Frazier and Brett Lawrie via trade, he wasn't kidding around.
According to MLB.com's Jesse Sanchez, the Cespedes market is taking shape with the White Sox and Orioles emerging as the frontrunners. The Dodgers and Giants also are in the mix, with the Rangers monitoring the situation.
Ken Rosenthal said Tuesday morning on MLB Network that the White Sox had one move left this offseason, and it appeared they were going to get one of these outfielders. The White Sox have held to their policy of not speaking about rumors, but here are some situations to consider as this story progresses.
Who do they prefer?
Gordon, 31, would bring another left-handed bat to the White Sox lineup, not to mention a career .348 on-base percentage. The White Sox lacked home runs in 2015, with an American League-worst 136 homers, and they finished second to last with a .306 OBP. Gordon also has four Gold Gloves to his credit. Cespedes, 30, won a Gold Glove in left field this past season split between the Tigers and Mets and brings a greater power presence. Just ask Jose Quintana, the talented White Sox hurler who has allowed four career homers to Cespedes among his nine hits in 15 at-bats.
One contributing factor is that Cespedes does not cost Draft pick compensation, whereas signing Gordon would. The White Sox currently have three picks in the Top 50, in their quest to rebuild while contending, but would lose their compensation pick for Jeff Samardzija signing with the Giants if they added Gordon.
Could they add both?
No, or let's at least classify this idea as extremely and extraordinarily unlikely.
How important is money?
Well, that's a pretty easy question to answer, but in the scheme of things, could money be the deciding factor? It's not as if the White Sox have exclusive negotiating rights to any of these players, and the team has never handed out a $100 million contract. In fact, Jose Abreu's $68 million over six years represents the highest lump sum.
But the White Sox are more than willing to competitively raise the bar when the player makes sense for their plan. See Albert Belle becoming the game's highest-paid player with the White Sox in 1996, Abreu and the $100 million offer made to Masahiro Tanaka as a few examples.
Is it too early to give up on Garcia?
It is, especially with Garcia being just 24 and having completed just one season with more than 260 plate appearances. The White Sox know Garcia's talent, but they also grew frustrated with his lack of discipline within the strike zone and even spoke at the Winter Meetings about the need for improved conditioning. Adding another outfielder doesn't mean the end for Garcia, who could platoon with Adam LaRoche at designated hitter, unless the White Sox could move LaRoche or Cabrera.
What happens if the White Sox miss on both?
This team seems committed to adding another outfielder, and other solid options remain beyond Gordon and/or Cespedes, including Justin Upton. It would be more interesting to see reaction from the fans, who understandably were fired up by the encouraging news regarding the pursuit of Gordon and Cespedes.
Scott Merkin is a reporter for MLB.com. Read his blog, Merk's Works, follow him on Twitter @scottmerkin, on Facebook and listen to his podcast. This story was not subject to the approval of Major League Baseball or its clubs.