MLB.com Columnist
Anthony Castrovince
Yankees in position to take on Chapman risk
Lefty's future unclear due to MLB's domestic violence investigation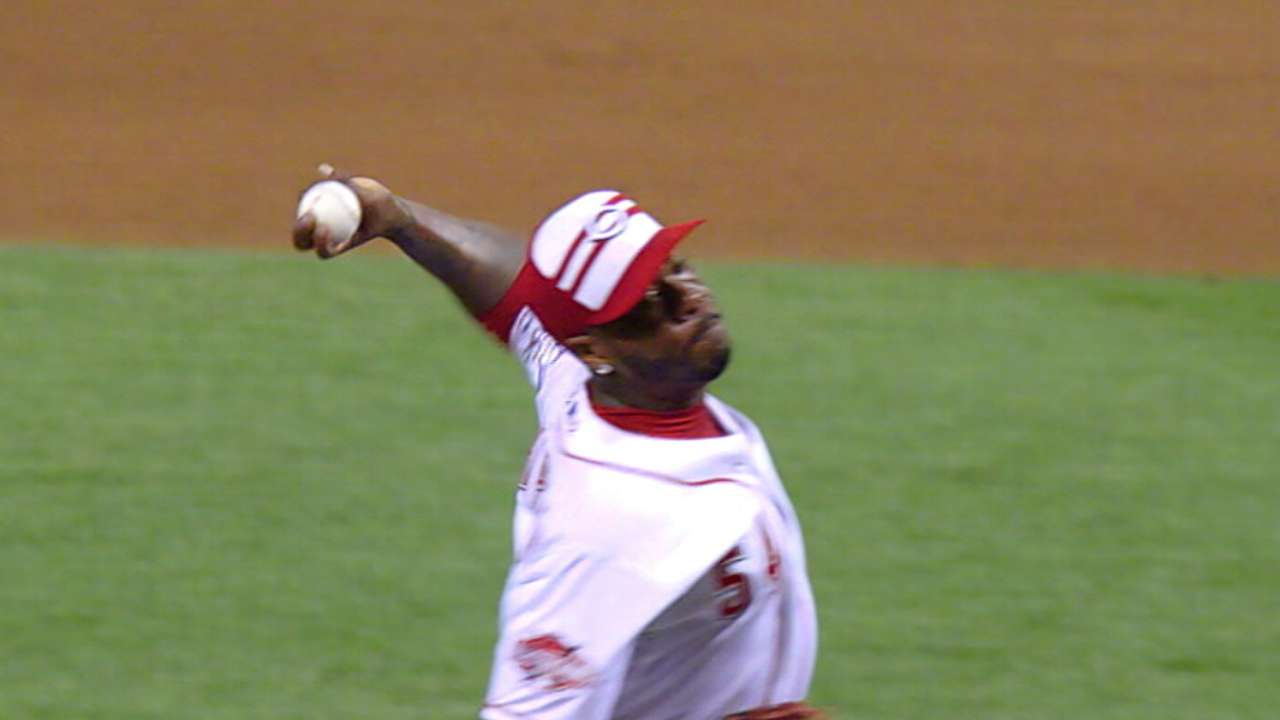 It was a pinstriped strike nobody saw coming. In what amounts to the bottom of the ninth of the calendar year, the Yankees pulled off a bold, bullpen-boosting barter with the Reds for Aroldis Chapman. The widespread thought that Chapman had become a risky trade chip in light of recent reports about a domestic issue was nullified, and a Yankees club that already had a special setup in the late innings was, quite surprisingly, the one to land him.
Now, the Yankees have the ability to use Chapman, Andrew Miller and Dellin Betances in tandem -- a terrifying thought for opposing lineups, given that the three combined for a 1.70 ERA and 347 strikeouts in 212 innings last season, and a tantalizing one for manager Joe Girardi, who presumably will be able to routinely orchestrate high-leverage situations in his favor.
Clearly, there is much to be resolved with regard to Chapman's availability at the outset of 2016 because of MLB's ongoing investigation of the domestic violence allegations. The league's domestic violence policy has no precedents, so Chapman, Jose Reyes and Yasiel Puig present test cases that will reveal how punitive the penalties might be in these matters.
But whether Chapman misses a game, a month or no time at all, the Yankees were in good position to take a chance on him. For one, their farm system has improved to the point that they could swing an impact trade of this nature for a short-term chip without sacrificing any of their cream of the crop -- Luis Severino, Greg Bird and top prospect Aaron Judge. When the Reds "modified" -- as Yanks GM Brian Cashman put it -- the price tag on Chapman after the reports of his domestic incident, it made sense for the Yankees to pounce.
• Bauman: Chapman gives Yanks a lockdown trio
Furthermore, the possession of "co-closer" types in Miller and Betances means the Yankees' entire late-inning fate is not intrinsically tied to Chapman's availability.
That is, unless the Yanks move Miller, so let's consider that and a couple other topics of note in the wake of this trade.
1. Miller's trade value is still worth exploring
"Exploring," mind you, is different than "seizing." Because of the current uncertainty regarding whether or not Chapman will receive a suspension -- and because of the sheer attractiveness of the three-headed bullpen beast -- moving Miller might ultimately make no sense for Cashman.
Still, things can evolve. The Yankees have already had conversations involving Miller this winter, but it's been a slow-moving market in general, and we can't rule out the possibility of a better offer coming across their table between now and Opening Day. In a market largely bereft of late-inning options (Darren O'Day and Joakim Soria were the top tier of a thin free-agent group), Miller is the one established Major League piece in the Yanks' possession who can fetch them the controllable young starter they still desire for the present and future.
For now, Cashman is saying what you'd expect: The Yankees plan to keep the beast.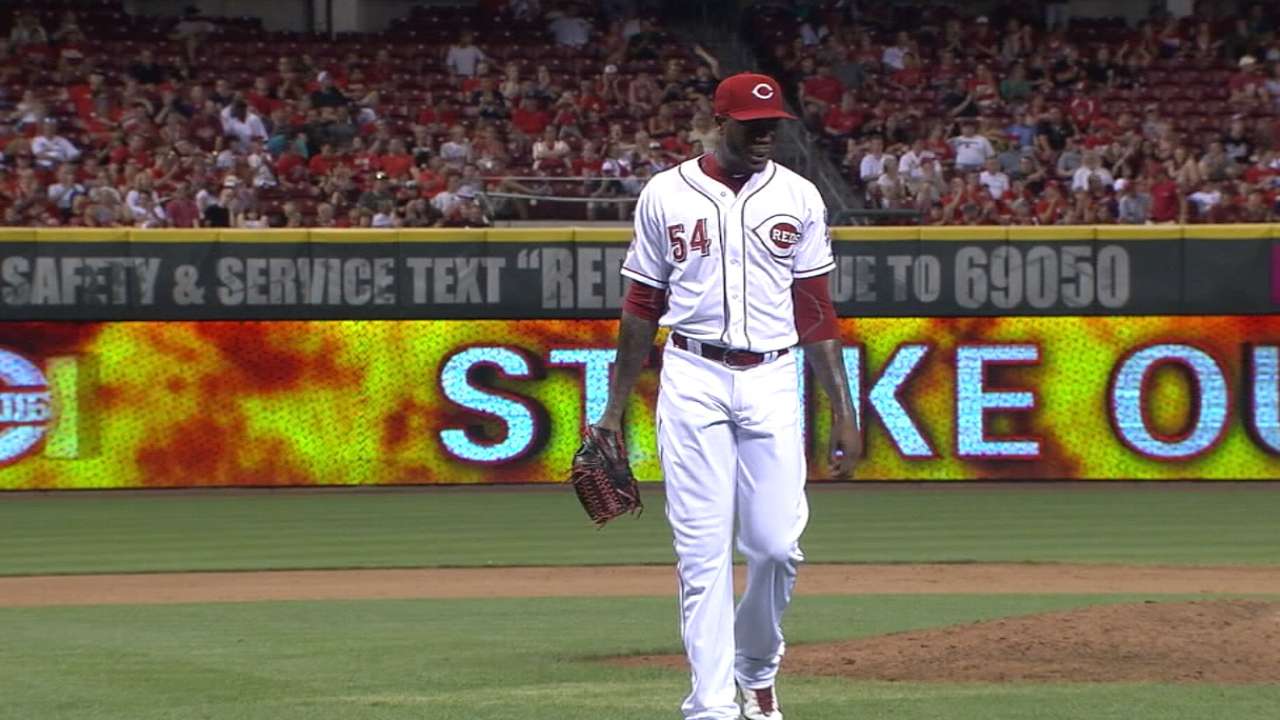 2. Did Girardi's job just get easier ... or more difficult?
Again, on paper, this Yankees bullpen is scary good. But we must remember this isn't fantasy baseball, and egos often must be massaged in a Major League clubhouse.
Miller's arrival last year presented the possibility of some consternation and/or confusion with regard to the ninth inning, because he was a veteran closing candidate added to a club that already possessed a deserving incumbent. To his credit, Miller arrived last spring saying, essentially, that the Yankees were already paying him a ton of money ($36 million over four years) and that he was in no position to demand a certain role, especially considering he had never closed before.
It's a different calculus with Chapman, because his free-agent payday is still looming next winter. More than 80 percent of his appearances the past four years have led to a notch in the "games finished" category. After discussing the Chapman acquisition with Miller, the Yankees are not expecting any blowback from their now-established closer. The unknown, of course, is how Chapman would handle any change in his responsibilities moving forward. If the Yankees -- or, more precisely, Girardi's binder -- feel Miller or Betances is the best fit in a certain save situation or feel a seventh-inning situation has Chapman's name on it, will Chapman be cool straying from his comfort zone?
By the way, a small but notable byproduct of the beefed-up bullpen is Betances' salary-arbitration situation. He'll be eligible for for the first time next winter. And although the baseball world, at large, has a much better understanding of the concept of high-leverage situations and, ergo, the somewhat overrated nature of save totals, the bottom line remains that saves get you paid. While we've yet to see exactly how the late-inning opportunities are handled, it stands to reason that this move likely limits Betances' chances in the ninth all the more -- and that could very well have an impact on his arbitration value moving forward.
3. Will the Yanks follow the Ray Way?
This business of building a pitching staff backward is obviously an homage to those World Series champion Kansas City Royals.
But the Yankees also have a chance now to emulate an American League East rival, the Tampa Bay Rays. The Rays, partly by design and partly out of necessity, were prone to quick hooks with their starters this past season. There has been ample data over the years to suggest that starting arms tire the third time through the order, and there is increasing emphasis in today's game on the value of mid-inning matchups. The Rays were able to maximize the effectiveness of their rotation even in the face of major injury by emphasizing quality over quantity, and you wonder if the Yanks might be positioned to do the same.
Masahiro Tanaka, we know, is pitching with a slight tear in his elbow ligament, which is one reason to be careful with his workload. Another is that his opponents' OPS the third time through the order last season was nearly 100 points (.714 versus .619) higher than the second. Because of shoulder issues, Michael Pineda has never made more than 28 starts in a Major League season. CC Sabathia is pitching on an arthritic right knee.
The Yanks made it clear this winter that they had no desire to pursue the top-flight starting options in the free-agent class despite a glaring need for starting stability, and Cashman told reporters Monday night that his "rotation is full." Perhaps adding to an already robust relief situation will allow them to get the consistent, quality innings they need.
Anthony Castrovince is a reporter for MLB.com. Read his columns and follow him on Twitter at @Castrovince. This story was not subject to the approval of Major League Baseball or its clubs.