By the numbers: HOF case for Edmonds
Peak years measure up with all-time great center fielders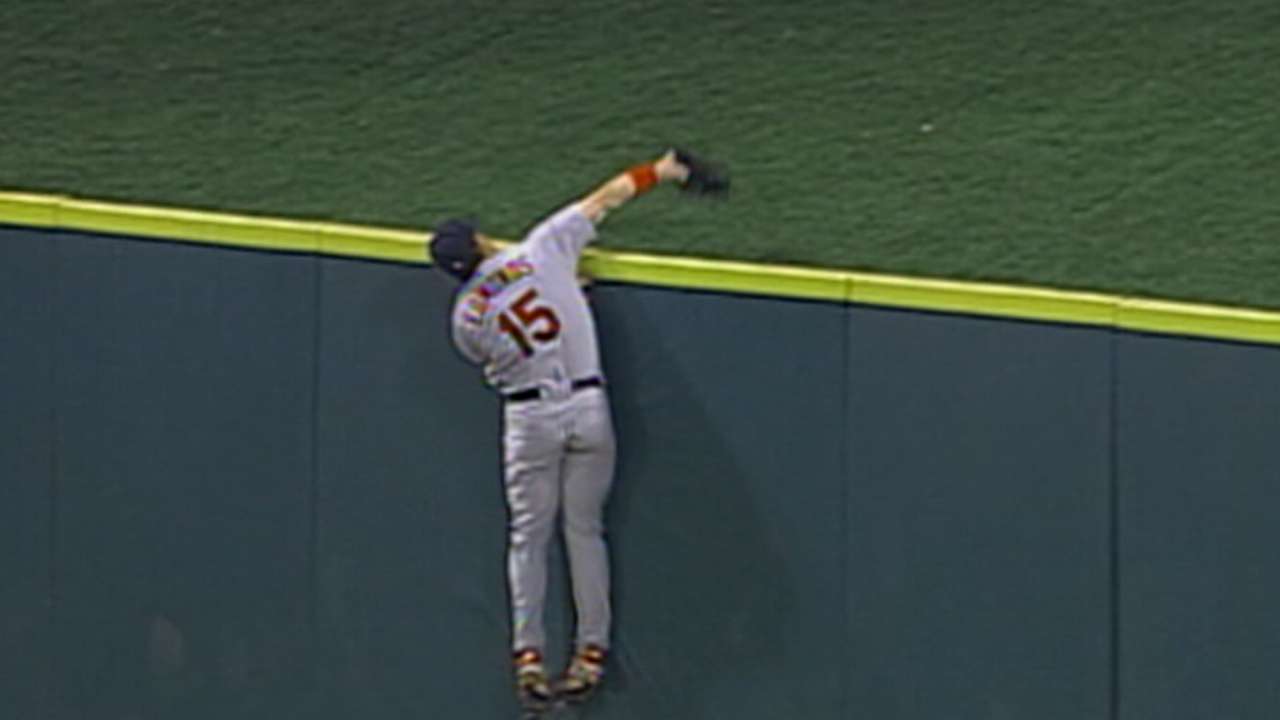 Even though seven players have been inducted into the National Baseball Hall of Fame over the past two years, many strong candidates remain on the ballot. With Baseball Writers' Association of America voters able to pick a maximum of 10 players apiece, and 75 percent of the vote required for enshrinement, several worthy candidates must travel a difficult road.
Results of this year's BBWAA vote will be revealed on MLB Network on Jan. 6, with a news conference involving any electees to be held the following day. For some, the question is not whether they will be elected, but whether they will garner the 5-percent support required to avoid falling off the ballot.
Jim Edmonds, eligible for the first time, is one player who could be in danger of meeting such a fate amid the ballot crunch. It's an unfortunate situation for him.
• Complete Hall of Fame coverage
Edmonds clearly doesn't have an open-and-shut case for Cooperstown, like fellow center fielder Ken Griffey Jr. Just as clearly, Edmonds' case deserves more than one year of consideration. While he didn't reach any major career milestones or lead the league in major statistical categories, he did put together an excellent and atypical career. Here is a look at the numbers-based argument for Edmonds' induction:
• What hurts Edmonds the most is playing time. He didn't notch 100 games in the Majors until he was 25. Slowed by injuries, Edmonds wound up with only seven seasons of 140-plus games, finishing just shy of 2,000 hits and 400 home runs.
But while Edmonds' career totals don't immediately catch the eye, his peak was awfully impressive. From 2000-05, his first six seasons with the Cardinals after a trade from the Angels, he batted a whopping .292/.406/.584 (a 154 OPS+), averaging 35 home runs and 98 RBIs while winning a National League Gold Glove Award each year. Edmonds' offense and defense netted him 36.4 WAR (according to Baseball-Reference.com), fifth in the Majors over that stretch behind Alex Rodriguez, Barry Bonds, Todd Helton and teammate Albert Pujols.
It's not like Edmonds only had those six seasons. Over an 11-year stretch starting in 1995, he hit .293/.388/.544 (141 OPS+), averaging 30 homers and 87 RBIs. Despite playing a modest 134 games per season, Edmonds' 56.0 WAR also ranked fifth in the Majors, behind only Bonds, Rodriguez, Jeff Bagwell and Chipper Jones, and right in front of Manny Ramirez. So that's more than a decade as one of the very best players in baseball.
• At his peak, Edmonds was a rare breed -- a defensive force at a premium position who also was an all-around threat at the plate.
Edmonds ranks among the top 10 center fielders all time in homers (393) and slugging (.527), and he is one of eight players to record at least five 30-homer seasons at that position. In his best season, 2004, he hit .301/.418/.643 with 38 doubles, 42 homers, 111 RBIs and 101 walks, becoming one of nine center fielders since World War II to post at least a 170 OPS+.
In terms of Edmonds' rare package of tools, consider that only three center fielders have collected at least 400 doubles, 350 homers and a 125 OPS+ in their career: Willie Mays, Griffey and Edmonds. And besides Edmonds, the only player to put together multiple 40-homer, 100-walk seasons at that position is Mickey Mantle.
• Of course, there's also that defense. Few players in recent memory have authored as many spectacular highlights as Edmonds, who is one of 13 outfielders to win as many as eight Gold Gloves. Advanced statistics from Edmonds' prime years are limited, but his 80 career total zone runs above average rank 13th among center fielders since 1954, and he sits 20th all-time in assists from center, having led his league in that category four times.
• As mentioned, Edmonds' peak is more impressive than his total body of work, but it's not as if his career production would look out of place in the Hall. Of the 11 Hall-eligible center fielders with more WAR than Edmonds' 60.3, nine have been inducted. He finds himself in close proximity to Hall of Fame outfielders such as Andre Dawson (64.5) and Dave Winfield (63.8), and well ahead of many others, including Jim Rice (47.4) and Kirby Puckett (50.9), another center fielder with an excellent peak but an even shorter career.
• Edmonds is in a similar spot when it comes to JAWS, a system developed by Jay Jaffe that measures a player's Hall credentials by comparing his career and peak production with others at his position. His 51.4 score puts him 14th among center fielders, with nine of 10 eligible players ahead of him already inducted.
• If Edmonds endured some bad fortune in terms of overall playing time, he was lucky enough to participate in 64 postseason games, all but three of which came with St. Louis. He took advantage of those opportunities, batting .274/.361/.513 with 16 doubles, 13 homers and 42 RBIs across 263 plate appearances. Though Edmonds put together several fine series, his most memorable came in the 2004 NL Championship Series against the Astros, as he blasted a walk-off homer in the 12th inning of Game 6, then made a run-saving diving catch to help win Game 7. If October matters for the Hall, then Edmonds' candidacy certainly deserves a bit of a boost.
Andrew Simon is a reporter for MLB.com. Follow him on Twitter @AndrewSimonMLB. This story was not subject to the approval of Major League Baseball or its clubs.