Edgar's HOF case may get a boost from Big Papi
A tremendous right-handed hitter, legendary Mariner should not be punished for being a DH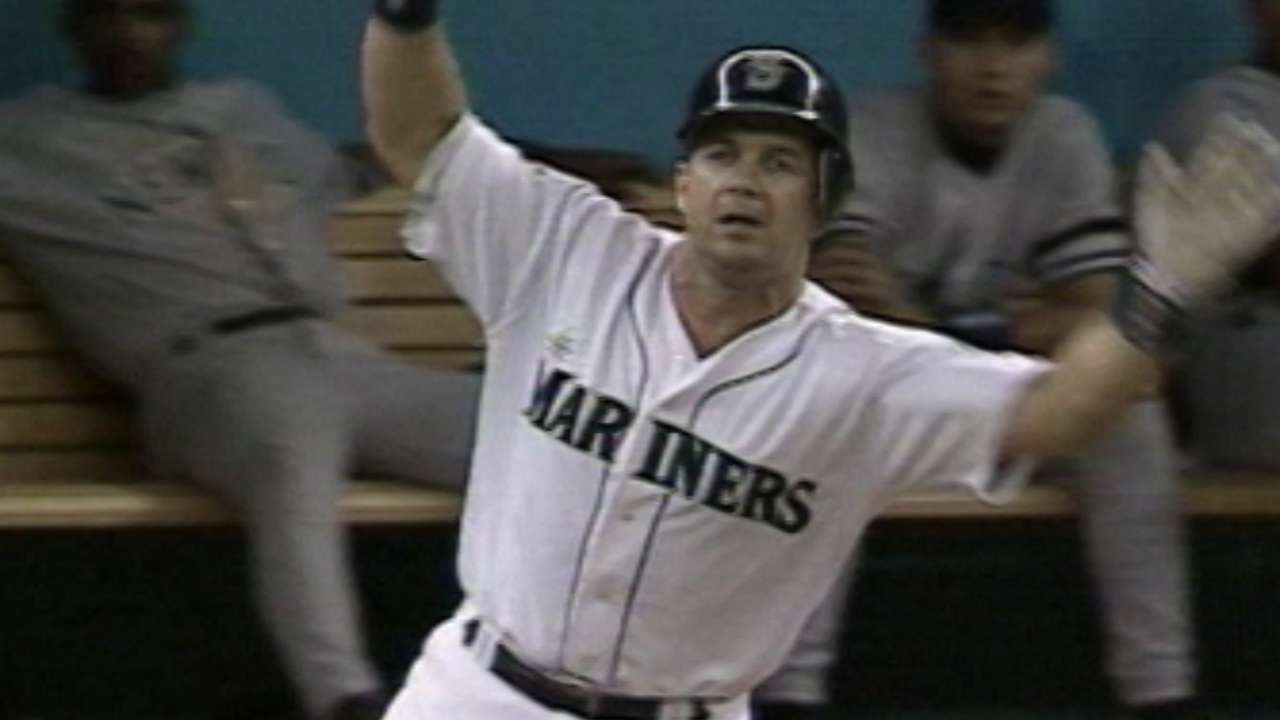 Edgar Martinez's weak support for the National Baseball Hall of Fame morphed from puzzling to downright weird a few weeks ago when Red Sox slugger David Ortiz announced that 2016 would be his final season.
Immediately, the Ortiz-for-the-Hall bandwagon began rolling toward Cooperstown, N.Y., and everyone leaped aboard. "Hey," they said, "this is a franchise-changer who has dominated as the American League's top designated hitter; just look at the seven times he has earned the Edgar Martinez Award."
• Complete Hall of Fame coverage
And the man who was great enough to inspire that award doesn't belong? Martinez's backing among voters was at 27 percent on the 2015 ballot, but it will likely begin to trend in the other direction this year, his seventh on the ballot. Results of this year's Baseball Writers' Association of America vote will be revealed on MLB Network on Jan. 6, with a news conference involving any electees to be held the following day.
Most significantly, the Hall of Fame's BBWAA electorate has been weaned down to eliminate those who no longer regularly cover the game, a group that can be profiled as mostly old-timer purists who scoff at DHs. The testimonials of elected teammates -- Randy Johnson last year, Ken Griffey Jr. very likely this time -- boost Martinez's rep.
Also, being back in uniform as the Mariners' hitting coach heightens Martinez's visibility and connection with voters. Focusing on that job keeps him from focusing on the Hall of Fame voting results.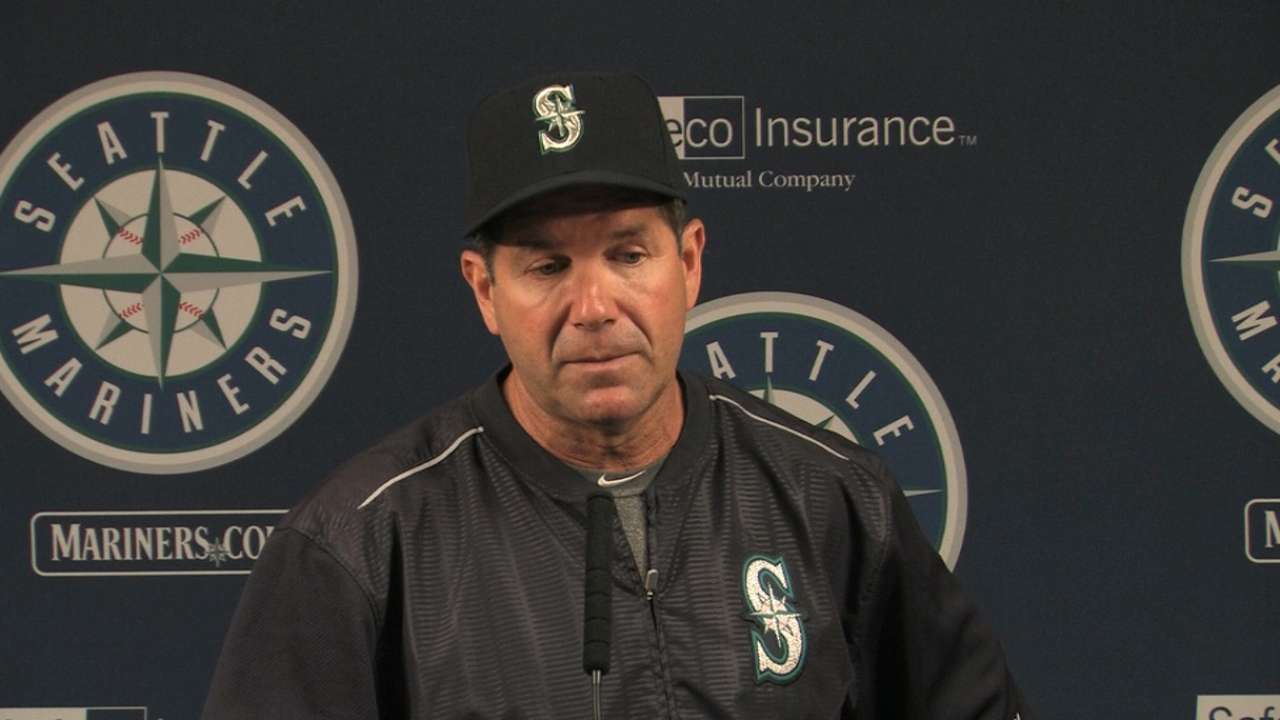 "When the results are out, I look at it," Martinez told reporters this summer. "But I'm not constantly looking at any of that, wondering what are my chances. It's out of my hands.
"Just being on the ballot ... is a great honor. I've been fortunate to have many people making a case for me, and that's a great honor in itself. The ultimate honor is to get in, but I've been blessed to play the game and play for a long time and having people mention me as a potential candidate. We'll just see what happens from here."
But the chief reason for Martinez's improved prospects for eventual induction traces back to Ortiz. As people continue to evaluate Big Papi's Hall merits by dissecting his career, his bat and his impact, they will gain new appreciation for Martinez's virtues.
Concurring, Martinez said Ortiz is "helping all the other DHs out there get the attention."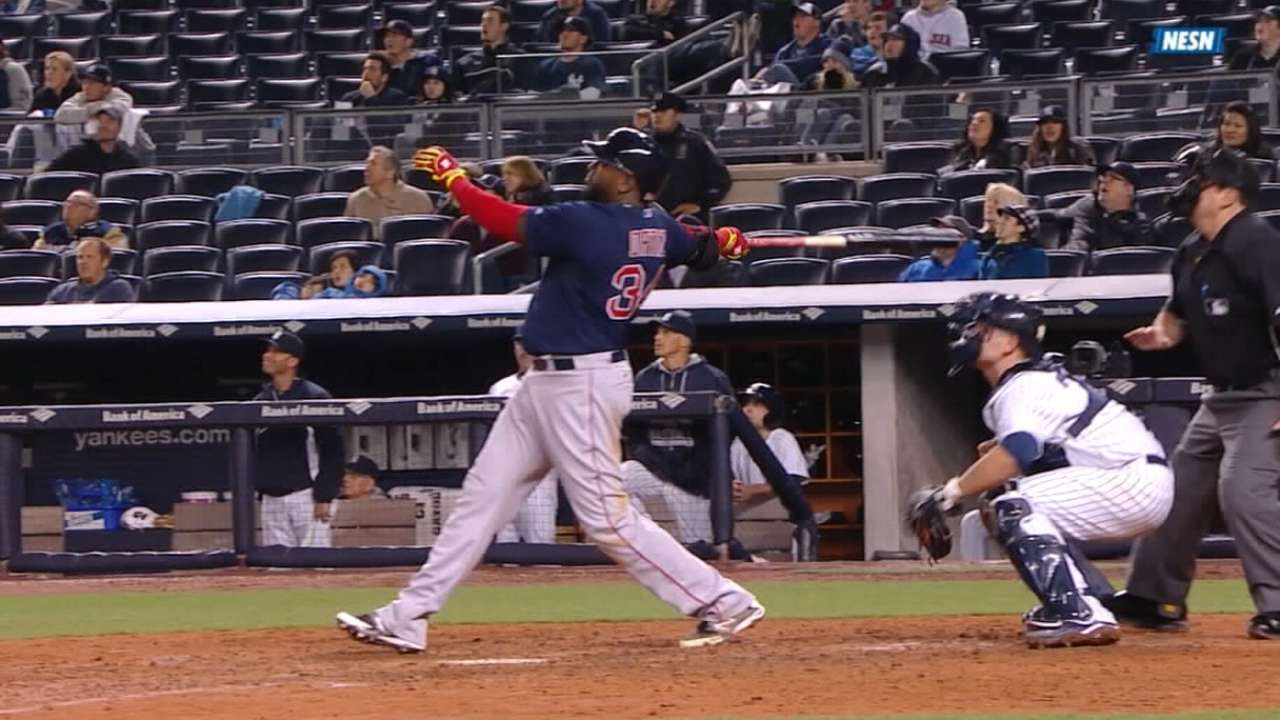 And Martinez was a great hitter. Over 18 seasons, all with Seattle, he batted .312, and only five right-handed batters in the post-1961 Expansion Era have done better. From 1990-99, Martinez's .322 average was third best in the Majors -- behind Hall of Famer Tony Gwynn and top 2016 candidate Mike Piazza, and ahead of two other Hall of Famers, Frank Thomas and Paul Molitor.
Martinez was also great as a teammate -- the attribute that led him into the world of DHing that has hurt his Cooperstown platform. From 1990-92, Martinez played 390 games at third base for the Mariners, who had no place for corner infielder Mike Blowers, who was acquired from the Yankees (the club had Tino Martinez at first base). In '92, Seattle also shuffled through 10 DHs, none for more than 47 games.
"We were a better team with me as a DH," recalled Martinez, who gave up the hot corner. "We were a better team with Blowers at third base."
Having been a DH may have kept Martinez back, but it won't keep him out. No doubt a DH bias existed once: Harold Baines' 22-year career deserved far better than falling off the ballot after his support peaked at 6.1 percent, but he was ostracized for 1,643 of his 2,830 games having been as a DH.
But now it's misleading to consider DHing a fatal flaw when it comes to Hall of Fame admission. Thomas and Molitor are both listed as "designated hitter" by STATS, MLB's official statistician. And both indeed made more career appearances at DH than at any other position: 1,310 by Thomas and 1,172 by Molitor.
The difference is that Martinez had more games as a DH (1,403) than anyone other than Baines and now Ortiz (1,889).
Although not on the formal checklist of Hall of Fame credentials, World Series rings doubtless play a role in voters' evaluation. Martinez himself gives Ortiz props for his three rings with the Red Sox.
Martinez may not own a World Series ring, but he does own the most important hit in Mariners postseason history: In the 11th inning of the decisive Game 5 of the 1995 AL Division Series, minutes after the Yankees had taken a 5-4 lead in the top of the inning, his two-run double scored Joey Cora and Griffey and delivered the first postseason series win in Seattle history.
Indeed, Martinez was the go-to guy on Seattle teams that included three others of Cooperstown stock (Johnson, Griffey and Alex Rodriguez). The Mariners won three postseason series during Martinez's tenure, and in those, he went 21-for-48 (.438), with five homers and 17 RBIs in 13 games. When he hit, Seattle won; when he didn't, the Mariners were doomed.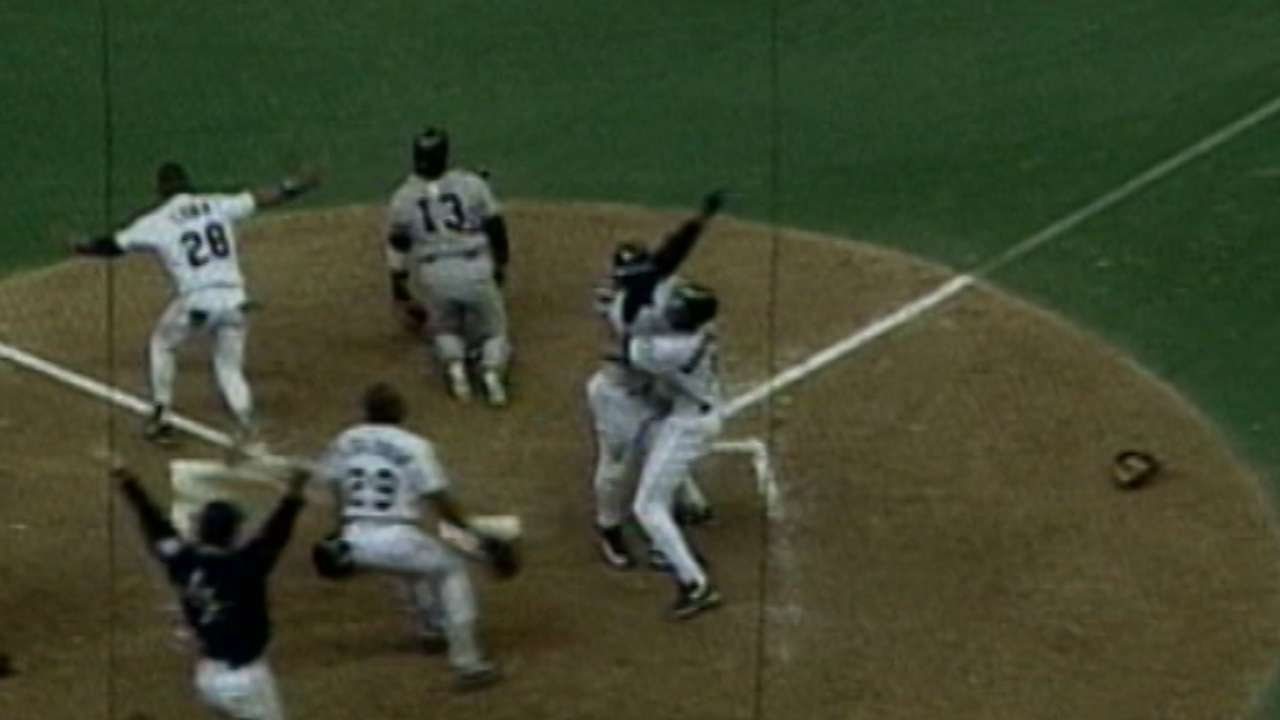 Tom Singer is a reporter for MLB.com and writes an MLBlog Change for a Nickel. He can also be found on Twitter @Tom_Singer. This story was not subject to the approval of Major League Baseball or its clubs.