Duke breaks bowl drought at Yankee Stadium
Blue Devils top Indiana in Pinstripe for first postseason win since '61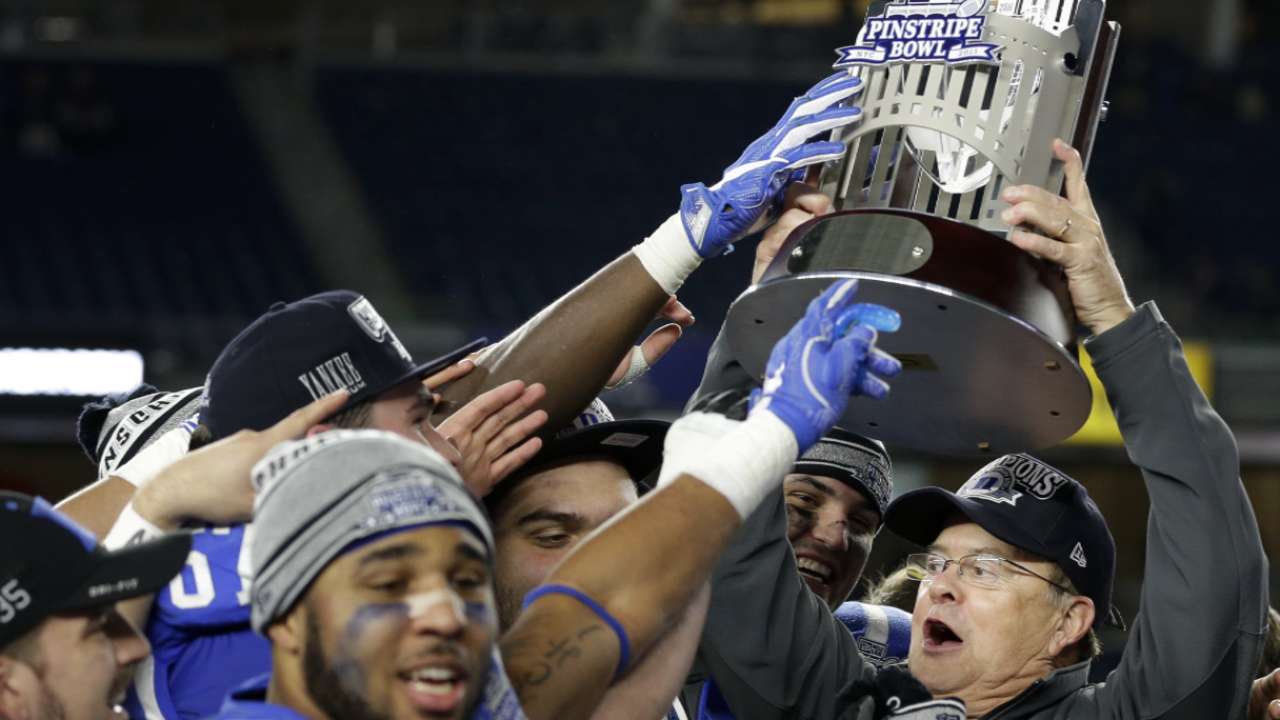 NEW YORK -- The Duke bowl drought is over.
The school best known for basketball dominance struck a blow for persistence Saturday, when it earned its first bowl victory in five decades. Duke outlasted Indiana, another elite basketball school, with a relentless rushing attack in a 44-41 overtime win in the Pinstripe Bowl at Yankee Stadium.
Duke, which hadn't won a bowl game since 1961, achieved several milestones in the win. The Blue Devils rushed for 373 yards and had three players reach the 100-yard mark for just the second time in history. Duke's bowl win also marked the first time in school history that it's had three straight seasons with at least eight victories, and head coach David Cutcliffe was overwhelmed with emotion in the aftermath.
"It's difficult to get out of a locker room that happy," said Cutcliffe prior to his postgame news conference. "There were tears on the field. And we just about broke the platform during the trophy presentation. There were so many players that wanted to be around it. It's just emotional. I'm OK now, but I wasn't when I walked into that locker room and had to say goodbye to so many of those young people that you love."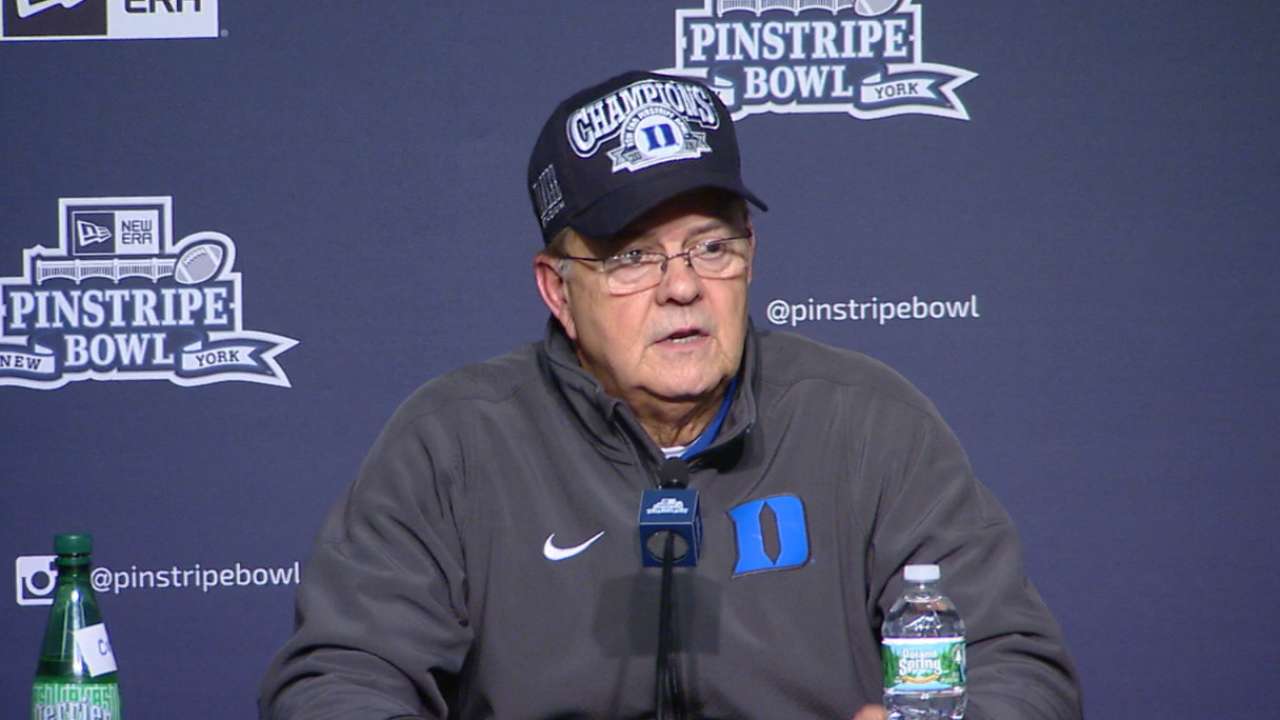 Sophomore running back Shaun Wilson was the star for Duke, notching a 98-yard kickoff return for a touchdown and an 85-yard touchdown that tied the longest rushing play in program history. But the game wasn't decided until overtime, when Indiana kicker Griffin Oakes missed a 38-yard field goal.
Duke (8-5) had scored its final touchdown with just 41 seconds left in regulation, and kicker Ross Martin converted a field goal on the opening drive in overtime. After that, Duke's defense got a chance to make a stop, and Oakes kicked a ball that appeared to narrowly miss going over the upright.
That touched off a euphoric celebration for Duke that was more than a half-century in the making.
"It's pretty special. We hadn't won a bowl game since 1961. Just understand that," Cutcliffe said. "For the first time in the history of Duke football, we've had three straight years of eight or more wins. That's incredible. For the second time in school history, we had three 100-yard rushers. We ran the ball very effectively. And the kicking game, that's our fourth kickoff return for a touchdown this season."
• A-Rod scored a TD in the Pinstripe Bowl (sort of)
Duke, which had lost four of its last five games heading into the Pinstripe Bowl, got three touchdowns of at least 70 yards. Wilson went for the 85-yard scoring jaunt up the middle in the first quarter, and quarterback Thomas Sirk gave Duke a 17-14 lead with a 73-yard touchdown burst right before halftime.
Indiana never went away, tying the game with a field goal right before the half. The Hoosiers would even push ahead 34-27 early in the fourth quarter, but Wilson tied the game with his kickoff return. The two teams traded touchdown drives in the late fourth quarter before settling the game in overtime.
"We gave up too many big plays. Too many turnovers," said Indiana head coach Kevin Wilson. "It comes down to a kick. Our guys want to say close. I told them it wasn't. If it was good, it was good. It wasn't."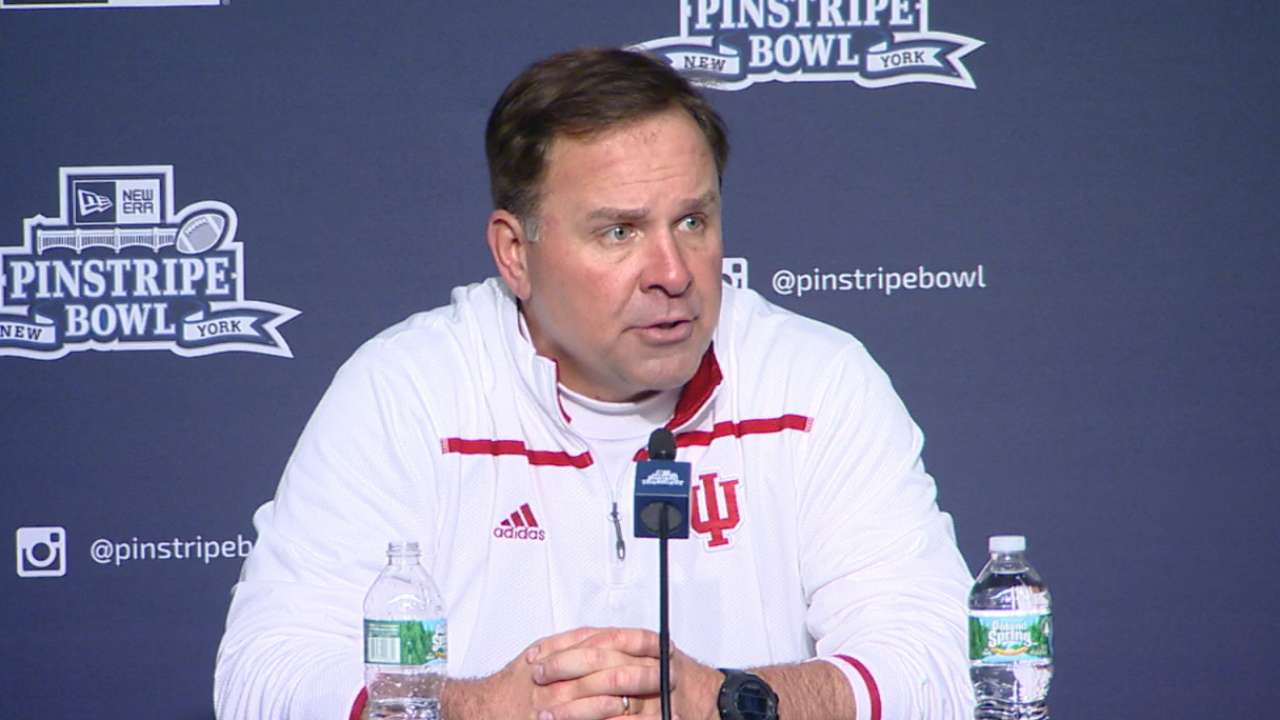 Chris Coyte, the referee/crew chief this game, issued a statement regarding the final kick.
"The ball went beyond the end line over the top of the upright, and when that occurs, the play is not reviewable," he said to a pool reporter after the game. "The ruling was that the ball was outside of the upright, and in order for a field goal to be good, the ball has to be completely inside the upright."
Sirk scored his second touchdown of the game late in the fourth quarter and was knocked out of the game on a hit in overtime. Sirk ran for 155 yards in the Pinstripe Bowl to set a Duke postseason record, and he finished the year with a team-best 803 rushing yards.
Congratulations to @Duke_FB on winning the 2015 @PinstripeBowl! pic.twitter.com/4v19uCSxwj

— New York Yankees (@Yankees) December 27, 2015
These two programs, both resurgent of late, were playing for the same thing: The chance to break a long postseason famine. Indiana hasn't won a bowl game since 1991, and these two teams have combined for just seven all-time bowl victories. They both had their chances on Saturday.
Devine Redding set Hoosiers bowl-game records with 35 carries and 227 rushing yards, and quarterback Nate Sudfeld was another powerful difference-maker. Sudfield, named third-team All Big Ten this season, threw for 389 yards and three touchdowns but couldn't engineer a winning drive. Sudfield leaves Indiana as the program's all-time leader in passing yards (7,879) and touchdowns (61).
Indiana, despite the loss, can take solace in a record-breaking season. The Hoosiers (6-7) set program standards in offensive yards (6,566) and points (475), and they notched their first year of two running backs reaching the 1,000-yard mark. But for Wilson, it wasn't enough.
"The real stat is wins. We only got six," he said. "We made some strides. ... I think we have a solid foundation to move forward. But we've got to keep moving forward. That's why after the game we tried to address our players. We weren't going to have excuses. We weren't going to blame anybody else."
The teams combined to set several Pinstripe Bowl records, including total yards (667 by Indiana), passing yards (389 by Sudfield), rushing yards (227 by Redding) and longest field goal (52 yards by Martin). Wilson's 98-yard kickoff return also set a record for the Pinstripe Bowl.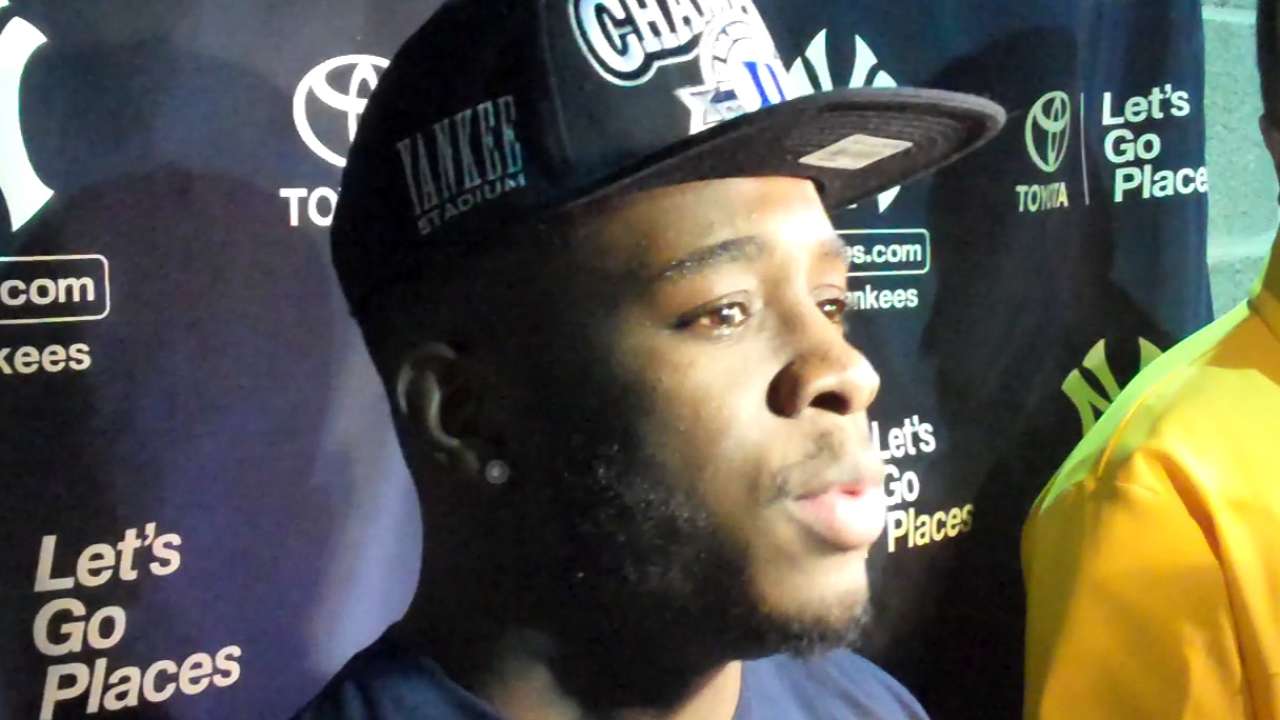 But the youngster's earlier play, the 85-yard touchdown run, was tied for the longest run in program history. Wilson burst through the middle untouched and broke a tackle about 20 yards downfield before outrunning the rest of the Indiana defense to the end zone. That tied the longest running play from scrimmage in Duke history, an 85-yard touchdown by halfback Charlie Smith in a 1951 game against Virginia Tech.
"It means a little," Wilson said. "But a touchdown is a touchdown no matter how far it is. I was just glad I was able to get into the end zone. It was a big momentum swing for the team. Everybody believed in me. They told me to pick the team up, and I was just happy I was able to help like I did."
Spencer Fordin is a reporter for MLB.com. This story was not subject to the approval of Major League Baseball or its clubs.