Cervelli thrives in everyday role in Pittsburgh
Pirates catcher looking for more improvement in coming season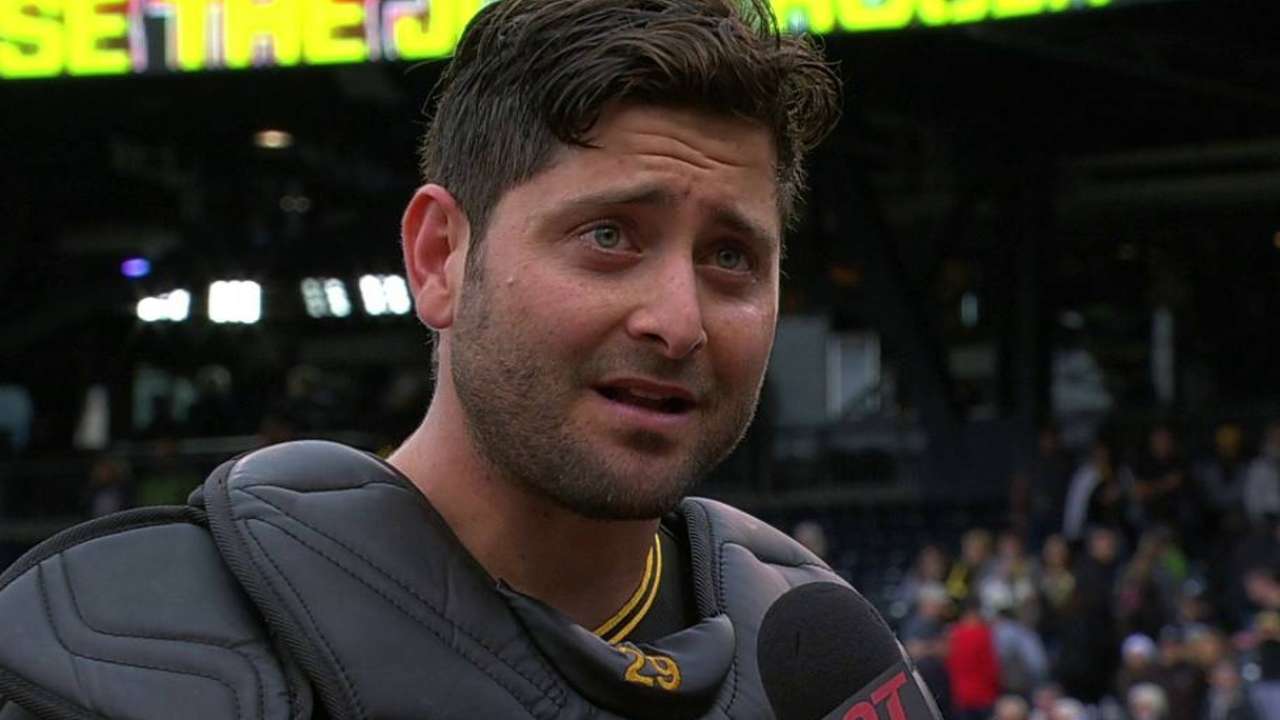 PITTSBURGH -- This time last year, Francisco Cervelli was just waiting for the opportunity to show he could be "the guy" behind the plate. So, what's next in 2016?
Cervelli exceeded expectations as Russell Martin's replacement in Pittsburgh last year, emerging not only as one of the Pirates' most valuable players, but as one of the game's best all-around catchers. He answered questions about his durability, his bat and his glove. Now, he wants to prove he can be even better.
"This is what I want to do," Cervelli said at PirateFest last month. "It's not just doing it. It's doing well."
Cervelli had spent his entire career with the Yankees until Nov. 12, 2014, when he was sent to the Pirates in exchange for reliever Justin Wilson. After being passed over several times in New York, he was given the chance to be Pittsburgh's starting catcher, a role he embraced and thrived in.
Plagued by injuries in years past, Cervelli made a career-high 128 appearances and 124 starts behind the plate, the most by a Pirates catcher since Jason Kendall in 2004. Among National League catchers, he ranked behind only Yadier Molina (134) in appearances.
But it wasn't just Cervelli's durability that impressed the Pirates. He put together a full season's worth of the offensive flashes he'd displayed with the Yankees. He batted a team-high .295 with a .771 OPS, the fourth-highest mark for any catcher in the Majors.
He was just as valuable, if not more so, behind the plate. According to StatCorner, his pitch-framing saved more runs than any other catcher in the Majors. He earned rave reviews from the Pirates pitching staff. At one point in June, he caught 56 straight scoreless innings.
"I just put the glove [up] and the finger [down], and they throw the ball. That's it," Cervelli said. "Everything's because of the pitchers, the work they've been doing. I think they can throw to any catcher."
Still, Cervelli quickly earned the respect of Pittsburgh's pitchers, coaches and, eventually, fans. Whether it was due to his seemingly boundless energy, his tough at-bats or even his walk-up song (Dean Martin's "That's Amore"), Cervelli turned into a fan favorite within his first two months as a Pirate.
"At the end of April and May, everything started changing in a positive way," Cervelli said. "I think the fans were the most important thing for my year because they supported me. They're always pushing me. I really love the city, and the fans are amazing."
That's one reason Cervelli said he would be happy to spend more time in Pittsburgh. He will be a free agent after the 2016 season, and his predecessor, Martin, showed last year what kind of earning power a defensive-minded, high-OBP catcher has on the free-agent market.
Cervelli said he hasn't heard anything from the Pirates regarding a potential contract extension, but he noted those talks would take place between his agents and the front office.
"I'm concentrated on my work, the things that I can do," Cervelli said. "I would love to retire with this team, because I don't think it's good to be jumping around too much."
In the meantime, Cervelli will continue to prepare for next season. Last year, his offseason workout program was 12 weeks long. This winter, he's putting in the same amount of time.
Staying healthy is once again his top priority, and he recognizes the challenges that will come along with turning 30 years old in March -- not to mention the 162 games that will follow shortly after.
"Your body's got to be a little different, less weight, more explosion. I've got in my brain the things that I need, so I'm working," Cervelli said. "Just putting more motivation because of the year that I had, and I believe good things are going to happen."
Adam Berry is a reporter for MLB.com. Follow him on Twitter at @adamdberry. This story was not subject to the approval of Major League Baseball or its clubs.