MLB.com Columnist
Alyson Footer
15 for '15: Done rebuilding, Astros bring home W's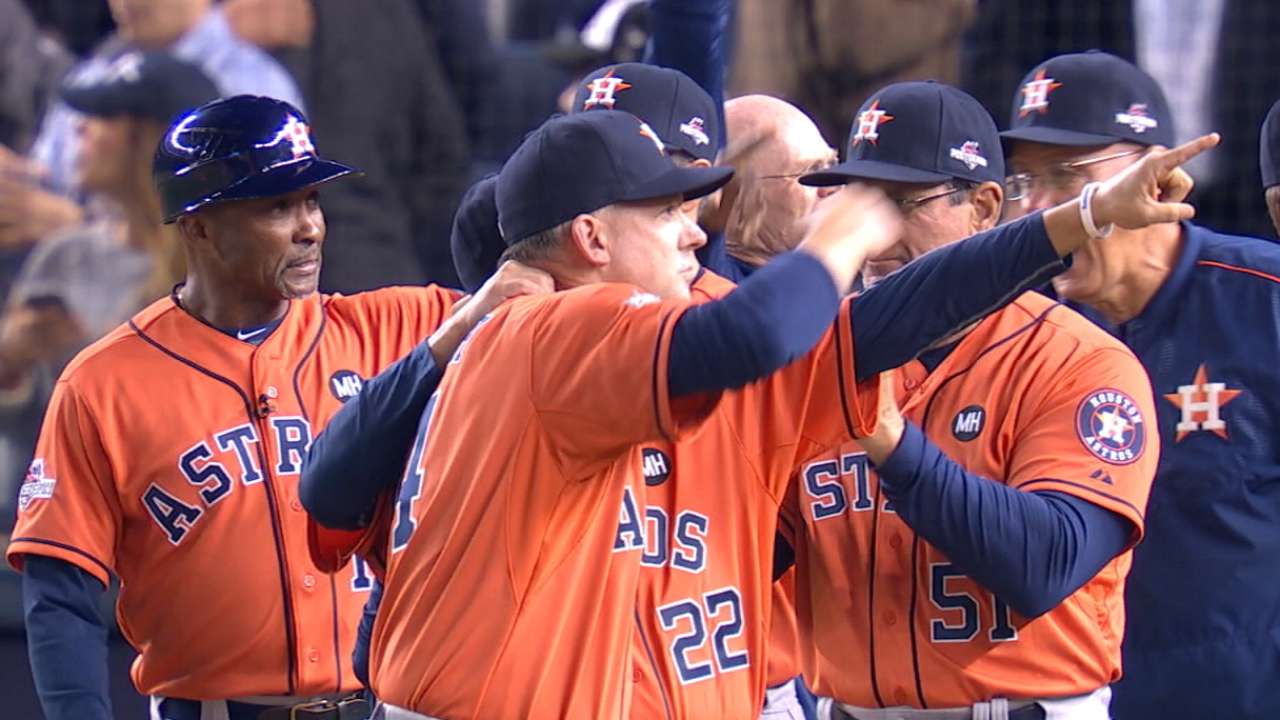 The exact year the Astros' long-term rebuilding plan was to start paying dividends had been up for debate for a while. But even the most optimistic of the prognosticators didn't pick 2015 as the Astros' probable re-entry into the postseason.
Thanks in part to Sports Illustrated, which boldly targeted 2017 as the year the Astros would win it all (with three losing seasons leading up to it), the Astros seemed to be earmarked for greatness ... a little later. The 2015 season was all about getting close to .500, and perhaps exceeding it by a hair or two if everything went right.
A lightning-fast start to the season, however, changed a lot of attitudes. The fan base perked up. The front office felt cautiously invigorated. And the players started to believe what new manager A.J. Hinch had been preaching since Spring Training -- on any given night, in any given game, their best was good enough.
That's what an 18-7 start will do for a team that just two years earlier had completed a trifecta of 100-loss seasons. In April and early May, the Astros strung together 14 wins in 15 games, doing most of their damage during an 8-1 road trip that included a series win in Seattle and sweeps in Oakland and San Diego.
"The next thing you know, we came home really confident," Hinch said. "We beat some good pitchers on a long road trip. Getting off to that kind of start solidified that our best was good enough and we didn't have to concede or carry any sort of lack of belief into our games."
With five months remaining in the season, it was too early to declare the end of the Astros' decade-long string of losing. But the winning streak represented an important first step in showing for the first time, concretely, that the Astros' polarizing tear-it-down, built-it-back-up methods were starting to pay off.
Even with a downslide in September, the Astros won 86 games. That's a 35-win improvement in just two seasons, and it ended with the club's first postseason berth in 10 years.
Clearly, a lot had to go right for any of this to happen, and to try to pinpoint one or two keys to define the team's success would be impossible. Sure, the Astros' homegrown nucleus of Jose Altuve, Carlos Correa, Dallas Keuchel and George Springer had a lot to do with it. The rotation addition of 21-year-old right-hander Lance McCullers, also a product of the Astros' farm system, would be another.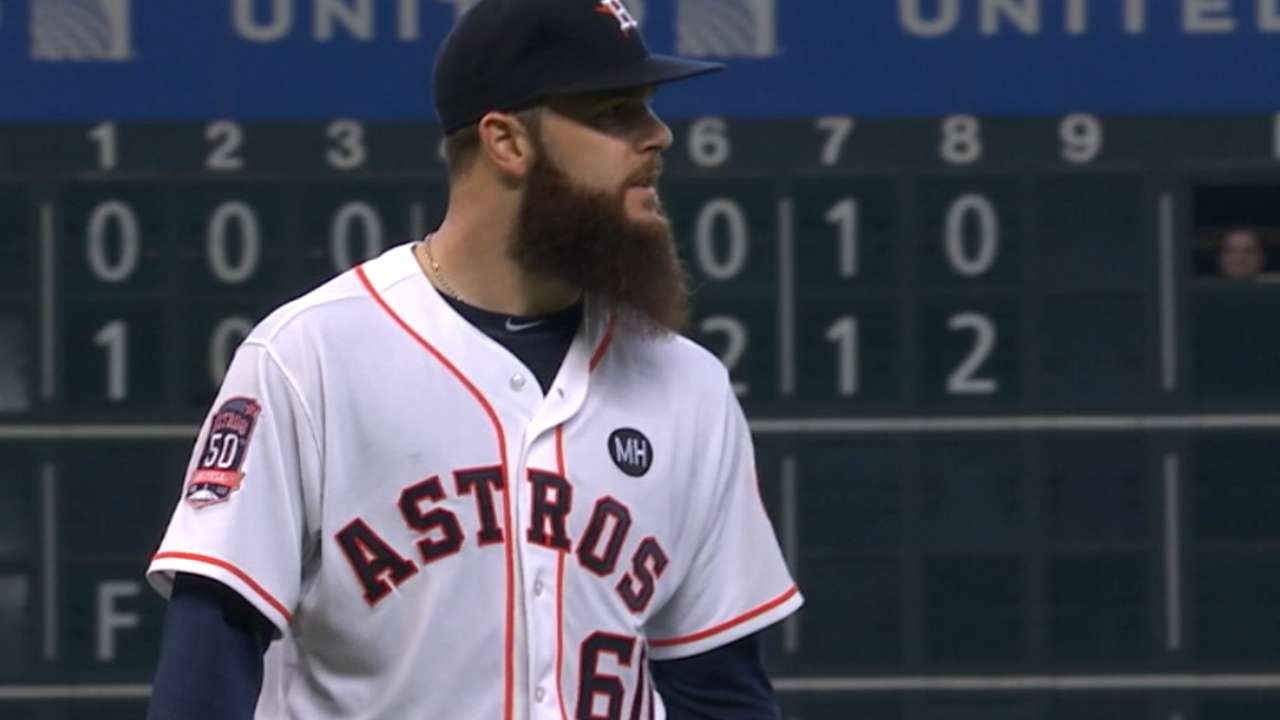 And then there's Hinch, whose easygoing but businesslike approach provided the perfect touch for a clubhouse mixed with young players and veterans, a few who had just been through the lean years where leadership was an issue.
But one of the biggest differences between the 2015 Astros and any of the prior three teams compiled by general manager Jeff Luhnow was the remaking of the bullpen. Luhnow signed two veteran relievers on the same day -- Dec. 12, 2014 -- and instantly, the entire look of the team changed.
The Astros weren't good at much in 2013 and '14, with the exception of one thing -- blowing leads. The '13 team didn't provide many winning opportunities, but in '14, the Astros 'pen took the leads it did have and blew them in spectacular fashion -- 26 in all.
In '15, the Astros decided to allot what money they did have to spend in free agency on fixing that area, and the results showed up immediately. Those acquisitions -- Pat Neshek and Luke Gregerson, buoyed by a strong support staff including Chad Qualls, Tony Sipp and the surprising Will Harris -- provided stability in an area that had sunk the Astros for years.
Knowing they could win games they were leading late changed the entire tenor of the team.
"Certainly, we invested a lot of money, and it was an area where Jeff and his staff had paid attention," Hinch said. "There's something about building a bullpen that makes you believe that you have a good team.
"We created a new identity, and as that grew throughout the season, the wins started to come. It was amazing to watch this team form an identity of winners."
With that task complete, the next is to continue winning, even if the projected timelines from outsiders are a little off.
"Obviously, given the number of years of losing that preceded this year, it's an easy message to sell -- we needed to do better; we needed to be more efficient," Hinch said. "We needed to change in order for us to be our best. Now, moving forward, I think we set the standard high enough and the expectations high enough. We tasted winning in the playoffs. The challenge of trying to win the World Series is very obvious to our players now."
Alyson Footer is a national correspondent for MLB.com. Follow her on Twitter @alysonfooter. This story was not subject to the approval of Major League Baseball or its clubs.