Inbox: Another pitcher for D-backs?
Beat reporter Steve Gilbert fields questions from fans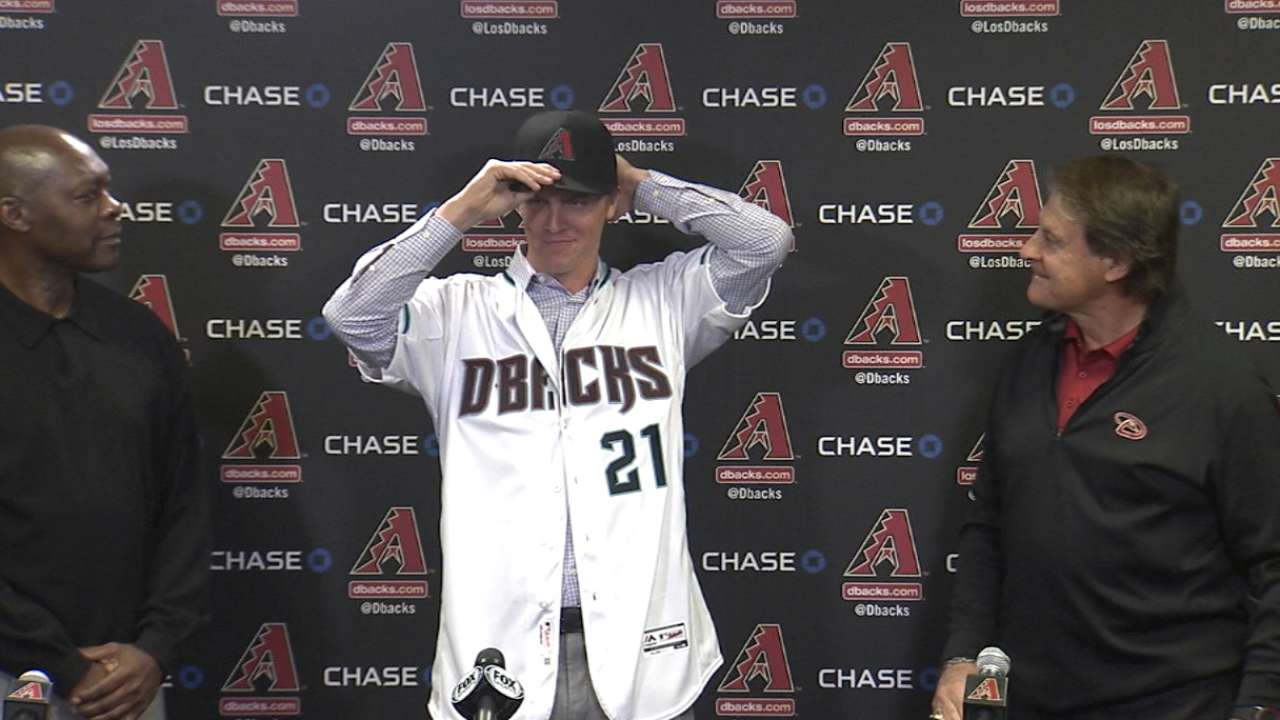 Do you think the Diamondbacks will add another starting pitcher? Maybe Wei-Yin Chen? It seems like we could use one more starter.
-- Peter O., Tucson, Ariz.
I don't see that happening at this point. I think given the money they invested in signing Zack Greinke and the trade chips they used to get Shelby Miller, the D-backs are likely done when it comes to big-ticket starting pitching. Of course, they surprised everyone with the Greinke signing in the first place, so you never know, but I think they are focused more on possibly acquiring a reliever. From what I understand, the prices are pretty high right now for bullpen arms, so nothing appears imminent on that front.
• Submit a question to the D-backs Inbox
Why has Robbie Ray just been given a spot in the rotation? I get that Greinke, Miller, Patrick Corbin and even Rubby De La Rosa have spots, but I don't understand why Ray does. What about Chase Anderson or Archie Bradley?
-- Mike S., Phoenix
I would tap the brakes when it comes to setting a rotation in January. I do think you can count on Greinke, Miller and Corbin being in it as long as they're healthy, but there will be plenty of competition for the final two spots. I think when you hear D-backs folks talk about De La Rosa and Ray, they qualify it by saying at this moment they would be in the rotation. The D-backs obviously like De La Rosa's arm and liked what he gave them for the most part last year, so he gets the benefit of the doubt, but he's still going to have to perform. It's the same with Ray. A left-hander with his kind of stuff certainly excites the front office, and he showed flashes of what he can do when he harnesses that stuff, but this spring he will need to show that he can be consistent. Anderson, Bradley and Zack Godley are among those that figure to be competing for spots.
• D-backs roster | Hot Stove Tracker
What happened to Chris Owings last year?
-- Phil B., Chicago
I assume the question refers to his struggles at the plate. Keep in mind that Owings was coming off surgery on his left shoulder and was getting acclimated to new mechanics at the plate. Rather than finish with one hand on the bat, he was trying to finish with two. That probably doesn't sound like a huge difference, but when a player has swung one way for a long period of time and then is asked to change, it can take awhile to get comfortable with the new mechanics. Add a shortened spring because of the surgery and the D-backs see reason to believe that he will bounce back and be a productive hitter in 2016.
Steve Gilbert is a reporter for MLB.com. Read his blog, Inside the D-backs, and follow him on Twitter @SteveGilbertMLB. This story was not subject to the approval of Major League Baseball or its clubs.