Inbox: Too many right-handed bats?
Beat reporter Jason Beck answers fans' questions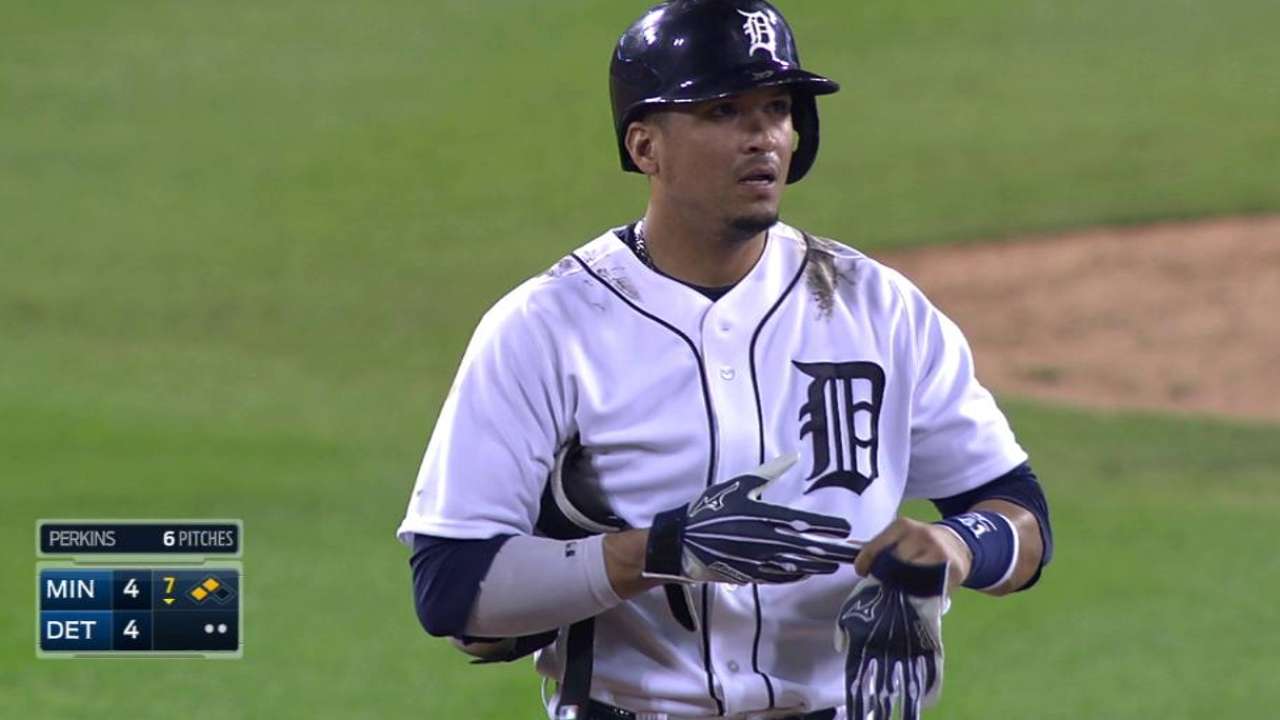 Why are the Tigers getting more right-handed hitters when they had the least amount of production from the left side of the plate? Sure, they led the American League in hitting, but were 10th in runs because of late-inning matchups in high-leverage situations. Even a healthy Victor Martinez can't fix this.
-- Tom A., Westland, Mich.
The feeling from Tigers people is that …
1. If healthy, Martinez will hit significantly better from the left side, even if he doesn't get that 2014 power back.
• Submit a question to the Tigers Inbox
2. A lot of the Tigers' right-handed hitters fare well in the kind of situations one would usually turn to a left-handed batter.
It's an interesting dichotomy. Detroit ranked 29th out of 30 teams with a .235 average and .653 OPS while batting left-handed, but with the fewest number of left-handed at-bats of any Major League club (1,425, 173 ABs fewer than the next-lowest total). Yet against right-handed pitching, regardless from which side the Tigers were hitting, Detroit led the Majors with a .282 average and placed second to the Blue Jays with a .780 OPS. The Tigers also ranked fifth in the Majors with a .265 average in late-and-close situations, going by MLB.com's definition.
I'm not saying the Tigers don't care about having left-handed hitters, because they do. But if Tyler Collins and/or Anthony Gose are on the team with switch-hitting Andrew Romine, then Mike Aviles is a right-handed-hitting complement.
What are the chances of Steven Moya getting to Detroit? We have followed his progression from A ball in the Florida State league to the Triple-A Mud Hens.
-- Greg, Windsor, Ontario
Moya's winter ball campaign in the Dominican Republic has opened some eyes. Still, the Tigers want him to get more seasoning at Triple-A, especially working to lower his strikeout rate. Unless injuries leave the Tigers short-handed, or Moya flat-out mashes the ball all spring, expect Moya to begin the season at Triple-A Toledo. If Moya can follow up his winter performance with a solid start for the Mud Hens, and the Tigers don't sign a free-agent left fielder, he could enter the picture for a midseason callup.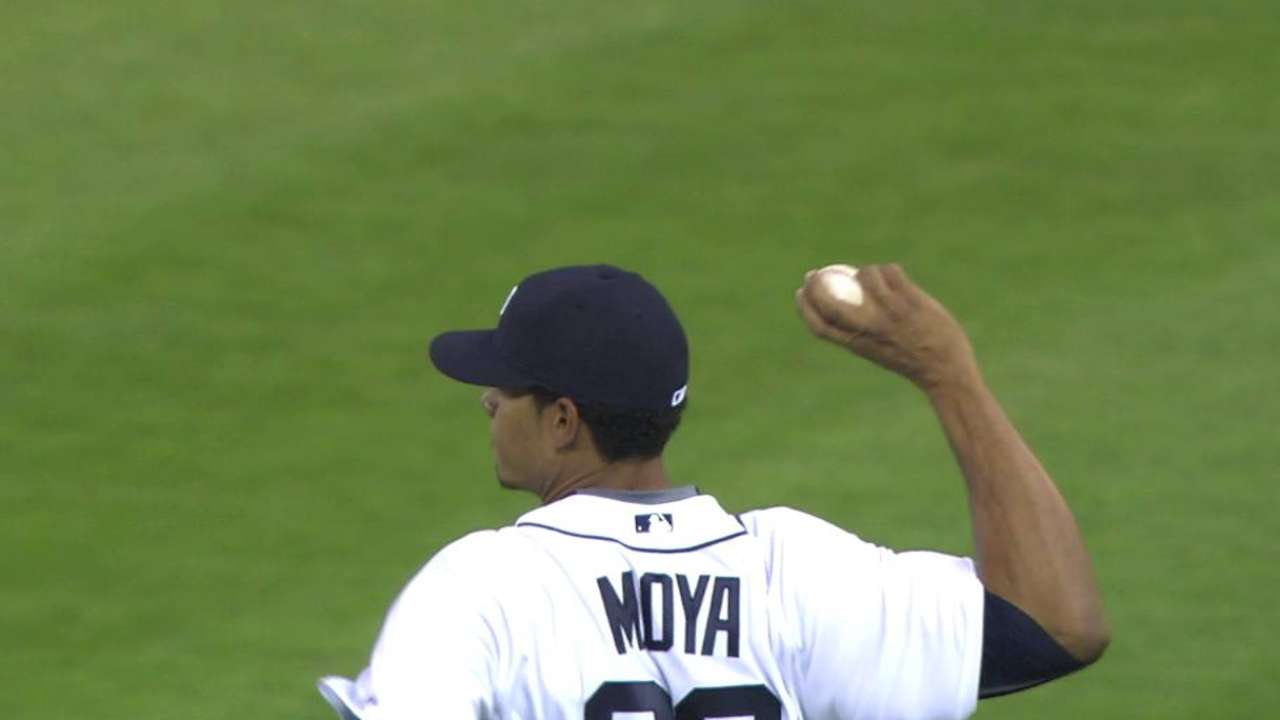 If the Tigers were to sign a big-name left fielder, would that mean they are giving up on Moya?
-- Mike H., Lansing, Mich.
That depends on the type of a deal. A short-term contract would keep a corner-outfield spot open for the future, giving Moya a chance to develop and eventually compete. A long-term deal for Yoenis Cespedes or Alex Gordon, however, would essentially make Moya an extra piece. At this point, it's difficult to see Moya as a pinch-hitter, with limited at-bats and an effective swing.
Any possibility of getting Don Kelly back in a Tigers uniform this season?
-- Roger S., Greeneville, Tenn.
At last check, Kelly started throwing in mid-November following Tommy John surgery in early 2015, and he's expected to be ready for Spring Training. It's tough to see both Kelly and Aviles making the Major League roster with Romine as the utility infielder, but crazier things have happened.
Couldn't Miguel Cabrera or Justin Verlander or even Anibal Sanchez restructure their contract so we could go sign Justin Upton to a long-term contract? I would think they would be willing to do that if that would help to stay under the luxury-tax threshold?
-- Mark P., Blair, Neb.
Unlike some other sports, those types of renegotiations aren't allowed under baseball's collective bargaining agreement without union approval. That came up when the Red Sox tried to trade for Alex Rodriguez after the 2003 season.
Does trading Jose Iglesias for a left fielder and moving Dixon Machado to shortstop make any sense? Or trade Nick Castellanos, move Iggy to third, and Machado to short? Improves defense. Colorado has a stable of outfielders.
-- Roger I., Flushing, Mich.
The Tigers have been pretty consistent in their stance that they want to keep Iglesias as their shortstop. And while third base might be in his distant future when he gets older, it would be a total waste of his skills right now.
Jason Beck is a reporter for MLB.com. Read Beck's Blog, follow him on Twitter @beckjason and listen to his podcast. This story was not subject to the approval of Major League Baseball or its clubs.