MLB.com Columnist
Alyson Footer
15 for '15: Women in baseball make strides
Siegal, Mendoza, Hudek among those advancing cause in big 2015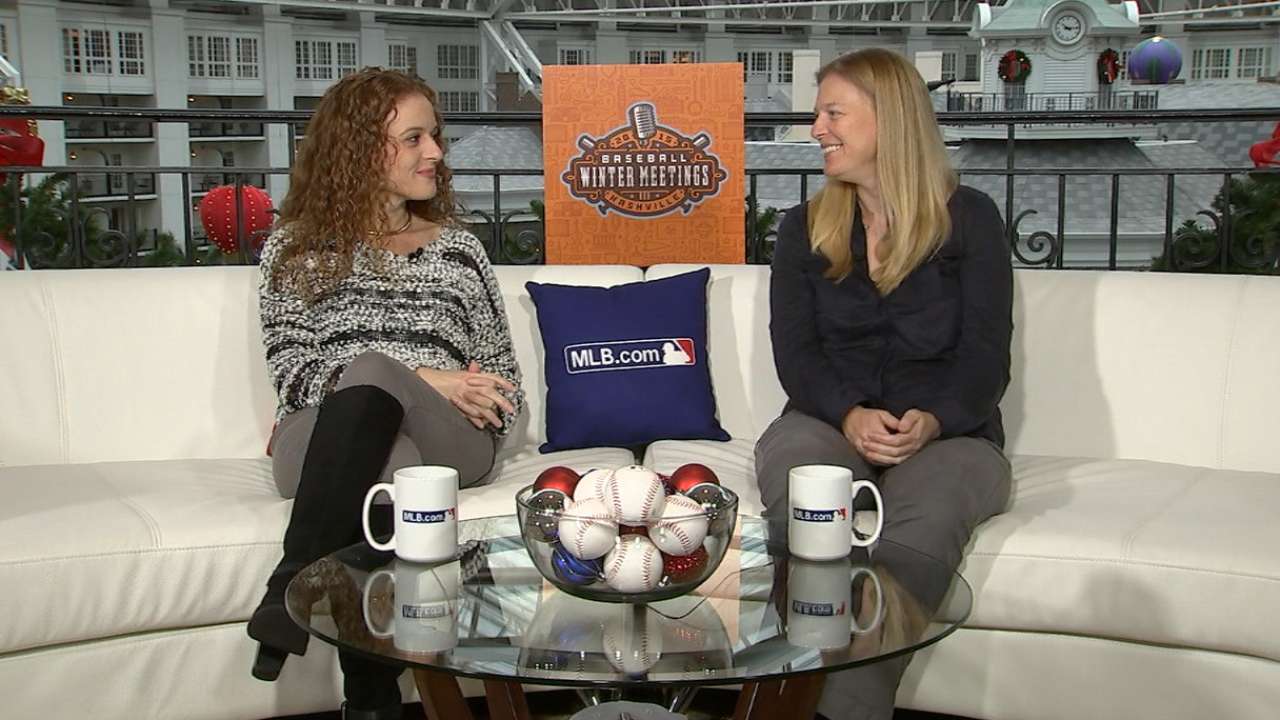 In what has become a year-end tradition, MLB.com takes a look back at the top storylines of the year -- the Top 15 for 2015.
For most baseball coaches, a career path begins in the college ranks, continues with a stint in a pro league and progresses to a job in the lower ranks of a Major League organization. It is a common, straightforward trajectory.
But when the coach following that particular career path is a woman, it's news-making.
By now, you've probably heard of Justine Siegal. Her coaching career began long before she became well-known in baseball circles as a pioneer, but it wasn't until almost five years ago, when she threw batting practice to Major Leaguers at Spring Training, that she became a more mainstream topic of conversation.
One of the teams Siegal threw batting practice for was the A's, and that led to her most recent endeavor. Last fall, she was invited by Oakland to coach prospects who were participating in the instructional league, a training period that allows young prospects continue to hone their skills after the regular season is over.
Siegal, who worked mostly with infielders, called the two-week assignment "an incredible experience."
"The guys treated me well, and so did the coaches," she said. "I just fit right in, and it was really phenomenal. And I was coaching baseball, which is a dream."
But it's only a small first step for women pursuing this line of work.
"We're seeing great strides in Major League Baseball, but we're not there yet," said Siegal, whose resume includes serving as assistant coach at Springfield College and first-base coach for the Brockton Rox of the Can-Am League. "But for sure, we've got great role models, we've got women that are qualified for positions that they should be doing -- because they can help the team win. It's very exciting to see what's happening, and it's an honor to be a part of the movement."
That movement, which has historically crawled at a slow pace, sped up in 2015. Siegal, the co-founder of Baseball For All, an organization that promotes opportunities for girls who play baseball, is the headliner of a long list of women who reached accomplishments in the past calendar year that made them either pioneers in their field or one of only a handful of women in history to do what they did.
Perhaps the most visible reflection of the positive chance was ESPN's Jessica Mendoza, who made history as the first in-booth female broadcaster to call a nationally broadcast Major League Baseball game. She later became the first woman to call a postseason game.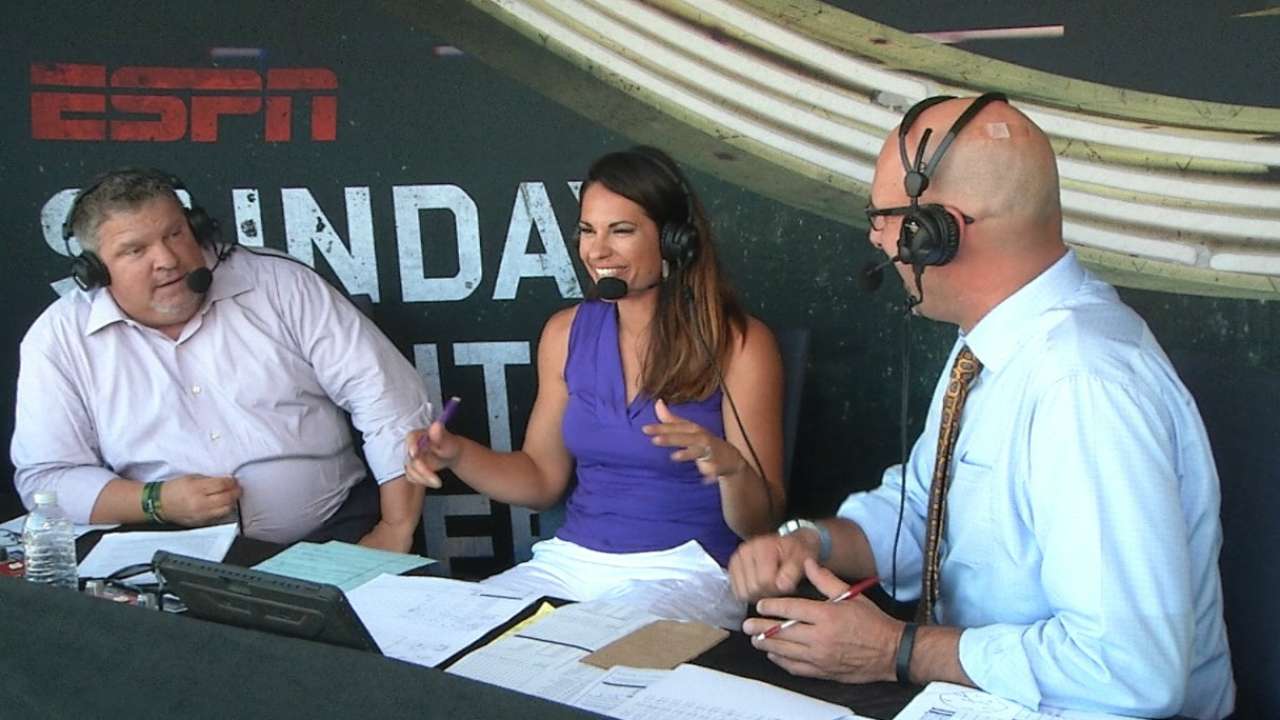 "I've had a lot of people reaching out to me to congratulate me, and I'm thankful for that," Mendoza said after calling the Astros' 3-0 victory over the Yankees in the American League Wild Card Game. "But I'm so in that mode of just being excited for this game because of these two teams, not because of anything I'm doing. It's funny when people are asking how I'm feeling. I'm like, 'Why? I'm just excited to be calling baseball in October.'"
"I met and worked with Jessica Mendoza several years ago when I did a story for 'Real Sports' on the loss of softball in the Olympics," said Andrea Kremer, a chief correspondent for the NFL Network and correspondent for HBO's "Real Sports." "Her intellect, knowledge, charisma and natural on-camera presence resonated for me back then. When I saw she was stepping in on 'Sunday Night Baseball,' I was proud of her and thrilled because she is the perfect person to get this opportunity -- a pro, who happens to be a woman, that brings a lifetime of playing experience to the booth.
"She may be getting extra attention because of her gender, but she's excelling in her new job without regard to it."
Last winter, Sarah Hudek, a left-handed pitcher from George Ranch High School in Houston, earned a scholarship to play baseball for Bossier Parish (La.) Community College. It was the first time the school has signed a female to play baseball, and Hudek -- the daughter of former Major League reliever John Hudek -- became one of just a handful of female athletes to sign to play college baseball.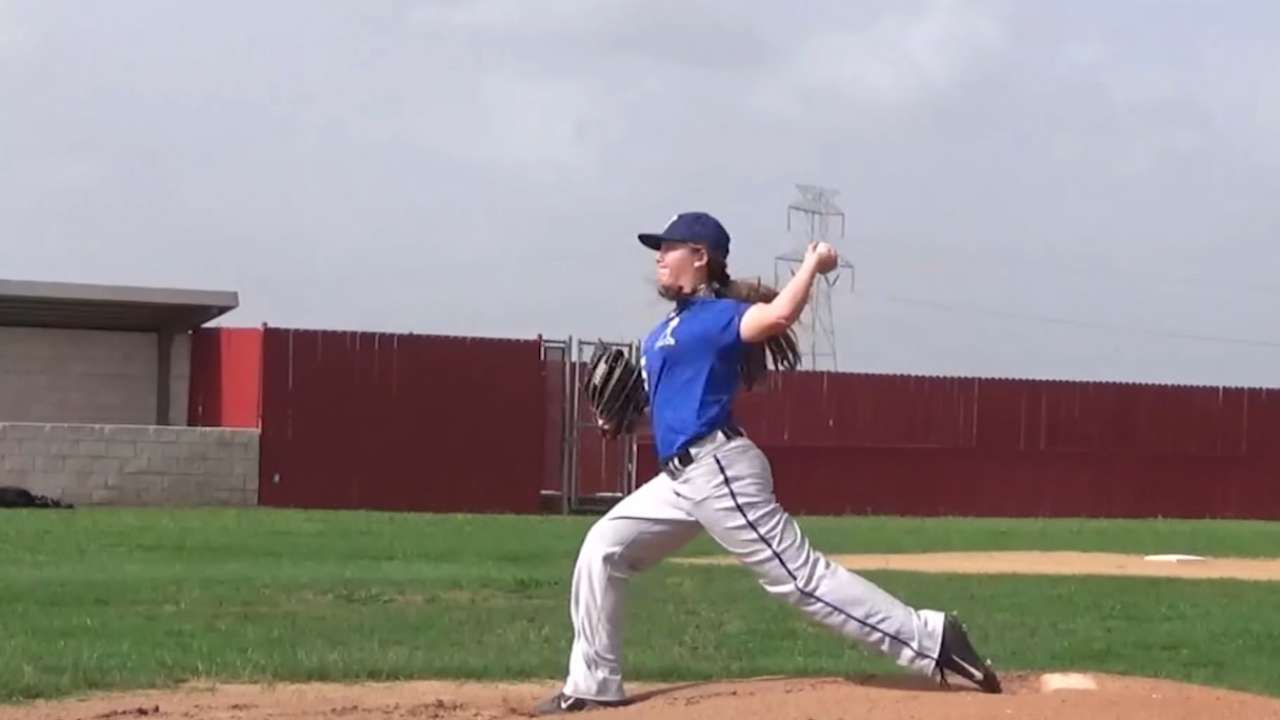 A few months later, 16-year-old Melissa Mayeux, a shortstop on the French U18 junior national team, became the first known female baseball player to be added to Major League Baseball's international registration list, qualifying her to be signed by a Major League club.
The Mariners made news in December when they announced they had hired Amanda Hopkins, a former Central Washington University softball standout, as an area scout. Hopkins is believed to be the first woman hired as a full-time scout since the 1950s.
A couple of weeks later, the Astros announced new additions to their sports medicine staff, including 28-year-old Rachel Balkovec as the Latin America strength and conditioning coordinator. She was originally hired by the Cardinals in 2012, at which time she became the first female to hold a position as a full-time strength coach in affiliated baseball.
Even press boxes, where the presence of women is commonplace in today's game, became a little more progressive in 2015. On June 8, Marie-Claude Pelland-Marcotte became only the second woman official scorer in Major League history when she worked a Blue Jays-Marlins game in Toronto.
In July, Jenny Cavnar of Root Sports Rocky Mountain joined the 850 KOA radio booth as a color commentator for select Rockies games. A pregame and postgame host/reporter during Padres telecasts from 2007-11 and Rockies telecasts since '12, Cavnar worked alongside play-by-play broadcasters Jack Corrigan and Jerry Schemmel.
"That is the biggest honor," Cavnar said during an interview with MLB.com last summer. "It's not just, 'Let's throw you in there.' It's not just, 'We want you to be a female voice on the air.' It's, 'You know the game of baseball and you can fill in for that position.'"
Where these women land in terms of historical context can be sorted out only through the passage of time. But there is no arguing where they fit into the landscape today: They're pioneers and role models, clearing a path for the future.
"That's what it's about," Siegal said. "It's about inspiring the younger generation and making it easy for them to get to through those doors."
Alyson Footer is a national correspondent for MLB.com. Follow her on Twitter @alysonfooter. This story was not subject to the approval of Major League Baseball or its clubs.