Inbox: Could Blanco play everyday left field?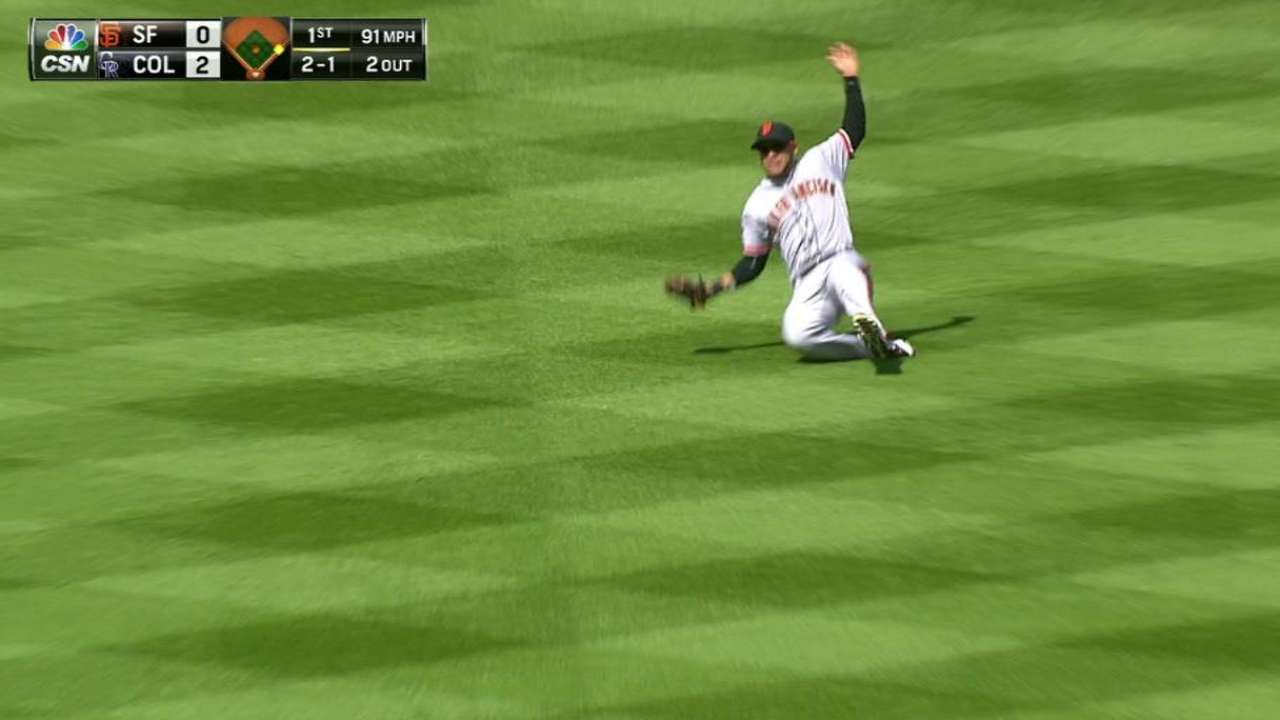 Gregor Blanco hit .291 last year, catches everything in sight and can play center field when needed. Why does he never get brought up as the everyday left fielder? It would be nice to get Alex Gordon, Justin Upton or Dexter Fowler, but the rookies last year showed signs. I would not break the bank on an outfielder. A reliever, maybe.
-- Edna E.
The Giants would "break the bank," as you said, if their decision-makers identified an outfielder they truly wanted above all others. Witness what they did with Jeff Samardzija and Johnny Cueto, who agreed to deals totaling $220 million. After missing out on Zack Greinke, the Giants aggressively pursued both free-agent right-handers, figuring that Samardzija and Cueto constituted the next best thing. The Giants will have to pay into the competitive balance tax, commonly known as the luxury tax. But they figured that strengthening their starting rotation was worth the extra cost.
San Francisco's pursuit of an outfielder is somewhat intriguing. Common sense suggests that with each passing day, players such as Gordon, Upton and Fowler become more affordable and thus could fit more neatly within the Giants' budget. With all due respect to Jarrett Parker and Mac Williamson, the Giants probably would prefer to obtain a veteran to fill the outfield opening. They smell another trip to the World Series, and adding a proven performer would shorten the path. Blanco has contributed handsomely since he joined the Giants in 2012, but the club's braintrust believes that he's most effective in the fourth outfielder's role. That said, here's an often-overlooked yet potentially significant factoid about Blanco: He has raised his slugging percentage each year with the Giants, from .344 in 2012 to .350 in 2013, .374 in 2014 and .413 last year.
• Submit a question to the Giants Inbox
The market for relievers tends to become more active late in the offseason. Given the abundance of available relievers, the Giants shouldn't have to overpay for decent bullpen help.
Is it realistic to think Kelby Tomlinson could play left field for the 2016 Giants? No one projected Matt Duffy as the everyday third baseman.
-- Alan I., Belmont, Calif.
As promised, the Giants gave Tomlinson a trial in the outfield during instructional league activity in the fall. Management decided that the 25-year-old would be better off continuing to refine his infield skills. At this juncture in Tomlinson's career, adding outfield play to his list of obligations would be too cumbersome.
I think the Giants need to look at the intangibles a future outfielder will bring. We need a team player like Hunter Pence, who's a great cheerleader for the team. This is why the Dodgers, with all that talent and their big payroll, will never win it all.
-- Bob B., Riverside, Iowa
Don't be too concerned about team chemistry. Rarely, if ever, do the Giants add somebody who doesn't play well with others, so to speak. If a player creates an issue, it's quickly addressed, either by manager Bruce Bochy or an authoritative figure such as Pence, Buster Posey, Javier Lopez or Matt Cain. As for the Dodgers, never say "never." Besides winning three consecutive National League West titles, they've added Dave Roberts, a manager who seems capable of fostering a positive clubhouse atmosphere. However, they need it. Having covered two of the three series that eliminated the Dodgers from the postseason, I believe it's fair to say that they don't always appear to pull on the same rope as intently as the Giants do.
Chris Haft is a reporter for MLB.com. Read his blog, Haft-Baked Ideas, follow him on Twitter at @sfgiantsbeat and listen to his podcast. This story was not subject to the approval of Major League Baseball or its clubs.