15 for '15: Ferrell's on-field adventure a classic
Actor aids noble cause by playing for 10 teams in one day during 2015 Spring Training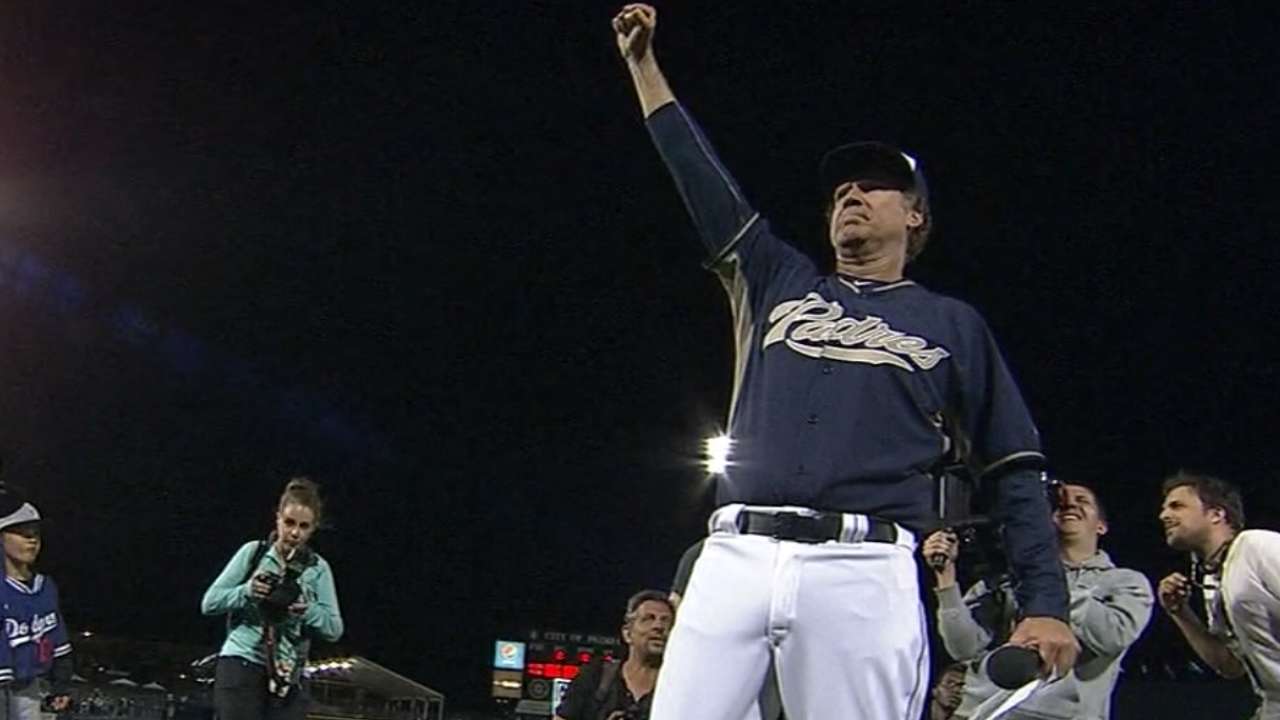 In what has become a year-end tradition, MLB.com takes a look back at the top storylines of the year -- the Top 15 for 2015.
The world knew that Will Ferrell was kind of a big deal. And on an otherwise quiet Spring Training weekday in the desert, the actor, comedian and humanitarian proved it, over and over again.
Over the course of some 15 hours under the Arizona sun and moon, Ferrell suited up for 10 big league teams and played every position. He made contact in the batter's box, got an out from the mound, got a ton of laughs and raised money and awareness for a great cause.
In the process, Ferrell turned in one of the most memorable baseball performances of 2015.
"When I embarked on this journey, way back at breakfast, I thought to myself, 'Can I do it?' The answer was yes," Ferrell said in an on-field speech in Peoria, Ariz., after playing in his last game.
"I'll never forget what happened today. Unless I get hit by a line drive."
Plenty of kidding aside, there are a lot of people who won't forget what Ferrell did, especially those who benefit from Cancer for College, the program that Ferrell represented that day. Cancer for College awards scholarships to people fighting cancer and had raised more than $2 million while helping more than 2,000 students before Ferrell laced up his spikes.
After Ferrell's goodwill tour of the Cactus League and the airing of the HBO/Funny or Die documentary, "Ferrell Takes the Field," the number is expected to increase dramatically.
Here's how it all went down.
Game 1: Mariners at A's. Ferrell, wearing No. 19 in honor of multiposition-playing legend Bert Campaneris, played shortstop for Oakland and second base for Seattle. He didn't field any chances and didn't hit, but he made friends fast.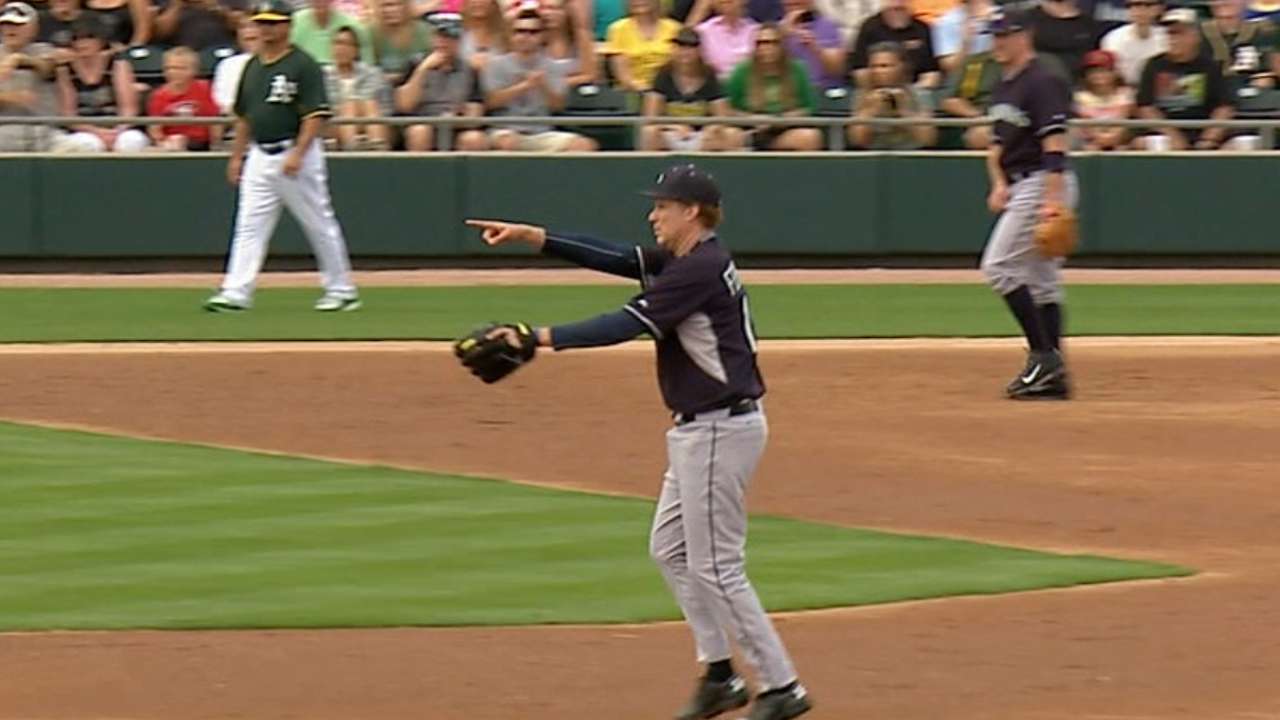 "He's hilarious," A's reliever Evan Scribner said after the game. "It's amazing how one guy can make everyone in the whole city's day. All the players, all the fans, everybody."
Game 2: Cubs at Angels. Ferrell suited up in Angels red in Tempe Diablo Stadium, stole some popcorn from a fan while jogging down the right-field line and handed the snack to another fan. Then he replaced reigning American League MVP Award winner Mike Trout in center field, taking the phenom's hat and glove, before actually fielding a base hit cleanly and one-hopping a good cutoff throw to second.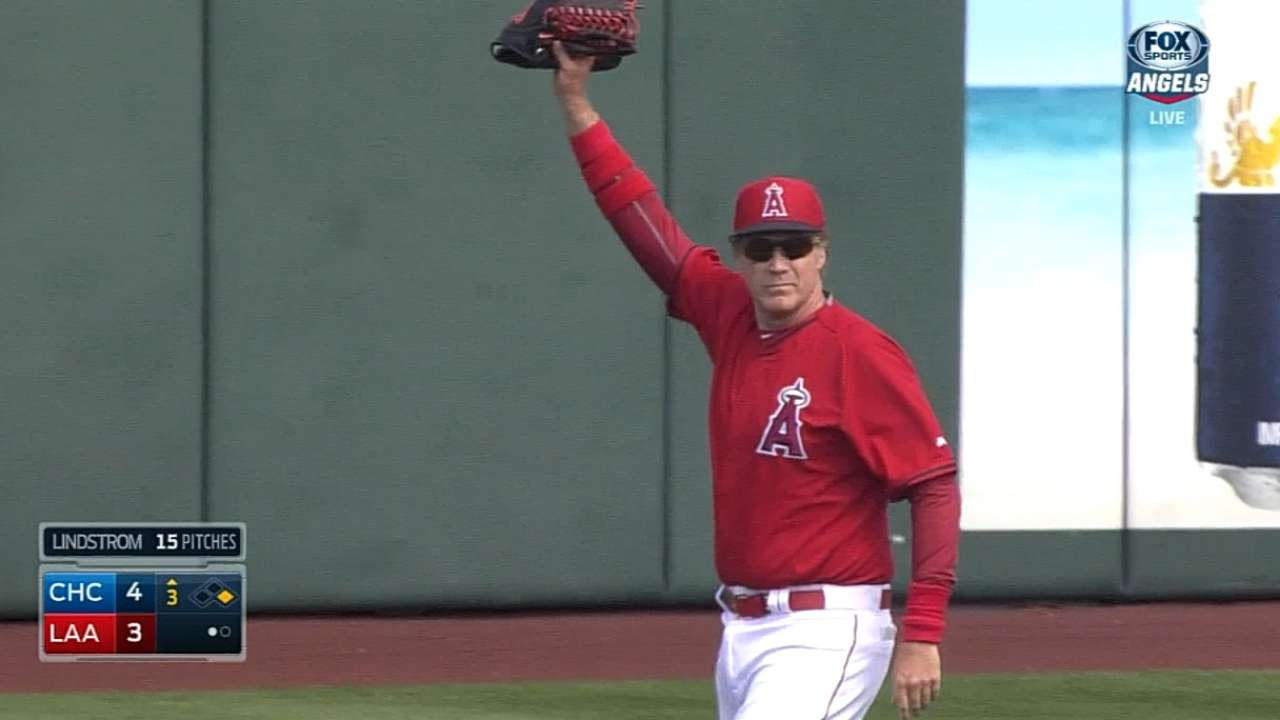 Ferrell was "traded" to the Cubs soon thereafter, however, and took on more responsibility. He batted, striking out on three pitches, played first base, not getting any action in the field, and coached third base, where he pulled out cue cards that read, "You are so handsome," "Remember these games don't count," and "Ignore that last card ... play hard."
Game 3: Reds at D-backs. Well, that escalated quickly. Ferrell replaced Cody Ross in left field for Arizona in the seventh inning at Salt River Fields and was part of three plays, all cleanly fielded, in a big inning for Cincinnati.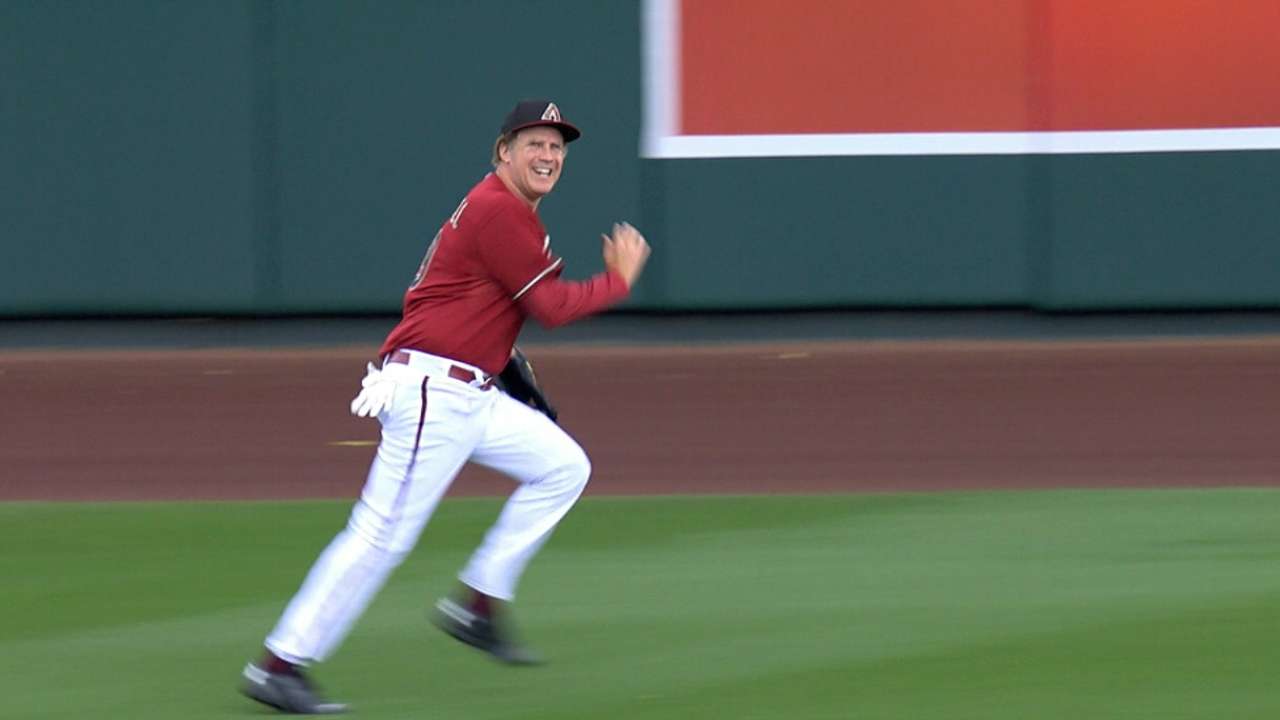 "He walked in, and he goes, 'All right guys, we got this. We're only down by ocho,'" Ross said.
After switching over to the Reds, Ferrell played third base and didn't touch the ball, though he touched the crowd by buying 200 hot dogs to feed a seating section.
Game 4: Giants at White Sox. Ferrell arrived by helicopter, and as Chicago's designated hitter, he actually got a piece of a 92-mph fastball from Giants reliever Jean Machi, fouling it off before whiffing again.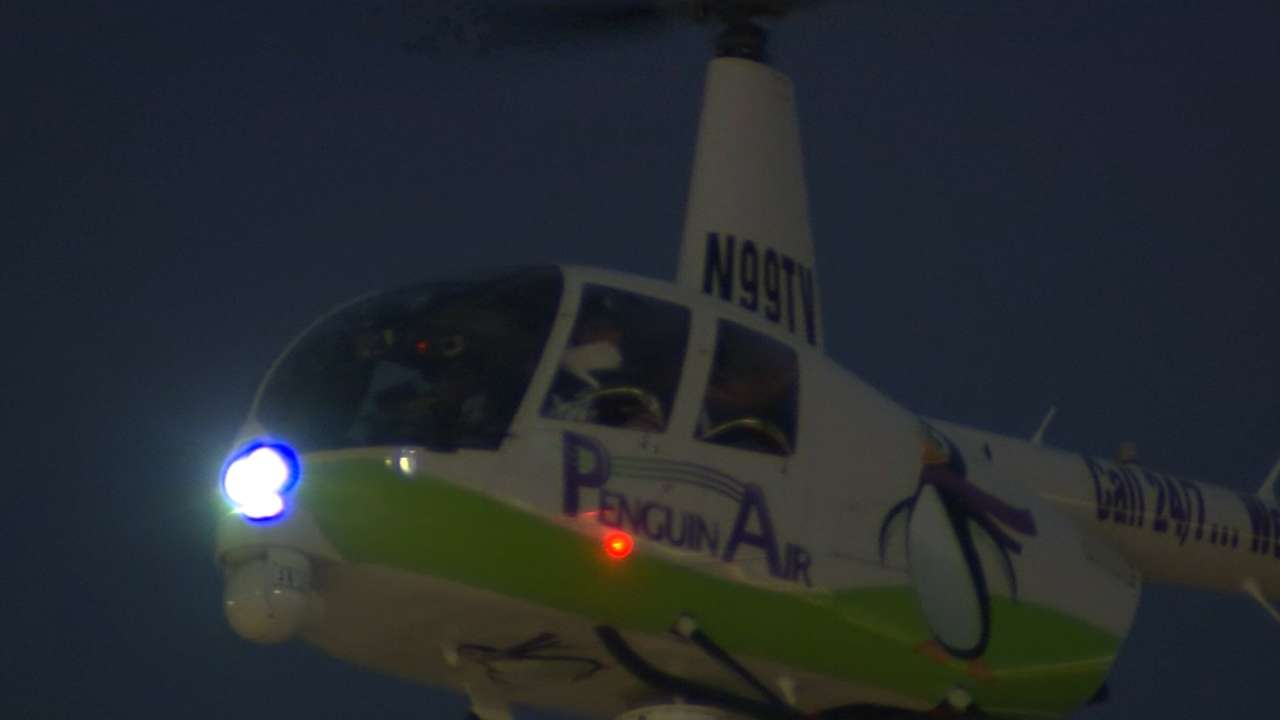 Then Ferrell put on catching gear for San Francisco and ordered Machi to intentionally walk Joey DeMichele.
Game 5: Dodgers at Padres. Ferrell showed up at Peoria Stadium for the last stop on his tour and got in the game at pitcher for the Dodgers. He hit 55 on the gun and threw a first-pitch strike against the speedy Rico Noel, who bunted. Ferrell fielded the bunt and flipped to first for the easy out.
Ferrell was pulled by then-Dodgers manager Don Mattingly, prompting Ferrell to argue to stay in, but it was to no avail. He had to change uniforms one last time and stay classy with San Diego.
Ferrell played right field as a Padre and watched a Joc Pederson homer sail over his head, cementing a crazy, wonderful and memorable day, but not before a classic Ferrell speech.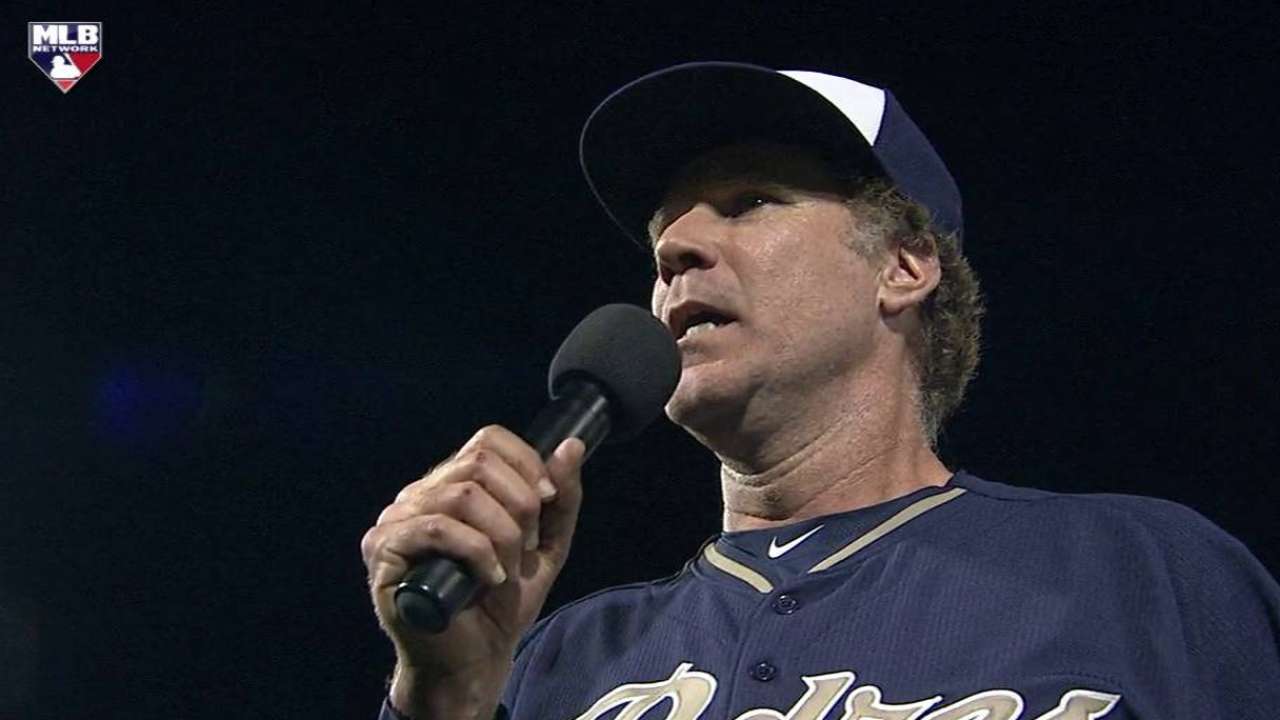 "I brought passion to the field, dedication, ability and a lot of ignorance," he said, humbly ignoring the fact that he brought so much more.
Doug Miller is a reporter for MLB.com. Follow him on Twitter @DougMillerMLB. This story was not subject to the approval of Major League Baseball or its clubs.