Whirlwind year hasn't sunk in for Swanson
Braves' top prospect happy to play for hometown team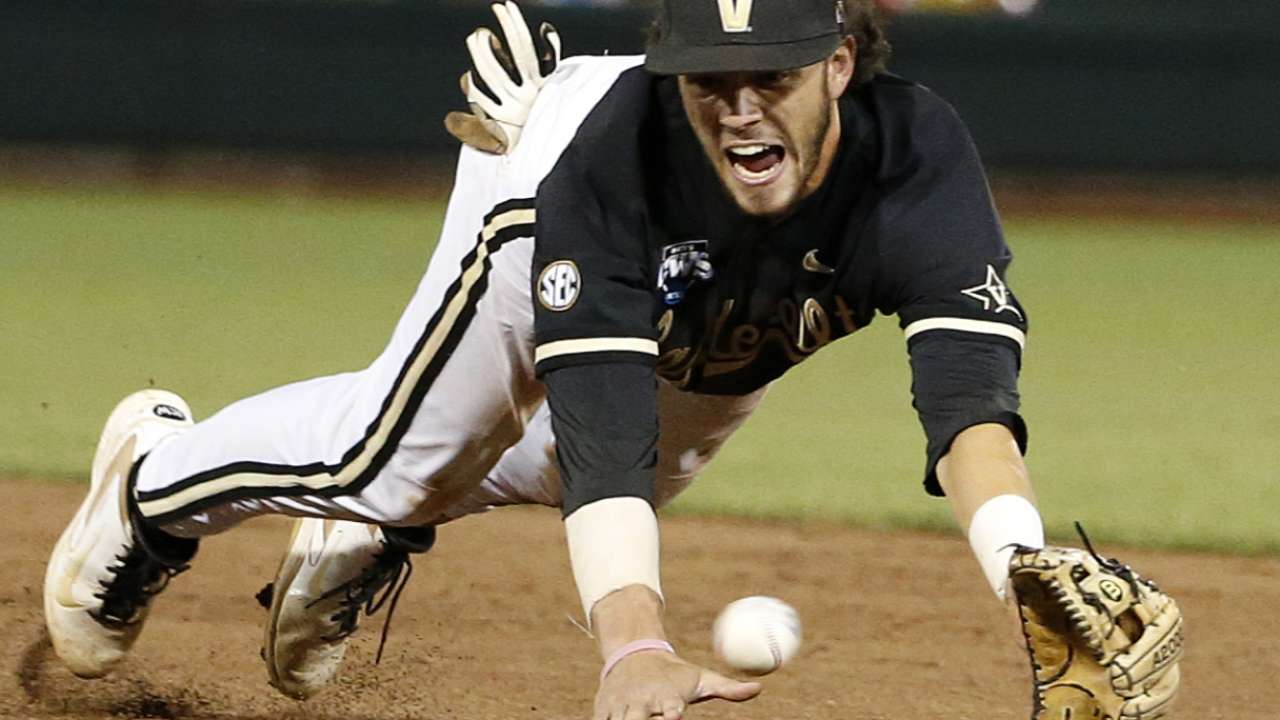 ATLANTA -- As the final hours of Dec. 8 elapsed, Dansby Swanson found himself standing alone, shooting hoops within the confines of Vanderbilt University's Memorial Gym. This familiar environment provided him the refuge and peace that he needed to digest what had happened just a few hours earlier, when he shockingly learned he was part of the significant package the Braves had received from the D-backs in exchange for Shelby Miller.
"It's funny to think how that is my getaway," Swanson said. "In high school, my getaway was going to shoot basketball, even just at the house. Now [after the trade], that is the first thing I did when I found out I was going back home."
• Braves add top prospects, depth
Swanson appreciates the opportunity he has been given to play for the Braves in front of his many friends and family members who still live in or around Marietta, the suburban Atlanta city that he has called home for most of his life. But it has taken some time for him to fully grasp how quickly his life's path changed just two weeks ago.
This certainly was not supposed to happen to a guy like Swanson, who just six months ago was taken with the first overall selection in the Draft. In fact, this marks the first year that teams don't have to wait an entire year to trade a player who has just been drafted. But it's safe to say that when this rule was instituted, there wasn't reason to expect it would affect one of the game's top 10 prospects so soon.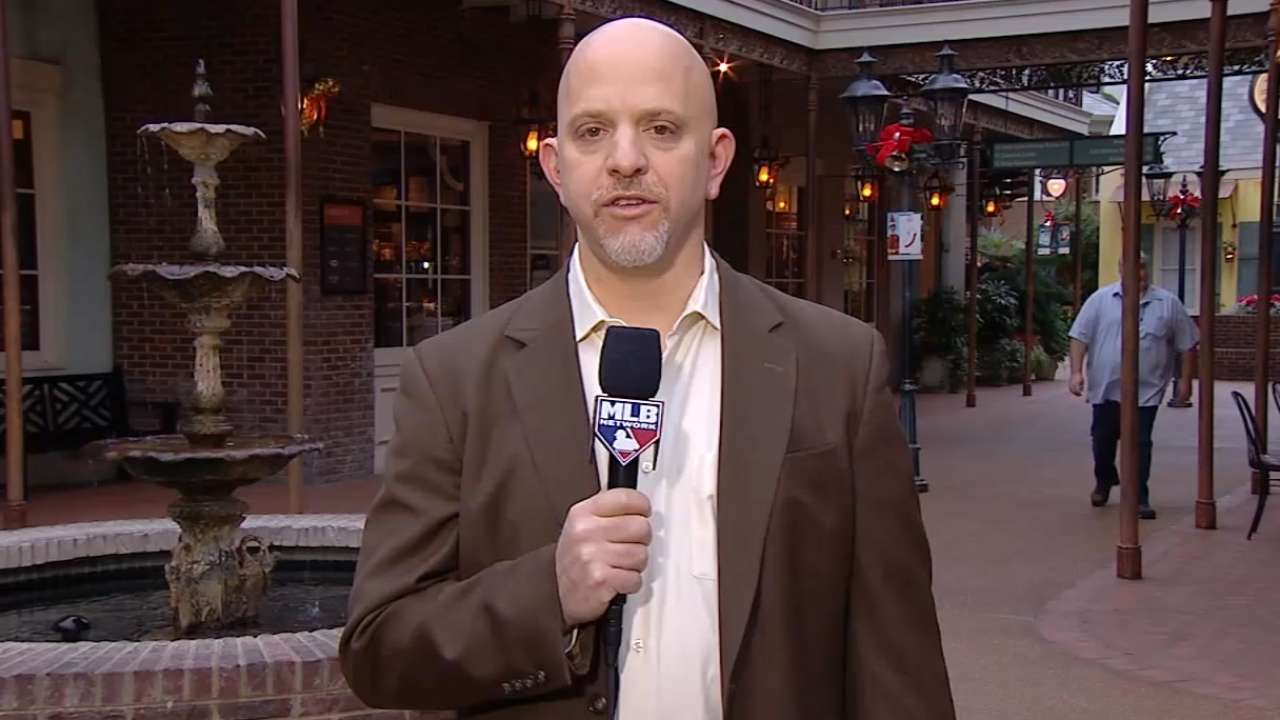 Adding to the oddity of events was the fact that this trade was consummated during this year's Winter Meetings, which were held at the Gaylord Opryland Hotel, within 15 minutes of Swanson's Nashville, Tenn., residence. The talented shortstop learned of the trade while dining with his girlfriend and a couple of Nike employees who were in town for the event.
"It honestly hasn't all sunk in," Swanson said. "I'm honestly still trying to wrap my mind around it."
This has been quite a year for Swanson, who returned to the Atlanta area this week to celebrate the holidays. The 21-year-old infielder was named the College World Series' Most Outstanding Player after leading Vanderbilt to a national title in 2014. He helped the school return to this year's CWS where he delivered a game-winning hit minutes before learning the D-backs had taken him with the first pick in the Draft. (Virginia captured the CWS title over Vanderbilt in three games.)
After experiencing a series of negotiations that netted him a $6.5 million bonus just before the July 17 deadline, Swanson traveled to Oregon to begin his pro career with the Class A Short Season Hillsboro Hops. All seemed to be going according to plan until he was hit in the face with a pitch while participating in a simulated game the following week.
Swanson ended up producing a .876 OPS over the 22 games he played after returning with a protective jaw guard similar to the one Jason Heyward has worn recently. He then conjured memories of his clutch-hitting days at Vandy when he delivered a walk-off hit that sent the Hops to the Northwest League Championship Series, which they won a few days later.
Swanson had no reason to plan for anything other than a long, fruitful career with the D-backs. But that all changed when the Braves shocked the baseball world by landing him, Ender Inciarte and Aaron Blair in exchange for Miller.
"It's honestly been one of the biggest whirlwinds of a year possible," said Swanson, who ranks as MLB.com's 10th-best overall prospect and the top prospect in the Braves' rich system. Swanson has obviously landed in a spot where he can quickly find comfort and familiarity. He played a couple years of travel ball with Braves manager Fredi Gonzalez's son Alex and made a handful of visits over the years to watch his hometown team at Turner Field. He vividly remembers being present for a Aug. 14, 2004, win over the Cardinals in which Chipper Jones hit a pair of home runs.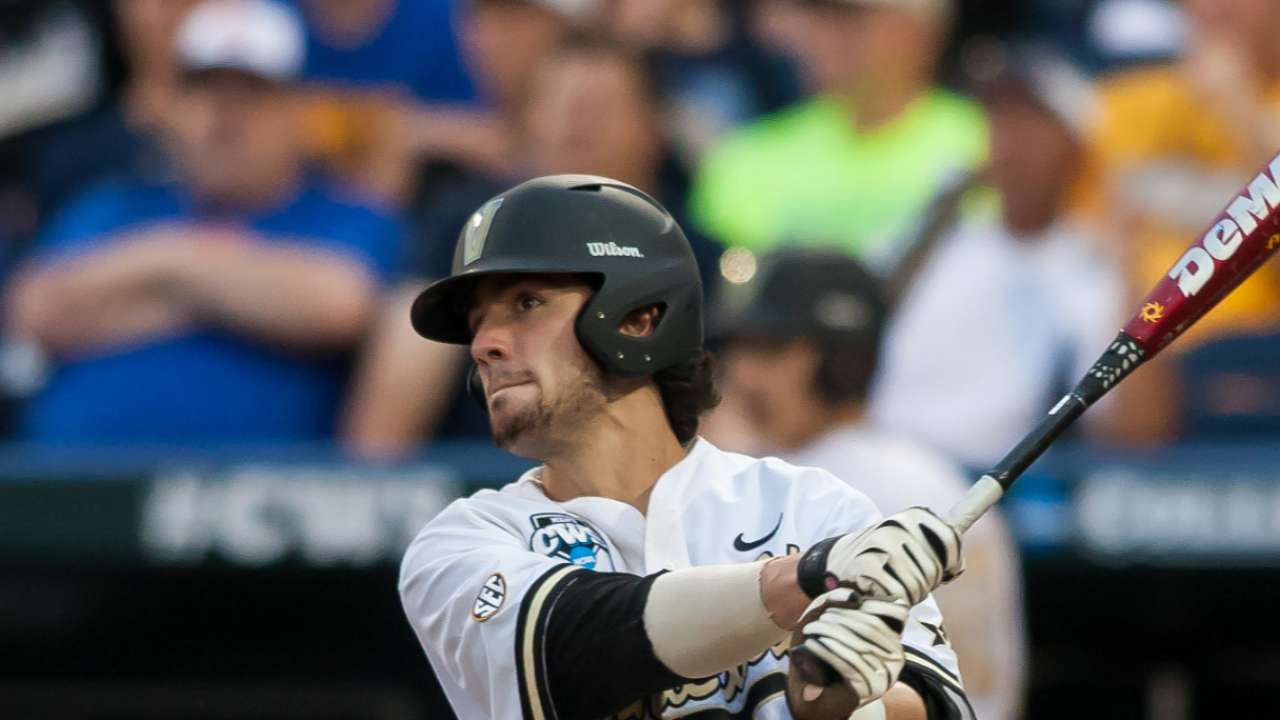 "Some of my friends were up in Nashville this week," Swanson said. "They were super pumped and excited. But they just want me to be happy. That's the same thing with my folks. For selfish reasons, they're happy because I'm back in Atlanta and they can come see me. I'm going to be closer, but at the same time, they just want me to be happy."
It would make for a nice story if Swanson rockets through the Minors this year and positions himself to serve as Atlanta's starting shortstop when SunTrust Park opens at the start of the 2017 season. The new stadium is located just a couple of exits away from where he was raised.
But this year has certainly reminded Swanson that it is never wise to look to far off in the horizon. So, he will simply prepare himself to begin the upcoming season with either Class A Advanced Carolina or Double-A Mississippi. Wherever he ends up, he'll arrive with that winning mentality that he showed at Vandy and again during that short stay within the D-backs system.
"I'm just looking to make an impact wherever I go," Swanson said. "I want to make an impact, whether that's in High A or Double-A or wherever it might be. I just want to win. That's truly how I think."
Mark Bowman is a reporter for MLB.com. This story was not subject to the approval of Major League Baseball or its clubs.