Eventful 2015 leads to new era for Angels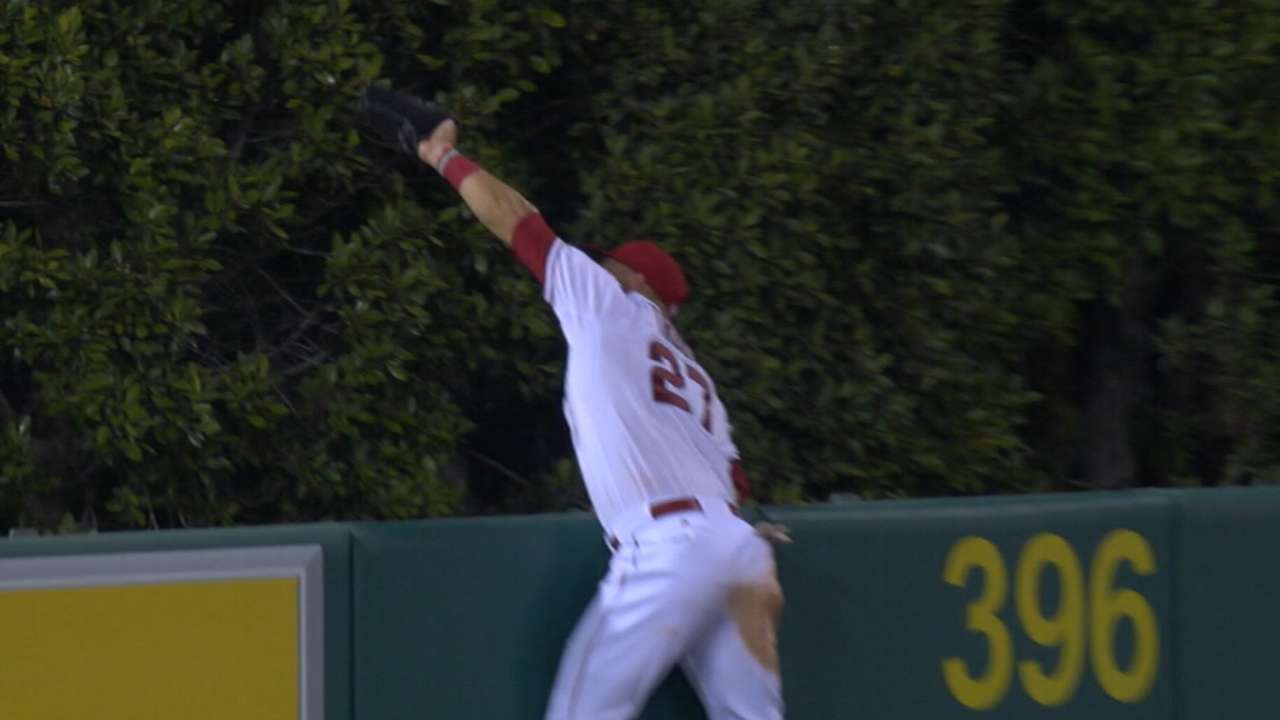 ANAHEIM -- Fourteen of the 40 players on the Angels' 40-man roster weren't even in the organization at this time last year. The same can be said for three of the coaches, a plethora of employees throughout the Minor League system and front office, and, of course, the general manager.
A lot can change in one year, especially in a high-stakes, high-revenue industry such as Major League Baseball.
For the Angels, the 12-month calendar was about as eventful as it gets. A contentious relationship with a high-priced left fielder began and ended. A fourth-year GM got fed up. A star player cemented his legacy. A short-handed team fought until the end. And a new era was ushered in.
Below is a look through the highlights, and lowlights, of 2015.
5. Legend grows
While things crumbled around him, Mike Trout's star continued to shine bright. In 2015, the superstar center fielder became the first player to be named Most Valuable Player of the All-Star Game in back-to-back years and the first player to finish within the top two in regular-season MVP voting in each of his first four seasons. He also turned 24 years old.
Trout blasted a career-high 41 homers, led the American League with a .991 OPS and finished with a .299/.402/.590 slash line. He slumped mightily in August, then helped carry the Angels throughout September. It wasn't enough to beat Josh Donaldson for the AL MVP Award, but it pretty much sealed Trout's standing as the game's most consistent player.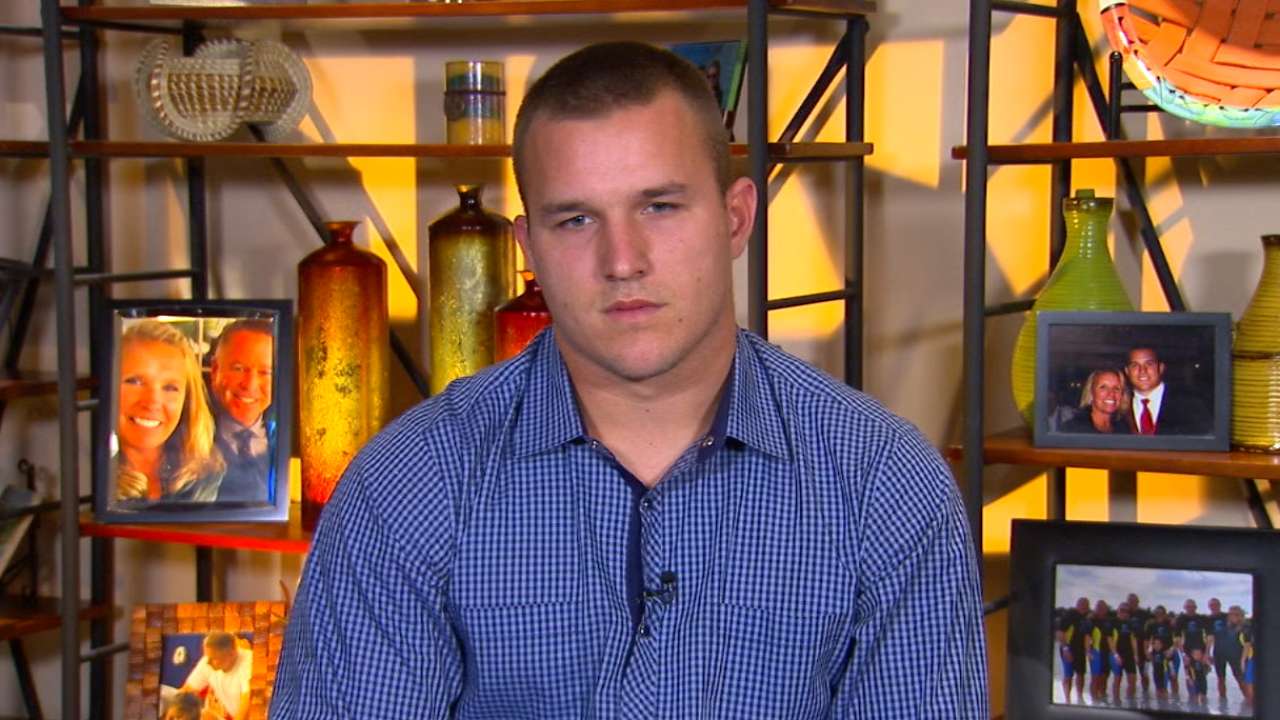 4. Bye, Josh
Josh Hamilton grossly underperformed in the first two seasons of a five-year, $125 million contract, then experienced a drug relapse right before reporting to Spring Training. That was enough for owner Arte Moreno, who basically exiled Hamilton from the team, sought recourse and grew irritated when an independent arbitrator didn't hand out a suspension. Ultimately, Hamilton was dealt back to the Rangers in late April, with the Angels absorbing the vast majority of the remaining money.
It was an ugly process, one that prompted an avalanche of bad press against the Angels and put some of their players in an uncomfortable situation -- they wanted to support Hamilton, but didn't want it to appear as if they were siding against upper management. Moreno and his manager, Mike Scioscia, both publicly expressed disappointment in their belief that Hamilton didn't show accountability. Now, in his absence, Moreno has a giant hole in his wallet and Scioscia has a gaping hole in left field.
3. Fleeing GM
As if the Hamilton situation weren't tumultuous enough, the Angels abruptly lost their GM on July 1, when Jerry Dipoto resigned amid heightened discourse with Scioscia and his coaches. Dipoto essentially made his decision the same day a FOXSports.com report detailed a series of meetings in which Albert Pujols and one of the Angels' coaches had heated exchanges with the fourth-year GM. But the issues went back further than that.
From the onset, Scioscia clashed with Dipoto and one of his top assistants, Scott Servais, and so the front office and player-development staff was basically divided from the Major League coaching staff. Bill Stoneman stepped in as the interim GM, seven and a half years after initially stepping down, with a primary focus of establishing harmony for the remainder of the year. The rest of the front office and player-development staff remained intact, but only temporarily.
2. Not enough
The Angels kept their playoff hopes alive in exhilarating fashion on the second-to-last day of the regular season, coming back from down four runs in the ninth inning to edge the Rangers at Globe Life Park in Arlington. But they went down compliantly in the finale and thus were eliminated from postseason contention in game No. 162. Afterward, Scioscia spoke passionately about his team, saying: "They left their hearts on the field, and it was an inspiring group. I was inspired by these guys."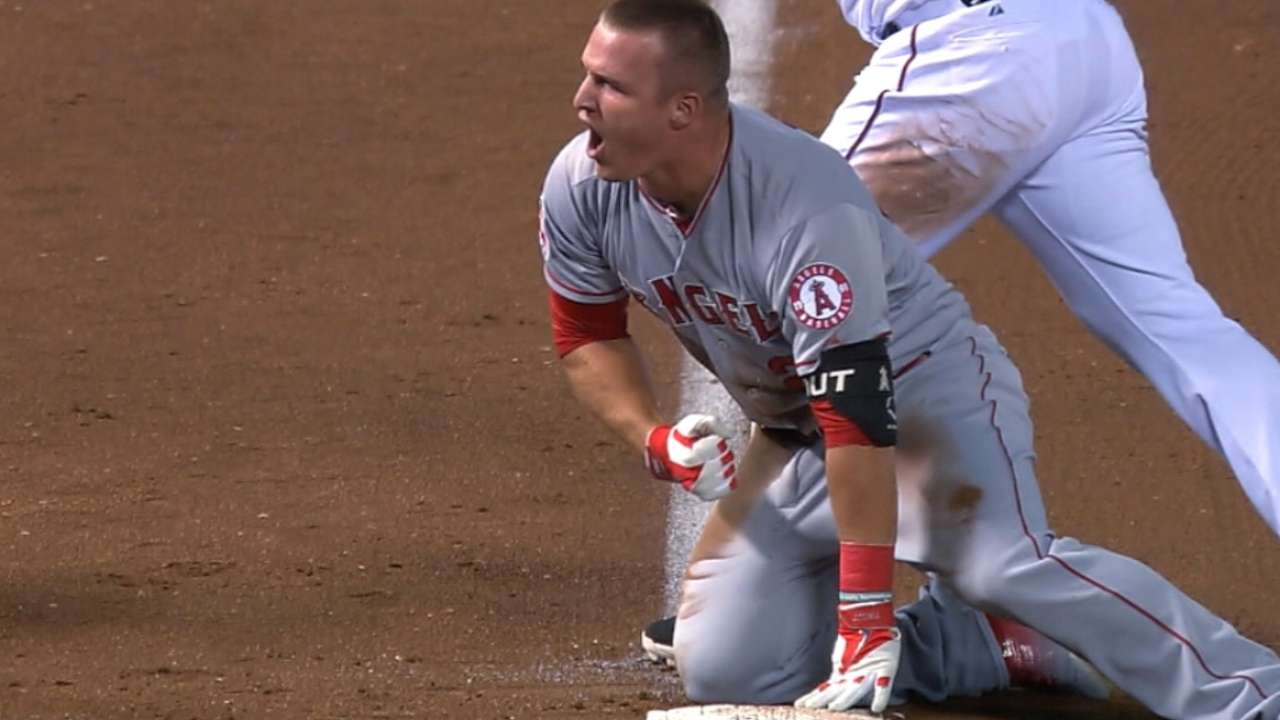 Trout stepped up, Pujols muscled through pain, a shorthanded bullpen persevered and the Angels saved their season countless times throughout the month of September and into October. But they were perpetually a .500 team amid major offensive struggles in the first three months. The accent moves they made in late July -- acquiring David Murphy, David DeJesus and Shane Victorino to platoon in left field and designated hitter -- didn't work out. And a nightmare month of August haunted them.
1. Billy's turn
The day after their season ended, a new era began. Billy Eppler, the runner-up when Dipoto got the job in October 2011, was introduced as the Angels' new GM. By that time, Dipoto had already been named GM of the division-rival Mariners. Soon, Dipoto would hire Servais as his new manager and would take several other Angels front-office members with him to Seattle. Matt Klentak, Dipoto's right-hand man in Anaheim, was named the new GM of the Phillies. And now, a new chapter has arrived.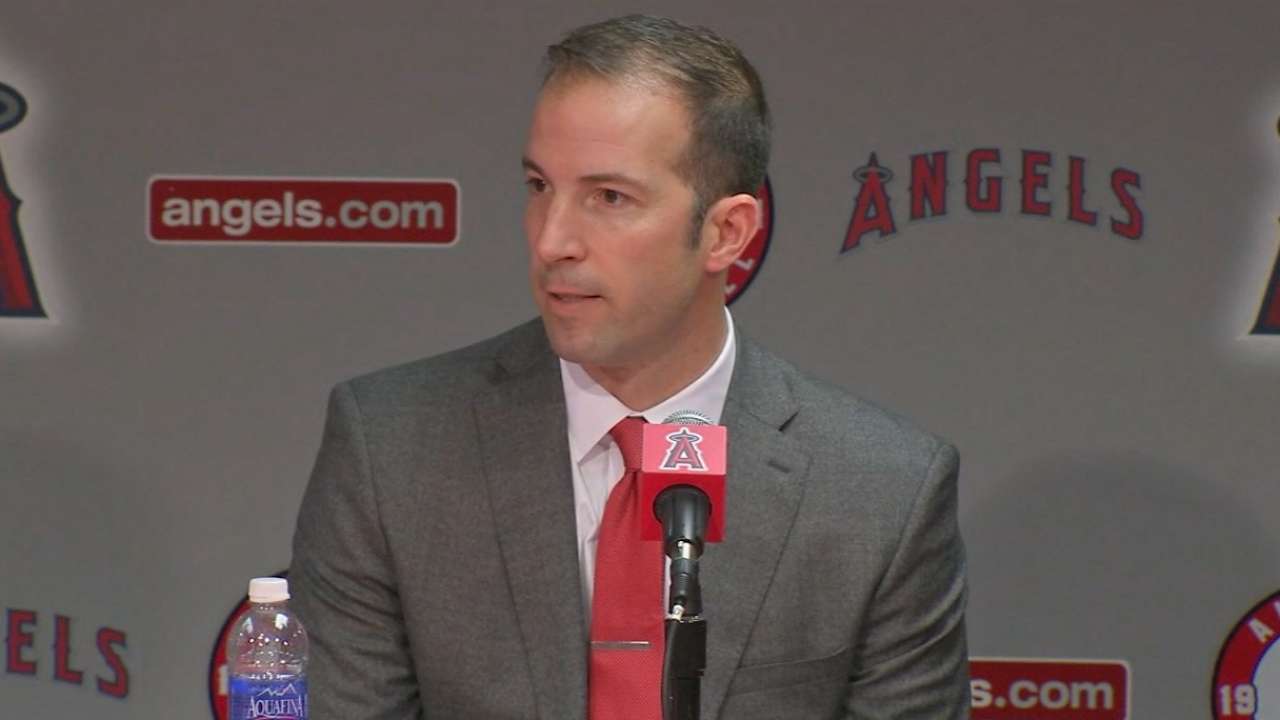 Eppler shuffled personnel, most notably bringing back two well-regarded members of Scioscia's World Series-champion coaching staff in Bud Black (as special assistant to the GM) and Ron Roenicke (third-base coach). On the trade front, Eppler made an early splash by using his top two prospects and popular shortstop Erick Aybar to acquire Andrelton Simmons. Then he made minor moves, trading for Yunel Escobar while signing the likes of Geovany Soto, Cliff Pennington and an array of low-cost outfielders, including Daniel Nava and Craig Gentry. More work remains, but the budget seems limited.
Alden Gonzalez is a reporter for MLB.com. Follow him on Twitter @Alden_Gonzalez and Facebook , and listen to his podcast.
This story was not subject to the approval of Major League Baseball or its clubs.