Red Sox to retire Hall of Famer Boggs' No. 26
Former third baseman hit .338 over 11 seasons in Boston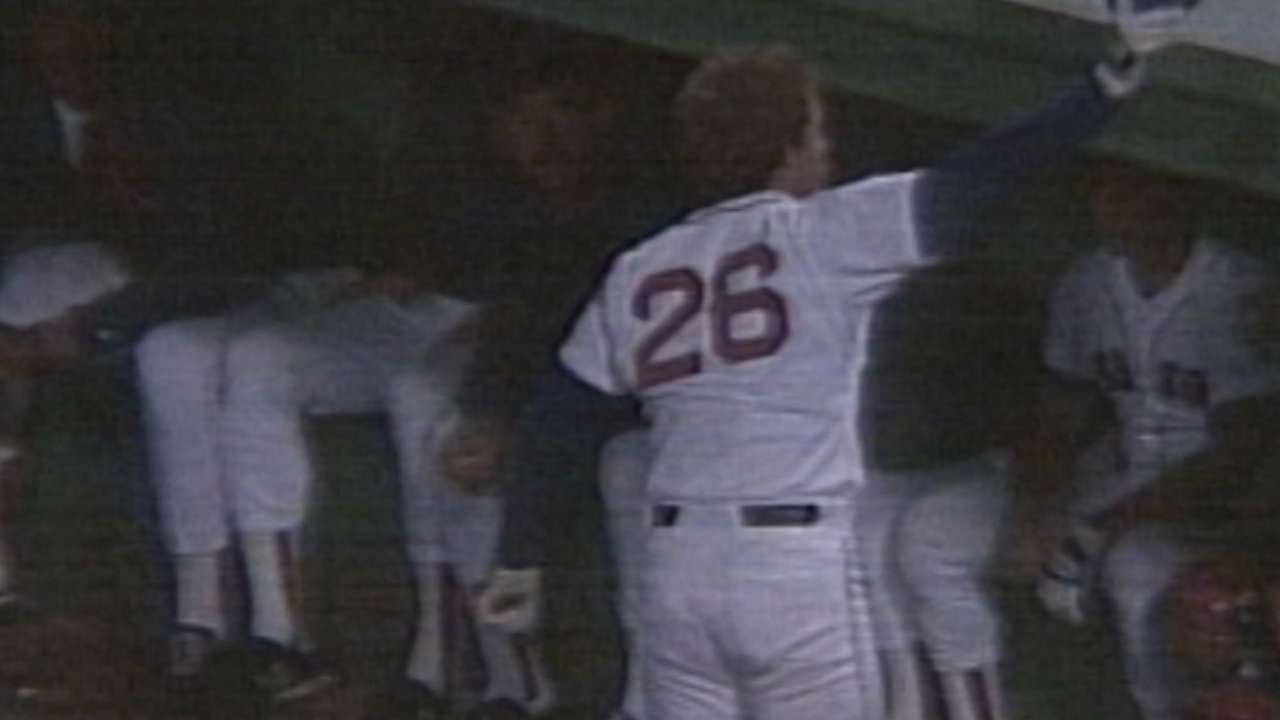 BOSTON -- Hall of Famer Wade Boggs, who won all five of his career batting titles with the Red Sox, will have his No. 26 retired on the right-field façade at Fenway Park in a pregame ceremony on May 26.
Boggs, who was a first-ballot Hall of Fame inductee in 2005, is wearing a Red Sox cap on his plaque.
"I am so humbled and honored to be among the greatest legends to ever put on a uniform for the amazing city of Boston," Boggs said in a statement. "To say that your number will never be worn again is the highest honor an athlete can receive. Thank you."
Don't know which is worse the tears in my eyes or the goose bumps!!

— Wade Boggs (@ChickenMan3010) December 21, 2015
Brock Holt, who wore No. 26 for the Red Sox the past two years, will switch to No. 12.
Boggs broke into the Major Leagues with the Red Sox in 1982 and patrolled third base at Fenway through the '92 season. He signed with the Yankees as a free agent and played in New York for five seasons before finishing his career with two seasons in his home town of St. Petersburg.
The left-handed hitter was known for a keen eye and superb bat control.
The Red Sox won the American League East three times with Boggs as the starting third baseman and came just one strike from winning the 1986 World Series, only to lose to the Mets in seven games. Boggs went on to win a World Series championship for the Yankees in '96.
In 11 seasons with the Sox, Boggs was an eight-time All-Star and led all Major Leaguers in batting average (.338), hits (2,098), doubles (422), on-base percentage (.428) and times reaching base safely (3,124). He led the league in on-base percentage six times, earned six Silver Slugger awards and recorded at least 200 hits in a franchise-record seven seasons.
"Wade Boggs was the best third baseman in Red Sox history and one of the best hitters of his generation," Red Sox principal owner John Henry said in a statement. "Whether it was his legendary hand-eye coordination or the discipline of his highly superstitious routine, his ability to hit line drive after line drive was remarkable. We congratulate our first-ballot Hall of Famer on this recognition."
Boggs' .338 batting average with the Red Sox is second only to Ted Williams, and no one has played more games at third base in team history.
The other numbers retired at Fenway are Bobby Doerr's No. 1, Joe Cronin's No. 4, Johnny Pesky's No. 6, Carl Yastrzemski's No. 8, Ted Williams' No. 9, Jim Rice's No. 14, Carlton Fisk's No. 27, Pedro Martinez's No. 45 and Jackie Robinson's No. 42, which is retired throughout Major League Baseball.
"I am part of a generation that grew up watching Wade Boggs play at Fenway Park," Red Sox president Sam Kennedy said in a statement. "For those of us who came early for BP, we could count on Wade religiously signing autographs every single day, as well as launching baseballs off the Monster day in and day out. This is a long overdue acknowledgement of a player who is arguably the best pure hitter in Red Sox history. We look forward to affixing his number 26 in its rightful place alongside the great legends on Fenway Park's right-field facade."
Ian Browne is a reporter for MLB.com. This story was not subject to the approval of Major League Baseball or its clubs.