Fried excited to show Braves what he can do
Prospect didn't pitch in 2015 while recovering from Tommy John surgery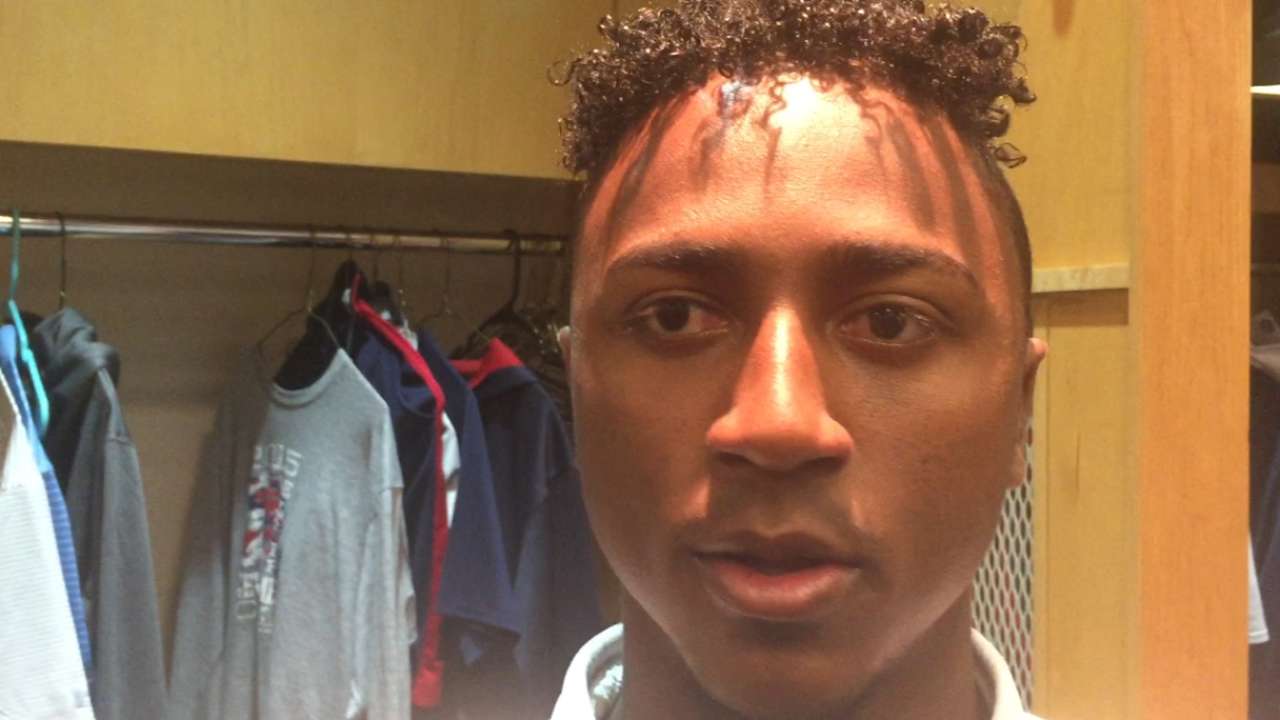 ATLANTA -- This was not the journey Max Fried anticipated when the Padres gave him a $3 million bonus after taking him with the seventh overall selection in the 2012 Draft. By now, he was supposed to have either already gotten a taste of the big leagues or at least positioned himself to come to Spring Training with a shot to open the 2016 season at the Major League level.
Instead, Fried's first assignment for the upcoming season will likely be to test his talented and surgically repaired left arm at the Class A Advanced level. But instead of dwelling on this sobering reality that comes as a result of the inactivity his elbow caused over the past two years, the 21-year-old California native seems quite thrilled with the opportunity that awaits him with the Braves, who targeted him as the centerpiece of the return gained when Justin Upton was traded to the Padres on Dec. 19, 2014.
"I feel like I've been [with the Braves] a lot longer than a year," Fried said. "The way that they treat everyone, I feel like I was drafted here. I'm really happy I'm a Brave. It's one of those things where you aren't expecting [the trade to happen], but it was probably the best thing that could have happened."
Fried echoed this sentiment regarding his current organization multiple times as he participated in the Braves' Winter Elite Development Camp last week at Turner Field. The program provided nutritional and financial tips to the select group of prospects who were invited. At the same time, it was aimed toward building camaraderie among these players, many of whom, like Fried, have been acquired by the Braves via trades or Draft selections completed over the past year.
"It's crazy," Fried said. "There's a lot of talent in this room. Every guy in here can contribute in some way. I guess the best part about it is, they are not only some of the best talents around, but they are also some of the best people that I have met."
Fried's star has fallen slightly, as he has pitched in just five games since he exited the 2013 season ranked by MLBPipeline.com as baseball's 43rd-best prospect. He no longer ranks among the top 100 on this list, but he certainly has the potential to quickly improve upon his current ranking as the ninth-best prospect in Atlanta's talent-rich farm system.
Legendary scout Paul Snyder, who is a member of the Braves Hall of Fame, certainly has not forgotten about the potential he saw while watching Fried pitch in high school. Snyder visited Fried during Spring Training this year and later told a reporter, "The kid has a chance to be something special."
Fried's career has essentially been on hold over the past two seasons. He was shut down before the start of Spring Training in 2014 and did not make his debut that year until July. After completing a pair of uncomfortable starts for Class A Fort Wayne later that same month, he underwent Tommy John surgery on Aug. 20, 2014.
After spending his entire first year with the Braves organization rehabbing, Fried is now looking forward to the chance to come to Spring Training with a healthy elbow. He will likely make his 2016 season debut with Class A Advanced Carolina in late April or early May, once the Braves are confident that he will not be subjected to pitching in any cold climates.
"There were a lot of times [this past summer] I was thinking I want to compete and I want to get back in a game because I felt great," Fried said. "But it was more about the long run than the short term. I do value that because I feel great and I had zero setbacks. Every step of the way was, I'd like to say easy, but I'm just really excited to get back."
Mark Bowman is a reporter for MLB.com. This story was not subject to the approval of Major League Baseball or its clubs.